Singapore is so widely recognised for the numerous benefits enjoyed by its residents that there is no need to enter a long-winded spiel on why the Singapore Permanent Resident status is so highly coveted. Not only is this Little Red Dot home to a diverse, multicultural population, but the city is also a fantastic place to retire since it is shielded from natural disasters and boasts low levels of crime as well as multiple top-notch medical facilities.
If you are reading this article, there is a chance that your  mother and father are currently holding onto a Long-Term Visit Pass (LTVP). The LTVP is commonly spoken in the same breath as the PR status, but there are many differences between the two. Most notably, the differences are in favour of those holding onto the PR status. In this article, we will explore these differences and delve into the reasons why your parents should convert their LTVPs to permanent residency. Read on to find out more.
4 Main Differences Between the LTVP and Singapore PR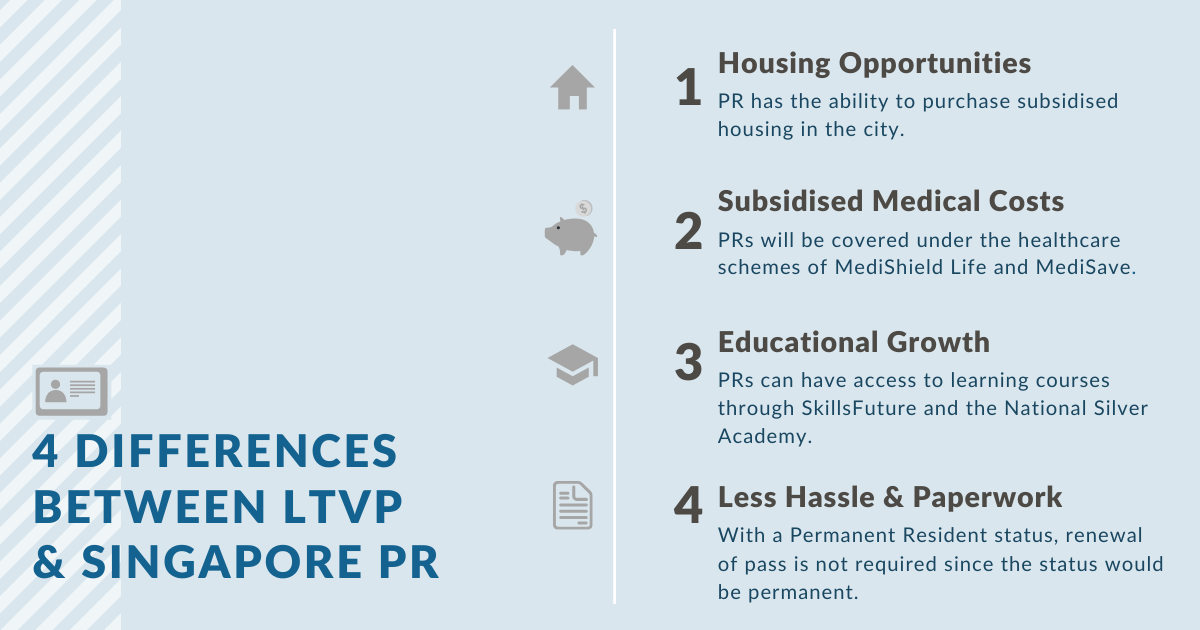 1. Housing Opportunities
A benefit that Singapore Permanent Residents have over Long-Term Visitor Pass holders is their ability to purchase subsidised housing in the city. Known as the Housing & Development Board (HDB) flats, your folks would have the option to buy one on their own or live with you. Should they choose to live on their own, the Senior Priority Scheme reserves a minimum of 20% of 2-room Flexi flats that are reserved for elderly residents. If your folks apply for a home under this scheme, they would have a higher chance of owning an affordable home. The opportunities do not stop there. If your folks become Singapore PRs, your family would be eligible for the Proximity Housing Grant as long as your parents stay with you or in a separate flat located within a four-kilometre radius of your home.
2. Subsidised Medical Costs
Singapore Citizens and Permanent Residents can receive significant subsidies to defray their medical expenses. While this might not seem like a huge deal for you, this could save your aged parents tens of thousands of dollars. As they age, your folks would be more likely to suffer from age-related health issues and might have to consult medical specialists more frequently. As part of the government's initiative to care for its citizens, PRs will be covered under MediShield Life and MediSave. These healthcare schemes will cover their medical costs up to a certain degree and decrease the likelihood of wiping out their hard-earned savings.
3. Educational Growth
They say that learning doesn't ever stop even when your hair turns grey, and this is especially true for Singaporeans. Compared to pass holders, senior Permanent Residents have the advantage of access to learning courses through SkillsFuture and the National Silver Academy. These courses were launched as a result of the government's push towards lifelong learning regardless of one's age. Seniors need to learn to cope with and adapt to an increasingly digitised world, and that is best done by upgrading existing skills and picking up new knowledge. Through the SkillsFuture initiative, elderly SPRs can utilise the $500 credit supplied by the government to pick a course of their desire from a list of approved ones. The National Silver Academy functions similarly by providing bite-sized courses and exam-free modules for your parents and other elderly SPRs to expand their circle of knowledge.
4. Less Hassle & Paperwork
Those who have had experience holding onto the Long-Term Visit Pass would be familiar with the irksome renewal process that needs to be done every two years. In addition to this, there is still that possibility that their LTVP would not be renewed and your folks would have to leave the country. With a Permanent Resident status, these concerns would no longer be relevant since the status is permanent. The insecurity and hassle attached to the Long Term Visit Pass will be eradicated once the conversion to Singapore PR is complete.
How Do Parents Convert from LTVP to Singapore PR?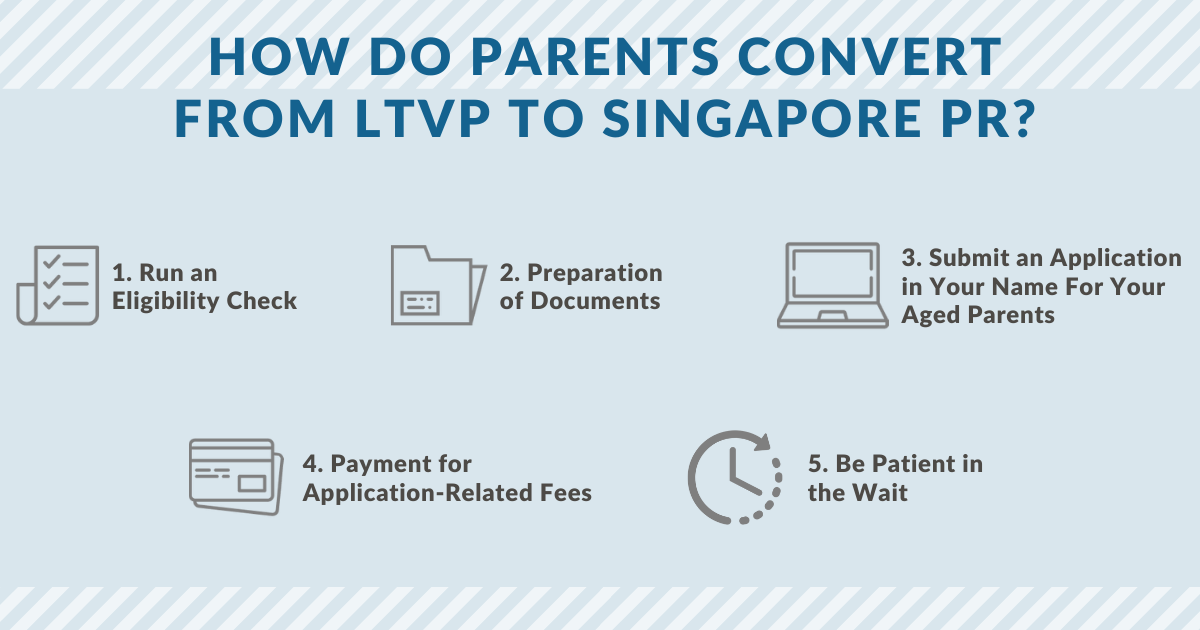 If you are interested in converting your parents' LTVPs to Singapore PR, run through these five steps to familiarise yourself with the process:
1. Run an Eligibility Check
The Singapore government has made it so that only aged parents of its citizens are allowed to make the switch to Permanent Resident status. In the case that you have yet to acquire citizenship, your aged parents would have to stay put with the LTVP at this stage. You can revisit this option after you have acquired citizenship. If you are a Singapore Citizen, you can then go on to submit a PR application on behalf of your mother and father.
2. Preparation of Documents
As you would be familiar by now, all immigration-related applications are done through the e-Services on the Immigration & Checkpoints Authority site. The system has one limitation: the forms and documents have to be completed and submitted within the strict time limit of 168 hours (seven days). To avoid any complications, prepare all the necessary documents before you start on your submission. Make sure that you familiarise yourself with the list of documents required for Singapore PR as per the ICA website, and have them scanned in sharp resolution onto your devices. As a general idea, here is a list of important documents to prepare:
Identification documents of the applicant(s) in the form of valid travel documents (passport, identity card, birth certificate, deed poll)
Any employment paperwork if the applicant(s) is currently working in Singapore
Documents from the sponsor (identification documents, highest educational certificates, employment documents and identification documents of siblings, if any)
3. Submit an Application in Your Name for Your Aged Parents
After getting the documentation sorted out, the next step would be to log in through your SingPass account to apply for PR on behalf of your folks. To do so, you would have to navigate the ICA's e-PR system and select the option of 'My Parents' under the section 'I want to apply for'. During the application procedure, you would be asked to fill in the details as required. Do note that the system would not allow you to skip any fields. Instead, to get to the next section, you would have to fill in any inapplicable fields with 'NA'. Towards the end of the form, take the time to review all the information that has been inserted as the application is final after the uploading of documents.
4. Payment for Application-Related Fees
Something that gets missed out often is the fees that come with the application. For each applicant, there will be a non-refundable processing charge of $100 that is to be paid on submission ($200 for both parents). The processing fees can be paid for with a Visa or MasterCard credit/debit card or American Express credit card, among other Internet Direct Debit options. Additionally, if the PR application is successful, payment would have to be made for the Entry Permit ($20), 5-year Re-Entry Permit ($50), and Identity Card ($50) via NETS or CashCard.
5. Be Patient in the Wait
Immigration matters are typically never processed in the span of a day or two and have an estimated wait time of four to six months (and even longer for applications with complications). The longer processing time is attributed to the time and effort needed to vet each application meticulously to determine those that are deserving of the status. In the case that you do find the application rejected, speak to an experienced immigration specialist today to strengthen your next submission.
Can Parents Apply for PR Without Singapore Citizen Sponsors?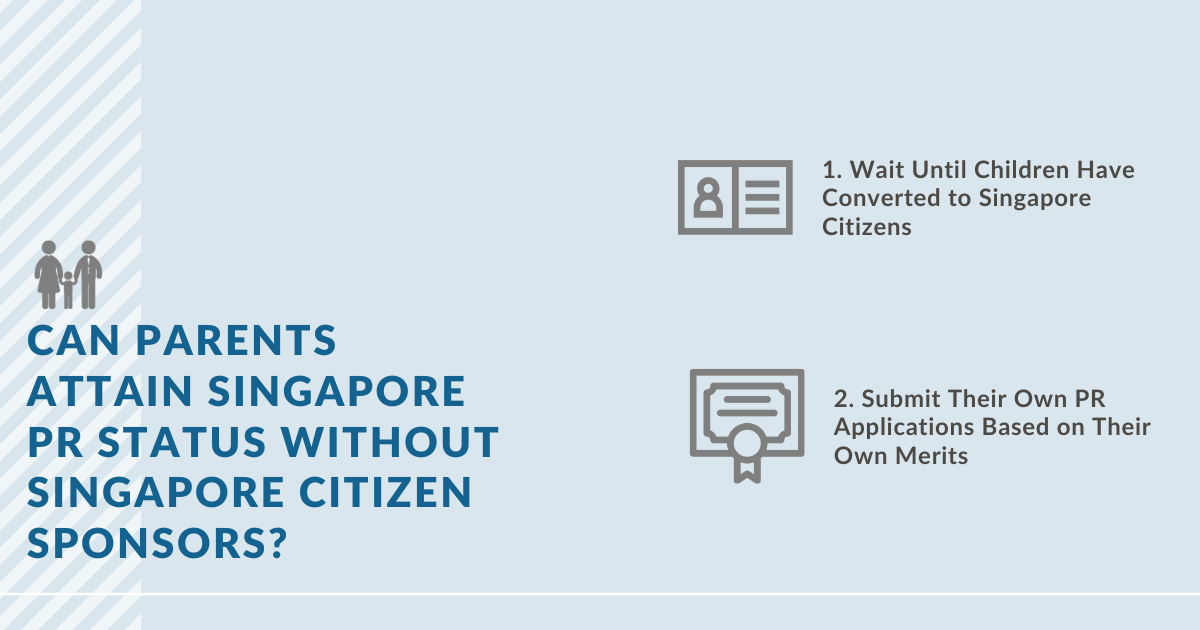 Under the Aged Parents scheme, aged parents can only apply for Singapore PR through their Singapore Citizen children. However, in the case that they do not have access to Singapore Citizen sponsors, they would have two options:
1. Wait Until Their Children Become Singapore Citizens
If you are still a PR, only your spouse and unmarried child(ren) under the age of 21 would be eligible to apply for Permanent Resident status. Your folks would have to wait until you (or your siblings) acquire citizenship. Nevertheless, waiting would not be the worst-case scenario since your parents could still be on an LTVP and be allowed to live within the country. Upon acquiring Singapore citizenship, you (or your siblings) could then submit an application on behalf of your parents via the e-Service using your SingPass.
2. Apply for PR Based on Their Own Merits
The next best option would be for the parents to apply for PR based on their own merits. This alternative allows parents that are currently holding onto an Employment Pass or S Pass, or wish to invest at least SGD$2,500,000 in a GIP-approved fund or a local company, to attain PR on their own.
4 Ways to Strengthen Your Parents' Singapore PR Application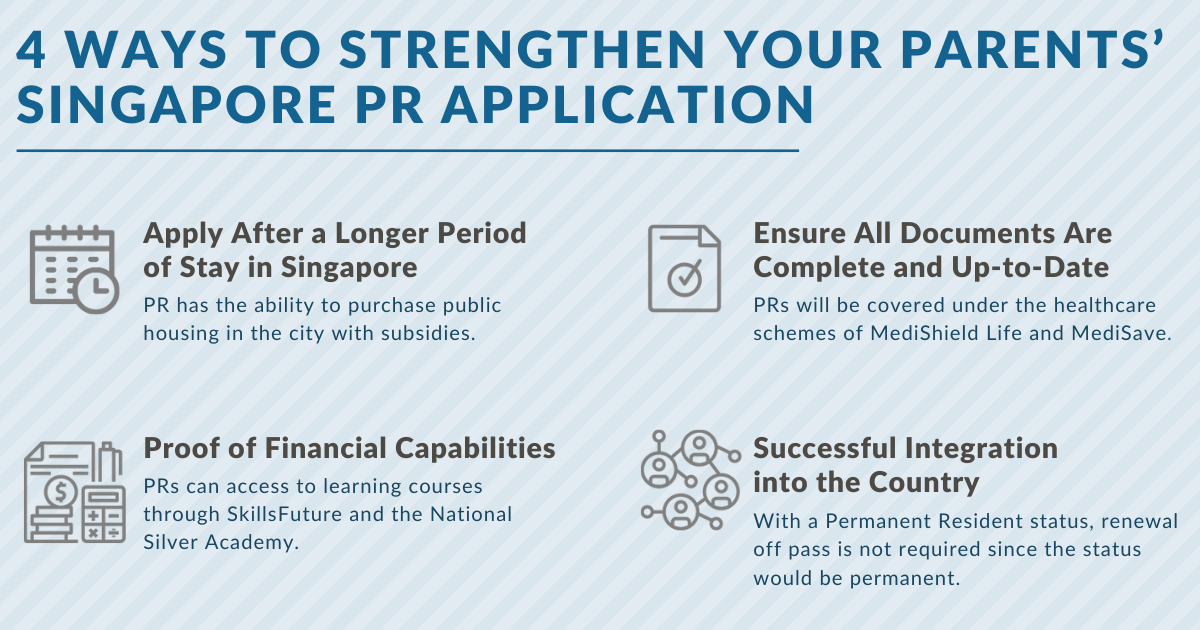 1. Apply After a Longer Period of Stay in Singapore
The immigration officials approve PR applications in the hope that there would be little complications during the transitioning phase. An applicant who has stayed in the country for an extended period is more likely to lead to such an outcome since they had ample time to understand the Singaporean way of life. Moreover, a lengthy period of stay would also suggest that the intention to stay in Singapore is a legitimate one. Some applicants in the past had obtained PR with the sole purpose of taking advantage of the benefits that come with the Singapore permanent resident status to the detriment of others.
2. Ensure All Documents Are Complete and Up-to-Date
All documents submitted are to be accurate, clear and in high resolution for better visibility. Nothing would hurt your application more than an incorrect submission or the attachment of documents that are not clear enough to comprehend. This would delay the processing process and impede the immigration officials in granting the PR status to your folks. For applicants born in countries where English is not the official language, the onus is on you to ensure that all documents submitted are translated into English by an approved source or to have your translations certified by an accepted source.
3. Proof of Financial Capability
Financial capability is a huge factor in your parents' PR application since the ICA officers will assess their case based on your ability to support them. At this stage in your parents' lives, it is highly likely that they would not be employed or drawing a salary in their retirement years. Thus, the financial burden would most likely rest on you, the sponsor. By providing proof of your financial capability, the immigration officers can then use this information to determine if you are able to support your family comfortably until their old age. If you are currently drawing a modest salary, it is suggested to postpone the PR application for your folks by a year or two until there is a significant change in your employment situation.
4. Successful Integration into the Country
The little red dot is a multi-racial and multi-religious country where anyone and everyone can practise their beliefs freely. There might be a marginal probability that friction may arise since misunderstandings could occur among different groups of people. To limit the chances of that happening, picking up the common language of English might help one ease any misunderstandings and integrate with the community. Although the immigration officials do not impose any language testing on potential PRs, showing the desire to communicate with other locals in the common language might work in their favour.
Final Note
The path to Singapore PR is open to all, but not many are fortunate enough to receive the golden ticket from the stringent applicant process set by the government. Moreover, the older your parents are, the less likely they are to receive an in-principle approval letter from the ICA. Therefore, to increase your rate of approval for your aged parents' PR application, it would be best to speak to an experienced immigration specialist. Contact one of ours at Paul Immigrations to guarantee all your forms and documentation are in order today.