If you are reading this article, chances are, you have elderly parents for whom you have been thinking of applying for Singapore PR. Their eligibility, however, depends on whether you are a Singapore Citizen or not. Unfortunately, this privilege is only extended to Singapore Citizens. As for Permanent Residents, only the spouse and unwed children under the age of 21 are eligible to apply. That would mean that your parents would only be permitted to remain in the country on other types of passes such as the Long-Term Visit Pass.
As a Singapore Citizen, you are in a much better position to let your parents retire in their beautiful new home. Read on to find out why the PR status should be on the cards for your parents.
A Case To Be Made for the Permanence of Singapore PR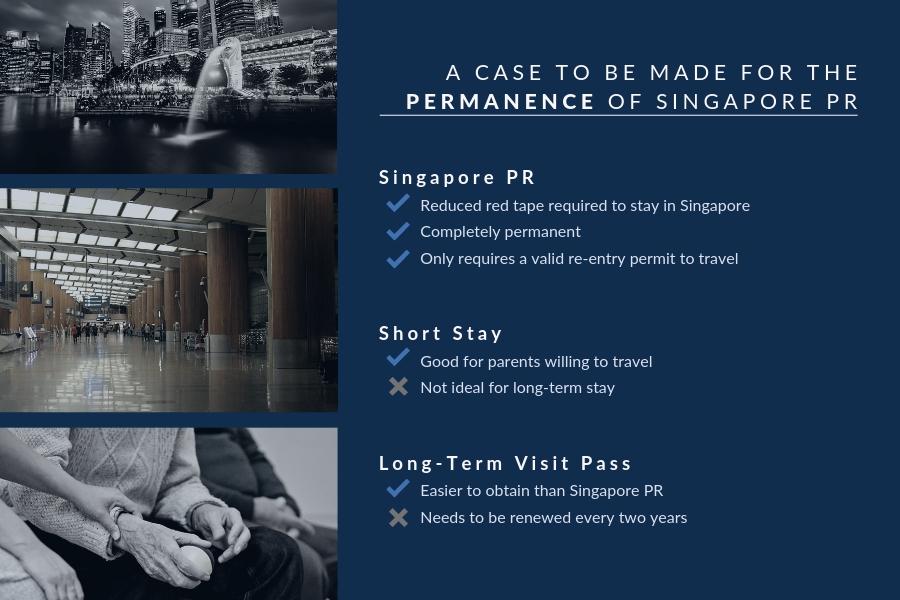 For Permanent Residents, convenience is the order of the day. Becoming a Singapore PR means that you and your parents would have to manoeuvre through fewer bureaucratic hoops and red tape. As the name implies, the Permanent Resident status is totally permanent, allowing your parents to continue to stay in Singapore. They would only have to ensure that they possess a valid re-entry permit whenever they travel as well as abide by the laws of this city-state. This is the path that you should take if your parents plan to make Singapore their forever home.
How does this stack up against other alternatives?
Alternative 1: Sponsoring Your Parents' Short Stay as a Visitor
Your parents will always have the option to remain here on a short stay. Singapore allows most travellers from all over the world to enter the country without a visa. As of 2019, the Immigration & Checkpoints Authority (ICA) has listed all but 33 countries where citizens may enter the country without the need to apply for a visa. Upon entry, your parents may only remain in the country for up to 90 days, subject to their nationality. Therefore, this would only be a viable option if they are physically and financially capable of making regular trips to the Lion City. As they age, there is a chance that they might not be deemed fit to travel, making it more difficult for you to reunite. This arrangement is even more undesirable if you are their sole caregiver, especially when you are tasked to work from Singapore for longer periods of time. By comparison, as Permanent Residents, your folks would be free to remain in the country for as long as they want.
Alternative 2: The Long-Term Visit Pass
Unlike the permanence of the PR status, the LTVP is only valid up to a maximum of two years. True enough, many foreigners, who are parents of either Singaporeans or Permanent Residents (SPRs), reside comfortably enough on the Long-Term Visit Pass (LTVP). Compared to the arduous PR application process, this pass is easier to obtain while giving holders the right to stay here for an extended duration. However, you would have to renew their LTVP three months prior to the expiry date of their pass to continue to sponsor their stay on our shores. In addition to this, you must ensure that you allow sufficient time of up to two months for the relevant ministries and statutory boards to process their application. This makes the LTVP inconvenient to hold on to in the long run, compared to the Singapore PR.
Better Support for Caregivers of Elderly Singapore PRs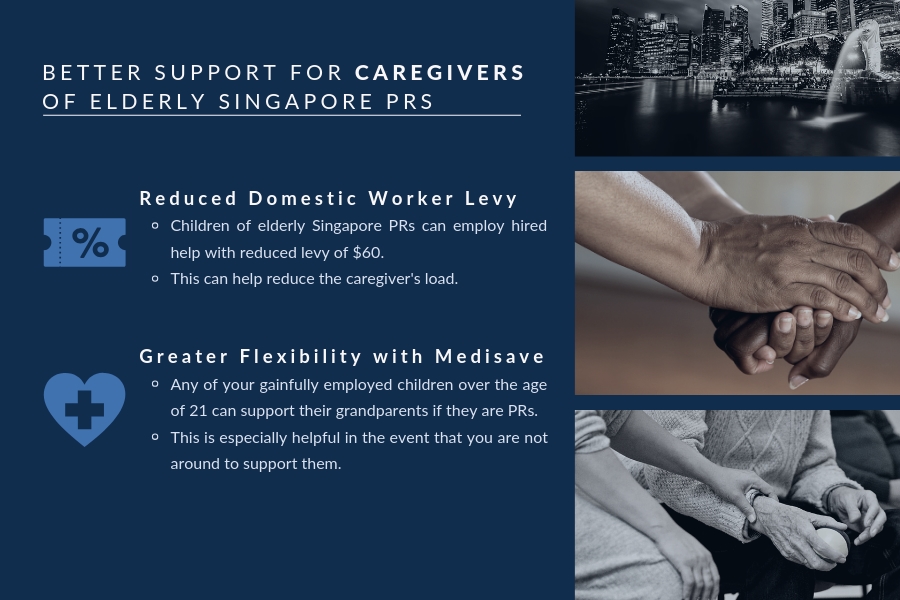 Just as your father and mother had once supported you as a child, the time has come for you to step up and return the favour. Alas, caring for the elderly is far easier said than done, especially if they suffer from any disabilities. Besides any financial concerns that you may have, there are only so many hours within a given day. Eventually, you might feel compelled to make major sacrifices to support your dependants by leaving your job.
According to a survey conducted by Robert Walters in 2016, about 65% of Asian women have put their careers on hold for these precise reasons. Unfortunately, this makes it tougher for women to return to the workforce, let alone be treated fairly. The same survey found that 46% of hiring managers steered clear of employing women who took career breaks. Among those who were hired, 48% faced salary discrimination. Moreover, 38% felt that they were also robbed of chances to climb their respective career ladders. Even if you manage to return to the workforce later, you might still be held back by these disadvantages, too.
This scenario might take a turn for the better if your loved ones become Permanent Residents. If you didn't already know, Citizens and Permanent Residents have much greater access to our country's wide range of support. A successful PR application would ensure that you and your family will be cared for, without putting any of you at a disadvantage, through the following means:
1. Reduced Domestic Worker Levy
Reduced domestic worker levy makes employing hired help far more manageable for children of elderly parents who are Singapore Permanent Residents. You would then be able to work with a peace of mind, knowing that their needs are fully catered to, with greater financial support. Depending on their health conditions, once they have reached the age of 65, you can employ a domestic worker at lower rates. These domestic workers will also be given proper training to care of your loved ones. By comparison, if they are here on an LTVP, you would have to continue paying the full monthly levy of $265.
2. Greater Flexibility with Medisave
Helping your loved ones make the conversion to Singapore Permanent Residents would also unlock greater flexibility with Medisave. This scheme that is part of the Central Provident Fund acts as a fantastic savings mechanism that helps Singapore Citizens and Permanent Residents prepare for health emergencies by locking a portion of their income in a special account to cover hospitalisation fees. Unfortunately, money in this account cannot be withdrawn at will but it does help you maintain a fund to cover any hospitalisation charges (if hospitalisation stay is eight hours or more) that you or your parents might incur, regardless of the passes they are on. As beneficial as they sound, helping your folks convert into PRs can help safeguard their future with an additional layer of protection: any of your children, over the age of 21 and gainfully employed, can support them with their Medisave balance. This is exceptionally helpful in the event that you are not around to support them.
Singapore PRs and Access to Lifelong Learning Courses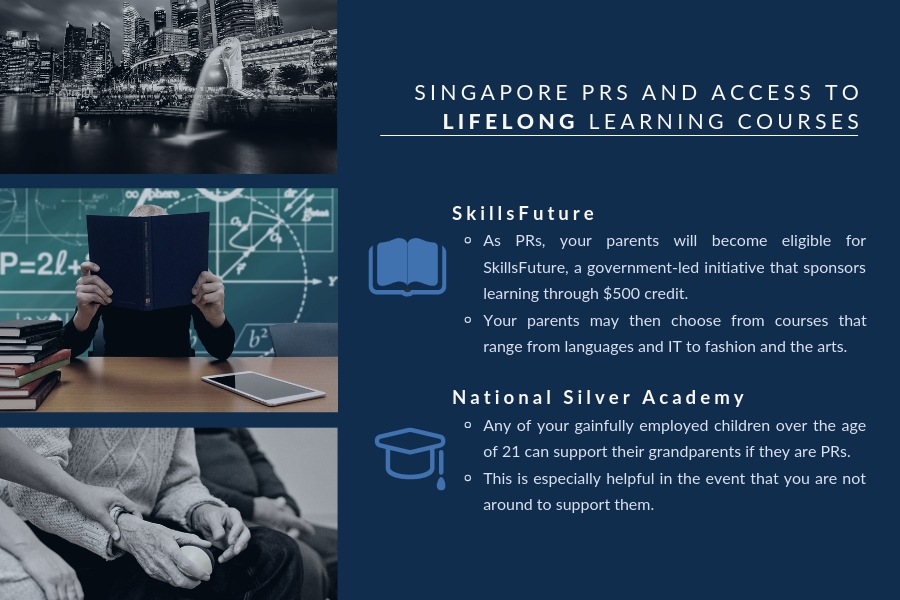 Learning is a lifelong journey and certainly shouldn't stop when your parents are in their silver years. Elderly Permanent Residents have greater access to lifelong learning courses than foreigners who reside here on any other passes. As part of a nationwide bid to instil the importance of lifelong learning in Singaporeans, the government has established several educational schemes to encourage an unquenchable thirst for knowledge as opposed to remaining stagnant.
Adopting this mentality is important for the seniors. As your parents age, the need to stay mentally active becomes more necessary than ever, whether or not they remain fully retired. Lifelong learning is more about keeping their minds sharp for years to come, especially since cognitive impairment is a major risk for seniors all over the world. This can affect you, their primary caregiver, and the rest of the family, especially since your loved ones' safety may be compromised.
Besides adhering to a healthy diet and engaging in regular exercise, one of the ways that seniors can prevent this is by staying mentally alert through the years. Signing up for these diverse lifelong courses is an easy way to do so. Here are two government schemes that elderly Permanent Residents can take advantage of to keep them mentally active in their silver years.
1. SkillsFuture
As Permanent Residents, your parents will become eligible for SkillsFuture, a government-led initiative that provides Citizens and PRs with an initial $500 SkillsFuture credit upon activation. They may then choose from a growing list of approved courses, ranging from languages and IT to fashion and the arts. These courses tend to vary in depth and scope; while some only last for one session, there are those that are spread over several classes. From time to time, the government might add more credits to their SkillsFuture accounts, too.
2. National Silver Academy
On top of courses that are listed on SkillsFuture, senior PRs may choose from courses that are specifically catered to them at the National Silver Academy. The academy has a network of educational institutions that have curated courses that meet seniors' needs, including numerous programmes that do not require them to take any examinations. They will be free to learn at their own pace, without enduring any examination stress. Of course, if they prefer to do so, they may still opt for courses that include examinations. These courses are intended to be affordable and are typically capped at a particular amount to encourage seniors to sign up.
Singapore PRs and Flexible Housing Opportunities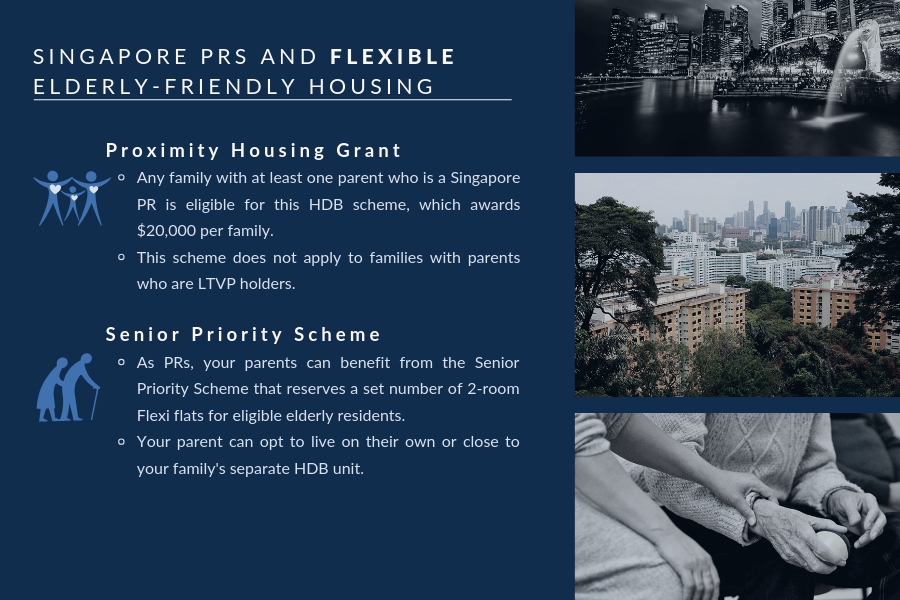 Last but not least, housing opportunities here are greater and more flexible if your parents become Singapore PRs. The Housing Development Board (HDB) offers a myriad of housing schemes to cater to family units from all walks of life, but the PR status can help you unlock more opportunities for your multi-generational family. As PRs, your folks can decide if they prefer to live on their own or to stay under the same roof with you. The following are but a couple out of numerous options that you and your family will have once they are PRs:
1. Proximity Housing Grant
If your parents are PRs, your immediate family members can enjoy the perks of the Housing Development Board's (HDB) Proximity Housing Grant. Any family with at least one parent who is a PR is eligible for this scheme, which awards $20,000 per family. This encourages filial piety by rewarding families who live under the same roof or within four kilometres of each other. Only PRs would be eligible for such an arrangement; parents that are on passes like the LTVP would not qualify for the grant.
2. Senior Priority Scheme
As Singapore PRs, your parents can benefit from the Senior Priority Scheme that reserves at least 20% from the 40% of 2-room Flexi flats available in HDB residential buildings for eligible elderly residents. While some families may prefer living together, this scheme would create a perfect living arrangement for aged parents who prefer to have their own space while remaining within close proximity of your family's home.
Brighter Future for Aged Parents Who Become a Singapore PR
Becoming a Singapore PR is more than just status. This is the path that you should convince your parents to take if the entire family plans to make Singapore their home for the foreseeable future. It also signals an intention to set roots into the country, a sign that your whole family is ready to be the first of many generations of Singaporeans.
At Paul Immigrations, we can help you exercise your right as a Singapore Citizen to safeguard a brighter future for your parents. Our knowledgeable specialists can help set their applications in motion and raise their chances of success. Contact us today for an in-depth consultation!