Giant tech companies and global multinational companies (MNCs) have all flocked to Singapore over the recent decade for a reason — not only is it an important gateway to Asia due to its strategic geographical location, this former fishing village has also firmly established itself as one of the world's leading business and financial hub that offers limitless opportunities for both companies and individuals alike.
And so, it comes as no surprise that this global cosmopolitan has seen its appeal soar amongst the expatriates and foreign talents. The Lion City has emerged as the best place for expats to work, live and play in, ahead of New Zealand, Germany and Canada in an annual survey conducted by HSBC. In another report, the Republic has been dubbed as the most liveable city in the world as Economist Intelligence Unit's (EIU) liveability ranking index. As such, permanent residency in Singapore has always been highly sought after and valued.
Still not convinced? Keep on reading to discover the benefits that await you once you successfully secure for yourself the elusive Permanent Resident (PR) status.
1. Stable Political and Social Environment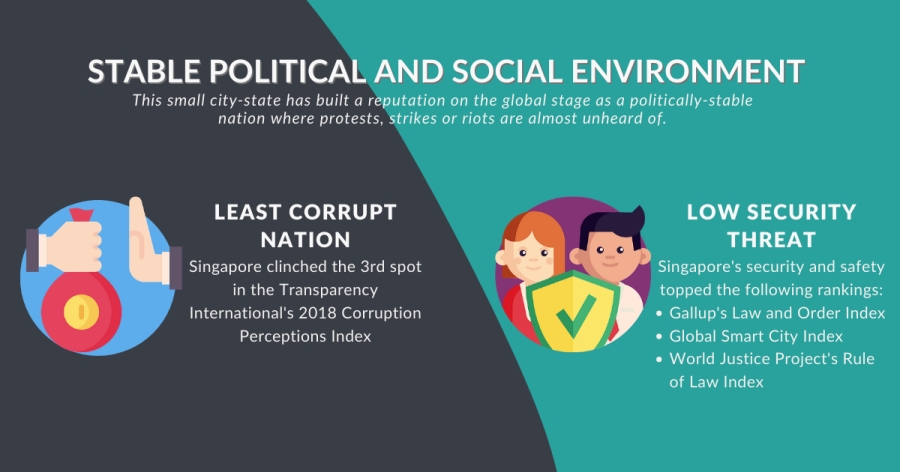 This small city-state has built a reputation on the global stage as a politically-stable nation where protests, strikes or riots are almost unheard of. While some of the neighbouring countries may consider Singapore's leadership rule as authoritarian and centralised, the political culture in the city-state is one of pragmatism and governed by a set of stringent but rational rule of law. This approach by its leaders has turned the Republic into one of the safest countries in the world to work, live and play in and allow the Republic to stand firmly on its feet despite facing several global economic downturns in the past few decades.
Least Corrupt Nation
Although Singapore's primary anti-corruption law — the Prevention of Corruption Act (PCA) — was enacted in 1960, its statutory framework is broad, robust and open-textured enough to accommodate the different factual variations of modern-day corruption but are also carefully circumscribed by its astute lawmakers so as not to be overly inclusive. These legal policies and regulations have proven to be fruitful as the country clinched the third spot (up three notches from sixth place last year) in the Transparency International's 2018 Corruption Perceptions Index, which is an annual ranking of countries considered to have the least corruption cases in the public sector.
Low-Security Threat
Singapore is one of the few places in the world where people from diverse backgrounds and cultures live and thrive together harmoniously without any leaks in social security. This social cohesiveness that the city-state has been able to promote and uphold for the longest time is a success story for countries around the world and is aptly reflected in a study by research firm Gallup where it was reported that Singaporeans feel safer than residents of any other place in the world for at least the fifth year running, with 94% of the adults here feel secure enough to walk home by themselves at night against a global average of just 68%. In a similar report, the Lion City was ranked first in the Law and Order Index, surpassing countries like Norway, Iceland and Finland. The result is consistent with a host of other global studies — Global Smart City Performance Index ranked Singapore at the top of its chart for the world's safest city that was published this year while the World Justice Project's Rule of Law Index 2017-2018 report saw a similar outcome, with Singapore topping the Order and Security charts.
2. Thriving Economic Environment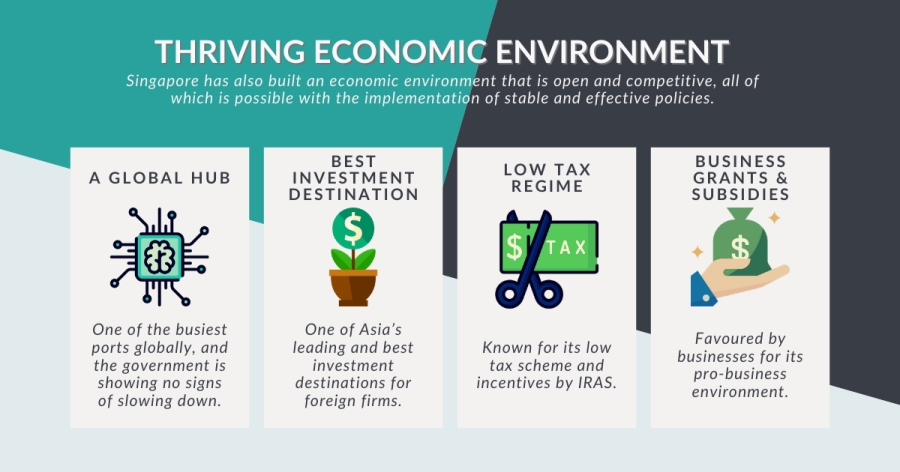 Apart from a corruption-free environment, the Republic has also built an economic environment that is open and competitive, all of which is possible with the implementation of stable and effective policies.
A Global Hub
Singapore has one of the busiest ports globally, and the government is showing no signs of slowing down. Apart from its attention on the export of chemicals and electronics to countries that are more economically advanced, the Republic has also diversified its economy over the recent years to become a hub of many things — banking and financial hub, research and development (R&D) hub, biomedical hub, and recently, a prime destination in Asia for top-notch healthcare services. With a plethora of wealth creation opportunities, coupled with social stability, transparent trade policies as well as excellent global communication links and infrastructure, it is no wonder that foreign investors and talented expatriates alike are flocking to the sunny shores of Singapore.
Best Investment Destination
Singapore was reported to be one of Asia's leading and best investment destinations for foreign firms, according to a study conducted by financial advisory firm Ernst & Young and the Japan External Trade Organisation. With global corporations such as the likes of Facebook and Google having set up their regional headquarters in the heart of the Central Business District (CBD), Singapore's economy is set to experience positive and dynamic growth. These establishments typically bring in a huge chunk of investment capital, new technology, management know-how as well as valuable access to international export markets. The Republic has also surpassed the United States, Hong Kong and the Netherlands to clinch the top spot in the recent World Economic Forum's (WEF) annual Global Competitiveness Report 2019, which essentially highlights the competence and aptitude of our labour force.
Low Tax Regime
Compared to the other developed nations in the world, the Lion City is known for its low tax scheme. The rates for personal income tax are progressive where it starts from 0% and capped at 22% for citizens and PRs. For non-residents, their tax rates fall between 15% and 22%. On the other hand, corporate income tax rates are capped at a flat rate of 17% of the company's chargeable income. However, the effective corporate tax rate can be lowered through other incentives introduced by the Inland Revenue of Singapore (IRAS) such as the start-up tax exemption, where start-up companies are exempted from a certain amount of their income for three consecutive years.
Business Grants & Subsidies
The Singapore government has always been favoured for its pro-business environment. Apart from having committed a bulk of their 2019 budget expenditure on economic and social development, the large amount of government grants and subsidies available for both established companies and start-ups alike — be it a sole proprietorship or a small, medium enterprise (SME) — has lightened the burden considerably for many of the new generation of budding entrepreneurs. These include the Productivity Solutions Grant (PSG), Productivity Innovation Project (PIP) Scheme, Market Readiness Assistance (MRA) Grant and Business Improvement Fund (BIF), among others.
3. A Clean and Green City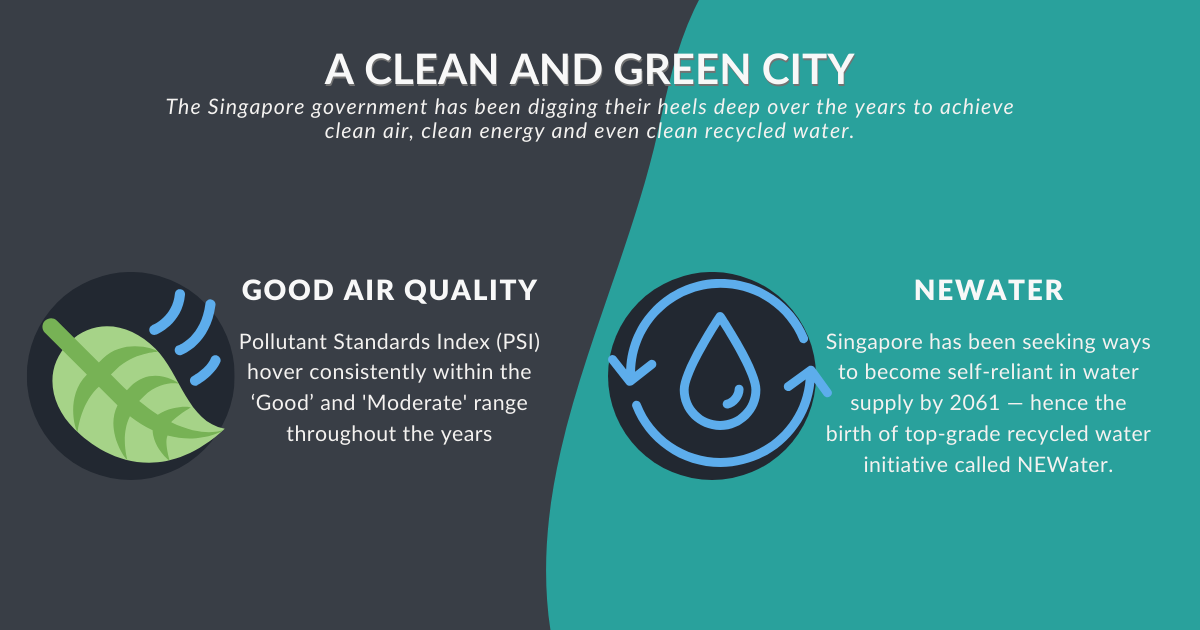 Having a clean environment to live in is an important factor for many, if not all, of us. The Singapore government is well aware of that and has been digging their heels deep over the years to achieve clean air, clean energy and even clean recycled water. The government has also been ramping up its efforts to transform Singapore into a "Garden City", where the greeneries are not only a sight to behold but act as pollution control as well.
Good Air Quality
Singapore enjoys much better air quality as compared to many other cities in Asia, according to the National Environment Agency (NEA). The quality of the air here is comparable to that in the United States and Europe, with the Pollutant Standards Index (PSI) hovering consistently within the 'Good' and 'Moderate' range throughout the years. This can be contributed to the shrewd urban planning by the leaders of the State as they strategically employed integrated urban and industrial development control to minimise air and noise pollution. Industrial developments used for manufacturing and warehousing purposes in Singapore are carefully zoned (B1 or B2 in URA's Master Plan) and clustered in accordance with its intended use and nuisance buffer. Special industries such as the manufacture of industrial machinery as well as shipbuilding and repairing will be located further in isolation and well away from residential areas to reduce pollution.
NEWater
With limited resources to begin with at the start of its independence, the thirsty developing nation of Singapore sought help from its neighbour Malaysia, before both sides penned down the water trade agreement. With the second pact set to expire in 2061, Singapore has been pro-actively seeking ways to become completely self-reliant in water supply by then. This is reflected in its top-grade recycled water initiative called NEWater, as well as working on two additional desalination plants to support the existing three that are already meeting about twenty-five per cent of the island's water needs. These efforts and initiative have made Singapore a prime example of sound water management amidst other effective policies.
4. Excellent Infrastructure and Transportation Services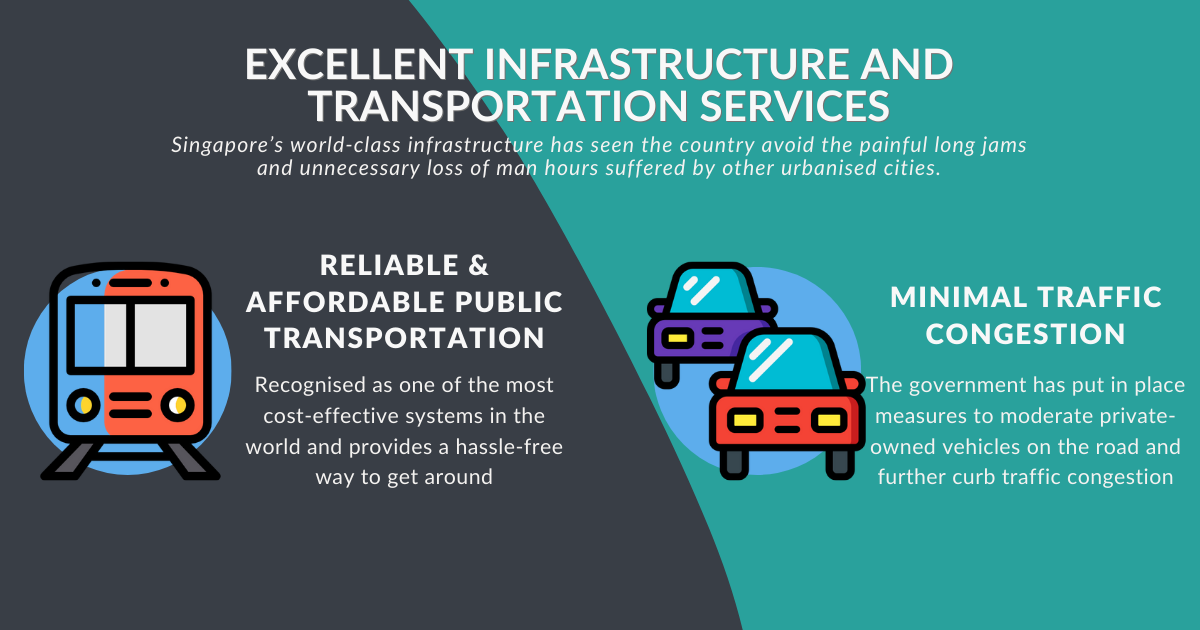 Singapore's world-class infrastructure has seen the country avoid the painful long jams and unnecessary loss of man hours suffered by other urbanised cities. The entire island is interconnected and easily accessible through the different reliable modes of public transportation, be it buses, trains or taxis.
Reliable and Affordable Public Transportation
The majority of residents here in Singapore have opted for the nation's public transportation system for their daily commute and for good reason — it has been recognised as one of the most cost-effective systems in the world and provides a hassle-free way to get around. These modes of public transport, which includes the Mass Rapid Transit (MRT) rail system, buses and taxis, connect the whole cosmopolitan city and are clean, safe and reliable. Apart from taxis — which charge by metered fare — buses and MRT fares are relatively affordable, ranging from S$0.80 to S$3.10 per trip.
Minimal Traffic Congestion
Apart from the excellent public transportation system, the government has put in place certain measures to moderate private-owned vehicles on the road and further curb traffic congestion. With a knack for breaking international records, Singapore was at it again as it became the first city in the world to introduce and implement the Electronic Road Pricing (ERP) system back in September 1998. Unlike the toll system of operation in other countries, the ERP system charges vehicles a minimum fee for those accessing congested expressways and roads around the Central Business District (CBD) area. This is to encourage drivers to find an alternative route to their destination and ease the traffic congestion in the CBD area during peak timings.
5. Quality Homes for Singapore Citizens and PRs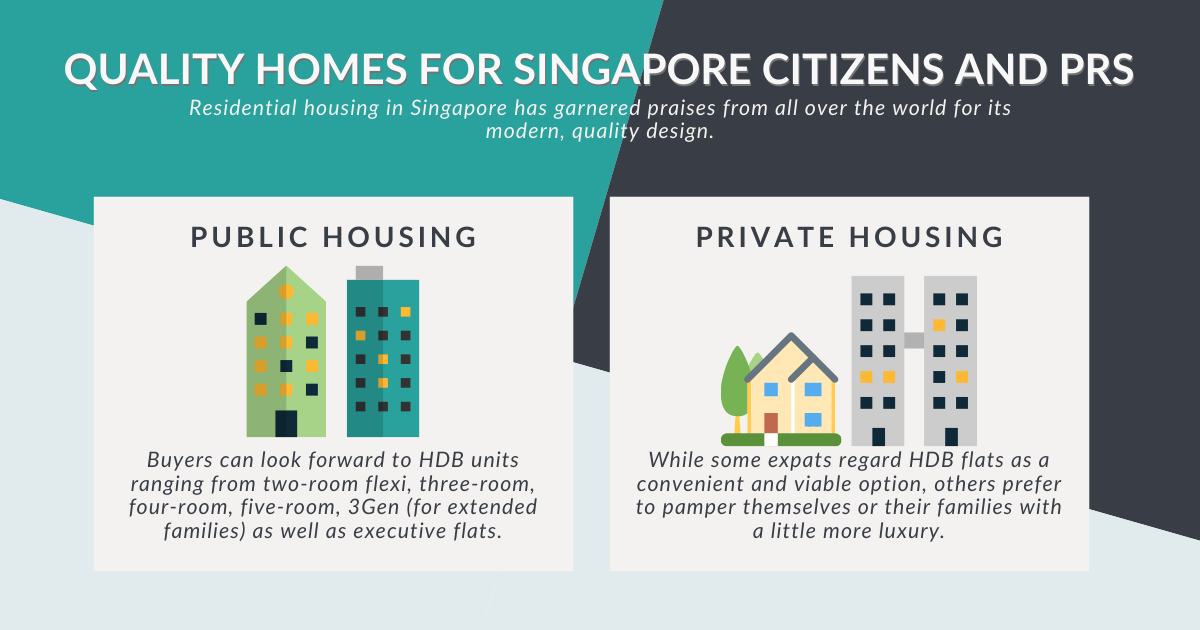 Touted as one of the country's crown jewels, residential housing in Singapore has garnered praises from all over the world for its modern, quality design. These homes are usually situated within an arm's reach away from essential amenities such as shopping malls, supermarkets, schools, parks, community centres, medical clinics and other municipal facilities.
Public Housing
Nearly 80% of the Singapore population lives in public housing — a strong testament to its robust quality standards. Catered for the majority of the resident core at a heavily subsidised cost to ensure its affordability for both citizens and permanent residents (PRs), overall public housing in Singapore comes in a variety of options to meet the needs of different family sizes and income groups. Buyers can look forward to HDB units ranging from two-room flexi, three-room, four-room, five-room, 3Gen (for extended families) as well as executive flats.
Private Housing
While some expats regard HDB flats as a convenient and viable option, others prefer to pamper themselves or their families with a little more luxury and may choose to live in private condominiums near their area of work or their children's schools. Condominiums typically come with more stylish interiors and are equipped with 24-hour security, basement car parks, BBQ pits, tennis courts, in-house gym and swimming pool, among others. There are no restrictions imposed on the purchase of a private condominium unit if you are a PR as long as you have the financial means to. Private condominiums are also considered as an excellent choice of investment as you are able to rent out your apartment immediately after the sales completion and handover, giving you potential returns on your investment.
A Final Note
The perks of being a resident here in Singapore are many, so wait nor further and consult our qualified professionals at Paul Immigrations today to assess your eligibility and assist you throughout your entire PR application process.