There are many reasons why foreigners flock to Singapore; apart from being a progressive nation, an economic powerhouse and a magnet for foreign investors, the city-state offers bountiful opportunities for anyone looking to live and work here. And for many foreign professionals who wish to make the Lion City their long-term home, taking up permanent residence in the Republic is an obvious choice. Based on data consolidated in 2016, more than half a million of the country's population are made up of Permanent Residents (PRs), and this number is expected to increase over the years.
When it comes to living and working in Singapore, several factors truly determine and influence an individual's choice to migrate to the country. A few of these factors include security, job opportunities, and diverse cultural offerings. Like many countries, the Republic has its perks — ones that make it one of the most livable countries in the world.
Why Should You Become a Singapore PR?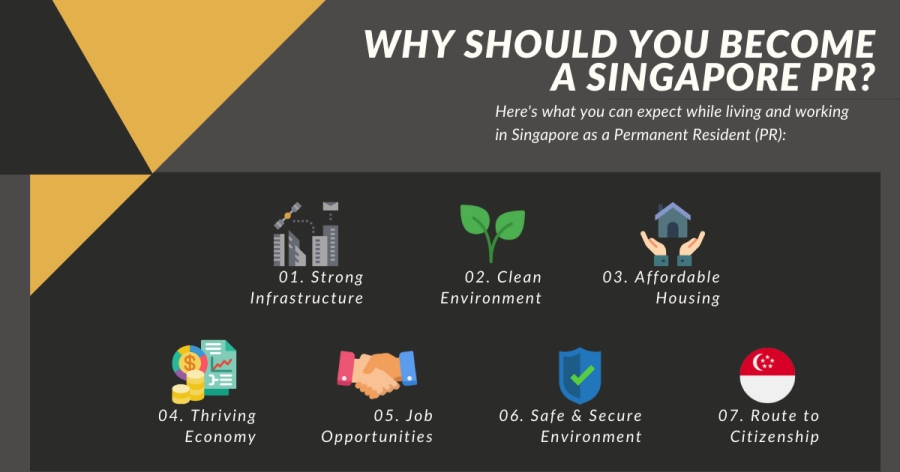 Singapore has many attractive qualities. It is renowned for being a first-class country that offers its residents a myriad of opportunities to excel in life.  In addition to opening new doors and providing a great quality of life, the Lion City is also known for its top-notch facilities and exceptional infrastructure. Moreover, the city-state is a cultural hub that is home to a wide and diverse blend of races, ethnicities, cultures, and ideas.
Another thing that makes Singapore an outstanding country is its economic progress. Despite being so small and having a limited number of resources, the small country has proven itself to be an economic powerhouse that has developed vastly through the decades to become the first-class nation it is now.
All of these attractive aspects of the Republic synergise to create a conducive environment for someone who is looking to grow as an individual and at the same time keen to make significant contributions to the country. Keep on reading to find out more about each of these aspects and what you can expect while living and working in Singapore as a Permanent Resident (PR):
1. Strong Infrastructure
Although the Lion City is known for being a highly urbanised country, it still displays the qualities of a clean and green city. This is largely due to the government's commitment and effort to maintain and improve sustainable technologies that go hand-in-hand with urban developments. Be it managing traffic, combating pollution, urban planning, and obtaining clean resources, Singapore has found a way to seamlessly combine cutting-edge skyscrapers with parks that offer a conducive space for its residents.
2. Clean Environment
Even though Singapore is a highly populated city, it still manages to maintain an environment that is healthy, clean and safe. Additionally, there are several incentives in place to ensure that citizens contribute to a clean and sustainable environment. One of these includes increasing the fees of owning a personal vehicle, which in turn promotes the use of cost-efficient public transport. It is worth noting that public transportation in this Little Red Dot is significantly cheaper compared to owning a car. Additionally, the government has invested a lot of money and resources to ensure that the public can take the bus and Mass Rapid Transit (MRT) to get in and around the country with relative ease. In fact, there are plans for new MRT lines to be added to the current MRT map. This will not only decrease commute time, but it will also allow residents to get to their destinations in a convenient and timely manner. If you need more flexibility in your travel arrangements, you can consider taking a taxi, or if you are strapped for cash, a ride-hailing service to get to your destination safely and quickly.
3. Affordable Housing for Everyone
Accommodations in Singapore are diverse and so are the prices. Depending on your budget, you may wish to either buy a luxurious private condominium/bungalow or if you are looking to save some money, rent a cheap public flat. Although it may seem like housing prices are extremely high in this city-state, it is relatively cheaper when compared to houses in Hong Kong or Japan. Do keep in mind that the price of housing will largely be determined by the area in which it is located. For instance, accommodation located closer to the Central Business District will cost higher. Other factors that might lead to a higher price includes the ease of transportation, facilities or attractions in and around the area. Some examples of high-value accommodations include condominiums and private properties. The former is ideal for anyone looking to gain easy access to a wide assortment of facilities such as gyms, swimming pools and tennis courts. In contrast, Housing Development Board (HDB) flats are where most Singaporeans and PRs live as they are significantly cheaper alternatives.
4. Thriving Economy
Singapore prides itself for its strong and progressive economy. Within the span of a few decades, the country has become an economic powerhouse that has established itself as a global importer and producer of electronics and chemical products. Due to global economic demands and trends, the Republic has changed its focus to healthcare, biomedicine, finances and research and development. On a side note, since there is a lot of investment in these sectors, it might be extremely helpful to have some professional experience in these areas.
5. Numerous Job Opportunities
One of the greatest advantages of being a Singapore PR is having access to more job opportunities. There are certain employment regulations put in place by the Ministry of Manpower (MOM) to ensure that citizens and PRs have priority when it comes to employment opportunities, and to prevent the over-reliance on foreign labour. In addition to opening more doors, a PR status can make job transitions a lot easier. For instance, you would no longer need to go through the hassle of having your Employment Pass renewed. Hence, job transition will be easy and effortless when you are a Singapore PR.
6. A Safe and Secure Environment for You and Your Family
Living and working in a safe country is one of the biggest determiners when migrating to a country. Fortunately, Singapore is a relatively safe and secure place, particularly when compared to other heavily populated metropolises in Southeast Asia. However, do note that although the country has a low crime rate, it is important for residents to be aware of their surroundings at all times. This is especially true when you are walking alone at night in secluded locations. In addition, this city-state is known for its stability and security with regards to the political climate of the country. Riots and protests hardly take place, making it a safe destination for anyone looking to make the Lion City their home.
7. A Faster Route to Obtain Singapore Citizenship
If you are ready to take your permanent residence to the next level and wish to apply for citizenship, a PR status will give you a better advantage of actualising that dream. As a citizen of the country, you will have more freedom and options when it comes to certain aspects of your way of life. These can come in the form of subsidised housing, voting rights, and better tax rights. And the other positive thing is having the freedom to travel to most countries in the world without needing to apply for a visa. And when you do need a visa, being a Singapore Citizen (SC) will lead to a streamlined and fast approval of your visa.
The Enlistment Act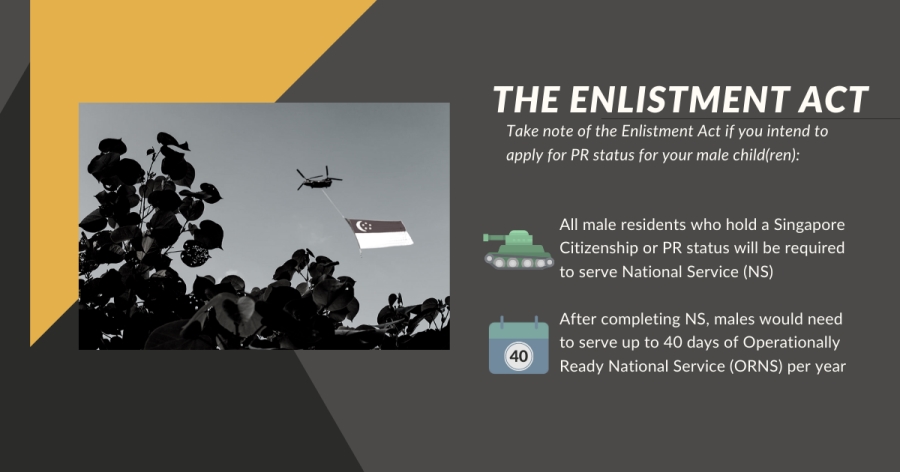 While there are certainly many benefits PRs can enjoy while living in the Lion City, there is one thing you should take note of if you intend to apply for PR status for your male child(ren). Under the Enlistment Act, all male residents who hold a Singapore Citizenship or PR status will be required to serve mandatory National Service (NS). After completing NS, males would need to serve up to 40 days of Operationally Ready National Service (ORNS) per year for the duration of their ORNS training cycle. If you would like to find out more about the Enlistment Act, consider visiting the Immigration and Checkpoints Authority (ICA) website for more information.
What is the Next Step?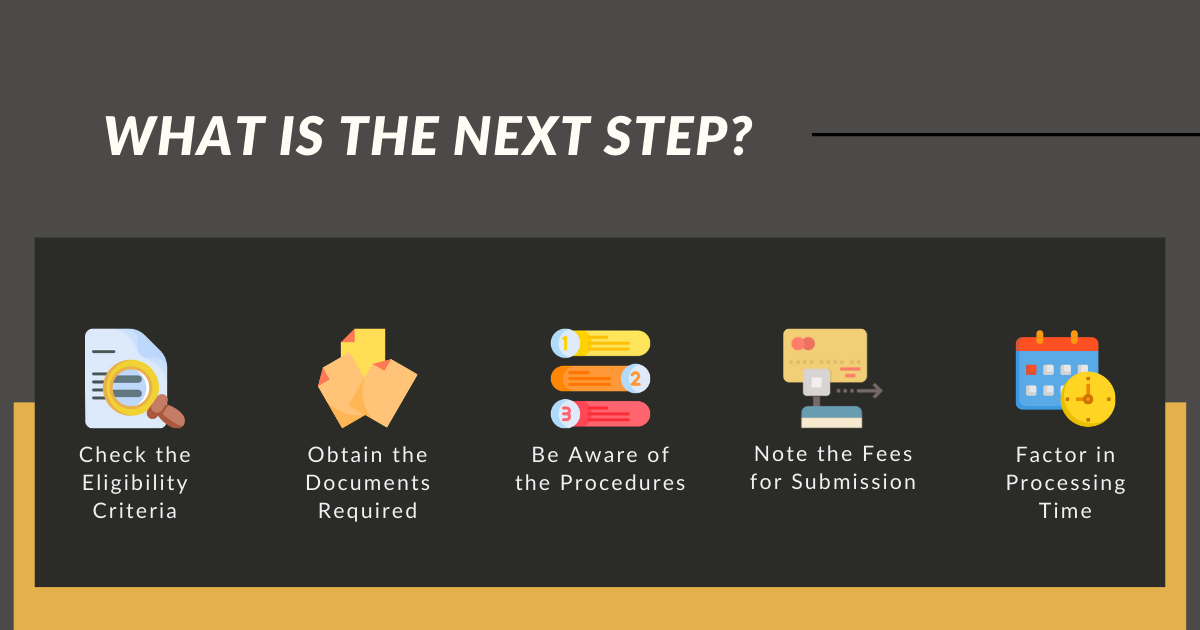 As a foreigner looking to attain PR status in the country, it is safe to say that the process can be a little intimidating. The first thing that you should keep in mind is your eligibility to apply for a permanent residence in Singapore. This will be your first step in determining if you meet all the requirements to become a PR.
1. Check the Eligibility Criteria
There are several categories of individuals who may be eligible to apply for Singapore PR status:
Foreign investors
Students currently undergoing their studies in Singapore
Holders of Employment Pass or S Pass
Aged parents of Singapore Citizens
Spouses of Singapore Citizens or PRs
Unmarried children below 21 years of age who are born out of a legal marriage or have been legally adopted by a Singapore Citizen or PR
2. Obtain the Documents Required
There are different documents required for the different categories of individuals listed above. For instance, an applicant who is studying in the country will be required to fill out a different set of forms compared to an applicant holding an Employment Pass. In addition, there may be additional documents you may wish to submit with your application depending on which PR scheme you are applying under. Hence, do make sure that you have the right application forms before proceeding to complete them as well as the correct set of required and additional documents. If you are unsure of what documents you need to submit and follow through with, it would be advisable to check the ICA website before making a submission.
3. Be Aware of the Procedures You will Need to Follow
It is extremely important that you are aware of the procedures you will need to follow before submitting your PR application. You will need to submit all applications and documents using the e-Service on the ICA website. You can submit your application online with a valid SingPass account if you are an Employment Pass or S pass holder, a Singapore Citizen applying for permanent residency for your aged parent, a PR or Singapore Citizen applying for permanent residency for your spouse or your child who is under 21 years old and unmarried. If you do not have a valid SingPass account, you can use your Foreign Identification Number (FIN) — this is applicable for students currently studying in an institution in the country. Additionally, if you are a foreign investor in Singapore, you can apply for PR status at the Singapore Economic Development Board via the Global Investor Programme.
4. Note the Fees for Submission
Do note that there are a few fees that are payable if your PR application is successful. For applications submitted from the 18th of December 2017 onwards, applicants will need to pay a S$20 entry permit. Additionally, there is a S$50 payable fee for a five-year re-entry permit, another S$50 for an identity card and S$30 for an entry visa for foreigners requiring a visa.
5. Factor in Processing Time
The typical processing time for Singapore PR is four to six months. However, do note that in some rare cases, the processing time can take more than six months. If you are worried about your application status, you can check it via the e-Service.
The Bottom Line
It is not an easy feat to start a new life in a new country. It can be nothing short of a challenge to uproot your entire life and make the decision to migrate to newer and greener pastures. Hence, it would be wise to take note of the procedures, eligibility criteria and other important steps in order to make a smooth transition. If you have finally made the decision to live and work in the Lion City, ensure that you meet the eligibility criteria before filling out the appropriate forms and submitting them via the e-Service.
Unsure of how the procedure works, or what documents and forms you should consolidate? Consider hiring an immigration consultant such as Paul Immigrations to assist you with your PR application. Book an appointment with our specialists today, and gain insightful information on the PR application process. Our team of consultants are equipped with the expertise and experience necessary to improve your profile and in turn increase your chances of becoming a PR.
As an additional note, keep in mind that the rate of PR approvals decreases every year. Hence, if you are thinking of moving to this Little Red Dot and creating a new life here, better make the move sooner than later!