There are a number of things that you, as an applicant of the Singapore PR, can do to ensure that the odds are in your favour. Apart from making sure that you are meeting the listed eligibility criteria found on ICA website, you should also ensure that you do not miss out mandatory documentation. That includes following the guidelines for submission,  applying under the correct scheme for your PR application. Though it may seem minute, these are in fact the core factors that can impact your chances of officially becoming a Singapore PR.
Depending on your circumstances, you may be eligible for PR under any number of schemes from the Global Investor Programme (GIP) to the Professionals, Technical Personnel and Skilled Workers (PTS) scheme to the Foreign Artistic Talent Scheme (ForArts).  But here is why you should consider the PTS scheme, above all others.
PTS Scheme For Employment Pass or Entrepreneur Pass Holders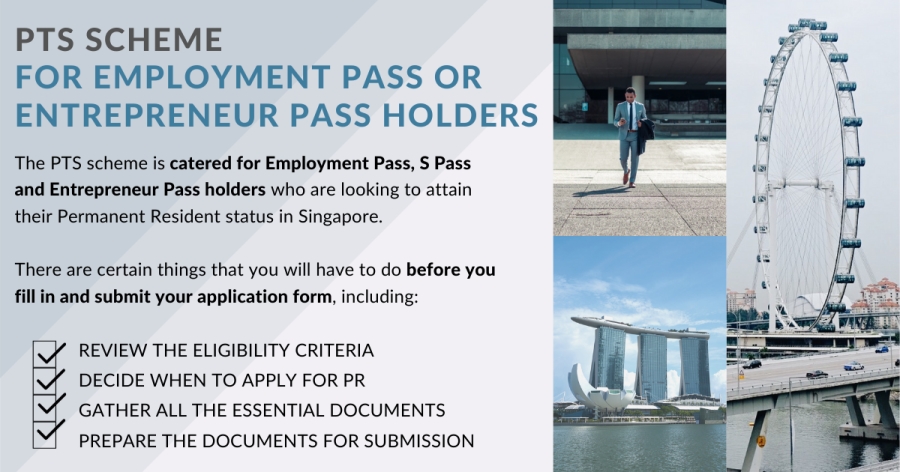 The PTS scheme is noted to be one of the more popular pathways for PR hopefuls. It is catered for Employment Pass, S Pass and Entrepreneur Pass holders who are looking to attain their Permanent Resident status in the country. One reason for its popularity is its flexibility in allowing both the applicant's spouse and unmarried children under the age of 21 years to apply for PR with them.
It might seem like a straightforward process to apply for your PR by completing the PR application form. However, there are certain things that you will have to do before you fill in and submit your application form, including the following:
Review the eligibility criteria
Decide when to apply for PR
Gather all the essential documents
Prepare the documents for submission
The first step to applying for your PR is to review the eligibility criteria. This will help you evaluate your chances of approval and allow you to tailor your application accordingly. After that, you will need to decide when you will be applying for your PR as your duration of stay and employment will play a large role in determining if you are eligible for Permanent Resident status. The next step is to gather all the essential documents you need for your PR application. Finally, you will need to prepare the supporting documents needed for your application. Although this might seem like somewhat of a tedious process, rest assured, it is worth going through all these steps to avoid any mistakes that might compromise your PR application.
4 Tips for Increasing Your Chances of Acquiring the Singapore PR Under the PTS Scheme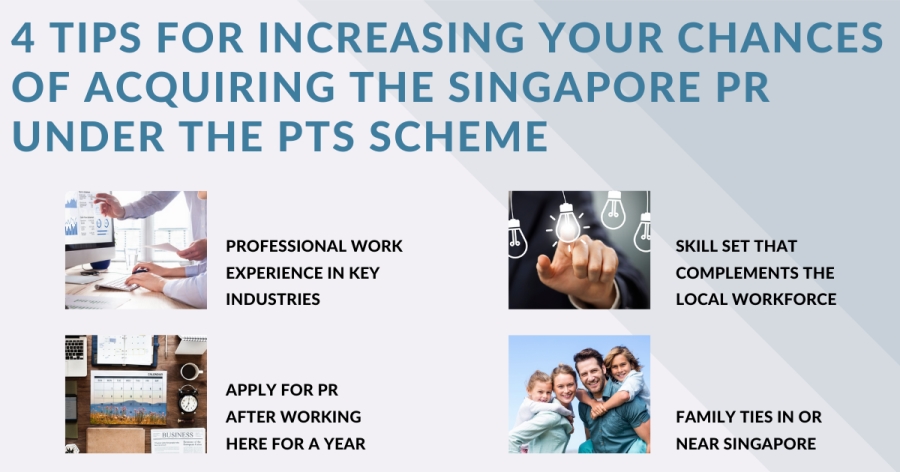 You can apply for Singapore PR status under the PTS scheme if you hold any of the following work passes:
Employment Pass in Singapore
S Pass in Singapore
Entrepreneur Pass in Singapore
Do note that besides these eligibility criteria,  there are several additional criteria that you should be aware of, which can help you to increase the chances of your PR application approval. The ICA officers, who will be assessing your documents,  will also take these other factors listed, but are not limited to, below into account when accessing your eligibility:
Family ties in the little red dot
Qualifications
Economic contributions
Length of residency in the little red dot
Family Profile
Another important note will be that officials tend to keep in mind is the applicant's ability to contribute to Singapore's economy and his/her keen interest in integrating into the Singaporean society. In short, your submission to acquire the approval will definitely be assessed as a whole, rather than just the mentioned criteria.
Unlike other countries, such as Australia and New Zealand, Singapore does not rely on a point system to review PR applications. Immigration Checkpoints and Authority (ICA) plays a large role in assessing applications based on a framework that has not been made public.
Nevertheless, there are several ways to increase your chances to obtain a PR in Singapore. Factors such as educational qualifications, employment history, family ties to Singaporeans as well as age can affect the success of your application. Here are some ways that these factors can do so:
You may be at an advantage if you have professional experience and a specialised set of skills, specific to the key industries or a promising niche industry.
If your skills do not create competition but, instead, complements the local workforce, that would also work to have the odds in your favour.
Applicants under the age of 50 years old or have family ties in the country will be looked upon favourably.
Additionally, the applicant has a higher chance of approval if they apply for PR after working here for a year.
An Alternative Scheme for Professionals Applying for PR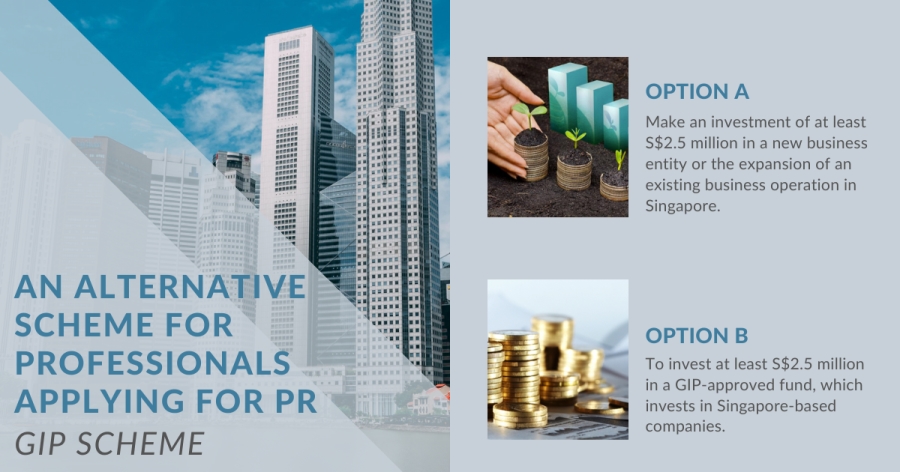 The Global Investor Programme (GIP) is an initiative that was established by the Ministry of Manpower and the Singapore Economic Development Board. It is catered for entrepreneurs and individuals who are interested in investing in a business in Singapore. By doing this, they will be eligible for Singapore PR. However, do note that the Enlistment Act is still applicable for male children who have obtained their Permanent Resident status under the GIP.
If you are an investor who has a substantial business track record and a successful entrepreneurial background, you can submit a GIP application. If you meet the eligibility condition, you can choose from two GIP investment options:
Global Investor Programme: Option A
Under option A, make an investment of at least S$2.5 million in a new business entity or the expansion of an existing business operation in Singapore. If you are choosing this option, be sure to include a five-year business or investment plan. Your plan will also need to feature the projected annual finance and employment. Additionally, you need to fulfil all the milestones that have been outlined in your plan within five years, following your recorded investment date. Lastly, the applicant's entity or company must be in specific sectors, some of these include, Automotive, Electronics, Shipping, Chemicals, Healthcare, Arts Business and Chemicals.
Global Investor Programme: Option B
Alternatively, you can also consider option B, which would require you to invest at least S$2.5 million in a GIP-approved fund, which invests in Singapore-based companies. The assessment criteria for the GIP application includes four main requirements. Firstly, the applicant must have at least three years of business and entrepreneurial track record, backed by the financial statements of his or her company. Note that this track record must be an audited report with information dating back to the last three years. Secondly, the company in question is required to report a minimum turnover of at least S$50 million in the most recent financial year, prior to the submission of the application. This has to be accompanied with a yearly turnover of at least S$50 million per year on an average of three years. Additionally, the applicant should ensure that their company's financial statements, with the highest turnover, are submitted. The business should be consolidated, with one or more approved industries in order to meet this requirement. Finally, if the aforementioned company is privately held, the applicant must have at least 30% of the shares in the company. In addition to this, officials will take the applicant's role in the company as well as its profitability and growth.
PTS Scheme vs GIP: Which Should You Choose to Apply for PR?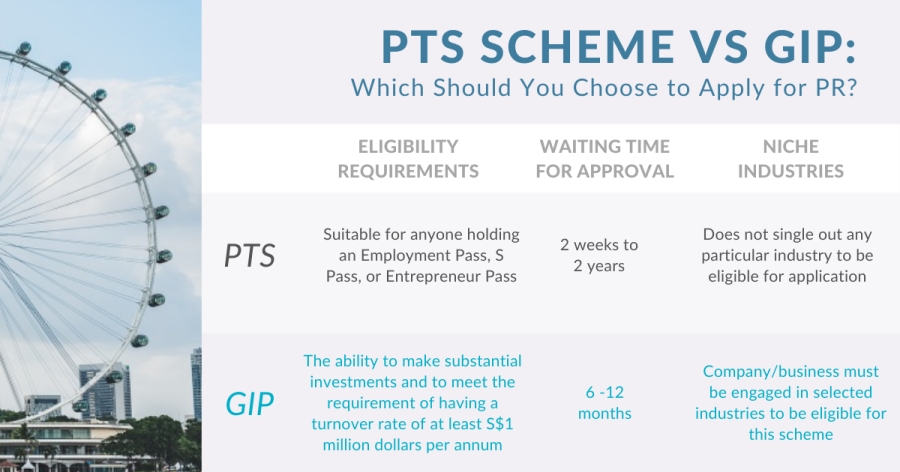 In the past, it was relatively easy for someone interested in attaining a permanent residence, for the little red dot, to get their PR approved. However, in recent years, the screening process has gotten more stringent to prevent anyone from abusing the status.  It has definitely become harder for foreigners to acquire their status. Although there is no guarantee for PR approval, adhering to certain guidelines and selecting the right scheme for yourself will increase your chances of becoming a PR.
Between the PTS scheme and the GIP, the former is known for being the fastest and most popular choice for attaining a Singapore PR. Here are a few reasons why:
1. Eligibility Requirements
The PTS scheme is suitable for anyone holding an Employment Pass, S Pass, or Entrepreneur Pass, making the PR status significantly easier to attain when compared to the GIP. Even though the GIP more or less guarantees a permanent residency, it is only exclusively catered for the wealthy, who have the financial strength and capability to invest in their business. Apart from being able to make substantial investments, they would also need to meet the requirement of having a turnover rate of at least S$1 million dollars per annum.
2. Waiting Time For Approval
Typically, PR applied under the PTS scheme residency takes anywhere between two weeks to two years to process, which is relatively long, especially when compared to PR applied under the GIP. In comparison, applications made under the GIP usually takes about six to 12 months to process. However, do note that although the processing time is fairly shorter in comparison, the GIP comes with its own obstacles and requires the applicant to prep for more interviews. It also makes it necessary for the applicant to consolidate more forms and plans as well.
3. Niche Industries
Under the GIP, only applicants whose company and/or business is engaged in certain industries will be eligible for the scheme. On the other hand, the PTS scheme does not single out any particular industry. To qualify for the GIP, your business must fall under the following industries (note that this is not the full list of industries): Aerospace Engineering, Automotive, Engineering Services, Healthcare, Shipping, Nanotechnology, Media & Entertainment.
The Downside of GIP: Re-Entry Permit Renewal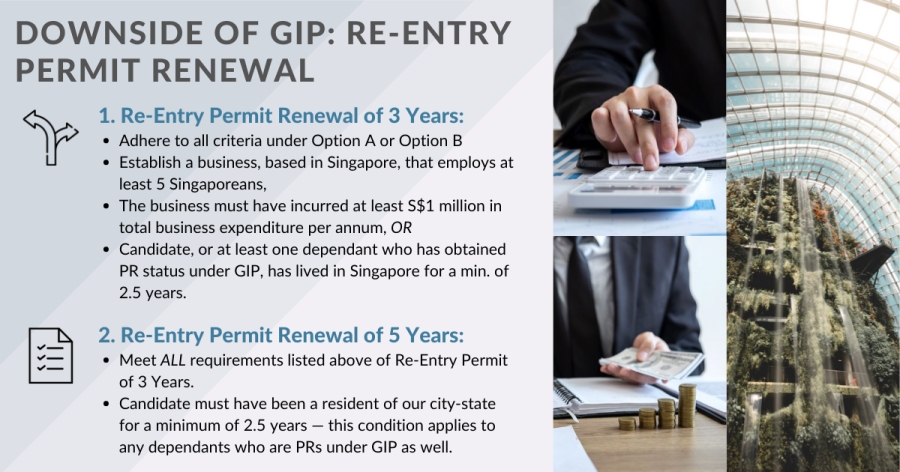 Similar to any other schemes or methods to apply for PR, those who have been accorded the PR status under the GIP have to also possess a valid Re-Entry Permit to avoid having their PR status revoked. If you are a successful applicant, you will be granted an Entry Permit that will remain valid for at least five years, thereby allowing you to remain a PR, even as a frequent flier.
However, following that, the renewal for the Re-Entry Permit will be subject to certain conditions, which puts the PTS scheme the better scheme for professionals applying for Singapore PR.
1. Re-Entry Permit Renewal of Three Years:
To qualify for the 3-year renewal, the candidate must adhere to the criteria under Option A or Option B. In addition to this, they have to meet either of the following requirements:
They would have to establish a business, based in Singapore, that employs at least five Singaporeans. In addition to that, the business must have incurred at least S$1 million in total business expenditure per annum.
Alternatively, the GIP candidate, or at least one dependant who has obtained Permanent Resident status under the GIP scheme, will also need to meet the minimum residency period, which is 2.5 years.
2. Re-Entry Permit Renewal of Five Years:
The only difference between a re-entry permit renewal of three or five years is that the candidate has to meet all the above requirements. For instance, to meet the 5-year renewal period, you will need to fulfil all the criteria under Option A or Option B, and set up a business here that employs a minimum of five Singaporeans. In addition to that, this business must have incurred at least S$1 million total business expenditure within a year, too. Finally, the PR must have been a resident of our city-state for a minimum of 2.5 years — this condition applies to any dependants who are PRs under GIP as well.
The Bottom Line
Applying for your PR can prove to be a challenging process. If you are unsure about the application process or would like to avoid the risk of rejection, consider hiring an immigration consultant. These consultants have the expertise and knowledge necessary to improve the chances of an applicant obtaining a PR status. At Paul Immigrations, our consultants are trained to assist applicants from the start to the end of their PR application process. From assisting with your cover letter and revamping your resume to filling out your applications and consolidating the necessary documents, our consultants will do everything in their power to ensure that your case and profile is presented in the best light possible.