An education system the envy of many other developed nations, a high-quality healthcare sector, and a high standard of living has made Singapore one of the most coveted places for foreigners to call home. If you are keen on attaining permanent resident (PR) status  or are in the midst of weighing out why you should consider becoming a PR in this Little Red Dot as well, keep on reading to find out more about the different PR schemes available as well as the benefits you can look forward to as a Singapore PR.
The 3 Types of PR Schemes in Singapore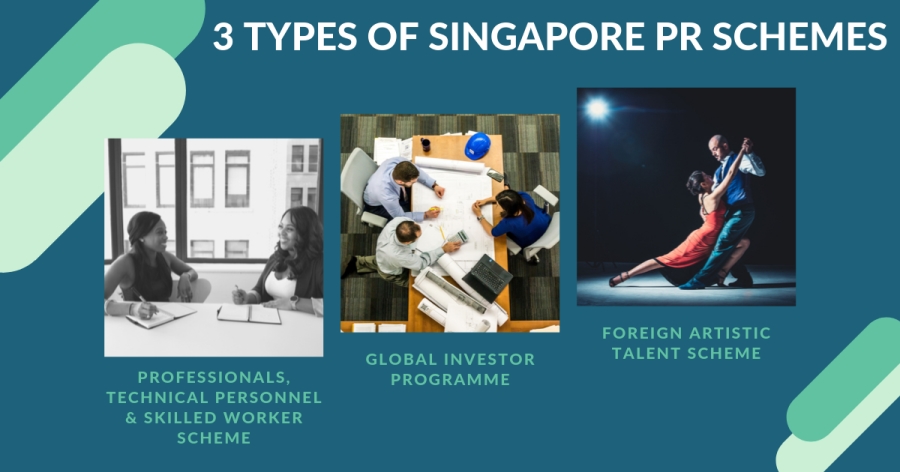 The Singapore government has implemented three different types of schemes to ease the route towards attaining permanent residency for certain important groups of individuals. If you are a foreign working professional, artist, or one who is interested in becoming an investor in the country, you may be eligible for one of these following schemes:
Professionals, Technical Personnel and Skilled Worker scheme
Global Investor Programme
Foreign Artistic Talent scheme
Depending on your needs and circumstances, applying through one of these schemes may increase your chances of being granted permanent residency in the Republic. Take note that each of these schemes has their own additional eligibility criteria you must fulfil for your application to be considered valid. For more information on the eligibility criteria, do visit the Immigration and Checkpoints Authority (ICA) website.
3 Benefits of Becoming a PR as a Working Professional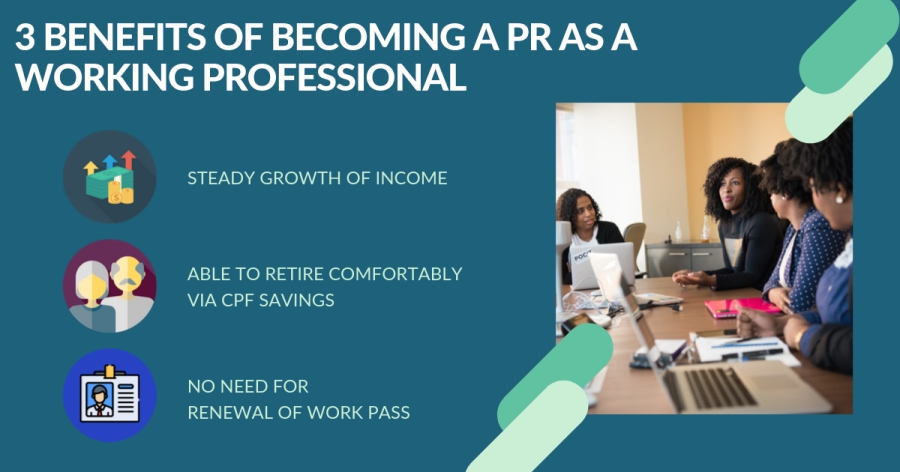 If you have been working in the Republic for some time and are considering living in the country permanently, you can apply for permanent residency via the Professionals, Technical Personnel and Skilled (PTS) scheme. To be eligible for the PTS scheme, you have to hold one of these work passes: Employment Pass, S Pass, Entrepreneur Pass, or Personalised Employment Pass. This scheme will also allow you to apply for permanent residency in the country for your spouse and/or unmarried children who are below 21 years of age.
The PTS scheme is by far the most popular route for individuals who wish to become a PR. According to statistics published by the Ministry of Manpower, the population of individuals that make up the foreign workforce in Singapore (excluding foreign domestic workers and those in the construction sector) have been steadily increasing between 2014 and 2019. As of June 2019, the number of foreign workers in this population reached 812,700 — an over 6% increase from 2014.
With the population of foreign workforce in the Lion City growing, it is safe to assume that there will be a similar increase in the number of working professionals applying to become a PR in the country. Therefore, if you are considering applying for permanent residency, it would be wise for you to do so as soon as possible before the competition gets even tougher.
If you need more reasons to work as a PR in Singapore, the following factors might convince you to take that next step:
1. A Steady Growth of Income
According to the 2018 Report on Wage Practices published by the Ministry of Manpower, there was a higher wage growth in 2018 than 2017 due to improvements in the country's economy as well as its labour market. In the private sector, total wages rose by an average of 4.6%  in 2018 — a 0.8% increase from 2017. In addition, 67% of employers in Singapore increased their employees' wages in 2018 compared to 65 % in the previous year. Based on these findings, you can rest assured that you will be able to enjoy a sufficient level of income throughout your working years in Singapore.
2. Able to Retire Comfortably via CPF Savings
In Singapore, the government has implemented the Central Provident Fund (CPF) as a financial security measure to allow its residents (i.e. citizens and PRs) to retire comfortably in the country. Every working resident, as well as their employers, are required to contribute a portion of their monthly income to their CPF savings, which are then distributed into three accounts: Ordinary Account, Special Account, and MediSave Account. A fourth account — the Retirement Account — will be automatically opened on the individual's 55th birthday. Applying for permanent residency means you will be entitled to CPF contributions, thus ensuring you have the financial ability to cover your living expenses in your silver years.
3. No Hassle of Renewing Your Work Pass Every Few Years
Non-residents who are working in the city-state are required to hold a valid work pass before their employment begins. Depending on the type of employment you are in, you may apply for an Employment Pass, EntrePass, Personalised Employment Pass, S Pass, or Work Permit. While these work passes enable you to work in the Republic for a certain period of time, their validity only lasts for a specific duration, after which you will be required to renew your respective pass in order to remain in your current employment. This renewal process can be a hassle, especially when the decision to renew your pass lies in the hands of your employer. However, when you gain PR status, you will be able to work in the country without needing a work pass, thus eliminating the hassle of applications and renewals.
2 Benefits of Becoming a PR as an Investor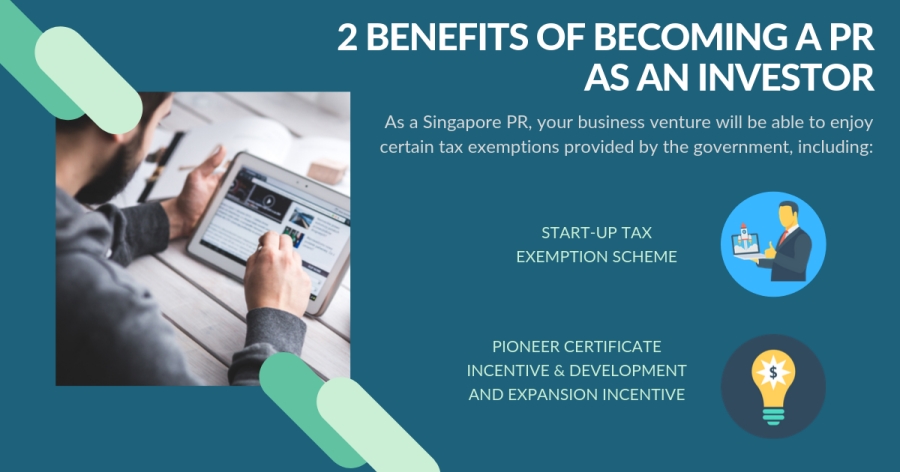 Placed in the centre of essential trading routes from various parts of the world — from North America to Europe to Asia — this Little Red Dot has rooted itself in the global stage as an international trading hub. Due to this strategic location, this Little Red Dot has become an ideal place for foreign corporations and entrepreneurs to set up their business or expand their company.
This is evident from the data published in the 2018 report by the United Nations Conference on Trade and Development (UNCTAD). According to UNCTAD's latest findings, the foreign direct investment (FDI) that flowed into Asia rose from 25% to 33% in 2016 and 2017 respectively. Among the countries that experienced this increase, Singapore, Hong Kong and China made up the three biggest recipients.
This data reflects the growing number of businesses looking to invest in countries that are experiencing a higher level of economic growth to meet the needs of their stakeholders. If you are a foreign entrepreneur interested in relocating to this little red dot to expand your company or invest in an existing one, Singapore has even established a PR scheme to aid you in your venture, known as the Global Investor Programme (GIP).
By applying to become a PR and investing in the country's economy, your business venture will be able to enjoy certain tax exemptions provided by the government, including:
1. Start-Up Tax Exemption Scheme
To support the growth of new local ventures, the Singapore government has implemented the Start-Up Tax Exemption Scheme (SUTE). Under this scheme, eligible businesses whose Year of Assessment (YA) falls from 2020 onwards will enjoy the following tax exemption for the first three YAs: (i) 75 percent exemption on the first $100,000 of normal chargeable income, and (ii) an additional 50 percent exemption on the following $100,000 of normal chargeable income. To be eligible for this scheme, your start-up has to be a tax resident in the Lion City, i.e. the management and control of your business is done in the Republic. If you are committed to creating a start-up in the country, it would be advisable for you to live in the Lion City by applying to become a PR to ensure the success of your new venture.
2. Pioneer Certificate Incentive & Development and Expansion Incentive
Both these incentives were established to encourage businesses to improve their capabilities as well as create new or expanded activities in Singapore. To be eligible for these two incentives, your company has to fulfil a number of criteria including the employment generated from your business (this includes expertise, skills and seniority), total business expenditure that profits Singapore's economy, and commitment to enhance the skill sets and technology in the country. In addition, businesses interested to apply for these incentives have to be committed to sustaining or expanding their activities in Singapore at a scale that will make significant contributions to the economy. With this in mind, it would be a better option for you to apply for permanent residency if you are serious about growing your venture on a large-scale in the Lion City. By attaining PR status, you will be able to apply for either one of these incentives, which will in turn help make your business dreams a reality.
2 Benefits of Becoming a PR as an Artist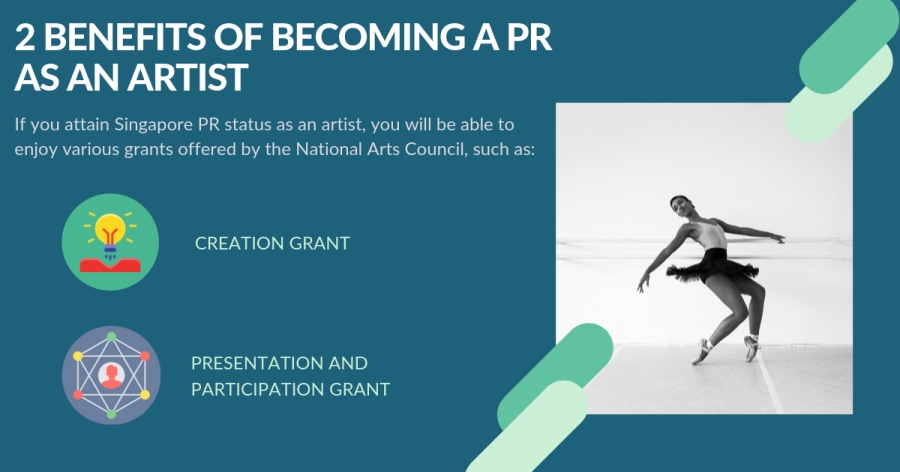 Foreign artists who are keen on becoming a Singapore PR can apply under the Foreign Artistic Talent Scheme (ForArts). Jointly administered by the National Arts Council (NAC) and Immigration & Checkpoints Authority (ICA), the aim of the ForArts scheme is to ease the way for foreign artists to advance their artistic career while simultaneously contributing to and advancing the arts and cultural scene in Singapore.
To be eligible for this scheme, interested applicants have to meet every one of the following criteria:
Have relevant training//education in their field of speciality
Have relevant professional experience as well as exceptional achievements in their field of speciality
Have provided substantial contributions to the arts and cultural landscape in Singapore
Are committed to being involved in Singapore's arts and cultural scene in future
Apart from this minimum criteria, other additional factors that will be taken into consideration are a display of good character by the applicant as well as their potential to be a role model for their fellow peers in the industry.
If you fulfil all of the minimum criteria and are given PR status in this Little Red Dot, then the good news is you will be able to enjoy various grants offered by the NAC that are afforded to local artists in the country, such as:
1. Creation Grant
The Creation Grant, previously known as the Arts Creation Fund, was established to assist in the formation, adaptation as well as redevelopment of unique artistic works. Artists eligible for the Creation Grant need to have a proven history of production and achievement in their artistic career. With this grant, you will receive financial support capped at $50,000 for a maximum of 18 months in either one of the following capacities: production of new original works, adaptation of an existing artistic work into a different discipline (e.g. from book to play), translation of local works by authors with recognised literary merit into one of Singapore's national languages, or adoption of digital technology as part of your production process and/or as a medium for your mini-showcase.
2. Presentation and Participation Grant
The Presentation and Participation Grant was implemented to allow artists and organisations from various artistic disciplines to continue to create quality arts events and works that will enhance the diversity in Singapore's arts landscape, as well as improve the appreciation for and participation in the arts scene in the country. The grant provides funding for the presentation and production costs of different types of projects in the Visual, Literary, Performing or Multi-Disciplinary art forms, some of which include performances/exhibitions, music extended plays and full-length albums, art form publications, co-creative/process-driven projects with members of the public, and conferences/festivals. If you are eligible for this grant, the amount of funding you will receive will depend on the type of project you plan to execute as well as whether you will be working as an individual or part of an organisation or a collective.
The Takeaway
With the various benefits awaiting individuals who become Singapore PRs, it is no wonder that the number of applicants is steadily increasing over the years, making the chances of getting an approval lower, with the higher level of competition every passing year. With that said, the PR application process can be a tedious and time-consuming one, so why not engage the help of an immigration consultant, such as Paul Immigrations, to guide you through the process? With the help of immigration specialists and a team of experts, Paul Immigrations will ease your way through the application procedure and increase your chances of attaining PR status in the Lion City while at it. Speak to us today and get a free, personalised assessment today!