Getting a Singapore PR status can open many doors for someone looking to start anew and settle down in a foreign country. Apart from being able to live, enter and leave the country freely without the need for a separate visa for work or travel, there are plenty of beneficial reasons why one should acquire permanent resident status. For starters, being a permanent resident in Singapore opens many doors for you in your career, allowing you to change jobs easily without having to worry about reapplying for your work permit. Not only that, you will also be given priority when it comes to healthcare and education for your little ones. But before you get ahead of yourself, a successful PR application is required before you can unlock the aforementioned perks.
Schemes Available for PR Application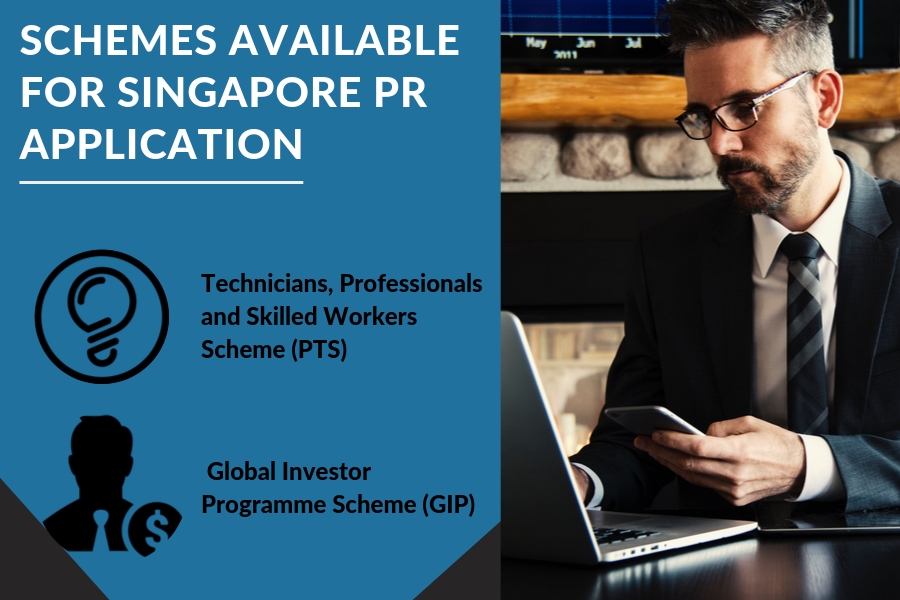 There are a number of schemes rolled out by the government that foreigners can apply for to acquire Singapore PR. To evaluate your eligibility for the different schemes, it would be best to run an assessment with an established immigration firm to determine which scheme would benefit you the most. This process would consider your industry and work experience amongst other factors.
1. PR For Technicians, Professionals and Skilled Workers (PTS)
This scheme would be suited for foreigners who have been working in Singapore on an EntrePass, S-Pass, Employment Pass or Personalised Employment Pass, and hope to make this city their home indefinitely. By offering professionals and skilled workers the status of Permanent Resident, their positive contributions in the long-term would help the country progress at a quicker rate. During the application process, applicants have to furnish a copy of their salary slips from the past six months and ensure that they are currently employed and working in the city-state at the point of application. It is important to note that while you may tick all the boxes, the governing body of the Immigration and Checkpoints Authority (ICA) will still have the final say on the approval of your PR status. The government entity assesses a person based on their personal and professional merits — your application would look better if you include a spotless financial history and charitable efforts to support your community.
2. Attaining Permanent Residency Status via the Global Investor Programme Scheme (GIP)
The country looks favourably upon business investors looking to invest their hard-earned money into the country. This scheme bolsters the nation by allowing new business to flourish in the city-state and supports existing Singapore-based entities. To be eligible for the GIP scheme, the applicant would have to make a minimum investment of S$2.5 million into the city. Aside from the amount of cash involved, eligible candidates are also required to have a successful background in entrepreneurship or a stable track record in business — the applicant must have at least 3 years of entrepreneurial and business experience under their belt. This would also be beneficial for when they have to submit a 3-year investment or business plan to the relevant authorities for evaluation under the GIP scheme. As of now, there are two options under the GIP:
If at least S$2.5m is invested in a new business entity or an existing locally-based business
If S$2.5m is invested in a GIP fund that supports locally-based companies
6 Eligibility Criteria You Should Know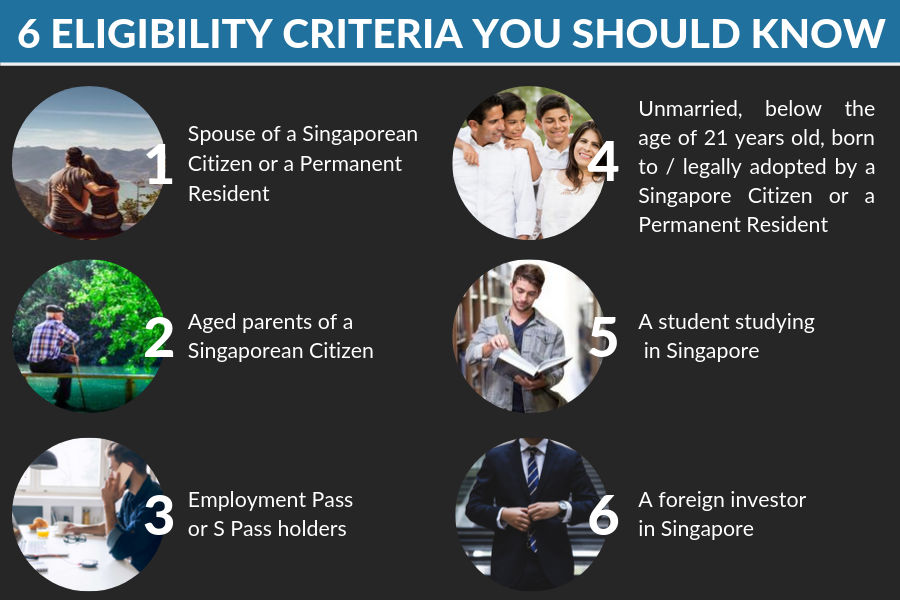 You can apply for permanent resident status if you meet one of the following criteria:
Spouse of a Singaporean citizen or a permanent resident.
Unmarried child not older than 21 years old, who was born within the context of a legal marriage to, or adopted by, a Singapore Citizen or a Permanent Resident.
Aged parents of a Singapore Citizen.
Employment Pass or S Pass holders
Student studying in Singapore
Foreign investor in Singapore
4 Additional Things To Keep in Mind For your PR Application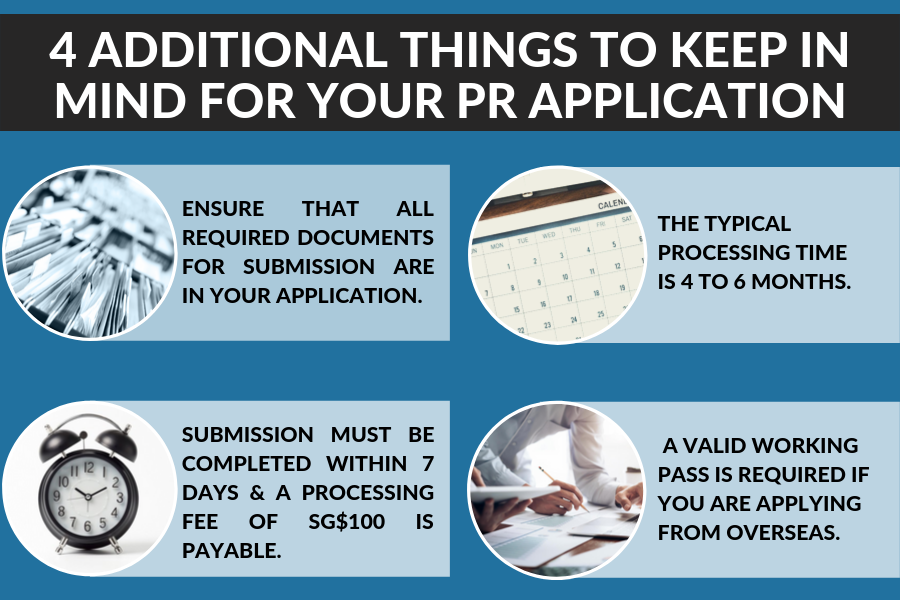 1. Ensure that All Required Documents are in Your Application
By now you should be aware that there are a few forms and documents that are required for your PR status. Regardless of which category you fall under, you would still have to apply for your permanent residency via e-Service on the ICA website. To find out the precise requirements needed in your application, read through the explanatory notes carefully. It may be easy to get confounded since the requirements are different for each category. Gather these documents one by one and go down the line to ensure you do not miss anything out. Otherwise, a good idea would be to get in touch with an immigration specialist who would supervise the entire process down to the gathering of essential documents.
2. Submission Time and Processing Fee
Time is of the essence when you are applying for your Singapore PR as you would have to submit all the required documents within seven days from the time you start the online submission. This is why it's even more important that you double-check that you have all the necessary documents with you before you get started. It is stated on the ICA website that any incomplete submission during the e-PR submission will likely result in rejection. Note that there is a non-refundable processing fee of $100 payable for each applicant to be paid at the point of submission. Should your application be successful, you would need to make additional payments for your Entry Permit, Identity Card and 5-year Re-entry Permit.
3. Processing Time
The typical processing time for your PR status — when submitted with proper documentation —  is four to six months. However, that being said, some approvals may take longer to process from your unique situation or if any additional documents need to be processed. If you want to check on the status of your PR, you can do so via e-Service.
4. Overseas Application for Singapore PR
For applicants who have yet to make the move, ICA does provide the option for them to do their application overseas. All you have to do is to submit the same documents to the Singaporean agency located within their home country. However, it is important to note that any application from overseas will still require the applicant to have a working pass, even if the applicant hasn't started using it yet.
4 Factors that Might Improve Your Chances of Becoming a Singapore PR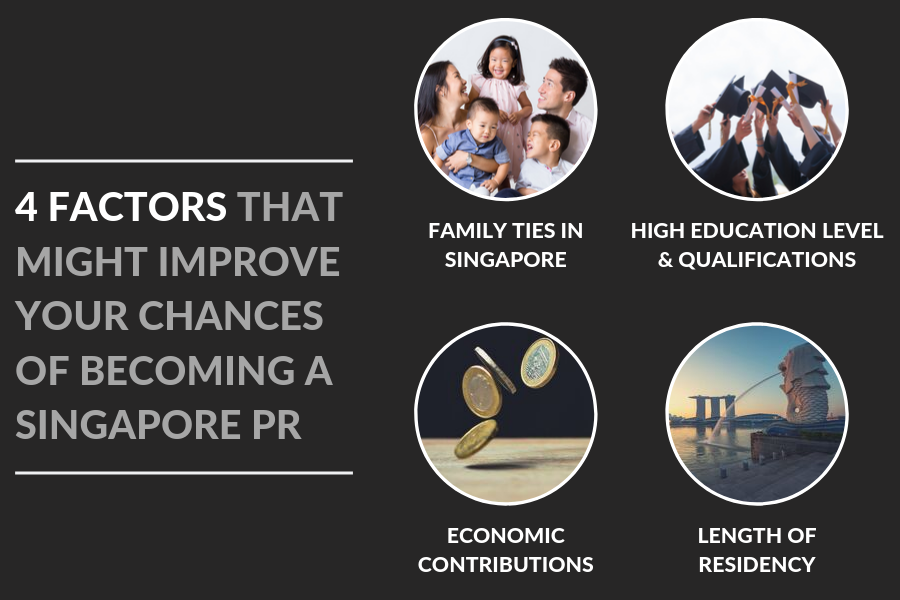 While it is not explicitly stated on the ICA website, your application can be boosted by several factors like one's family ties in the country, individual qualifications, economic contributions and the length of residency. Based on these factors, the immigration officers can then make an informed decision on how well the applicant can integrate into the community and contribute to the country.
1. Family Ties in the Country
This factor is of importance since it highlights how committed an individual would be to stay and provide for the country. When an applicant has family members within the country, it hints at their willingness to make Singapore their home base. Their offspring would be likely to be a part of the local education system and ensure the sovereignty of the country if their sons are enlisted as part of National Service.
2. High Education Level & Qualifications
One's qualifications and education level would be of note to the immigration officers. Applicants with higher qualifications would stand out since they would be more likely to find a job and be able to support any dependants living in the country. Applicants with higher qualifications can also play a part in the workforce by imparting their knowledge and raising productivity levels and the overall standard.
3. Economic Contributions
It is easy to see why an applicant that has economic contributions would stand out over others. Due to the ageing workforce in Singapore, an applicant that can inject new business ideas and bolster the country's economy would have an advantage during the application process.
4. Length of Residency
The period in which an applicant has stayed in Singapore would also come into close consideration. This gives the immigration officers an idea that the individual would encounter little problems easing himself/herself into the Singaporean way of life. Based on the number of years they have lived in the country, it would hint at their degree of familiarity in interacting with other locals and how self-sufficient they might be.
3 Common Mistakes To Avoid When Filling Out Your PR Application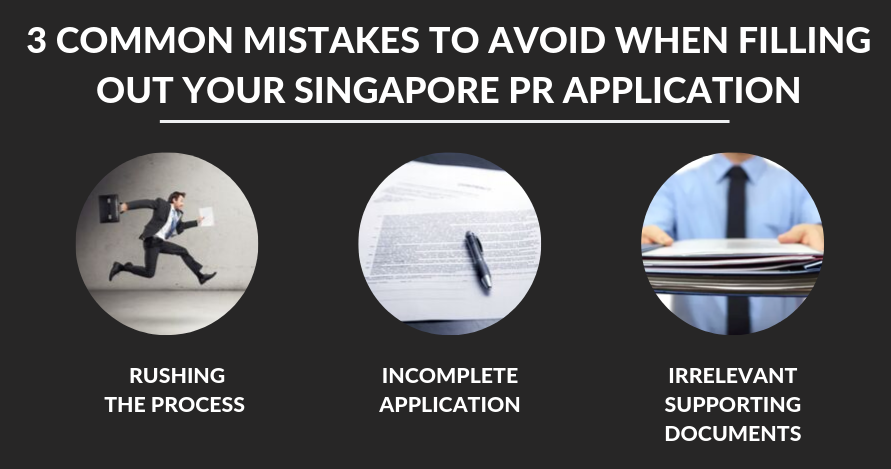 Applying for your PR status might seem like a straightforward process, but it can be extremely complex and tedious in some cases. These are some common mistakes that can compromise the success rate of your application.
1. Rushing the Process
Some applicants have been found to have gotten themselves into a job without too much thought just to meet the minimum requirement of at least six months of work experience in Singapore. It might seem like an easy criterion to tick off the list but it would be best to take your time throughout your stay here. In the case that you jump into a job without consideration, the chances of switching jobs would rise exponentially; this would give the impression that you are not trustworthy or serious about making significant contributions to the country. In any case, take your time and make informed decisions that would benefit you in the short and long term. The same would apply to your application process as well. Take the time to read through each form and check on the accuracy of the information input.
2. Incomplete Application
Because of how long the application process can be, it is very easy to slip up and submit an incomplete application. Information presented ought to be accurate and updated to the point of submission. For details that involve dates like your employment and education history, it would be ideal to present them in chronological order from the most recent onwards.
3. Irrelevant Supporting Documents
Ensure that all the information provided on the form are supported by the relevant documents. All of the relevant documents provided must be attached and organised well. Additionally, any documents presented in any language outside of English should be attached with an official translation. If you are presenting any information without the evidence to back it up, it would be best to leave it out or to include a letter informing the officer that the document is missing and the reasons behind it. Another tip would be to include a cover letter summarising your intentions of why you deserve a Singapore PR. While it is not necessary, this would give you an edge over other applicants and impress the officers. Unsure of how to start? Paul Immigrations has a team of experienced immigration specialists that can help you craft the perfect cover letter.
3 Additional Helpful Tips that Will Help You Integrate Effortlessly
Living in a new country may sound like a breeze but certain issues could build up and put your dreams of a smooth transition and integration into society to a halt. Here are three useful tips that could help you on your journey.
1. Learn the English Language
One of the most important things you can do to assimilate yourself would be to learn and practise English. By learning the common language of Singapore, you can connect better with other locals and allow you to understand them on a deeper level. There are many established institutions in Singapore that offer comprehensive English language courses for all levels.
2. Get to Know the Local Culture
In addition to learning English, it would also be good to gather some knowledge on the culture and traditions of your new home. As a foreigner, there may be drastic differences as compared to your own practices. But Singapore is a multi-racial and multi-religious city and as long as you are respectful of the practices of others, Singaporeans would show equal respect as well. Some ways you can attain a better grasp of the culture is by partaking in community work and participating in cultural events and festivals.
3. Explore the City
Take the time to explore the city and its offerings. Despite it being a metropolis, the city-state still preserves many of her cultural attractions. You will learn plenty more about the heritage by simply stepping out and engaging with others in your new home. This would be way more beneficial than learning about these experiences online.
The Bottom Line
Filling up your PR application may seem like a tedious process, however, mistakes can be avoided if you have prepared all the relevant documents in advance. Following instructions and providing accurate and timely information will go a long way in increasing your chances of getting your PR approved.