Numerous reports by mainstream media have recounted experiences by Permanent Resident (PR) hopefuls who still find permanent residency in Singapore utterly elusive even after multiple attempts. Receiving a PR rejection letter can feel incredibly demoralising — rejection stings in any shape or form, and this is no different. But what, then, should you do now? Can you apply for permanent residency again? Even if you could, is there even any real possibility of becoming a PR in the future, or should you perhaps throw in the towel altogether?
Let's set something straight right off the bat: there is no limit at all to the number of times that anyone can apply for permanent residency in Singapore. But here's how you can improve your next attempt if your PR application has been rejected.
Why was Your Application for Singapore PR Rejected?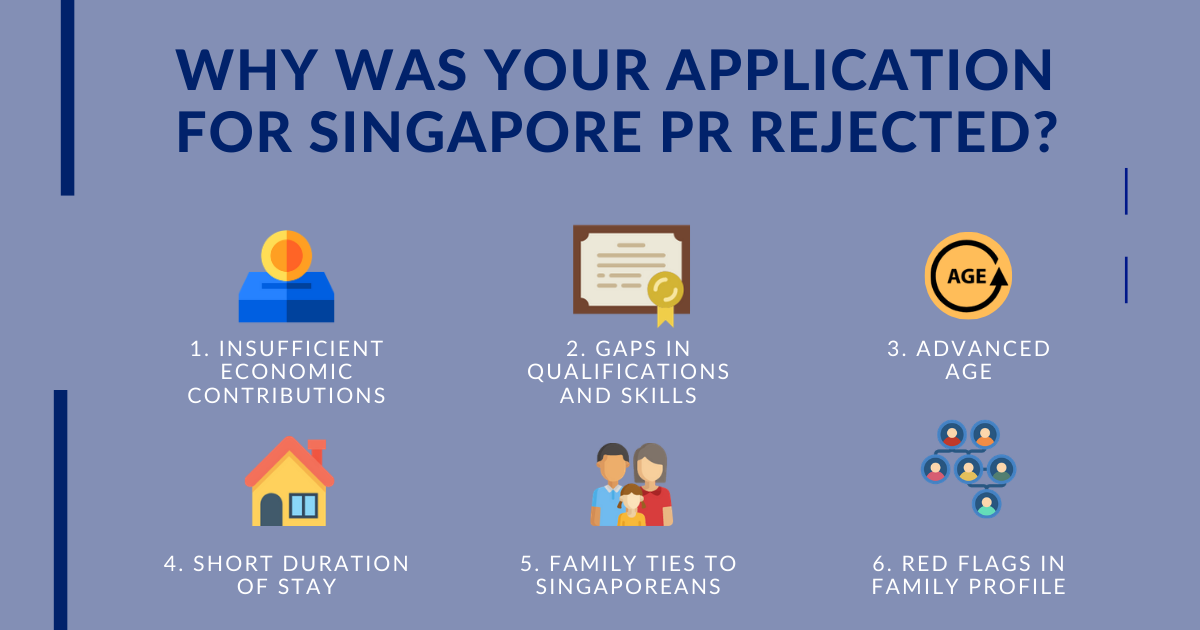 Following a rejection letter, take some time to evaluate why your application for Singapore PR status was rejected. Of course, the reason will not be immediately apparent since the Immigration & Checkpoints Authority (ICA) never reveals their reasons for either approving or rejecting any applications. The letter that was sent to you will, therefore, not contain anything remotely related to why you do not fit the bill. Part of their justification behind their decision to withhold their reasons is to curb attempts by past applicants to distort the truth for the sake of attaining the status. Nonetheless, you can still gauge the reasons why yours was rejected, using the following six factors that the authorities regularly cite as their basis for assessment:
Economic contributions
Qualifications and skills
Age
Duration of stay
Family ties to Singaporeans
Family profile
Note that ICA assesses each case holistically. Therefore, your submission was highly likely rejected for a combination of the following reasons, rather than one of them:
1. Insufficient Economic Contributions
Consider your current salary. In general, you are more likely to be rejected if you draw a monthly income that ranges between low to average. As crude as this sounds, a higher salary indicates more contributions in taxes and measures the significance of your current role in the company. Lest we forget, more than one PR scheme targets those who contribute to our economy, one way or another. Since Singapore is a country that prides herself on economic growth that hinges on meritocracy, the system usually rewards those who reflect this by climbing to the upper echelons of the corporate ladder. As such, ICA tends to prioritise high-income earners. Still, note that income comes hand in hand with the next factor — qualifications and skills.
2. Gaps in Qualifications and Skills
Chances are, you might know someone else who managed to secure the status with a salary and situation in life that are on par with yours. Assuming everything else is on even ground, why was yours rejected? The answer could lie in your resume. Does it reflect skills currently in high demand or necessary to the development of a niche industry? The authorities are more likely to approve PR applications of individuals who meet these profiles even though their income is equal to yours (or even lower). Healthcare professionals, for instance, are almost always in high demand. Should they wish to apply for permanent residency, they would immediately have the high ground.
3. Advanced Age
Unfortunately, if you are above the age of 50, your age is likely at least one of the reasons for your rejected application. Generally, those who are older are expected to draw higher income and possess skills proportional to their level of experience. Thus, as an applicant, you are at a disadvantage compared to other equally qualified and younger PR hopefuls. In addition to this, older applicants present yet another drawback — the authorities are concerned that they would exacerbate the issues that tend to plague an ageing population. Left unchecked, a study by the Institute of Policy Studies (IPS) found that the Lion City's ageing population can even cause the nation's per capita gross domestic product (GDP) growth to drop by 1.5% per year. Therefore, granting you with PR status would be of little to no merit to Singapore if you are far too close to retirement. You need to prove your worth in other ways.
4. Short Duration of Stay
Next, bear in mind how long you have been staying and working in Singapore. Have you only been part of the local workforce for a brief duration? If so, that might be the reason why ICA rejected your application for Singapore PR. Although ICA has not set a minimum number of years before anyone can apply for permanent residency, the odds are against those who do so within less than a year of living in the country. Applicants should always wait for at least a couple of years to prove their commitment to the city-state before applying for PR status. Take this as an opportunity to acclimatise to our culture and build your case as a potential PR.
5. Family Ties to Singaporeans
If you are unable to figure out why the authorities rejected your application even though you are married to a Singaporean, you are not alone. Plenty of Non-Resident spouses struggle to acquire PR status. According to the Ministry of Home Affairs, an average of only 49% of them succeed every year. Some have even written open letters, urging the authorities to keep families together. In general, applicants who fit into this profile have a higher chance of securing PR status, but it still depends on a combination of the above factors. For instance, can your Singaporean spouse support you if you are not gainfully employed? How long have you been married to your significant other? Do you plan to have any children in the future? All these questions share one common theme: your family needs to have something to offer Singapore — beyond marital ties. It is highly likely that ICA rejected your application because they do not have any reason to believe that you are an asset to the country.
6. Red Flags in Family Profile
Finally, ICA might have rejected your case due to red flags in your family profile. During the assessment process, the authorities do not focus on the applicant only. Their entire family, especially their dependants, is subject to assessment too. If you excluded your children from your attempt, for instance, the outcome of your application should not surprise you. Far too many PRs have attempted to evade National Service (NS) by excluding their sons from their applications, and the authorities have wised up to these methods.
4 Mistakes that can Get Your Application for Singapore PR Rejected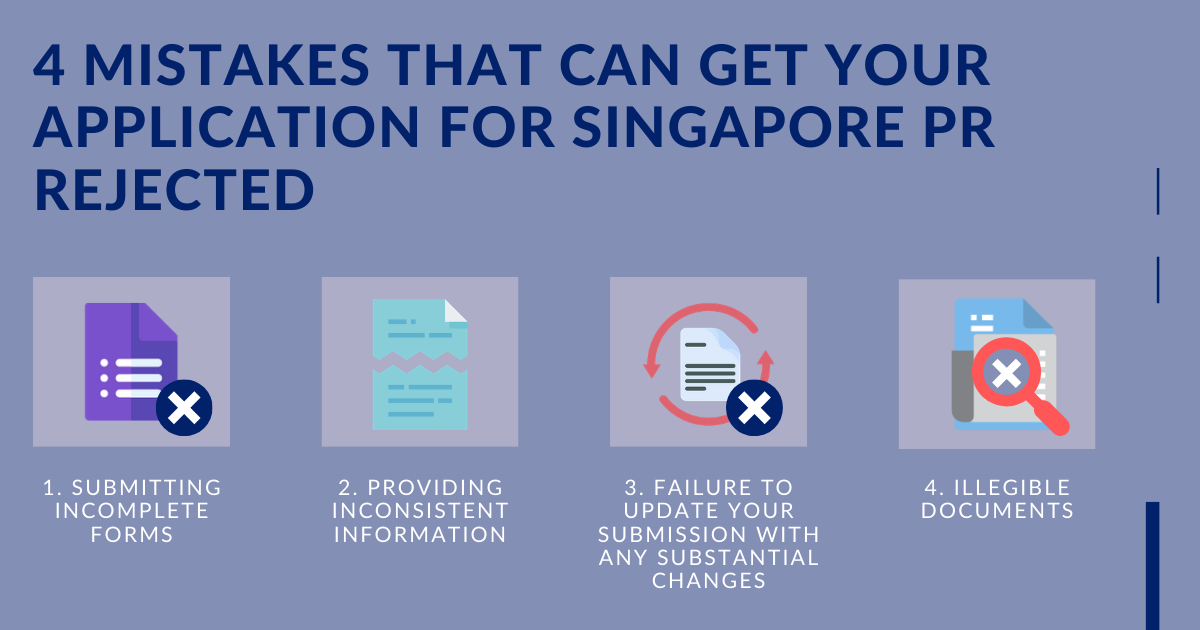 Some mistakes can prove costly enough to get your application for Singapore PR status rejected. As an applicant, you need to do your part in ensuring that your Singapore PR application meets ICA's requirements, as clearly stated on its official website. ICA officers have to parse through thousands of applications at a time — make sure you avoid making their task that much more difficult. You can achieve this by avoiding any of the errors below:
1. Submitting Incomplete Forms
Should you opt to fill in the application form offline, submitting an incomplete form to ICA is sure to work against your favour. Instead, take your time and be as meticulous as possible. You should have ample time to do so — there is no need to rush here. Note that if any sections do not apply to you, input 'NA' rather than leave it blank. In addition to this, ensure that no stone is left unturned by requesting a trustworthy third party (or more) to look through it afterwards.
2. Providing Inconsistent Information
Providing ICA with inconsistent information is one of the most glaring mistakes that you can ever make. Even if it is not intentional, any inconsistency is bound to raise a red flag in your submission. As such, be sure to check your submission beforehand to avoid such errors. On the other hand, any attempts to bolster your case with falsified information can lead to severe consequences. Do not, under any circumstances, resort to such measures even if you are desperate to become a Singapore PR.
3. Failure to Update Your Submission with Any Substantial Changes
Life is not static. Changes can happen in a snap of a finger, and failure to update your submission can deny you the status that you should have deserved. Therefore, be sure to inform ICA if you experience any significant changes in your family's life. Although you are not allowed to amend anything in your final submission itself, you can still return to the e-PR system to add relevant updates during the assessment process. Informing ICA that your spouse has, for instance, found a job with much brighter prospects will vastly improve their chances.
4. Illegible Documents
Why include a document if it is not legible? An illegible document would serve no purpose whatsoever since no one would be able to comprehend its contents. Instead, ensure that the print in each document remains legible when you upload it to the e-PR system and write neatly and clearly if you choose to submit any handwritten documents. Make the best possible impression on the ICA officers in every aspect of your Singapore PR application.
Your Next Move After a Singapore PR Application Rejection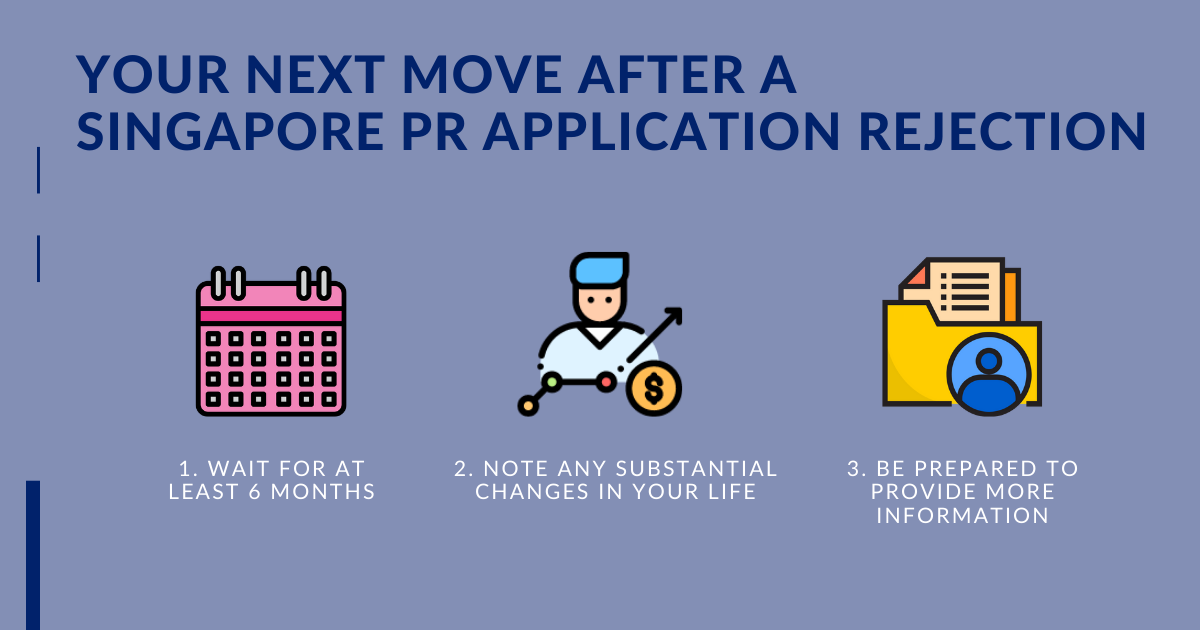 Even after going through the above, you might still feel quite lost. What should your next move be, given what you know now? As previously discussed, there is no limit to the number of times that you can apply for permanent residency. Go ahead and submit a fresh application to the e-PR system if you still wish to make Singapore your home. Plenty of other PR applicants eventually succeed in time. However, take note of the following under these circumstances:
1. Wait for at least Six Months
Although ICA allows multiple attempts, all applicants must wait for at least six months before submitting a fresh application. Adhere to this stipulated cooling period, rather than risk receiving yet another rejection letter in your mailbox. ICA keeps records of all past applications in their system and will know if you choose to apply for permanent residency in less than six months.
2. Note Any Substantial Changes in Your Life
The best rule of thumb for when to try again is to wait until there are substantial changes in your life before applying for Singapore PR status. Otherwise, it would be pointless to invest additional time, effort and money, only to submit the same application to ICA. Instead, ensure that you can substantiate your new PR application with a promotion in your current employment or a significant salary increment. Prove to them that your life has changed for the better.
3. Be Prepared to Provide More Information
Finally, always be prepared to provide ICA with more information, even beyond the list of documents required for Singapore permanent residency. Do not feel taken aback when ICA requests additional clarification on your life, such as background information on your family profile. If the officers are willing to ask you for more information, you already have one step through the door at this point. Head to the interview confidently, armed with the necessary documents.
The Takeaway
We know how daunting all of this can be, especially if you are no stranger to rejection. Even if you do have the means to re-apply for permanent residency, it would be an exercise in futility to submit something identical to your last rejected attempt. Instead, let our team of experts at Paul Immigrations guide you with your next application. With our experience and your potential, we can help improve your chances when you are ready to apply for Singapore PR again. Reach out to us today.