There are many reasons that the Singapore PR status is highly desired by foreigners planning to work and live here. One of the main reasons is gaining access to the many elusive privileges reserved for Citizens. Becoming a Singapore PR will not only open more doors for you, but it will also provide more opportunities for your family as well. Besides enjoying a better quality of life, you will also have access to better healthcare, education, accommodation and employment. Additionally, attaining your PR status will enable you to select from a wider range of housing options, education opportunities for your child or even a new job.
8 Benefits of Being a Singapore PR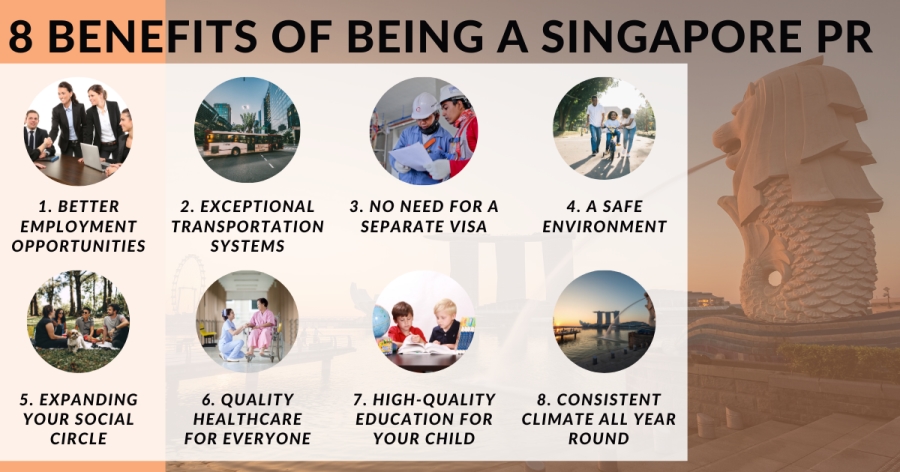 Let us delve deeper into some of the many benefits that await you and your family here in Singapore. Read on!
1. Better Employment Opportunities
As a Permanent Resident, you will have better employment opportunities compared to foreigners who hold an Employment Pass or S Pass. You will also secure jobs more easily and quickly without needing to go through the tedious process of reapplying for a work permit each time you want to switch jobs. Gone are the days when your career is limited by your work pass or permit.
2. Exceptional Transportation Systems
Although Singapore is a small country, over mere decades, the government has focused much of its revenue, time and effort into improving the overall infrastructure of the country. The result is an extensive road network and transportation that allow residents to travel quickly and easily. Whether you are getting in and around the city-state by bus or MRT, public transportation in the country is significantly cheaper than taking a taxi or owning a car. With plans of introducing more MRT lines in the near future, it is predicted that MRT journeys, no matter how far between destinations, will be faster than ever. Additionally, although taking a taxi is more costly, the introduction of ride-hailing transport services has given residents more affordable alternatives.
3. No Need for a Separate Visa
As a Permanent Resident, you will be allowed to live and travel and out of the country without having to apply for a separate visa. This privilege not only saves you a lot of time, but it also saves you the hassle of applying for a visa, perfect for travellers who need a quick getaway amidst their busy work schedule. Being located close to neighbouring Southeast Asian countries means that you are only hours away from exciting destinations. Getting away for the weekend to relax and rejuvenate or to hike is within a few hours of a drive too, if you are strapped for cash. There are several airlines that offer affordable rates to fly to neighbouring countries such as Vietnam, Thailand and Malaysia while meeting all budgets. Just make sure that your Re-Entry Permit is valid before leaving the country.
4. A Safe Environment
Compared to other metropolitan cities in Asia, Singapore is a significantly safer place to live and work in. It is also helpful to note that the city-state has a zero-tolerance policy when it comes to drugs — hence, drug-related crimes are almost a rarity. Nevertheless, despite low crime rates, it is still advisable that you remain vigilant of your surroundings when walking at night.
5. Expanding Your Social Circle
There is a common misconception that Singapore is home to the unfriendliest people. However, this is often a gross misinterpretation. Since the city-state is so well connected, it is easy to find friends or meet up with new people based on shared interests in online forums and Facebook groups. Additionally, you can also keep an eye out for organisations that hold social events. If you want to get yourself involved in the community, you could consider taking a class or even doing some volunteer work.
6. Quality Healthcare for Everyone
You will also be eligible for tax and financial benefits offered by Singapore's Central Provident Fund (CPF) scheme, including medical benefits. Singapore's healthcare system has long been touted for its quality and affordability — especially for Citizens and Permanent Residents. As a Singapore PR, you can pay for your medical expenses with Medisave funds from your CPF account, which helps you save for medical emergencies without breaking a sweat. Moreover, you can also use your Medisave funds to settle hospitalisation expenses for your dependants. These dependants include your spouse, grandparents, siblings and parents. However, note that your siblings and grandparents must be Citizens or Permanent Residents. Apart from Medisave, Permanent Residents can also utilise Medishield and Medishield Plus to offset their medical bills. These schemes act as low-cost medical insurance that gives both you and your family financial protection from unexpected medical costs. In the event of a prolonged or serious illness, you will not have to worry about your financial coverage. In addition to these schemes, there are premiums can be paid from Medisave. If you purchase Medishield Plus, you will get higher insurance coverage.
7. High-Quality Education for Your Child
When you become a Singapore PR, your child will be eligible to apply for PR with you as their sponsor if he or she is unmarried and under 21 years of age. It will then be possible for you to enrol your little one in a local school. The public schools in Singapore offer high-quality education that is also affordable. As a Permanent Resident, your child will have an opportunity to be enrolled in a school of your choosing. Enrolling your children in local schools will not only ensure that your child gets a top-notch standard of education, but it will also expose them to the rich diversity of our local culture and languages. With a strong focus on cultural and racial cohesion, most schools in the Little Red Dot have a good mix of students of various races and religions. Regardless of race, language or religion, all students will take core subjects — English, Mathematics, Sciences, Social Studies and more — together. As such, these students would have plenty of opportunities to interact with each other and learn about their peers' diverse cultural backgrounds.
8. Consistent Climate Throughout the Year
As a tropical island, Singapore's weather is almost constant throughout the year. Typically, the temperature ranges from 30 to 33 degrees celsius. The temperature of the weather decreases relatively in the evenings, dropping down to a cooling 25-degree Celsius. Needless to say, you won't need to reach for a coat when heading out.
How to Become a Singapore PR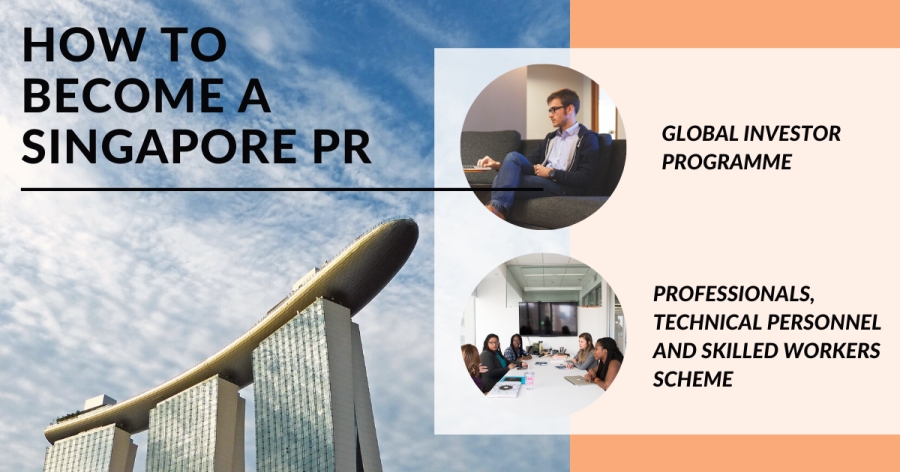 If you do not have any family ties to a Singaporean, you can become a Singapore PR based on their own merits in two ways. One option is to utilise the Global Investor Programme (GIP) while the other is Professionals, Technical Personnel and Skilled Workers Scheme (PTS Scheme).
1. The Global Investor Programme
Foreigners looking to set up and operate a business in Singapore will be looked upon favourably by the government. Under the Global Investor Programme, you will be required to invest a minimum sum of $2.5 million. Currently, foreigners who invest in Singapore's economy under this scheme will have two options. Option A will require them to invest at least S$2.5 million in a new startup or an existing business operation. Option B will require foreigners to invest a minimum S$2.5 million in a GIP-approved fund that invests in companies that are based in Singapore. Note that there is a list of approved industries under the GIP, including healthcare services, education, energy, telecommunication, logistics and biomedical — refer to Annex A, available on the Economic Development Board's official website for the complete list. To be eligible for this programme, you need to fulfil the following criteria:
You are required to make a minimum investment of S$2.5 million via Option A or B.
You need to possess a business or entrepreneurial track record that dates back to at least three years.
You need to submit audited financial statements of the company in the past three years.
The turnover rate of your firm must equate to, or exceed, S$50 million in the year prior to the submission of your application.
Your firm needs to be involved in at least one of the approved industries in Annex A.
If you own more than one business, you can combine all the financial statements of the company to meet the minimum yearly turnover requirements. Alternatively, you can opt to submit only the one with the highest turnover.
You will need to declare your role and position in the company, and the profitability of the company will also be taken into account.
You must have at least 30 per cent of shares in the company if it is privately held.
If you are applying under Option A, you will need to submit a five-year investment or business plan in addition to the employment and annual financial projections.
2. The Professionals, Technical Personnel and Skilled Workers Scheme
Foreigners can also attain Singapore permanent resident status under the Professionals, Technical Personnel and Skilled Workers (PTS) Scheme. To be eligible for the PTS Scheme, you must be a holder of an Employment Pass, EntrePass, Personalised Employment Pass or S Pass. Although the finer details of the PTS scheme appears straightforward enough to understand, applying for PR under this scheme requires a significant amount of research and preparation on your end. Since you will be assessed on your merits alone, you are required to provide all your highest educational certificates and details of your current employment in the city-state, including an employer's letter. Consider following a comprehensive step-by-step guide to ensure that you do not miss out any information or miss any crucial steps. However, it may interest you that this scheme allows you to include the following dependants in your application:
Spouse
Unmarried children under the age of 21 who were born to you, or legally adopted by you within the context of a legal marriage
Side Note: The Enlistment Act and National Service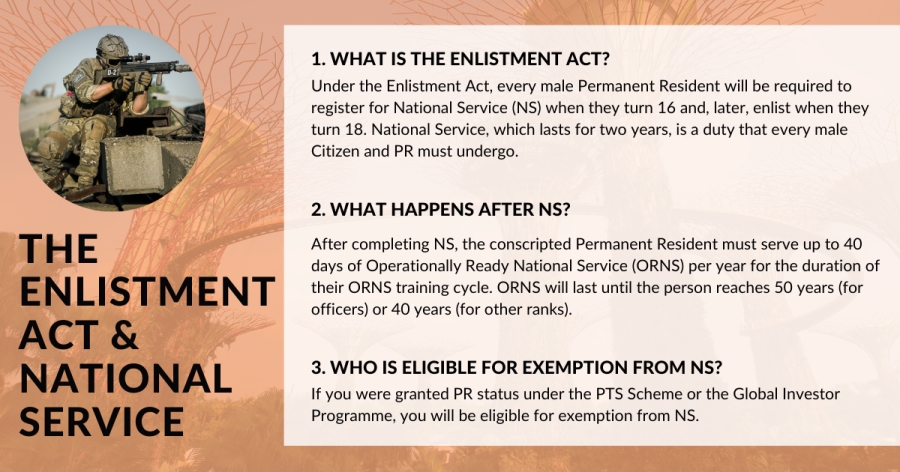 For some Permanent Residents, with great benefits come great responsibilities — in the form of the Enlistment Act. The Enlistment Act concerns all male residents, be it Citizens or PRs, who are obligated to serve the country as soon as they come of age.
1. What is the Enlistment Act?
Under the Enlistment Act, every male Permanent Resident will be required to register for National Service (NS) when they turn 16 and, later, enlist when they turn 18. National Service, which lasts for two years, is a duty that every male Citizen and PR must undergo. Any attempts to renounce the PR status to evade conscription can affect your family's ability to stay and work in the city-state.
2. What Happens After NS?
After completing NS, the conscripted Permanent Resident must serve up to 40 days of Operationally Ready National Service (ORNS) per year for the duration of their ORNS training cycle. ORNS will last until the person reaches 50 years (for officers) or 40 years (for other ranks).
3. Who Is Eligible for Exemption from National Service?
If you were granted PR status under the Professionals, Technical Personnel and Skilled Workers Scheme or the Global Investor Programme, you will be eligible for exemption from NS. However, if you applied for the status with your family under the above schemes, your son will have to serve National Service when he reaches the age of 18.
The Bottom Line
The benefits of being a Singapore PR are aplenty, with access to many of the rights and benefits that are otherwise exclusive to Citizens. However, the road to attaining your PR status will come with its challenges. To overcome them, consider hiring a professional immigration consultant who can evaluate your chances of becoming a Permanent Resident, while also help you consolidate the information and documents required for Singapore PR. At Paul Immigrations, our team of immigration specialists will guide you through the entire application process, from submitting the relevant documents to assisting you with your cover letter and more.