In recent years, Singapore has turned into a popular destination to work and live in, and it is no surprise why. Singapore is touted for its security, geographically safe location, diversity and booming economy that has attracted businesses from across the world. That's why many vie for the coveted Permanent Resident status in Singapore to enjoy the many benefits that living in the city-state brings.
There are many reasons why one would want to live and work in this city. Depending on their individual goals and ambitions, the country offers a number of opportunities for individuals to pursue a better life in the country. In terms of liveability, the city-state is known for its melting pot of cultures and a wide selection of cuisines to make anyone feel at home. This compact city-state might seem like it doesn't have much to offer, but this is far from the truth. Although small in size, this country is home to numerous attractions and eclectic offerings. Whether you are a nature lover or a cultural aficionado, this charming city always has something to offer.
4 Benefits of Becoming a Singapore PR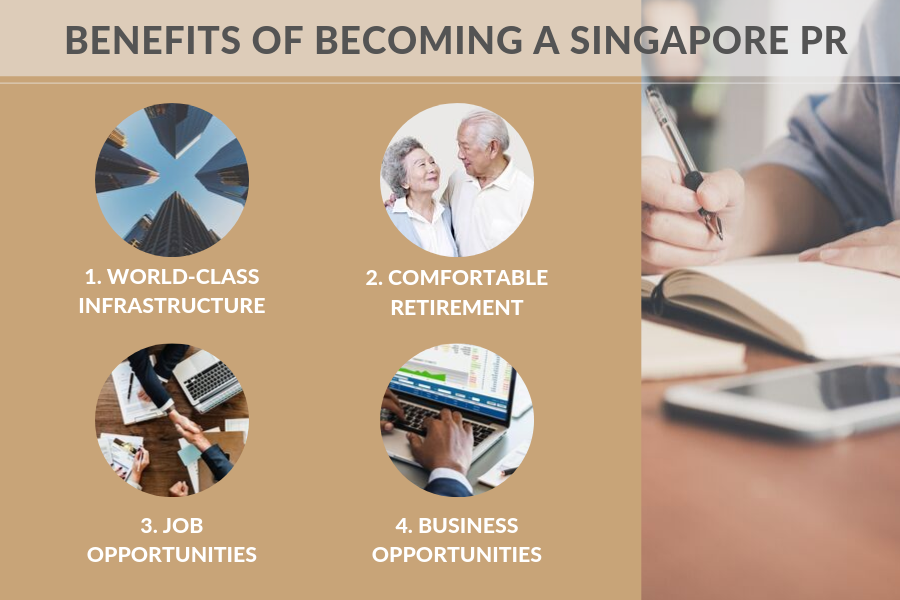 The number of benefits that being a Singapore PR brings runs in the tens and hundreds. Living and working here means you will have access to:
World-Class Infrastructure
Comfortable Retirement
Job Opportunities
Business Opportunities
1. First-World Infrastructures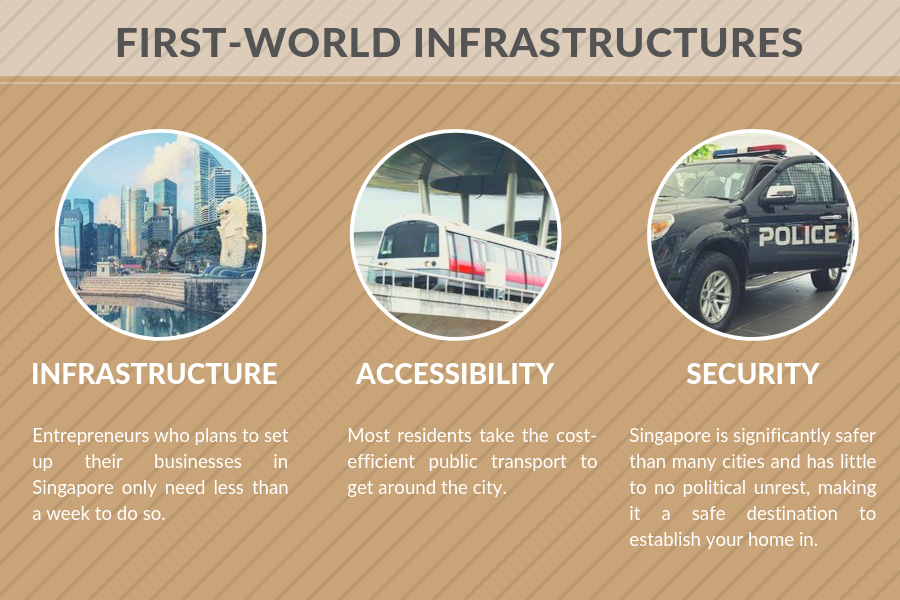 Infrastructure
In terms of infrastructure, Singapore boasts one of the best. Although the city-state does not have access to natural resources like precious minerals, it makes up for this in its infrastructure and human capital. The World Bank had conducted a survey recently and found that entrepreneurs who wanted to set up a business in the country would need less than a week to set up their business. In addition to that, they would only require a little over a month to secure electricity and less than a week to acquire a container. The speed demonstrated would be a testament to the country's all-around efficiency and its well-developed infrastructure.
Accessibility
You might have heard that owning a car in Singapore can be expensive. But in reality, a car is not a must-have in this travel-friendly city. The government has placed a heavy emphasis on the public transport system, and that has made travelling from one end of the country to the other possible under an hour. As of now, there are hundreds of buses and trains plying the streets at any one point, making travel accessible. Because of how cost-efficient public transport is, the bulk of the population does not have to tighten their purse strings to get in and around the city for work or leisure.
A Safe and Secure Environment
Making the decision to move to another country is not easy, especially after you have gotten used to the way of life in your home country. There are many factors to consider before making a huge move. One big determiner is the safety and security of a country, and Singapore's long-established reputation as a safe country certainly meets the grade. As compared to other metropolises, Singapore is significantly safer, evident from the much lower crime rate. In terms of the political climate, the city-state has little to no political unrest. Riots and protests are hardly experienced in the country, making it a safe destination to establish your home in.
2. An Assured Retirement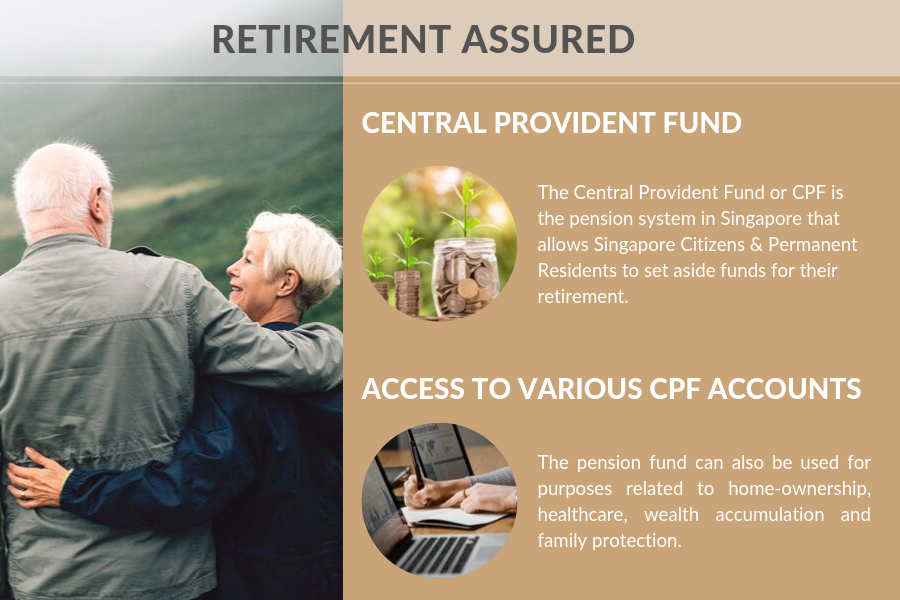 Fund Your Retirement Years
Singapore citizens and permanent residents have the safety net of the Central Provident Fund (CPF) to retire comfortably in their later years. The CPF scheme is a pension system that helps working citizens set aside funds for their retirement. This would also be beneficial since the income that is taxable drops following the CPF contributions — tax is calculated on the amount after CPF is deducted from your monthly salary. After you have turned 55 years old, you are then eligible to withdraw your CPF savings. However, the amount that you can withdraw would largely depend on the balance in your account and the year in which you turn of age.
Access to Various CPF Accounts
CPF funds are split into the following accounts:
Ordinary Account (OA) – Which covers CPF insurance, housing, education and investment.
Special Account (SA) – Focuses on old age and investment in retirement-related financial products.
Medisave Account (MA) – Meant for hospitalisation expenses and other medical insurances.
Retirement Account (RA) – The OA and SA will be combined to create this account on the 55th birthday of the individual
You might think that the CPF is only meant to tide you through your retirement years. However, it can also be used for purposes related to home-ownership, healthcare, wealth accumulation and family protection. The Ordinary Account, in particular, allows you to purchase property, foot for education costs and even to be used as investments in certain funds. In the case that you wound up incurring hospitalisation expenses, you can withdraw from your Medisave Account to foot the bill. Something that you don't have to worry about is that the money placed in your CPF accounts would not lose out to inflation or interest accumulated since the CPF offers interest rates that are extremely competitive. In the case that you relinquish your PR status in the future, you can rest assured that the entire amount in your CPF fund can be withdrawn.
3. Bountiful Business Opportunities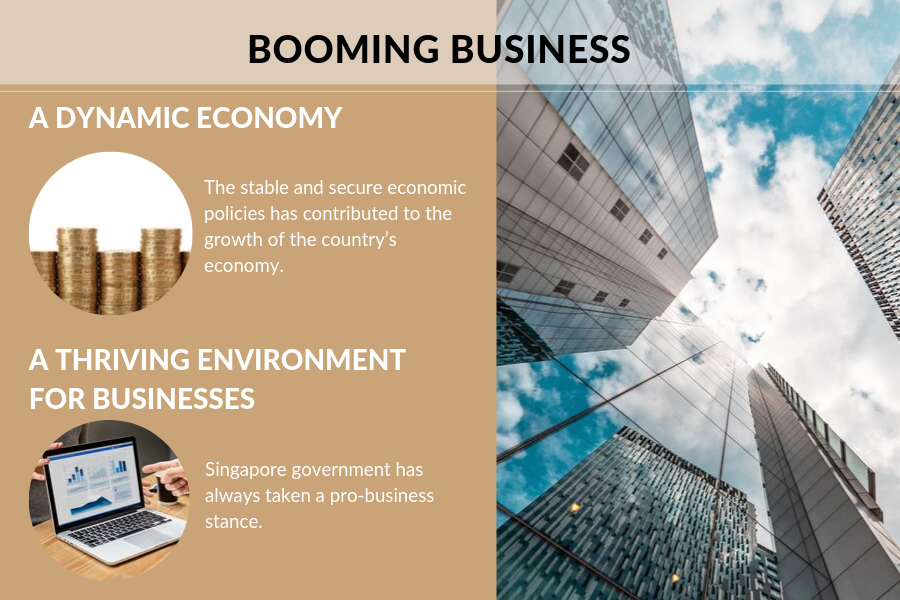 A Dynamic Economy
Stable and secure economic policies have contributed to the growth of the country's economy, year after year. In fact, the country has projected growth in productivity. As a perfect environment for wealth development, Singapore is recognised and noted by many multinational corporations as a good base for launching their headquarters within the region. This could be largely due to the strategic location of the country in the Southeast Asian region, which in turn offers residents of the city-state more opportunities to expand their individual capabilities.
A Thriving Environment For Businesses and Business-Owners
Another advantage of becoming a PR is that the government has taken a pro-business stance and has committed close to 50% of its expenditure to the development and improvement of the economy.  To further support emerging businesses, the government has many subsidies and grants that could help get your business up and moving. If you are looking to start your own company, you would find minimal regulations that could impede your business plan.
4. Plenty of Opportunities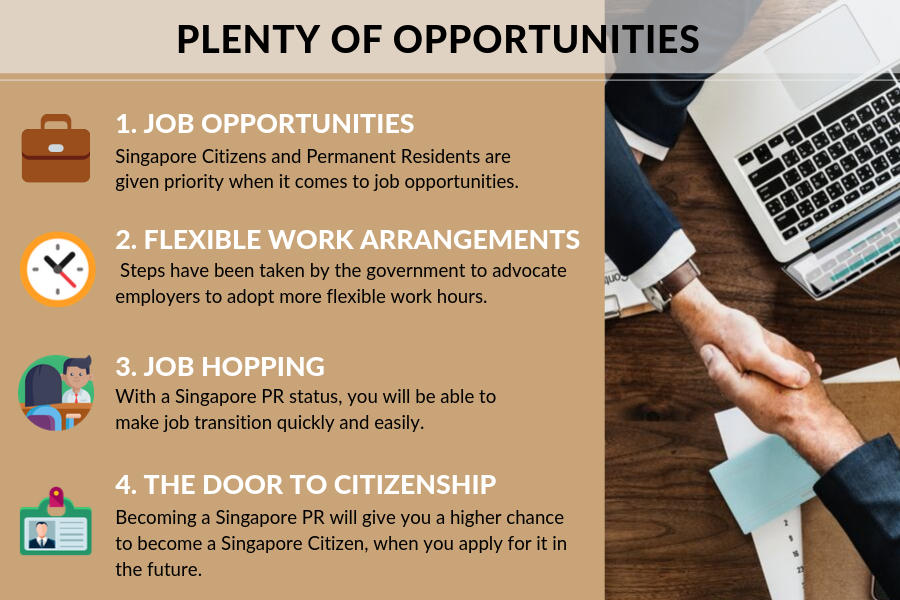 Job Opportunities
Certain employment regulations ensure Singaporean citizens and permanent residents are given a leg up when it comes to job opportunities. Unfortunately, foreign workers will get the shorter end of the stick as the new rulings only allow employers to hire a certain number of foreign workers according to the needs and requirements of the particular industry. This restricts employers from being too dependent on foreign labour (non-residents of Singapore) and asks of them to prioritise the employment of Singaporeans and permanent residents.
Flexible Working Hours
As work arrangements go, the government has taken steps to advocate and encourage employers to embrace a more flexible work (flexi-work) schedule to entice older workers and women to join the workforce. This gives more opportunities for others to join the workforce. Similarly, spouses of Singaporeans and PRs who have successfully obtained a Long Term Visit Pass (LTVP) would not lose out as well. This comes on the back of statements from the Immigration and Checkpoints Authority (ICA) and the Ministry of Social and Family Development (MSF) stating that those on an LTVP would have an easier time finding a job.
Job Hopping
One other advantage of obtaining Permanent Resident status in Singapore is that it makes it easier to switch between jobs. As of now, those holding onto an Employment Pass would find that changing jobs could be a tedious process — the employee would have to get their current employer to cancel the existing Employment Pass and ask the new employer to submit a new application. If you have left your job on a bad note, your unhappy and uncooperative employers might intentionally procrastinate and prolong the cancellation process. Having a permanent resident status would do away with all that trouble since you are free to transition from one job to another without much paperwork.
The Door to Citizenship
The biggest advantage of becoming a PR is the higher chance of converting your Permanent Resident status to Singapore Citizenship. As a citizen, you would have the upper hand in certain aspects, including voting rights, subsidised housing, and better tax rates. Most enjoy the strong diplomatic relations that Singapore has with other countries around the globe — when travelling for business or pleasure on a Singapore passport, the visa application/approval process would be streamlined.
How Can You Increase Your Chances of Becoming a Singapore PR?
Being eligible does not immediately guarantee your success. There are a number of factors that immigration officers consider before giving you the green light to live in Singapore as a permanent resident. While we might not know the exact considerations, here are some factors that would definitely boost your chances of approval. These would include your qualifications, your job, the industry that you are in, and if you have family ties in Singapore.
1. Good Qualifications
With a rising number of qualified, competent, skilled workers applying for PR, it is only natural that the benchmark to obtain your PR is higher. If you have earned a degree or completed a professional certification course in a recognised institution in Singapore, you will appear as a favourable candidate to potential employers; this would tell the immigration officers that you would be able to find a job with ease to support yourself and your family.
2. Having a High-Level Position Job
It goes without saying that a high-level position job would certainly increase your chances of having your PR approved. A designation like that would imply that you are taking a higher pay packet each month, and that indicates your capability of supporting yourself and your dependants (if any) sufficiently. That is not to say that those who are just starting out on their careers ought to give up. Each application is reviewed on a case-by-case basis, thus a contribution made by your company would bode well for your application and deem you as a worthy candidate for permanent resident status.
3. Experienced in Jobs that are in Demand in Singapore
Just like how the Californian Gold Rush from 1848 to 1855 encouraged plenty to make the switch to become gold miners, there are certain industries that are currently in demand as the world starts moving towards one that prioritises industries like IT, Research and Development, FinTech and Biomedical Sciences. If you have had experience or are currently working in an industry within the STEM fields, you might find your chances of attaining PR much higher. But that's not to say those in other industries would be looked past. It would also depend on the type of industry that Singapore is focused on building and improving on at that time.
4. Close Family Ties
If you have family that is staying with you in Singapore or in another country that is close by (i.e. Malaysia, Indonesia), it might indicate to the immigration officers that you have a genuine interest in maintaining close family ties and a higher likelihood of you making Singapore your base. If your family members are staying here with you, your children being educated in the local education system and being assimilated to the way of life here would hint that they are likely to contribute in the future and make this country their permanent home.
Bottom Line
Starting a new life in another country is no easy feat. There are many factors that one needs to consider before making a life-changing decision like this. To retain that level of control over your application and raise your chances of approval from the get-go, it would be wise to approach an immigration specialist to gain a better insight into the PR application process.
At Paul Immigrations, the specialists are on task to offer expert advice on the essentials to look out for in your application. In addition to guiding you through the entire application process, they will assist you in critical areas like writing your cover letter, revamping your resume and filling out the applications. From there, you would be able to submit your best application and prevent any time wastage that could arise from a poorly filled-up application. Book an appointment today and be one step closer to achieving your dreams of becoming a Singapore PR.