Over the years, there has been an influx of foreign workers flocking to Singapore in hopes of starting a new life as a Permanent Resident (PR), and it is no surprise why. Singapore is renowned for its thriving economy, strong infrastructure and abundant opportunities.
Attaining the coveted PR status means better jobs, access to subsidised education, housing and healthcare, and an overall improvement to standards of living for both yourself and your family.
There are many ways one can go about attaining permanent residency in Singapore. If you are considering applying for PR status under a specific scheme or work visa, namely either an Employment Pass or EntrePass, but are unable to decide which is better for you, then this article will provide you with the insight and knowledge you need to make a sound decision.
What is an Employment Pass (EP)?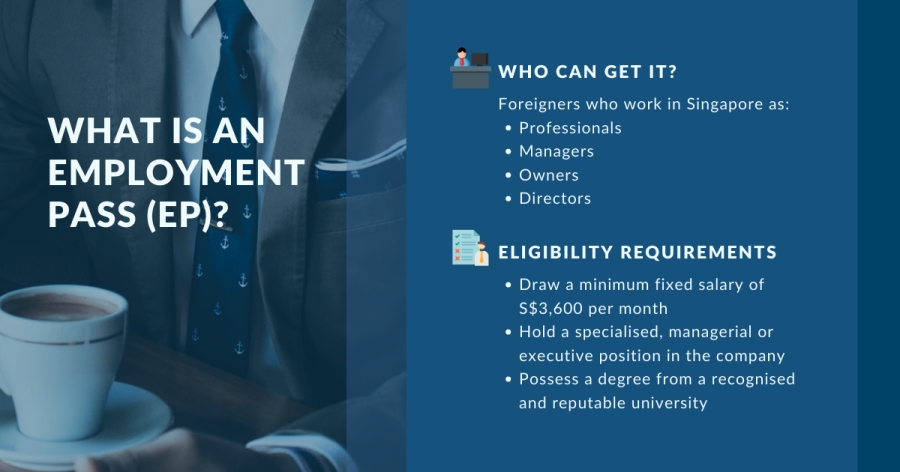 Noted as one of the most popular work visas around, the EP is issued by the Ministry of Manpower to foreign employees who hold a professional position in their current jobs. Apart from professional employees, managers and owners or directors of local companies are eligible for an EP. Holding an EP will give you the freedom to work and live in the country without the need to apply for an entry visa. Typically, an EP will be valid for a duration of one to two years and can be renewed afterwards. Additionally, possessing an EP will make it easier for you to apply for PR status in the country.
What are the Eligibility Requirements?
For a person to qualify for an EP, they must first draw a minimum fixed salary of S$3,600 per month. This requirement usually applies to recent and young graduates. Do note that candidates with more experience may need to earn a higher monthly income to qualify for the EP. The applicant will also need to hold a specialised, managerial or executive position in the company. The final criterion for qualification is to possess a degree from a recognised and reputable university. However, if you do not have a strong academic background, professional employment history and a high salary may be able to compensate for this.
What is an EntrePass?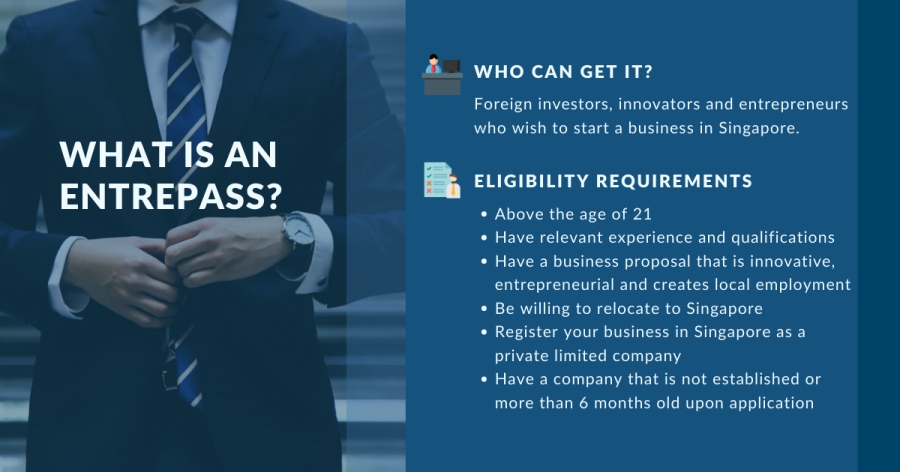 Thinking about starting a business in Singapore? Then perhaps applying for an EntrePass is the way to go. This scheme is eligible for veteran investors, innovators and international entrepreneurs who are interested in starting a business or relocating to the country. It is essentially focused on becoming a regional business hub by attracting top-notch talent to the country.
What are the Eligibility Requirements?
There are several requirements that you will need to meet in order to be eligible for this scheme. The first and foremost requirement is to be above the age of 21 years old. You will also need to have relevant experience and qualifications. Additionally, you need to have a business proposal that is both innovative and entrepreneurial in nature. Not only that, the proposal should be tailored to create local employment. Ensure that you are willing to relocate to Singapore to run your business, and do not forget to register your business in Singapore as a private limited company. Last but not least, your company should either be not yet established or not be more than six months old at the time of your application.
Category 1: Entrepreneur
In addition to the aforementioned requirements, you must meet the criteria under at least one of three categories, starting with Entrepreneur. Under the Entrepreneur category, your company should be receiving a minimum of S$100,000 in funding or investment from either an angel investor or a third-party venture capitalist, both of which are recognised by the Singapore government agency. Moreover, your company has to be incubated by an accelerator or incubator accredited by the Singapore government. For your reference, business accelerators and incubators provide entities with guidance, advice and other forms of support for businesses that are in the startup phase. Under the entrepreneur category, you need to have your business network established and have a substantial entrepreneurial track record.
Category 2: Innovator
Those under the Innovator category need to possess intellectual property and research collaborations with an institute of higher learning that is based in Singapore or a research institute that is credible and recognised. At the same time, you need to have accumulated a record of extraordinary achievements in your field of study, profession and/or key area(s) of expertise.
Category 3: Investor
Under the Investor category, you only need to have a track record of solid investments. However do note that businesses such as coffee shops, hawker centres, food courts, bars, night clubs, karaoke lounges, foot reflexology, mass parlours and the like will not be eligible for an EntrePass. Visit the Immigration & Checkpoints Authority (ICA) website for the full list of businesses that will not be considered for this scheme.
6 Similarities Between the EP and EntrePass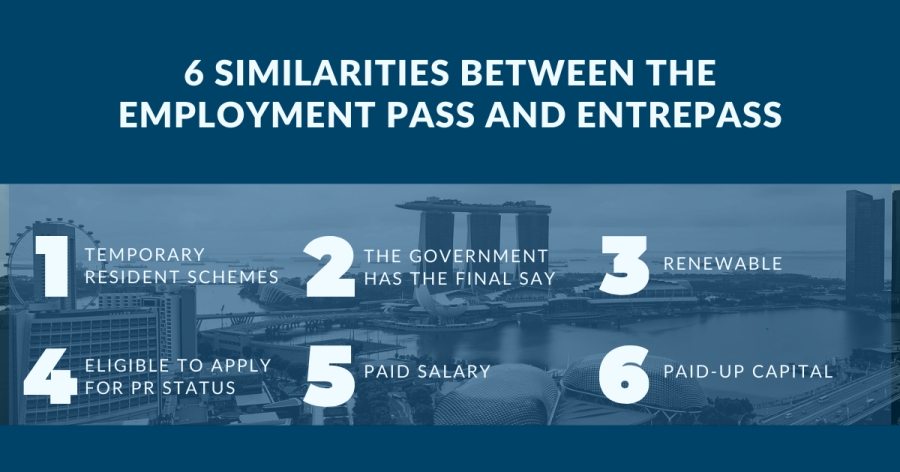 There are six factors that make both these schemes similar to one another. Below, we go through each of these factors in more detail.
1. Temporary Resident Schemes
Both these options serve as temporary residency schemes that allow the applicant and their dependants to move to Singapore. Although temporary, this will allow family members and the applicant to stay together and enjoy a better quality of life for the duration of their stay. Additionally, by moving to Singapore, the applicant will have a higher chance of getting their PR status as well.
2. The Government has the Final Say
Much like everything else in this country, the government has the final say when it comes to the approval of the work passes. However, this does not mean that the odds are against you. Meeting certain factors and criteria will increase the chances of your application's approval. The best way to ensure that your application has a greater chance of approval would be to hire an immigration consultant.
3. Renewable
Both schemes are typically issued for one to two years and are applicable for renewal, though each may have different renewal requirements. Their renewability allows applicants to stay in the country longer and at the same time, be exposed to more opportunities.
4. Eligible to Apply for PR Status
Both schemes give the applicant and their dependants such as their family members the opportunity to apply for PR status in the country. Of course, this is subject to approval by the authorities in ICA. Attaining PR status in Singapore will essentially give applicants and their dependants an upper hand over foreigners in certain areas, especially when it comes to housing, healthcare, education, etc.
5. Paid Salary
The EntrePass and EP hold an expectation that their holder will be paid a fixed monthly salary from the company. In addition to this, the holder is liable to pay the Singapore income tax based on the salary on a yearly basis.
6. Paid-Up Capital
Although there is no official requirement for a paid-up capital, a paid-up capital of S$50,000 is usually a contributing factor when reviewing both the applications for both schemes.
4 Differences Between the Employment Pass and EntrePass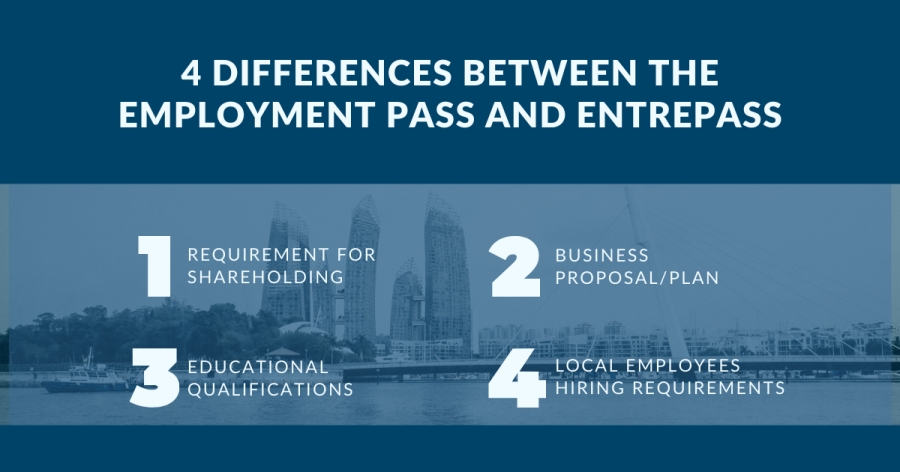 Just as there are several similarities between the EP and EntrePass, there are also a number of differences between the two.
1. Requirement for Shareholding
If an applicant is holding more than 30% of the company's shares, they will be eligible and more suited to apply for an EntrePass. However, it is still possible for the applicant to apply for an EP. This gives the applicant some flexibility when it comes to choosing their scheme.
2. Business Proposal/Plan
Keep in mind that when you are applying for an EntrePass, the business idea or proposal must be both entrepreneurial and innovative in nature. You will be required to submit a business plan that contains 10 pages (unless told otherwise). Since the business plan will be part of the application, it is important that you include certain information in your proposal. Some of this information includes the potential for good growth and increased hiring of local employment. On a side note, routine business proposals and ideas such as staffing agency and travel agency will not be eligible for applications under this scheme. Although EP applications do not require a business plan or proposal, you might be asked for details pertaining to it. This only occurs on a case-by-case basis, but it is better to be prepared when the circumstance arises.
3. Educational Qualifications
Unlike the EP, educational qualifications have less weight when it comes to EntrePass applications. This is largely because both the applicant's relevant background and business idea carry more priority. Whereas, for an EP application, the applicant is required to hold a tertiary degree from a recognised and reputable university. Additionally, anyone applying under the EP scheme should have good professional experience as well.
4. Local Employees Hiring Requirements
Local staff hiring requirements will be taken into consideration during the renewal of the EntrePass application. The company will also be required to employ a minimum number of two full-time local staff. This requirement will be applicable for the past 12 months at the renewal time.
Timing of Application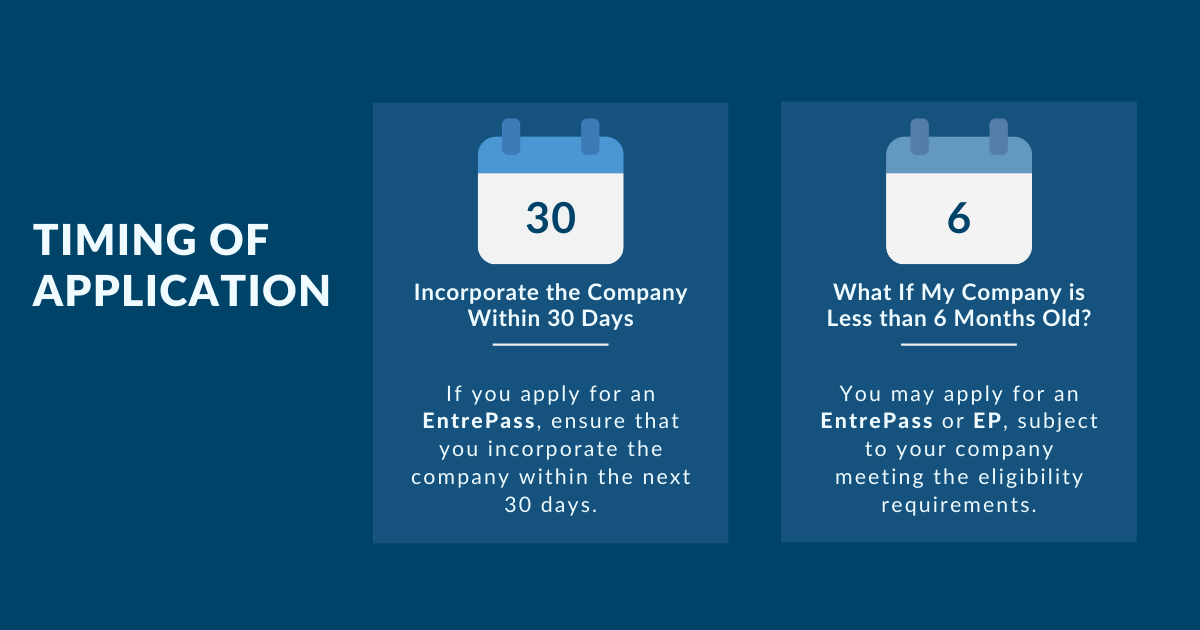 Timing is key when applying for these two schemes. Keep the following in mind when selecting which one to apply for:
1. Incorporate the Company Within 30 Days
If you would like to apply for a work pass before incorporating the company, you would have the option to apply for an EntrePass. However, as soon as your application is approved, you will be required to incorporate the company within the next 30 days. Ensure that you have everything in terms of logistics, paperwork and other necessary details ready before this period. This will help make the overall process of setting up your company smooth and fast. By contrast, an EP can only be applied after the company has been established.
2. What If My Company is Less than Six Months Old?
In the event that your company is less than six months old, you may either apply for an EntrePass or EP. Do note that these are subject to your company meeting the eligibility and shareholding requirements. But if your company is incorporated and more than six months old, you can only apply for an EP. Note that, in this situation, the authorities reviewing the business may ask you to showcase positive developments. These include revenue, contracts, business expenditure to ensure that you are running a credible business.
Additional Information for a Singapore PR Application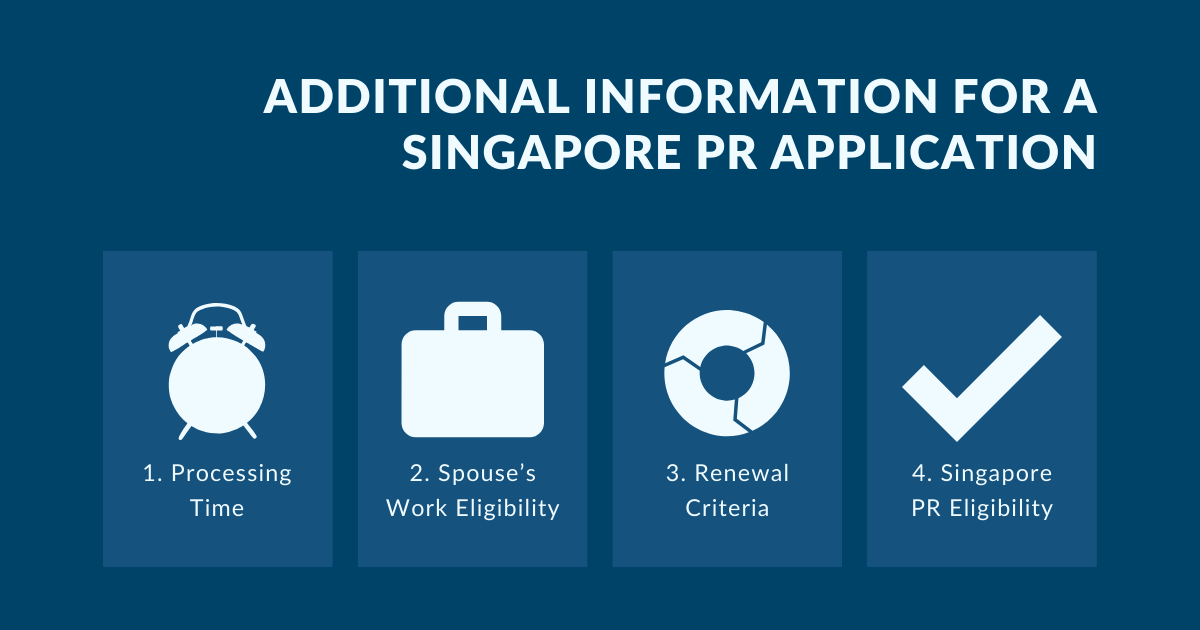 If you plan to become a Singapore PR, here are some things that you should keep in mind with the EP and EntrePass when building your case for a future Singapore PR application:
1. Processing Time
The processing time for an EP is three to eight weeks, whereas the processing time for an EntrePass is within eight weeks.
2. Spouse's Work Eligibility
If you have an EP, your spouse will be able to work in Singapore, given that you have obtained permission from the government and/or the overseeing authorities. The same rule applies for EntrePass holders as well.
3. Renewal Criteria
For the EP, the renewal criteria require applicants to be currently employed by the company. If you hold an EntrePass, you will have to ensure that the business is operating per the original plan. In addition to that, the company must have employees who are local and meet other conditions that are listed in the approval letter or eligibility requirements.
4. Singapore PR Eligibility
By now, you should be aware that both these schemes make it eligible for foreign workers to become a Singapore PR. Usually, EP holders will have to wait six months before they can apply for PR status. Of course, it goes without saying that the approval of the PR application is subject to approval by ICA.
The Takeaway
Singapore offers plenty of opportunities for foreigners from all walks of life. Whether you are a working professional or an investor, the Singaporean government offers a variety of schemes that will help you attain your lifelong dream of starting a new life in Singapore.
As you may know, holding either of these two will make you eligible for PR status in Singapore. The first thing you will have to do is decide which scheme is better suited for your needs before uprooting your entire life and moving to the country.
If you are still unsure about the work visa schemes available or need assistance figuring out which scheme is right for you, perhaps consulting an immigration consultant will go a long way in providing you with the information you need. Additionally, they will also be able to run you through the PR application process so that you are more ready when the time comes.