There are a number of ways you can apply for a Singapore PR. One of the most common and popular methods is through the PTS scheme. Known as the Professionals, Technical Personnel & Skilled Workers Scheme, this allows Employment Pass, S Pass or Entrepreneur Pass holders in Singapore to apply for a Permanent Resident status in the country.
The PTS scheme is also relatively more flexible compared to other schemes. For instance, the PTS scheme allows you to include your spouse and unmarried children below the age of 21 years old in the application. This not only saves a lot of time, money and resources, but it will also increase the chances of your spouse and child living, working and studying in Singapore.
Start Planning For Your Singapore PR Application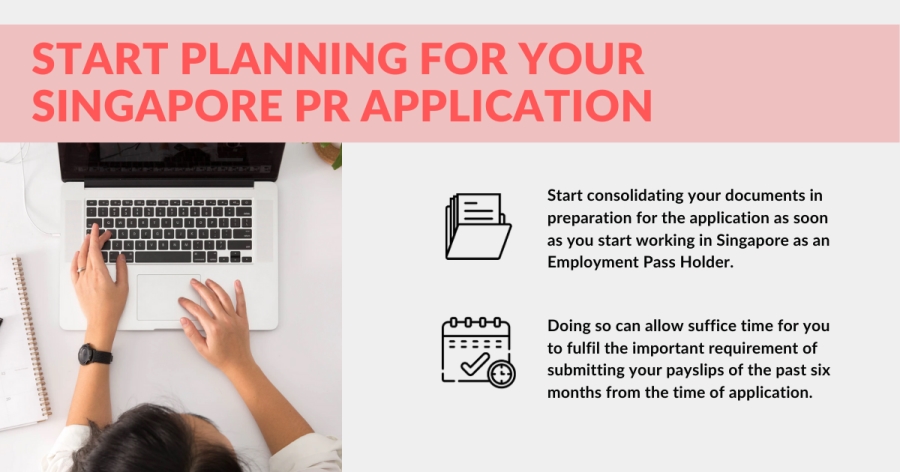 The first thing that probably runs through the mind of a work pass holder is when they can apply for their Singapore PR. As a work pass holder, you can start things off by consolidating your documents in preparation for the application as soon as you start working in Singapore as an Employment Pass Holder. Although this might seem way too early, doing so can actually allow you to fulfil one of the important requirements, the submission of your payslips of the past six months from the time of application, without breaking a sweat. Yes, that means that you have to wait at least six months from the day of your employment before applying for Singapore PR.
10 Factors That Will Affect Your Chances of PR Approval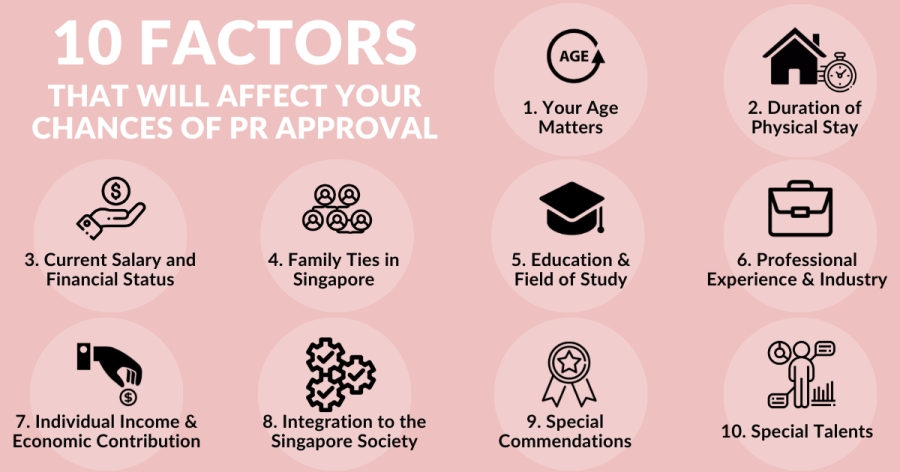 Even though the Immigration & Checkpoints Authority (ICA) grants PR status to an estimated 30,000 applicants, every application is scrutinised and reviewed carefully to ensure that the applicant is well-deserved of a Permanent Resident status. Based on the individual's talents, skills, qualifications and professional experience, each candidate's application is processed thoroughly before a conclusion can be reached.
Some of the most important factors that determine the eligibility of a candidate include:
1. Your Age Matters
Due to a large and growing ageing population in Singapore, age plays an important factor in the overall approval of your PR application. Ideally, you should be below the age of 50 when you are applying for your Permanent Resident status. A younger applicant will not only be able to contribute more to the country in the long run, but he/she will also face less difficulty when it comes to assimilating or integrating into the Singaporean society.
2. Duration of Physical Stay
The length of your stay in the country plays an integral role in your eligibility as ICA will assess your potential as an applicant based on your employment history and the length of your stay in the country. Hence, the longer your stay, the higher your chances of becoming a PR in the country, since your duration of stay would be more likely to reflect more contributions to the country and the economy.
3. Current Salary and Financial Status
Your current salary and financial status will indicate how well you can support yourself and your immediate dependents. A comfortable salary in a promising career path will provide authorities with the confidence that you are financially prepared to live and work in Singapore in the long-term. However, do note that your salary and financial status will be reviewed on a case-by-case basis.
4. Family Ties in Singapore
If you have existing family members and/or relatives in the country, you will stand a better chance of obtaining a Permanent Resident status. Since the Singapore government is more interested in having families grow together in the multiracial society as opposed to having them separated, you would have a strong advantage when you have family ties in Singapore. Additionally, having family ties in the country will indicate that you and your dependents/family are interested in integrating and contributing to society.
5. Education and Field of Study
Singapore is renowned for being a nation that is constantly on the pursuit of a better future for its people. Therefore, it is not surprising that the government tends to favour PR applicants who have backgrounds in fields of study that are geared towards the future such as biomedical science as well as research and development. In addition to this, useful technical skills will also boost your overall profile and increase your chances of getting your application approved.
6. Professional Experience and Industry
As mentioned, Singapore is always on the lookout for individuals with professional experience in certain fields that are in high demand. If you have professional experience in these industries, you might have a leg up over someone else who has experience in another industry with lower demand. Other factors that might strongly affect your chances include your previous position in the former company, especially if it's on a contract or permanent position. Contract jobs are less likely to impress than the latter.
7. Individual Income and Economic Contribution
Contrary to popular belief, a higher income may not always translate to a greater chance of becoming a Singapore PR. ICA will assess your application as a whole, rather than the sum of its parts. All manner of contributions to the economy counts, regardless of your position.
8. Assimilation and Integration to the Singapore Society
Apart from economic contribution, there is also an emphasis on contributions to society at large. These contributions can come in the form of monetary contributions or even in the form of community involvement, such as volunteering in the community or in the social service sector. In a nutshell, the time and effort you put into societal contributions will reflect and serve as a testament to your willingness to integrate into the culture and norms of Singapore.
9. Special Commendations
Do not shy away or hide any special commendations that you might have received. Any kind of commendations, especially recognition and awards accumulated over the span of a few years can come in handy when highlighting your profile and increasing your chances of attaining a Permanent Resident status. These special commendations can be both on a personal and professional level. Ultimately, the nature of the commendation plays less importance than the award itself. Apart from helping your profile stand out, these awards will also highlight your talents and strengths.
10. Special Talents
The same goes with special and or unique talents that can boost your profile and give you an advantage over other applicants. If you have any, you will be reviewed on how well you will be able to utilise these talents and skills to make significant contributions to the country. Keep in mind that these skills do not necessarily have to be limited to one area of expertise. Skills and talents in fields such as sports or the arts will also be considered when assessing your profile.
5 Tips for Documents Required for Singapore PR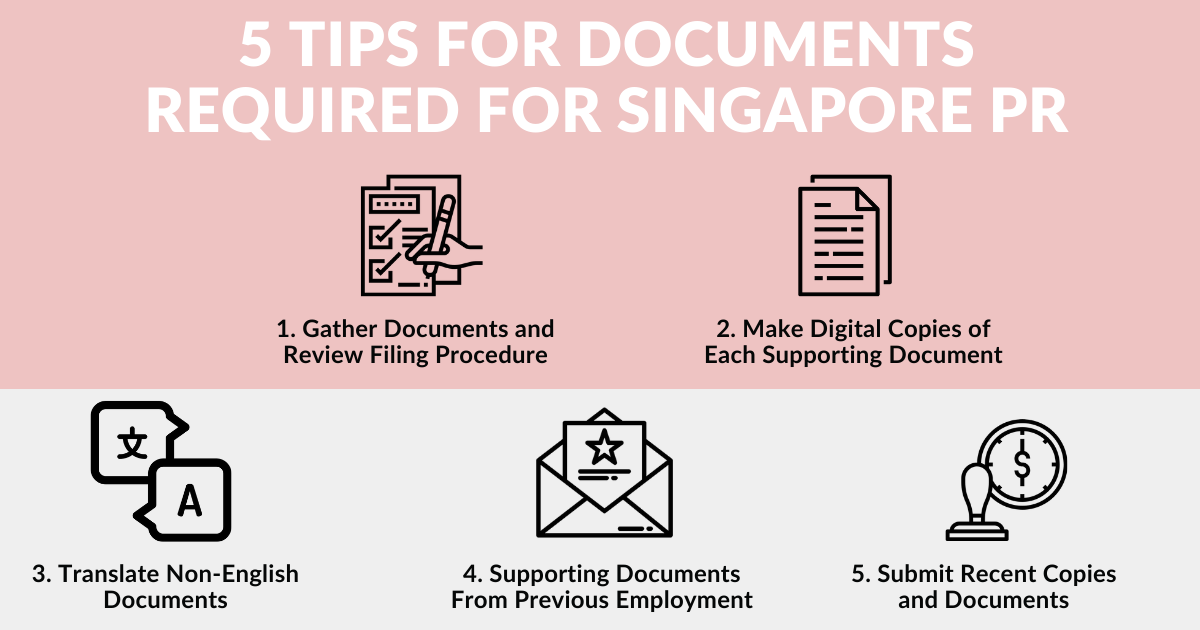 1. Gather Documents and Review Filing Procedure
Once you have met the eligibility criteria, you can proceed to the next step and begin downloading all the necessary forms for your PR application. Ensure that you do not miss out any important forms and pay attention to the submission requirements. As an applicant under the PTS Scheme, you will need to download two forms, Form 4A and Accompanying Notes to Form 4A. Form 4A is comprised of two parts — one part is the PR Application Form and the other is Annex A. The PR Application Form has to be completed by the applicant as it pertains to information about you and your family, concerning your educational and professional history. The latter, Annex A, will be filled in by your employer. In this section, he/she will need to provide information about the nature of the company/business. He/she will also be required to provide a detailed breakdown of your salary and employment details. Note that this does not mean that your employer will be sponsoring your application. The second document, Accompany Notes to Form 4A, consists of important explanatory notes on Form 4A. Be sure that you give your first and utmost attention to this document before preparing the necessary supporting documents required for Singapore PR. After you have taken the time to download and read the necessary documents, you can start the process of submitting your PR application online. However, before that, make sure that you have compiled all the supporting documents listed in the explanatory notes and the documents list in Form 4A. Here are four guidelines that you should take note of, including the following:
2. Make Digital Copies of Each Supporting Document
Take the time to scan a copy of each supporting document, ensuring that the print remains legible. At the time of submission, you need to upload these scanned copies, rather than submit any hard copies. Nevertheless, keep all the original documents handy, this includes applying for Citizenship next.
3. Translate Non-English Documents
If you are holding onto any non-English papers, these documents should be accompanied by an official English translation of the original. The safest and fastest way you can do this is to get the original non-English document stamped and translated via the embassy of the document's country of issue.
4. Provide Supporting Documents From Previous Employment
Documents such as performance evaluation reports, previous employment appointment letters, and recommendation letters can play an integral role in boosting your profile. As an applicant under the PTS Scheme, you are allowed to include referrals and testimonials from previous employers, especially if they highlight your performance and/or skills. It would be more credible if these documents included contact information of your previous employer as well.
5. Submit Recent Copies and Documents
With so much to prepare for, it is easy to overlook the obvious — ensure that you submit only documents that contain updated and current information. If you are attaching a copy of your resume or CV, provide the authorities with updated information and include any professional and personal achievements that you have acquired recently. If you have invested a considerable amount of energy and time in community events, feel free to include that as well.
Will a Cover Letter Affect Your Chances of PR Approval?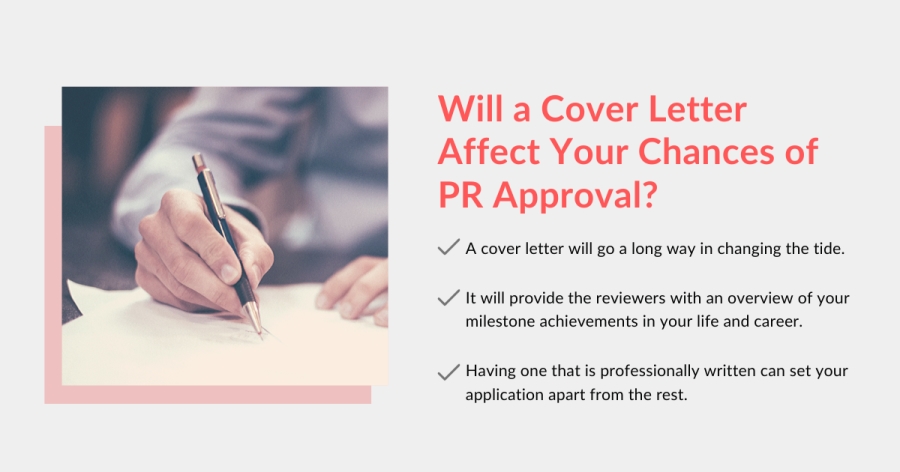 Although optional, a cover letter will go a long way in changing the tide. A cover letter will provide the reviewers with a brief look at your educational qualifications and professional experience. Apart from providing a summary of your background, a cover letter will also go a long way in introducing you in a more personal way.
A cover letter truly shines when it is paired with a resume. In addition to giving officials supplementary information about your resume, a well-crafted cover letter will provide the reader with an overview of your milestone achievements in your life and career.
Ensure that you are using the right tone when writing your cover letter. Be formal, and keep the information short, succinct and to the point. Instead of filling your information in a template, try to put some effort into customising your cover letter. This will set your letter apart from the rest.
Last but not least, do not forget to proofread your document. Be certain that there are no misspellings or wrong information in your cover letter as this will cast an unprofessional light on you, compromising your entire application.
The Bottom Line
Applying for your PR status can be somewhat of an intimidating process. If you would like to avoid the risk of rejection due to improper documentation or missing documents, consider hiring an immigration consultant to provide you with the adequate expertise and counsel you require to increase your chances of becoming a Singapore PR. At Paul Immigrations, our professional consultants will guide you through the entire application process and will provide any other related assistance that you will need throughout. Do note that the approval of your application lies with the Immigration and Checkpoints Authority (ICA), hence our consultants will do their best to ensure that your application adheres to the standards set by a government body.