If there was anywhere in the world to raise your little ones in, Singapore would be at the top of the list, literally. According to the latest findings in Save the Children's 2019 Global Childhood Report, the Lion City topped the rankings out of 176 countries as the best place in the world for children to grow up in. The End of Childhood Index measures the extent to which children in each country is likely to miss out on childhood by using "childhood enders" indicators including severe malnutrition, death, not being able to attend school, as well as marriage and motherhood.
This is the second time the Republic placed first in Save the Children's annual report, beating other developed nations such as Sweden, Finland, Norway and Italy. The only other country in the Asian region that came in the top 10 was South Korea.
In addition, from 2013 to 2018, the report stated that there were no children aged zero to 59 months in Singapore who were found to be severely malnourished, and none aged five to 17 who engaged in child labour. Meanwhile, only 0.1 per cent of children in the city-state were not attending primary or secondary school in the same five-year period.
Based on these statistics, raising your child in the Lion City is one of the best decisions you can make for your little ones. Childhood experiences form the foundation of an individual's life, and the environment a child grows up in plays an essential role in their physical and emotional development. Therefore, if you have the option to choose where your young one spends their early years and beyond, why not apply for permanent residency in Singapore for your child? Here are the benefits your little one will be able to enjoy when they grow up in this Little Red Dot.
Choose from a Variety of Preschools as a Singapore PR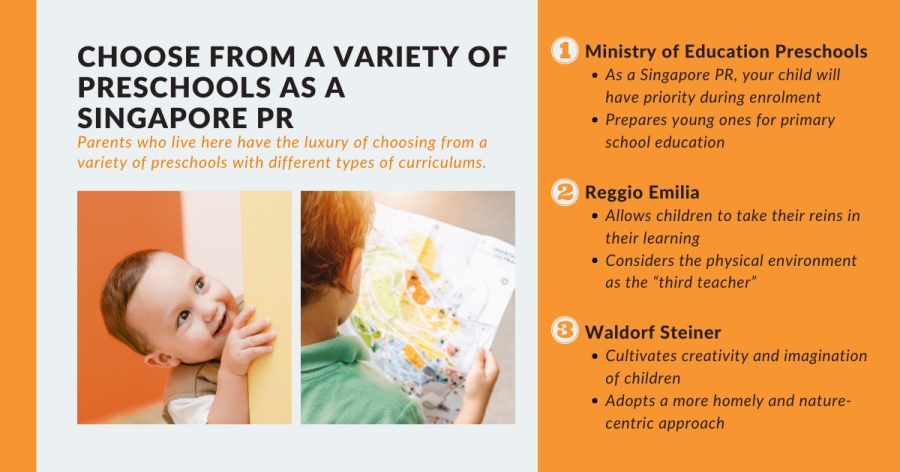 The early years of a child's life are critical to their holistic development, thus choosing a preschool that is equipped with the resources to mould your little one into a capable individual is extremely important. While Singapore is known for its heavy emphasis on academics, the government recognises the need for its young ones to learn in an environment that will enable them to thrive, one that is most suitable to their learning style and personality.
This is why parents who live in the Lion City have the luxury of choosing from a variety of preschools with different types of curriculums. Whether your little one learns better through art activities, being outdoors, or in a more structured environment, there is no shortage of preschool options for you to choose from.
Keep on reading to find out more about what you can expect from the different types of preschool in Singapore.
1. Ministry of Education Preschools
For a more traditional approach to your little one's learning, the preschools governed by the Ministry of Education (MOE) will provide your little one with quality education at a more affordable rate. As a Singapore PR, your child will have priority during enrolment, allowing him or her to jump the queue ahead of children who are here on other passes. At these preschools, educators are focused on nurturing the holistic development of children by providing them with opportunities to grow their self-confidence as well as gain new social skills. Alongside these essential learning outcomes, the MOE preschool curriculum also emphasises the importance of academic knowledge in order to prepare young ones for primary school education in the coming years.
2. Reggio Emilia
Originating from Italy, the Reggio Emilia approach strongly believes that children learn best when they are given the freedom to delve into their interests. It emphasises the importance of children taking their reins in their learning; rather than having teachers construct a schedule based on what they think is suitable, Reggio Emilia-trained teachers act as co-learners by planning lessons and activities centred around each child's interests. In addition, the Reggio Emilia approach considers the physical environment as the "third teacher", believing that children benefit most when their surroundings complement their learning, thus enriching their foundational experience further. Preschools in Singapore that adopt the Reggio Emilia approach include:
Blue House Nursery & International Preschool
EtonHouse International Education Group
White Lodge
3. Waldorf Steiner
The Waldorf Steiner curriculum focuses on cultivating the creativity and imagination of children throughout their learning process. Its curriculum is centred on experiential education — children's learning in the classroom is complemented with the opportunity to engage in sensorial and imaginative play through a range of activities, including art, storytelling, as well as practical tasks like gardening and cooking. The Waldorf Steiner curriculum also adopts a more homely and nature-centric approach in the design of their classroom. Toys used are made of natural materials like wood, and the use of technological devices such as computers are generally discouraged. There is currently only one school in Singapore that incorporates the Waldorf Steiner curriculum, the Waldorf Steiner Education Association.
Attend Top-Tier Tertiary Education Institutions as Singapore PRs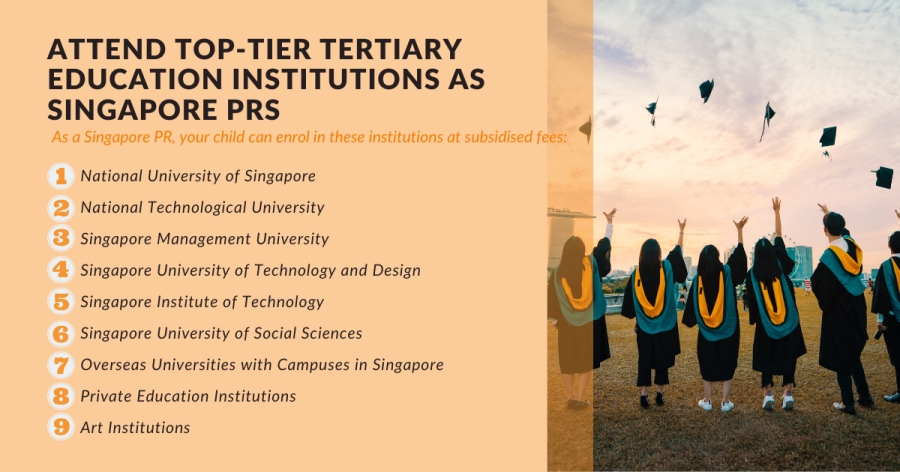 The Lion City is world-renowned for its high-quality education system. In the 2019 Quacquarelli Symonds (QS) World University Rankings, the two top universities in the country — National University of Singapore (NUS) and National Technological University (NTU) — both shared the 11th spot. Meanwhile, in the 2019 QS Asian University rankings, which ranks the best universities in Asia, NUS clinched the top spot while NTU placed third out of 350 universities in the region.
Looking at these rankings, it is no wonder that universities in the Republic are highly sought after by both Singaporeans and international students alike. As a Singapore PR, your child can enrol in these institutions at highly subsidised tuition fees.
Additionally, to cater to the rising demand for university education in the country, the government has established a number of additional universities over the years. Besides NUS and NTU, there are currently four other local universities for students who wish to continue with their post-secondary education. These four universities are:
Singapore Management University (SMU)
Singapore University of Technology and Design (SUTD)
Singapore Institute of Technology (SIT)
Singapore University of Social Sciences (SUSS)
Unlike NUS and NTU, which classify as comprehensive and research-intensive institutions, these four universities offer specialised programmes that will provide students with industry-relevant degrees. In addition, SIT and SUSS adopt the approach of applied learning, where students learn within real-life contexts to make sure they develop the necessary skills to work in the "real world". As such, these universities offer students the opportunity to gain internships, exchange programmes, as well as work attachments during their time in their respective courses.
Besides the six local autonomous universities, students have the option to attend other types of post-secondary education institutions if they wish. These include:
1. Overseas Universities with Campuses in Singapore
Overseas universities with local campuses are usually private institutions, with a smaller intake of students and higher school fees. However, they are still well-regarded in the country and offer students living in the Republic more variety when choosing where to continue their post-secondary education. Furthermore, these local campuses eliminate the need for students to move overseas, thus making it possible for a higher proportion of students to acquire a degree from an established overseas university of their choosing. These universities include:
James Cook University Singapore
Curtin Singapore
INSEAD Asia Campus
DigiPen Institute of Technology Singapore
2. Private Education Institutions Offering External Degree Programmes
Another option for students who wish to attain certification from overseas universities, without the necessity of moving out of the country, are the private education institutions (PEIs) that provide external degree programmes from their partner universities. Like overseas universities with local campuses, school fees of PEIs are generally much higher than local universities, particularly due to the fact that students enrolled in these institutions are not able to enjoy government subsidies. PEIs in Singapore offering external degree programmes include:
Kaplan Higher Education Academy
Management Development Institute of Singapore
SIM Global Education
3. Art Institutions
Students who wish to pursue a career in the arts are able to further their post-secondary education in either of the two publicly-funded arts institutions in the country: Nanyang Academy of Fine Arts(NAFA) and LASALLE College of the Arts (LASALLE). Both institutions offer diploma and degree programmes in various branches of the arts such as fashion design, performing arts, arts management, design and media, as well as creative writing. NAFA even offers courses for children such as performance ensemble, dance programmes, and drama classes.
Gain Access to Affordable Healthcare as a Singapore PR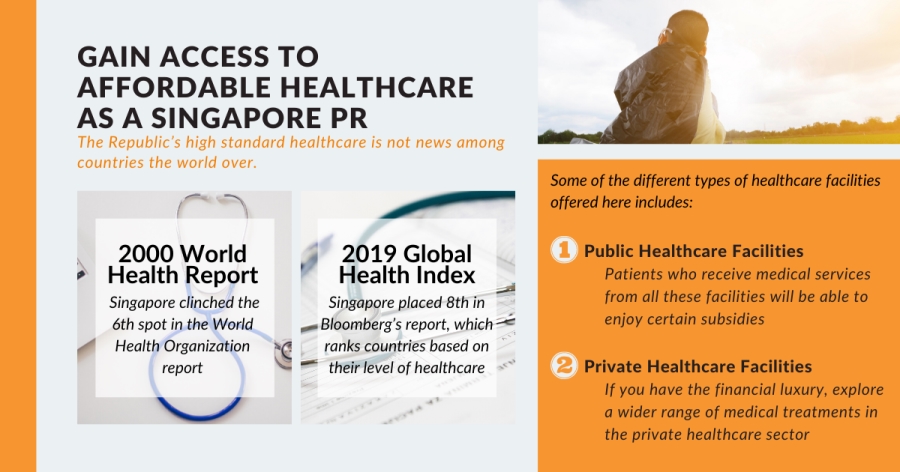 In the World Health Organization's ranking of health systems among 191 member states in its 2000 World Health Report, Singapore clinched the sixth spot, beating other developed countries like the United Kingdom, Switzerland, the United States, and South Korea (each of these countries came 18th, 20th, 37th, and 58th respectively).
Meanwhile, the Lion City placed eighth in Bloomberg's 2019 Global Health Index, which ranks countries based on their level of healthcare by taking into account the following five factors:
Life expectancy
Availability of clean water
Malnutrition
Health risks (obesity, high blood pressure, tobacco use)
Causes of death
The Republic's high standard of healthcare is not news among countries the world over. The established news organisation, The New York Times, has written several articles comparing the healthcare system in the United States versus Singapore, and what the former can learn from the latter. The previous Obama administration has used the Singaporean healthcare system as an example to model the United States' healthcare sector after.
So, what makes the Lion City's healthcare system appealing to other nations?
One factor is how the government has managed to keep its healthcare services at affordable rates to ensure every single individual living in the country is able to access these services, no matter their income level. Rather than restrict healthcare to the wealthy, the government offers various subsidies to all Singapore Citizens and Permanent Residents. Thus, by applying for permanent residency for your little one, you can rest assured that they will be well taken care of through the Republic's world-class medical services and facilities.
Some of the different types of healthcare facilities offered in this Little Red Dot includes:
1. Public Healthcare Facilities
Owned by the Singapore government, public healthcare facilities in the country are comprised of government hospitals, general practitioner (GP) clinics, as well as polyclinics. Patients who receive medical services from all these facilities will be able to enjoy certain subsidies, based on their income level and the type of service. For instance, with regard to hospital subsidies, Permanent Residents can receive up to 70 per cent subsidy if they opt to stay in a Class C ward, depending on their income level. In general, the percentage of subsidy you can receive will reduce the higher your level of income, and if you choose to stay in a higher class ward.
2. Private Healthcare Facilities
If you have the financial luxury, you may consider private healthcare facilities in Singapore to take care of the medical needs of your little one as well as the rest of your family. The private healthcare sector usually offers a wider range of medical treatments, particularly those that are of a more complicated and advanced nature such as specialised cancer treatments. There are currently two major hospital groups that run the network of private hospitals in the country: Parkway Pantai and Raffles Medical Group.
The Takeaway
With a top-ranking education system and high-quality healthcare industry, the Lion City is equipped with some of the best tools, facilities and services in the world to take care of its residents. If you are moving here and are bringing your family along, why not apply for permanent residency for yourself as well as for your spouse and child(ren)?
With the benefits awaiting your little one in the Lion City, there is no doubt they will lead happy, enriching and fulfilling lives in this city-state. After all, the environment a child grows up in plays an essential role in their holistic development and creates the foundational experiences they go through throughout their early childhood years. There is no denying that Singapore has much to offer its younger generation.
If you require help with the application process, engage an immigrations consultant such as Paul Immigrations. Our specialists will be able to guide you through the entire process and advise you on your child's Singapore PR eligibility.