Getting your Singapore PR approved is no easy feat. We can understand how challenging and intimidating the entire process can be for anyone looking to start fresh in a new country. The tedious application process and the challenge of getting your PR approved can be somewhat daunting. However, the government has launched several schemes to provide foreigners with an opportunity to become a PR. Meeting the eligibility criteria under these schemes will not only allow your application to stand out but will also raise your chances of becoming a PR. Once you are able to obtain your permanent resident status in the country, you will be eligible for subsidies in various sectors including housing, education and more importantly, healthcare.
Why You Should Consider Settling Down in Singapore?
There is a reason why the country has been touted as one of the best places to live and work in. For years, high standards of living and others such as its exceptional educational institutions, low crime rate, top-notch healthcare facilities, and its eclectic cultural offerings have made it an attractive option for many. Apart from that, the city-state has secured the title of being the continent's best place to work, live and play, and is renowned for being Asia's business headquarters.
Being a PR means you get to enjoy these perks and more, such as enjoying the benefits of the Central Provident Fund and a wide range of subsidies and personal tax reliefs. Additionally, similar to most citizens, PRs will be eligible for subsidies, which will go a long way when you are applying for a house or require medical assistance.
1. Public Transportation
The city-state is noted for its extremely accessible and convenient public transport system, so much so, that sometimes hopping on an MRT train will get you to your destination faster than driving there, especially during peak periods. Buses and MRT trains function from 5:30 am to 12 midnight (schedule subject to change) and will provide transport in and around the country.
2. Security
As a country with an extremely low crime rate, the city-state is ranked as the 4th least corrupt country in the world based on the Corruption Perceptions Index 2018. Compared to most metropolitan and densely populated cities, Singapore outranks them as one of the safest countries out there.
3. Thriving Economy
Over the years, the country has done well to diversify its economy and today it has a strong foothold in the research and development (R&D) industry. In addition to becoming a leading hub in R&D, Singapore has been recognised as the banking and finance centre of the world, a biomedical hub and in recent years, one of the best healthcare destinations in the world. These developments in the country's economy not only draws multinational investments but also provides employment opportunities across various sectors and industries.
4. Socio-Cultural Environment
Apart from being the financial centre of the world, Singapore is most famous for being home to a unique blend of cultures and people. Being a melting pot of cultures, there is a high emphasis on communal and racial harmony in this cosmopolitan society. The harmonious relationships fostered amongst races is even reflected in its cuisine, which is just as diverse and contains elements that encapsulate the various ethnicities living in the city.
5. Healthcare
With world-class medical and technological advancements in the healthcare industry, the country's healthcare sector is nothing short of efficient, clean and safe. In addition to its up-to-date medical faculties, there are a number of registered pharmacies located all around the country, making a trip to the doctor easily accessible. Not forgetting that numerous pharmaceuticals are also readily available in departmental stores, supermarkets and shopping centres for all your basic medical needs. As the country takes strong preventative measures against counterfeit and generally unsafe drugs, all drugs sold at these places are usually safe for consumption and adhere to a high standard of quality.
What are the Eligibility Criteria for Singapore PR?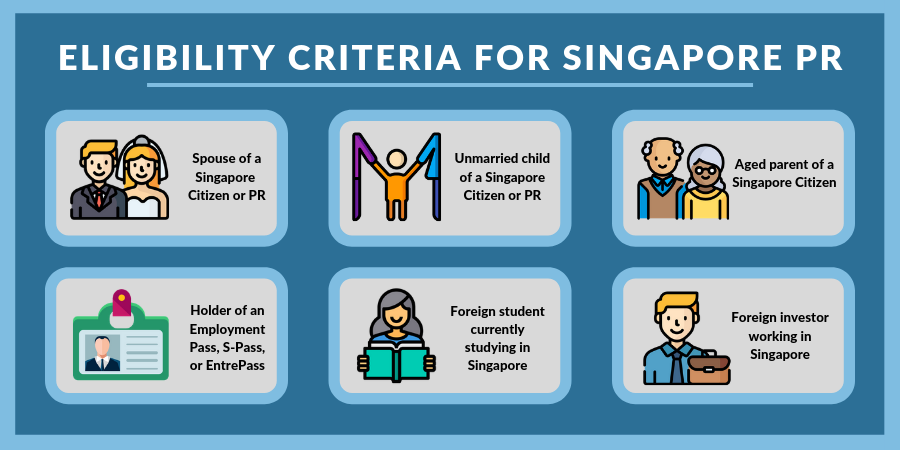 The following criteria must be met before one can be eligible to apply for PR:
Foreigners who are married to a spouse of a Singapore Citizen or PR
 Unmarried child(ren) under the age of 21.
An Employment Pass or S Pass Holder. This includes personalised employment pass and entrepreneur pass.
Aged parents of a Singapore Citizen.
A student who is enrolled and studying in a Singapore education institute.
Entrepreneurs or investors who meet the eligibility criteria under the GIP.
Various Schemes Available for Singapore Permanent Residence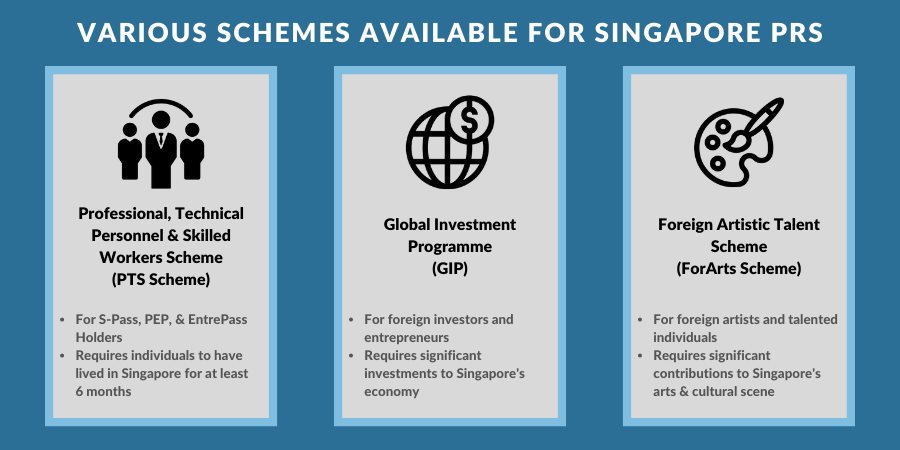 The government has launched three schemes to provide foreigners with an opportunity to obtain permanent resident status in the country. These are namely the Professional, Technical Personnel and Skilled Workers scheme (PTS), Global Investment Programme (GIP), and Foreign Artistic Talent scheme (ForArts). These three schemes were launched to suit the needs of individuals with varying talents, goals, qualifications, and experience.
1. Professional, Technical Personnel and Skilled Workers Scheme (PTS)
The PTS scheme is one of the most popular options for people with the S pass, Personalised Employment pass and Entrepreneur pass. It is estimated that more than 95% of professionals obtain their PR status through this option. This scheme will also allow the spouse and children aged below 21 years or the applicant to apply for PR status along with the applicant. Do note that serving of National Service is a must for male dependants at the age of 18, after they attain the approval of their permanent residency in the country.
2. Global Investor Programme (GIP)
Launched by the Singapore Economic Development Board (EDB) and the Ministry of Manpower (MOM), the Global Investor Programme caters to individuals and entrepreneurs who are interested in investing in or initiating new business actions in Singapore. By doing so, they are also aiming to obtain a PR in the city-state. And that's not all, under the GIP scheme, spouses and children of the aforementioned investors will be automatically eligible for permanent residence. It is also crucial to note that an investor can submit a GIP application if he/she has a substantial business track record or a successful background in entrepreneurship. An applicant who meets these conditions can choose from two GIP investment options. The first option is to invest a minimal amount of S$2.5 million in a new business entity or expand a current business in the country. The second being to invest at least S$2.5 million in a GIP-approved fund that invests in Singapore-based companies.
3. Foreign Artistic Talent Scheme (ForArts)
Established in 1991, the Foreign Artistic Talent scheme was jointly administered by the Singapore Immigration & Checkpoints Authority (ICA) and the National Arts Council (NAC). This scheme was introduced to offer outstanding foreign artists who have made significant contributions to the local arts and culture scene the opportunity to become a PR. It is important to note that like all other PR applications, the ICA or Immigration and Checkpoints Authority will be determining an individual's eligibility. Another thing to note before you consider applying under this scheme is that the success rate under this scheme is not very high.
How To Submit A Strong PR Application under PTS, GIP and ForArts Schemes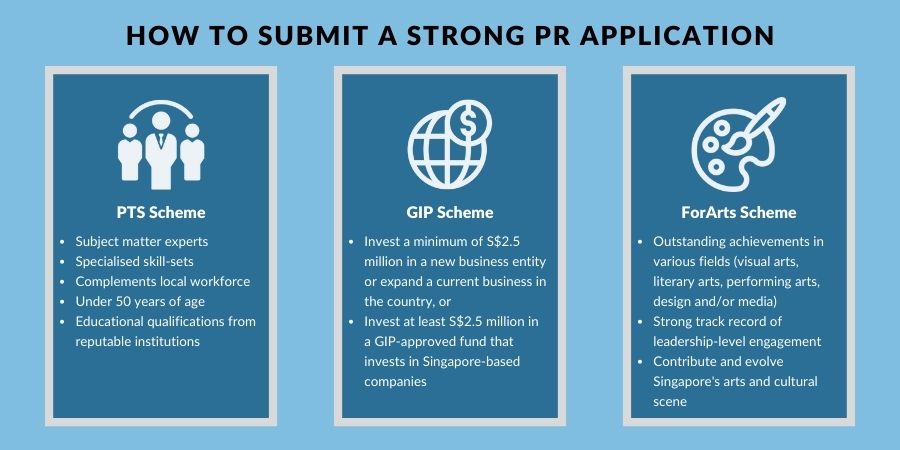 1. PTS Scheme
There are a number of factors that can increase the chances of a successful PR application under the PTS scheme. For instance, if the applicant belongs in a niche industry that requires individuals to have a specialised skill-set or if the applicant's skill-set doesn't trigger competition with the local workforce, but instead complements it, they will have a better chance of securing permanent residency in the country. Additionally, the applicant's age and qualifications come into play a key role as well. Being under 50 years old and having acquired his or her qualifications from reputable institutions will definitely give this group of applicants an upper hand. Other factors such as having family ties in Singapore, contributing to some voluntary work in the local community, and having worked in the country for at least 12 months before applying for PR could be things that determine the success of your application.
2. GIP Scheme
Previously we touched on the two GIP investment options that affect a foreign investor's eligibility to become a PR. If an applicant is choosing the first option of investing at least S$2.5 million dollars (either to fund a new business entity or expand a business operation that is already existing in the country), they will have come up with an investment plan that provides both projected employment and annual financial projections or a detailed five-year business. The applicant is required to fulfill the milestones that are outlined in the investment or business plan within five years from the date of investment. Additionally, foreign investors applying under the GIP scheme should invest in the following business sectors to increase their eligibility. Some of the GIP approved business sectors include:
Automotive
Aerospace Engineering
Chemicals
Energy
Electronics
Engineering Services
Consumer Business
Infocomm Products & Services
Arts businesses
Media & Entertainment
Nanotechnology
Do note that this list is not exhaustive and there are many other sectors that are approved for the GIP scheme. However, if the applicant is considering the second option of investing in an approved GIP fund, he or she must invest in Singapore-based companies with a minimum of S$2.5 million. Once the applicant has come to a decision, the supervising authorities will look at the application based on the following criteria:
The applicant should possess an entrepreneurial and business track record of at least three years. Additionally, the audited financial statements for the first three years of their company must be presented.
In the year immediately preceding the application, the company's turnover should be at least S$50 million. This criterion applies to the three years immediately preceding the application.
Financial statements of their company with the highest turnover must be submitted. This can be a combination of only businesses that fall in one (or more) of the approved industries to meet the minimum turnover criteria.
In the case of a privately-held company, the applicant should have at least 30% shareholding. Their role in the company, its growth and profitability also play a part in the approval.
3. ForArts Scheme
Apart from playing a critical role in the evolving local arts and culture scene in Singapore, eligible applicants must demonstrate a good character and the ability as a competent role model for their peers to be considered favourably. An applicant must also meet all the following minimum criteria if he/she were to be considered for the ForArts Scheme. These include:
They need to have relevant training, professional experience, and education in their field of practice and qualifications.
Additionally, they would need to have outstanding achievements in various fields such as visual arts, literary arts, performing arts, design and/or media.
Making significant contributions to the country's arts and cultural scene will also go a long way in determining one's eligibility to be a Singapore PR.
Having a strong track record of local engagements at the leadership level and having realistic and impactful future plans to be involved in Singapore's arts and cultural sector.
More Ways to Increase Your Chances of Getting an Approval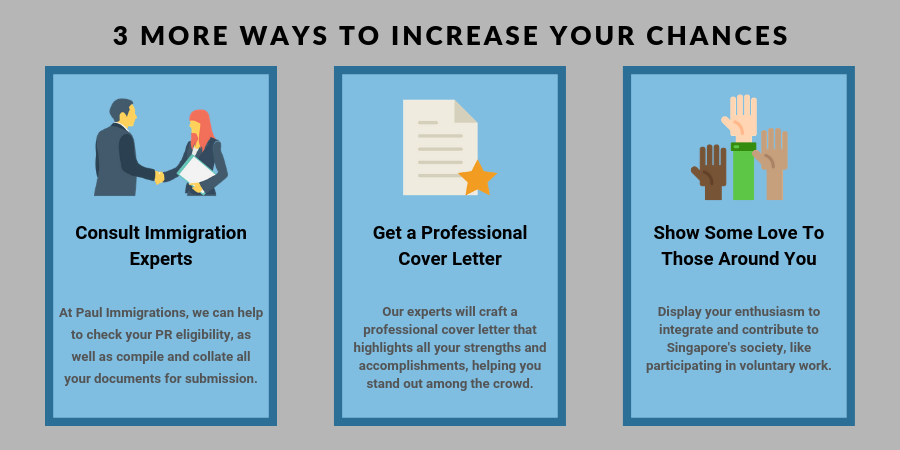 As the approval process is a stringent one and the authorities view each applicant's profile in a holistic manner, there are definitely some bonuses if you show a desire to integrate or display enthusiasm in contributing to Singapore's society. This includes activities such as taking part in voluntary work and being part of a local community group.
If you are in any doubt or feel unsure of how to approach the application, it is always wise to consult an immigration expert to help you with it. Paul Immigrations can be your trusted partner in handling your application from start to finish. The consultants will help you compile and collate your documents for submission. On top of that, a personalised cover letter is written by the team of professionals to highlight your strengths and achievements, so as to have you stand out from all the thousands of applications, in the best way possible.
The Bottom Line
With a significant drop in the number of PR application approval rates in recent years, it is proof that it is becoming harder for foreigners to be eligible for a Singapore PR status. Although there is no guarantee that your application will be approved, meeting the relevant criteria, demonstrating an enthusiasm to call Singapore your new home, and contributing to the growth of the country will play a large role in the overall success of your application.