Despite its size as a small island nation, Singapore has built a reputation on the international stage as a country as advanced as — if not more than — other countries far larger than herself. And the advancements the Republic has made over the years have translated into benefits that her residents are able to access and enjoy while living in the country. From a high-quality healthcare industry to an education system that other economically developed nations wish to emulate, it is no wonder that foreigners choose to move to this Little Red Dot and make it their home for the long haul as well.
According to findings in the 2018 Population in Brief report conducted by the Strategy Group in the Prime Minister's Office (PMO), approximately 30,000 new permanent residents (PRs) are accepted yearly by the Immigration and Checkpoints Authority (ICA) Singapore. The majority of these new PRs consists of working-age individuals from 25 to 49 years of age. For married individuals in this category, the decision to relocate their spouse to Singapore is a common one.
Fortunately, the ICA enables both Singapore citizens and PRs to apply PR for spouse under specific immigration schemes. However, meeting this criterion alone does not necessarily guarantee a successful application for your spouse. In many cases, the ICA will consider additional contributing factors such as your partner's income, employment history, as well as commitment towards integrating into the local community.
In this article, we will discuss several ways your other half can improve their PR application to increase their chances of attaining PR status in the Lion City.
1. Apply for a Dependant's Pass Prior to Applying for PR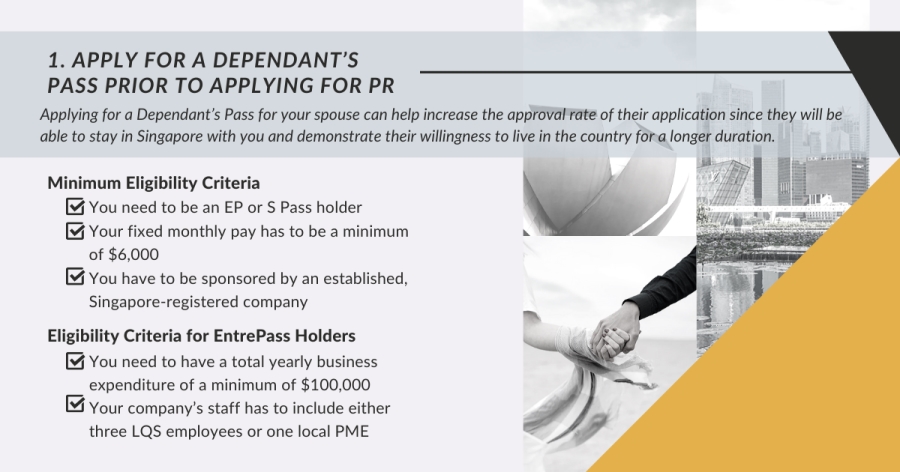 If you hold an Employment Pass (EP) or S Pass while living in Singapore, you have the choice to bring your spouse and/or children into the Republic by applying for a Dependant's Pass for your family members. This pass enables them to stay in Singapore for a period of up to two years, provided the main work pass remains valid.
Opt for this pass if you are considering applying for permanent residency for your partner in the future. Applying for a Dependant's Pass for your spouse can help increase the approval rate of their application since they will be able to stay in Singapore with you and demonstrate their willingness to live in the country for a longer duration.
Moreover, this option will enable them to work in the country within the two-year duration if they manage to find an employment opportunity. Doing so will display your partner's desire to contribute to Singapore's economy as well as prove their willingness to become a beneficial resident of the Republic, which might improve their chances of attaining PR status in the future.
A side note: you may opt for this option for your children as well, provided they are unmarried and below 21 years old (this applies to legally adopted children too).
Wondering if your spouse is eligible for this option? Keep on reading to find out more about this option and whether it is a viable one for you and your partner.
Minimum Eligibility Criteria
If you meet these three criteria, your legally married spouse will be eligible for a Dependant's Pass:
You need to be an EP or S Pass holder
Your fixed monthly pay has to be a minimum of $6,000
You have to be sponsored by an established, Singapore-registered company
Eligibility Criteria for EntrePass Holders
If you are an EntrePass holder, you have to meet the following requirements for your partner to be eligible for a Dependant's Pass:
You need to have a total yearly business expenditure of a minimum of $100,000
Your company's staff has to include either three LQS (Local Qualifying Salary) employees or one local PME (professional, manager or executive)
Required Documents to Submit
There are a couple of mandatory documents you are required to submit with your spouse's application. In addition to these, the authorities from ICA might also request for other documents when they assess your application. If you have any non-English documents, do obtain a copy of the English translation to be submitted along with them. Here is an overview of documents required for the application of a Dependant's Pass:
Copy of the personal particulars page of your spouse's passport
Copy of your marriage certificate
Application Process
The application has to be submitted by either your employer or appointed employment agent (EA). If you are an Employment or S Pass holder, the application can be done online. However, if you are an EntrePass, Personalised Employment Pass (PEP), or EP (sponsorship) holder, the application will be done manually. In general, the processing time for online applications will take up to three weeks, while manual applications will take up to eight weeks. There is also a $105 fee for the submission of your spouse's application.
2. Acquire Stable Employment in Singapore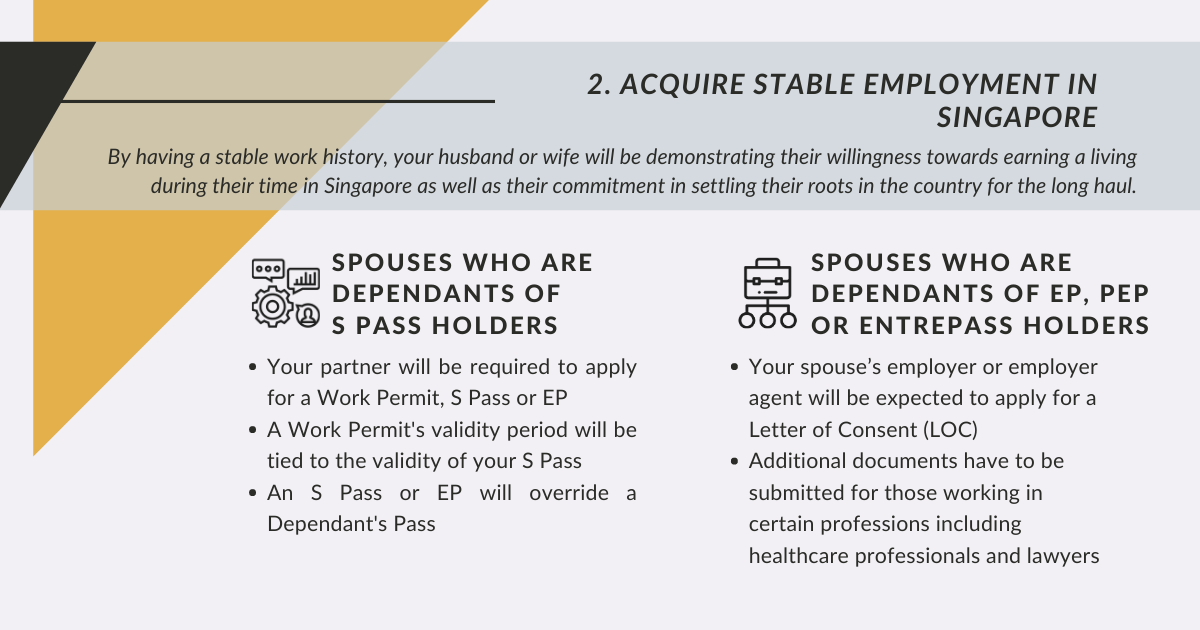 If your partner's application for a Dependant's Pass is successful, it will provide them with the ability to seek employment during their stay in the country. Ideally, your spouse should look for job opportunities that will offer them with stable employment, thus enabling them to work throughout their stay in Singapore. By having stable work history, your husband or wife will be demonstrating their willingness towards earning a living during their time in Singapore as well as their commitment in settling their roots in the country for the long haul.
Should your other half manage to find employment during their stay in the Republic, here are a couple of points to take note of with regard to their employment:
Spouses who are Dependants of S Pass Holders
In this situation, your partner will be required to apply for a Work Permit, S Pass or EP — provided they meet their respective eligibility criteria. In the case of a Work Permit, its validity period will be tied to the validity of your S Pass. Meanwhile, if your partner is given either an EP or S Pass, their Dependant's Pass will no longer be considered valid, and they will be required to cancel it.
Spouses who are Dependants of EP, PEP or EntrePass Holders
In this case, your spouse's employer or employer agent will be expected to apply for a Letter of Consent (LOC) before your partner is allowed to start work. Additional documents have to be submitted, along with the LOC, for dependants who are working in certain professions including healthcare professionals and lawyers, as well as individuals employed in food establishments.
3. Make Efforts to Integrate into the Local Community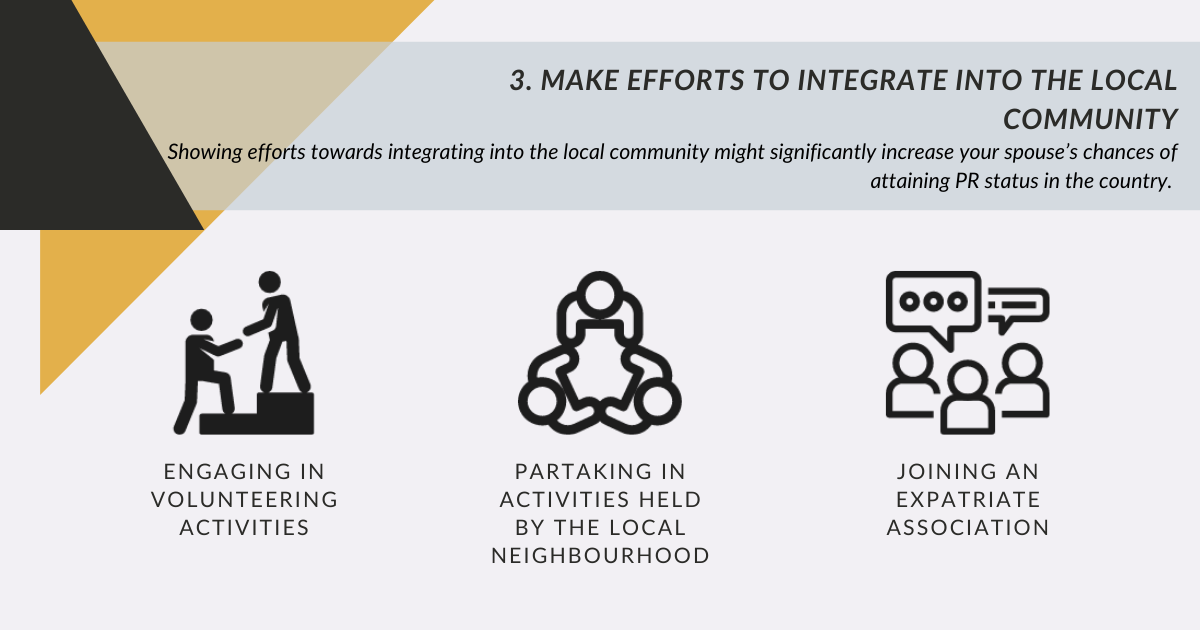 Singapore is a country comprising of a diverse set of individuals from various races and religions, thus being able to harmoniously live amongst and respect those who come from different backgrounds is vital for the peace and prosperity of this Little Red Dot. This applies not only to the country's citizens, but also its PRs as well as non-residents. With this in mind, being able to show their efforts towards integrating into the local community in Singapore might significantly increase your spouse's chances of attaining PR status in the country.
For instance, your husband or wife might consider:
Engaging in volunteering activities
Partaking in community activities held by the neighbourhood of their place of residence
Joining an expatriate association of their home country
Setting aside their time to take part in activities such as the ones listed above demonstrates your other half's efforts in assimilating with the culture of this Lion City. With their willingness to spend time with the local community as evidenced by these activities, it proves to the ICA authorities that your partner truly seeks to be a part of the Singaporean identity.
Keep on reading to find out more about how these activities will aid your partner with their integration efforts during their time in Singapore.
Engaging in Volunteering Activities
What better way to get to know the local community in the Lion City than by simultaneously engaging in philanthropic acts to help those in need? If your spouse is considering donating their time towards these selfless causes, be sure to check with the respective organisations and bodies on their terms and conditions regarding volunteers as some might only accept Singapore citizens. However, to start with, here are several places who are always seeking volunteers, regardless of their status in the country:
Society for the Prevention of Cruelty to Animals (SPCA)
Children's Cancer Foundation
Movement for the Intellectually Disabled of Singapore (MINDS)
Partaking in Activities Held by the Local Neighbourhood
An easy way for your husband or wife to start off their integration efforts in Singapore is by taking part in events and activities organised by the local neighbourhood. Each Residents' Committees (RCs) of every neighbourhood in the country will usually hold a variety of events and activities throughout the year to provide the residents with the opportunity to mingle with each other. As a foreigner, this is the perfect opportunity for your spouse to get to know the locals in their respective neighbourhood, thus easing their efforts towards integrating into the Singaporean society.
Joining an Expatriate Association of Your Spouse's Home Country
Relocating to a foreign country can be an intimidating change, particularly if you are moving into a society with a completely different culture from your own. Adjusting to that culture as well as integrating into the local community can be a hard process, so what about making it a little bit easier by encouraging your other half to join an expatriate association of their home country? This is a good way to help your spouse meet fellow expatriates who have experienced or are experiencing the same circumstance of adjusting to life as a foreigner in the Lion City. Besides being a source of comfort for your partner, expatriate associations will also offer your partner opportunities to connect with the local community through events and activities organised by the associations themselves.
4. Include Additional Supporting Documents When Applying for PR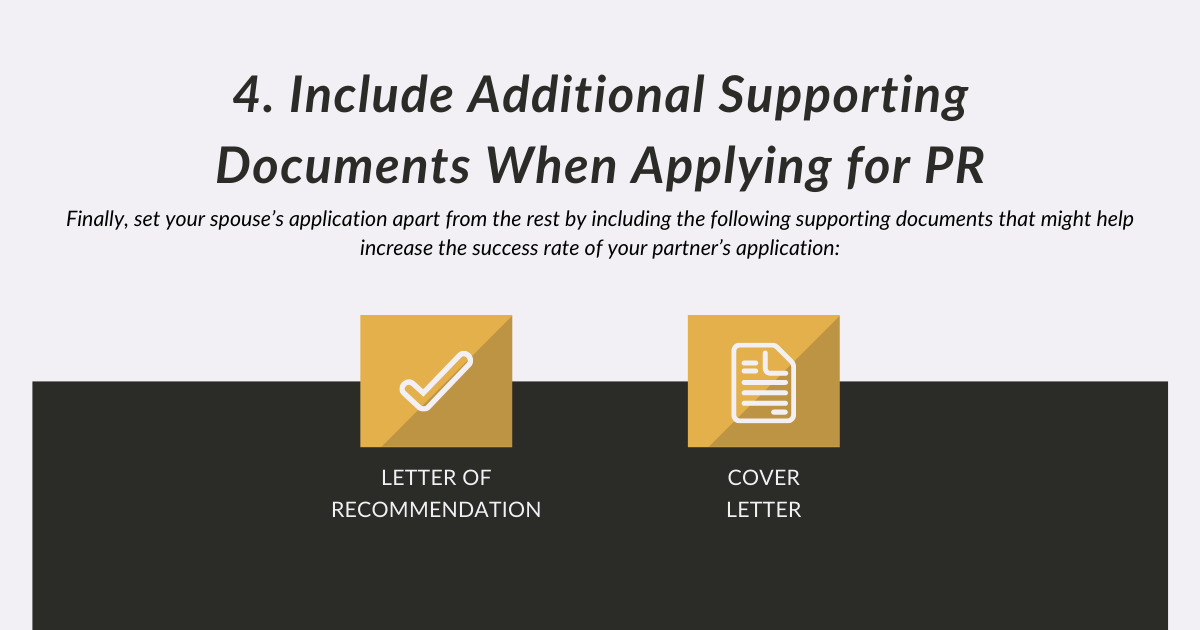 Every individual applying for permanent residency in Singapore is expected to submit a number of required documents as listed on ICA's website. These include, but are not limited to, the following:
The applicant's birth certificate
The applicant's income slips from the last six months (if the applicant is employed)
The applicant's highest educational certificates
Missing any of the required documents will render the application invalid.
Of course, since every applicant will be submitting the same set of required documents to ICA, it can make it that much harder to set your spouse's application apart from the rest. One way around this is by including additional supporting documents that might help increase the success rate of your partner's application. These documents should serve the purpose of highlighting your spouse's strengths and positive characteristics, thus proving that they will be a beneficial resident in the Republic.
Below are a few examples of additional supporting documents your husband or wife can include in their application:
Letter of Recommendation
If your husband or wife has been working at the same company for at least six months, they should consider requesting their employer to write a letter of recommendation. Including a letter of recommendation from a figure of authority in their PR application highlights your partner's positive aspects as an employee, which might help boost their chances of being granted PR status by demonstrating their worth as a resident in the Republic. Additionally, if your other half has taken part in volunteering activities, they can have the person-in-charge write them a letter of recommendation too.
Cover Letter
A cover letter accompanying your spouse's PR application is a good way for them to go into more detail on the reasons for their application and why they should be granted PR status in the country. Some points to include in your partner's cover letter include why they wish to relocate to Singapore, their ability to contribute to the country as a PR, and their family stability.
The Takeaway
While incorporating the tips we have discussed in this article in your spouse's application might help with their chances of becoming a Singapore PR, nobody really knows the specific factors that influence ICA's final decision. If you wish to receive expert advice on your spouse's application, consider approaching an immigration specialist such as Paul Immigrations. An immigration specialist will be able to guide you and your spouse throughout the entire PR application process, as well as improve your spouse's application for PR status in this Little Red Dot.