There's a reason why so many foreigners choose to work and live in Singapore. Aside from its thriving economy, eclectic culture and first-class infrastructure, the city-state have many other offerings that bring about a good quality of life for its residents. If you are reading this article, chances are there is something that attracts you to Singapore. For those who do not want to spend their time on a tourist visa, the best way to settle down in the little red dot with a peace of mind would be to become a Singapore Permanent Resident (PR).
Unfortunately, this status isn't handed out freely and can be rather challenging due to the stringent application process. Thus, it is not a surprise that many applicants have fear of rejection in the back of their minds. If you are applying for PR for the very first time, read on to discover the things you should avoid in your application.
Singapore PR Applications and the Rate of Approval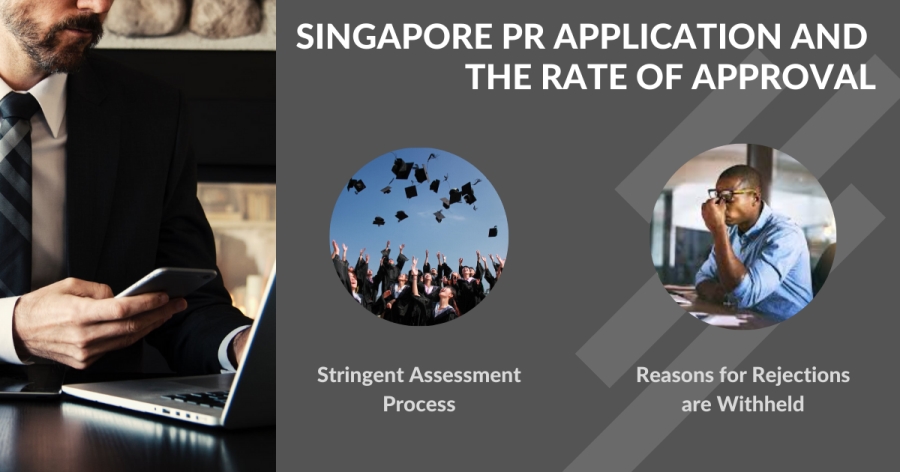 It can be disheartening to hear that your application has been rejected, but you are not alone. Numerous applicants with impressive paper qualifications and work experience have faced rejection when applying for Singapore PR. But why does this happen to so many PR applicants?
Stringent Assessment Process
Over the years, the government has reduced the number of people it offers permanent residency to. In addition to that, the Immigration & Checkpoints Authority has tightened the criteria and the overall requirements of PR eligibility. The main reason for doing this is to control the influx of foreigners coming to the country.
Reasons for Rejections are Withheld
Unfortunately, if your application has been rejected, the ICA would not provide you with a reason for turning you down. According to the authorities, withholding their reasons prevents foreigners from gaming the system and modifying their application to meet the criteria. Nevertheless, many applicants do encounter success following an initial rejection. Read on to find out how you can do the same.
4 Common Mistakes to Avoid When Applying for PR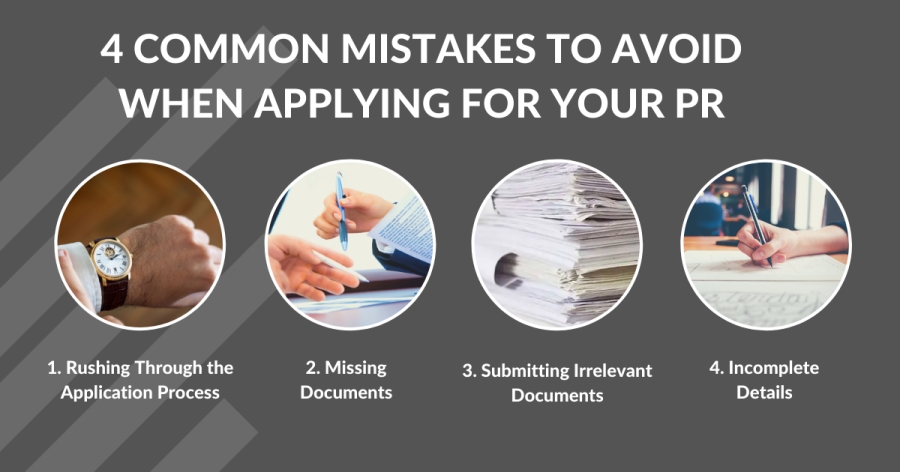 Filling out and submitting an application for Singapore PR may seem easy enough to manage on your own, but your unfamiliarity with the process might cause some issues. Here are three common mistakes that most applicants make during submission:
1. Rushing Through the Application Process
There is a common trend amongst foreign professionals to start the process of applying as soon as they have held a job in Singapore for six months. However, this may not be beneficial for them even though they are able to produce the necessary payslips for the last six months of your employment. Instead, consider waiting for at least two years before applying for PR. Accomplishing a longer work history would indicate that you have a deeper understanding of your current job while showing your commitment to contributing to Singapore's thriving economy.
2. Missing Documents
It is crucial that you include all the relevant documents and forms. Doing so will not only speed up the overall process, but it will also allow the ICA officers to review your case efficiently when determining if you are eligible for PR. You will then be able to know the outcome of your application much more quickly. One essential document that should always accompany your PR application is a cover letter. A well-written cover letter will highlight your strengths, talents and skills briefly and concisely, and go a long way in setting your case apart from the rest.
3. Submitting Irrelevant Documents
Although including additional supporting documents, such as a cover letter, can improve your overall profile, it is easy for the lines to blur. In their eagerness, many applicants have submitted documents that don't reflect any relevant information that can help their case. Instead of helping them, these documents are more likely to delay the overall approval process and even increase the risk of your PR application being rejected.
4. Incomplete Details
It can be quite tricky to keep track of all the information that you need to submit for your PR request. However, it is vital that you don't miss out any important information in your forms. Filling in the required fields, including details of your family, education and employment background, will play an integral role in the approval of your PR. Therefore, it is best that you double-check the information that you have submitted to ensure that you haven't missed out anything important or filled in any field incorrectly.
2 Things to Take Note of When Submitting Your PR Application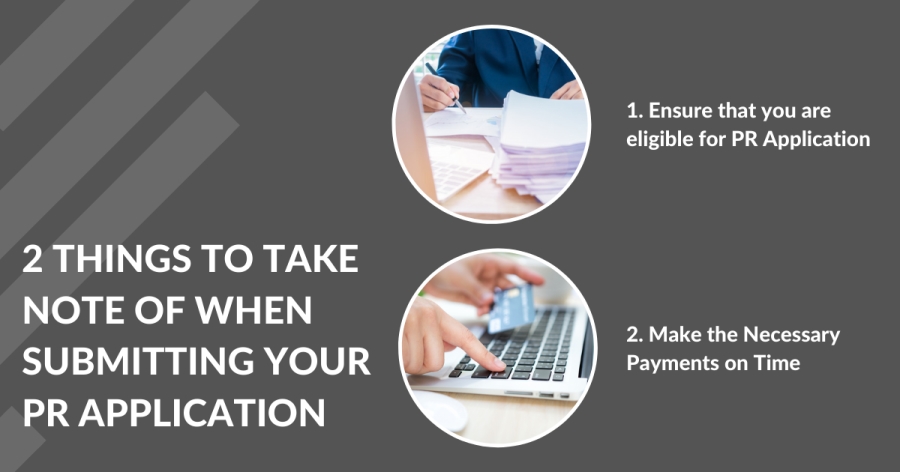 1. Ensure That You Are Eligible for Singapore PR
All PR applications are to be submitted online via the e-Service with a valid SingPass account. However, doing so would only be possible if you are a:
Singapore Citizen or PR applying for permanent residency for your spouse or unmarried child under 21 years old
Singapore Citizen applying for permanent residency for your aged parents
Employment Pass or S Pass holder applying for permanent residency for yourself
For student applicants in Singapore without a SingPass account, they can access the e-Service using a Foreign Identification Number (FIN) and the issuance date of their valid immigration pass. Another option is to apply for PR through the Singapore Economic Development under the Global Investor Programme if you are eligible.
2. Make the Necessary Payments on Time
Do take note that a S$100 non-refundable fee processing fee is payable for each PR application submitted. Payment can be made in a number of methods, including the following:
American Express (AMEX) credit card
Visa credit/debit card
MasterCard credit/debit card
Internet direct debit
If and when an application is successful, there are other incurring fees that have to be paid. One of these fees would include the $20 payment for an Entry Permit if the application was submitted after the 18th of December in 2017 (a much-discounted rate from its initial $100 fee). Applicants would also have to pay a S$50 fee for a 5-year Re-Entry Permit, S$50 for an Identity Card and a S$30 Entry Visa that is payable for foreigners requiring a visa. These fees can all be paid via NETS or CashCard.
9 Factors That Affect Your Singapore PR Application Eligibility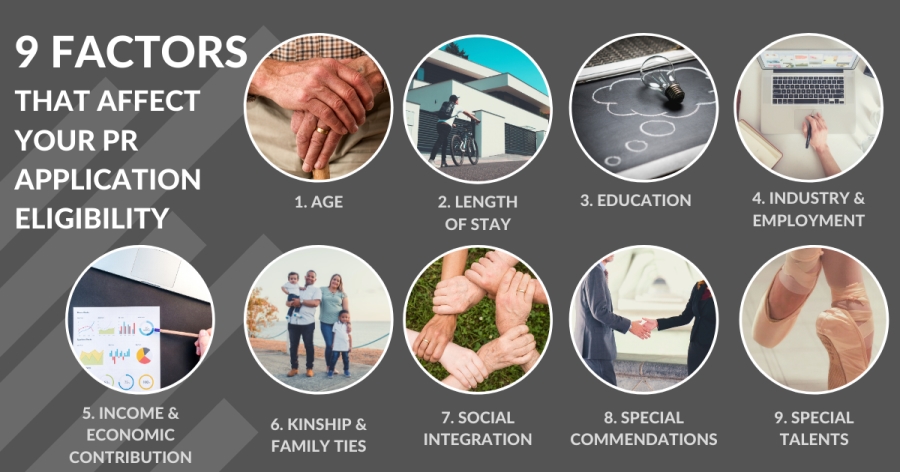 Immigration officers do not just look at your application at face value. Instead, the officers will view each Singapore PR application as a whole, based on several factors. Read on to understand the nine factors that would affect your chances:
1. Age
Since the official retirement age in Singapore is 65 years old, you will be assessed on your age and your overall capability to provide significant contributions to the country's economy and society within the duration of your stay in the country. However, an applicant's case is reviewed on a case-by-case basis. Therefore, it is important to keep in mind that although younger applicants have time on their side, older applicants do bring with them a wealth of knowledge and experience.
2. Length of Physical Stay
The government will assess your potential as a PR based on the duration of your employment and stay in Singapore. Hence, the odds will be in your favour if you have stayed in Singapore for a longer period as this demonstrates that you are familiar with the local community and culture of the country.
3. Education
Singapore is a nation that believes in and emphasises on meritocracy. Therefore, if you are proficient in both academics and your profession, you will stand a better chance of becoming a PR. At the same time, you will also be at an advantage if you are equipped with relevant technical skills along with the proper qualifications.
4. Industry & Employment
Having professional experience and expertise in a niche industry will give you a leg up amongst your competitors and could very well be the defining factor for your PR eligibility. These niche industries are key to the development of the Singapore economy and are, therefore, prioritised amongst others. Additionally, your mode of employment — that is, whether it is contractual or permanent — is another important factor.
5. Income & Economic Contribution
There is a common misconception that ICA officers only grants the PR status to applicants with high salaries. Although a higher income usually places an applicant at an advantage, officers will assess your economic contributions holistically, regardless of your position. You will be assessed on both your current spending power and the potential of your future earnings.
6. Kinship & Family Ties
The government would rather families grow together within the same country, rather than separate them. Therefore, applicants with existing family members and relatives in the country that are Singapore Citizens or Permanent Residents will stand a better chance of becoming a PR. If you are not related to a Singaporean but have family from your home country, consider applying for PR together. Doing so would indicate that you and your family are willing to further integrate into the expanding and growing multiracial society.
7. Social Integration
Besides one's economic contribution, there is a key emphasis on contributions to society. This can come in the form of monetary contributions or voluntary work. Essentially, the time and effort you put into societal contributions will display a willingness to assimilate into the norms and culture of the country.
8. Special Commendations
Special commendations, recognition and awards accumulated over the years on both a personal and professional level will increase your chances of getting a PR. These accolades not only contribute to an outstanding profile but will also highlight your strengths and talents.
9. Special Talents
If you have a unique set of skills or special talents, these will provide you with an upper hand when it comes to the assessment of your profile. You will be reviewed on how you can utilise these acquired skills and talents to make significant contributions to the Singapore society and the community. Some of these skills or talents can include being proficient in the arts or sports.
PR Application Rejected: What Comes Next?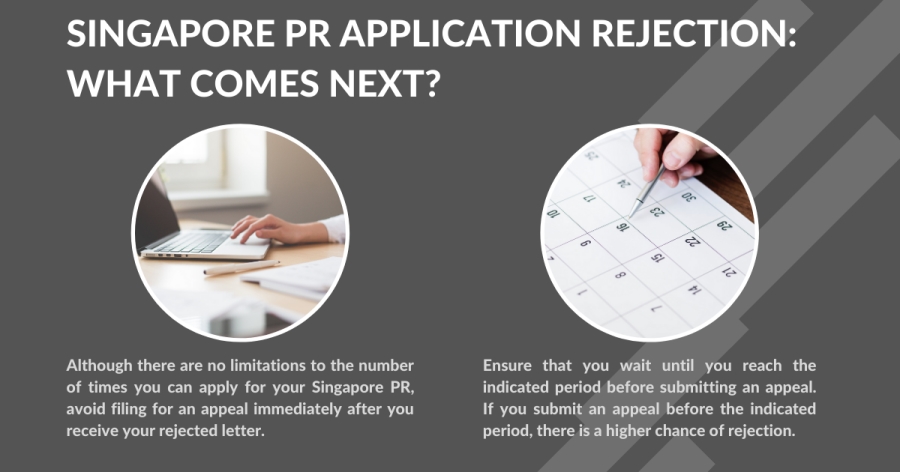 In the case that you do get rejected, note that there are no limitations to the number of times you can re-apply. With that said, do read the fine print and avoid filing for an appeal immediately after receiving the rejection letter. Each letter will state a period during which the ICA would not entertain any further requests from the applicant. Make sure that you abide by that timeline before proceeding to appeal, or risk being handed another rejection letter. Although it is tempting to push through with the appeal as soon as possible, be patient and wait before making an appeal to ICA.
How Long Should You Wait Before an Appeal?
As a general guideline, Employment Pass holders and other foreigners should wait at least six months before re-submitting their PR application. In most cases, appeals and re-applications would most likely be rejected again unless there have been notable and significant changes in your professional life within those six months. Thus, keeping your fingers crossed and waiting until the expiration period ends would give your appeal a better shot at success. If this period is missing from your rejection letter, follow the rule of thumb of six months before re-applying.
What Sort of Changes Would Prompt a Re-Submission?
Notable changes can come in the form of new qualifications or significant career progression. As more doors open for you, this would put you in a good position to submit an appeal within six months. When reviewing your case, the main focus of the immigration officers would then be to identify these changes in your application — make sure that you draw attention to them.
The Bottom Line
Receiving a Singapore PR rejection letter isn't the end of your dreams of settling down in Singapore for good. To improve your chances of PR approval, consider consulting a PR application agent to help you with your next application, including consolidating the documents necessary for a hassle-free submission. Book an appointment with the experienced consultants of Paul Immigrations today, and raise your chances of getting your PR approved.