The allure of Singapore as an attractive place to settle one's roots is undeniable, as evidenced by the country's ranking as the best place for expatriates to live and work in HSBC's yearly Expat Explorer Report for four consecutive years — from 2015 to 2018. Based on 524 interviews, 48 per cent of expatriates chose to move to Singapore to advance their careers while 38 per cent did so to improve their earnings.
Career advancement is not the only reason why many expatriates decide to live in the Lion City. The HSBC survey in 2018 also found that a large number of these professionals moved to this little red dot due to its higher quality of childcare and education compared to their home country. 36 per cent of the respondents wished to improve their quality of life, while 60 per cent stated that the health and well-being of their children have improved since moving to Singapore.
With these findings, it is clear that Singapore is one of the top destinations in the world for expatriates to move to and make their home for the long haul. If you are in a similar situation and wish to make your stay in the Lion City permanent, there are several permanent resident (PR) schemes that the country has established to ease the PR route for expatriates, depending on your situation.
In this article, we will discuss the three PR schemes available, as well as the process involved, to guide you in choosing the most suitable one for yourself. These three PR schemes include:
1. Professionals, Technical Personnel & Skilled Worker Scheme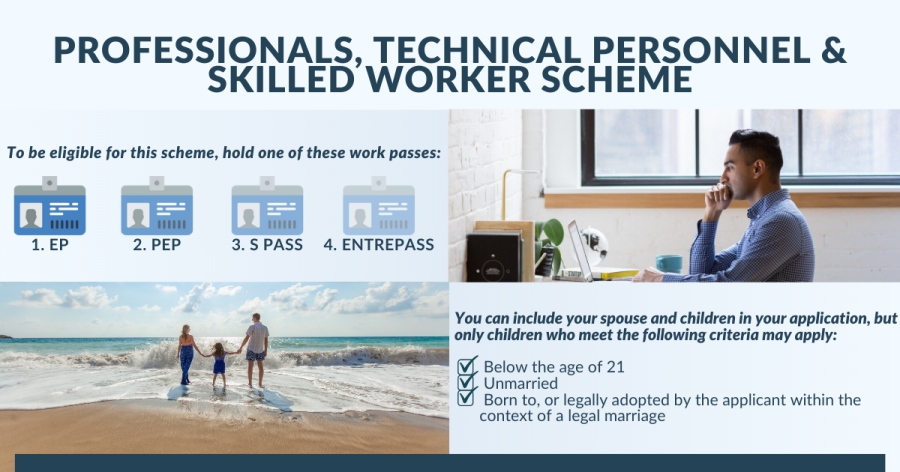 If you have found employment in Singapore and would like to live in the country for the long haul, the Professionals, Technical Personnel & Skilled Worker (PTS) scheme is the route for you. The PTS scheme was established to ease the process for work pass holders who are interested in attaining the PR status. As such, this is by far the most common route taken by expatriates who wish to apply for PR, especially since it allows them to include their spouse and children in their PR application.
To be eligible for this scheme, the applicant has to hold one of these work passes:
Employment Pass (EP)
Personalised Employment Pass (PEP)
S Pass
EntrePass
Additionally, only children who meet the following criteria may apply as a dependant:
Below the age of 21
Unmarried
Born to, or legally adopted by the applicant within the context of a legal marriage
Here is the information you will need to include when applying for PR via the PTS scheme:
Your Employer's Information
The Singapore PR application via the PTS scheme includes Annex A — a form your employer has to complete with information about the company. It requires your employer to provide information regarding the type of business and activities the company is involved. For instance, if the company falls under the manufacturing industry, your employer has to state the type of product(s) manufactured. Do take note that Annex A does not equate to the sponsorship of your application by your company.
Your Basic Income from the Last Six Months
You are required to provide your payslips for the last six months of your employment when applying for Singapore PR. For this reason, some individuals choose to apply for PR after working for a mere six months at their job. While this is perfectly fine, the approval rate of your application will be much higher if you choose to wait for at least one year before applying for permanent residency in Singapore. Another point to note, your basic income excludes the following:
Additional salary as a result of overtime, commission or bonus
Allowances for food, housing and/or travel
Contributions by your employer to a pension fund or provident fund
Additional sums paid to you to cover any special expenses as a result of the unusual or hazardous nature of your employment
Any gratuity paid on account of discharge or retirement
Non-English Documents Translated into English
If you have any documents not in English, do remember to have them translated before submitting your application onto the e-PR system. There are three main options accepted by the ICA concerning translations of non-English documents:
Translations made by the embassy of the country that issued the document
Translations made by a notary public in Singapore or the country that issued the document
Privately created translations authenticated by the embassy of the country that issued the document or notarised by a notary public in Singapore or the country that issued the document
2. Global Investor Programme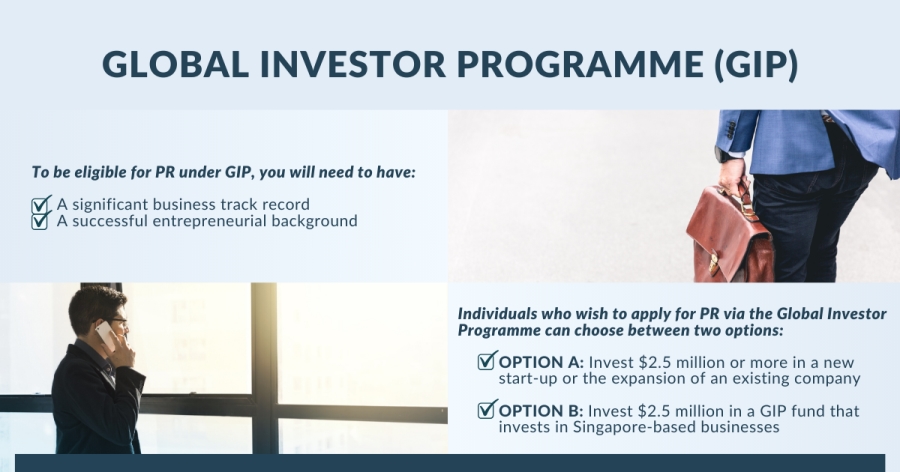 Administered by Contact Singapore, a division of the Economic Development Board Singapore, the Global Investor Programme (GIP) is a Singapore PR scheme specifically designed for experienced entrepreneurs and investors who are keen on relocating to the Republic to start a new business or invest in an existing one.
Individuals who wish to apply for permanent residency via the Global Investor Programme can choose between two options:
Option A: invest $2.5 million or more in a new start-up or the expansion of an existing company
Option B: invest $2.5 million in a GIP fund that invests in Singapore-based businesses
To be eligible for this scheme, you will need to have a significant business track record as well as a successful entrepreneurial background. To prove this, you will be required to provide the following information to allow the authorities to assess your application:
You need to have three years or more of entrepreneurial and business track record and provide your company's audited financial statements for the last three years.
Your company's turnover must be $50 million or more in the year immediately prior to your application, and $50 million or more per year on average for the three years immediately prior to your application.
If you own a private company, you must have a share of at least 30 per cent in the company. Your position in the company, as well as its profitability and growth, would be taken into consideration, too.
If you meet the eligibility criteria, you will be scheduled for an interview session with officers from Contact Singapore. Below, we go into more detail on the various information and documents you need to submit under the Global Investor Programme.
Application Forms to Submit
Individuals applying under the GIP are required to submit three application forms in total: Form A (personal profile), Form B (proposed investment plan), and Form C (payment details), all of which can be downloaded from the following link: www.edb.gov.sg/gip. After filling up these forms, you will have to upload and submit them online via the following link: https://application.sgip.gov.sg/public.
Declaration Documents to Submit in Hard Copy
Apart from the three forms stated above, there are additional supporting documents you will have to submit as well. But, do take note that these documents have to be submitted in hard copy to Contact Singapore, instead of being uploaded online. These documents include:
Undertaking on the terms and conditions of the GIP
Declaration form for application of the GIP in Form A
Declaration form for proposed investment plan in Form B
Payment details of application fee in Form C (attach a hard copy of the payment transaction slip)
Statutory declaration form
Additional Information for Option A Applicants
For applicants who apply under Option A, you are required to provide additional information, including an investment or business plan, detailing your projected employment and yearly financial projections (this part of the application will be detailed in Form B). If your PR application is successful, you are expected to achieve the third-year milestones written in your business plan as well as achieve the entirety of your business plan within five years of your PR approval. Failure to do so may result in the rejection of your application for the renewal of your Re-Entry Permit.
Applicants Investing in an Existing Singapore-Based Company
If your business plan includes investing in an existing Singapore-based company, the following two criteria have to be included in your third-year milestones as well:
Employ five or more additional staff
Achieve an additional yearly total business expenditure of S$1 million or more
3. Foreign Artistic Talent Scheme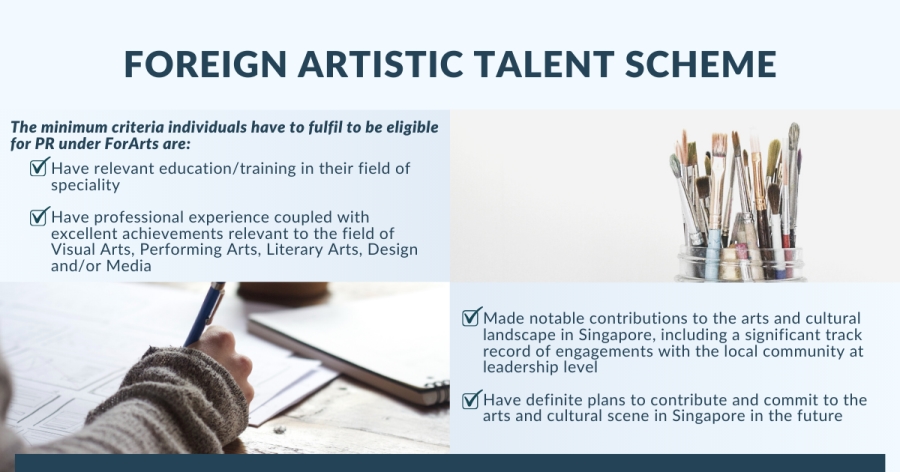 If you are considering living in Singapore to forge and strengthen your artistic career in the Lion City, the Foreign Artistic Talent scheme (ForArts) will ease your route towards attaining PR status in the country and help you develop your professional career. Jointly administered by the National Arts Council (NAC) and the ICA, the scheme was established to cater to foreign professionals who have carved an outstanding career in the arts industry and to aid in their PR application process. Through this scheme, foreign artists will play a vital role in boosting the arts and cultural scene in the Republic.
In addition, ForArts is not limited to foreign artists. If you are a professional working in a creative industry (such as Film, Design, or Media), you may apply for permanent residency in the Republic under the ForArts scheme as long as you meet the minimum criteria.
The minimum criteria individuals have to fulfil to be eligible for PR under ForArts are:
Have relevant education/training in their field of speciality
Have professional experience coupled with excellent achievements relevant to the field of Visual Arts, Performing Arts, Literary Arts, Design and/or Media
Made notable contributions to the arts and cultural landscape in Singapore, including a significant track record of engagements with the local community at leadership level
Have definite plans to contribute and commit to the arts and cultural scene in Singapore in the future
Additional criteria that will be taken into consideration include the applicant's ability to display an upstanding character as well as to be a role model for their peers.
The Application Process
Individuals who are interested in applying for permanent residency in Singapore under the ForArts scheme are required to complete the application form found on NAC's website and submit it via email or post. If your application is deemed suitable, NAC may request for you to submit additional documents for them to assess your application further. You will be notified of the result within three months of NAC receiving your application. Do note that the ICA is the final authority on all PR applications; if your application for the ForArts scheme is successful, you will be expected to complete the application form provided by the ICA.
Direct Application to ICA
Do not fret if you do not fulfil the minimum criteria required to be eligible for the ForArts scheme. If you are a foreign artist who has worked in the arts industry in Singapore for at least two years and hold either an Employment Pass or S Pass, you may apply for permanent residency directly through the ICA.
The Takeaway
With the above three PR schemes, attaining the PR status is achievable for those who wish to make it their long-term home, regardless of their professions. Furthermore, if you apply for PR under either the GIP or ForArts, Contact Singapore and National Arts Council will not only help you in your PR application but also aid you in your career journey.
However, the process of applying for permanent residency is a complex one, especially with the various documents and forms that you are required to submit. Why put yourself through all that hassle on your own when you can engage the services of a Singapore PR consultancy such as Paul Immigrations?
At Paul Immigrations, an immigration consultant will be able to guide you on how to improve your application with a personalised consultation. Our team of specialists will then work together with you to ensure that all your documents and information required by ICA are accurate. Moreover, we offer services such as drafting cover letters, personalised to highlight your strengths. With your potential and our expertise, we will maximise your chances of approval, bringing you that much closer to making Singapore your permanent home.