Applying for Singapore permanent residency for your entire family is easy enough — but only if you have done your homework. For the uninitiated, the Singapore Permanent Resident (PR) application process is a gruelling one that can cause countless PR applicants to overlook details that are much more important than they realise.
If you wish to secure the status for your family, take the time to read the fine print. Understand what it takes to avoid that dreaded rejection letter, rather than leave everything to chance. This article can help you with this monumental task by covering everything you need to know about securing permanent residency for your family. Read on for a step-by-step guide on how your entire family can acquire Singapore PR.
Step 1: Verify Your Family's Eligibility for Singapore PR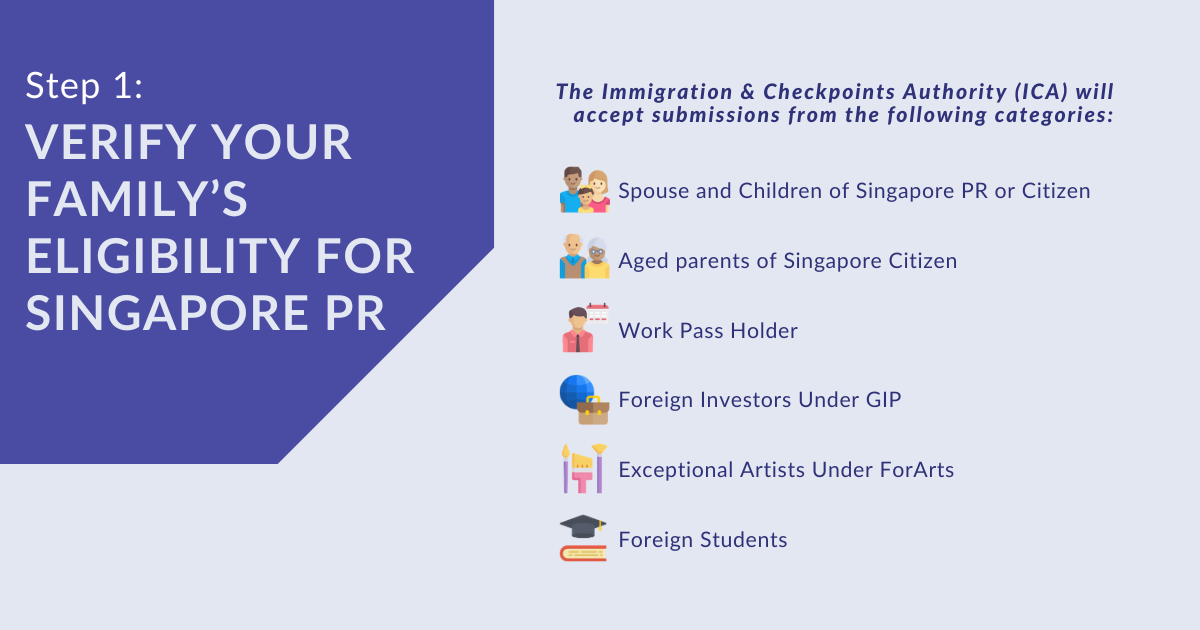 First of all, you need to ensure that your family is eligible for Singapore PR status. The Immigration & Checkpoints Authority (ICA) will accept submissions from the following categories:
1. Spouse and Children of Singapore PR or Citizen
If you are either a Singapore PR or Citizen, you have the privilege of sponsoring a PR application on behalf of your spouse and unmarried children under the age of 21 (and born to, or legally adopted by you within the context of a legal marriage).
2. Aged Parents of Singapore Citizen
Only Singapore Citizens can sponsor their aged parents' application for permanent residency. Unfortunately, if you are still a PR, this restriction means that your parents will not be eligible for PR and you can only sponsor their application once you become a Citizen.
3. Work Pass Holders
If you hold a work pass, you may be eligible for the Professionals, Technical Personnel and Skilled Workers (PTS) scheme. This scheme is perfect for work pass holders with families since it allows PR applicants to include their dependants in their application. As such, your spouse and unmarried children under the age of 21 (and born to, or legally adopted by you within the context of a legal marriage) would also be eligible for Singapore PR status. To apply for permanent residency under this scheme, check if you hold the following passes:
Employment Pass
Personalised Employment Pass
S Pass
EntrePass
4. Foreign Investors Under GIP
If you are a foreign investor with significant business and entrepreneurial history, you may be eligible for Singapore PR status under the Global Investor Programme (GIP). Similar to the PTS scheme, the programme allows applicants to include their dependants in their application. As such, your spouse and unmarried children under the age of 21 (and born to, or legally adopted by you within the context of a legal marriage) can then apply for PR with you. To be eligible for the programme, you need to fulfil the following requirements:
You must have a minimum of three years of business and entrepreneurial history
You must provide your company's financial statements, audited by an accredited audit firm, for the last three years
Your company is in at least one of the industries from Annex A
Your company has a minimum turnover of S$50 million from the previous year
Your company earns an average of S$50 million annually over the last three years
You must hold at least 30% of your company's shares if it is a privately held company
5. Exceptional Artists Under ForArts
For the artists among you, the Foreign Artistic Talent Scheme (ForArts) may be a pathway that is most suitable for you. Administered by the National Arts Council (NAC) and ICA, ForArts targets talented artists who have made notable contributions to the local arts and cultural scene. However, the ForArts scheme is only applicable to the artist in question, rather than their entire family. Nevertheless, the scheme is worth noting in the event an artistically inclined member of your family wishes to apply for permanent residency on their own merits. To apply for PR status under this scheme, they should meet all of the following requirements:
Possess qualifications and/or training relevant to their field
Have outstanding professional experience in Visual Arts, Performing Arts, Literary Arts, Media and/or Design
Provide evidence of notable contributions to Singapore's arts and cultural scene with leadership experience
Submit detailed plans for future involvement in the local arts and cultural scene
6. Foreign Students
If your children have Student Passes, they would be eligible for Singapore PR status on their own merits as long as they meet the following criteria:
Have been living in Singapore for at least two years
Passed at least one national examination, such as the Primary School Leaving Examination (PSLE) and GCE 'O'/'N'/'A' Level, or;
Enrolled in the Integrated Programme (IP)
Step 2: Evaluate Your Chances of Singapore PR Approval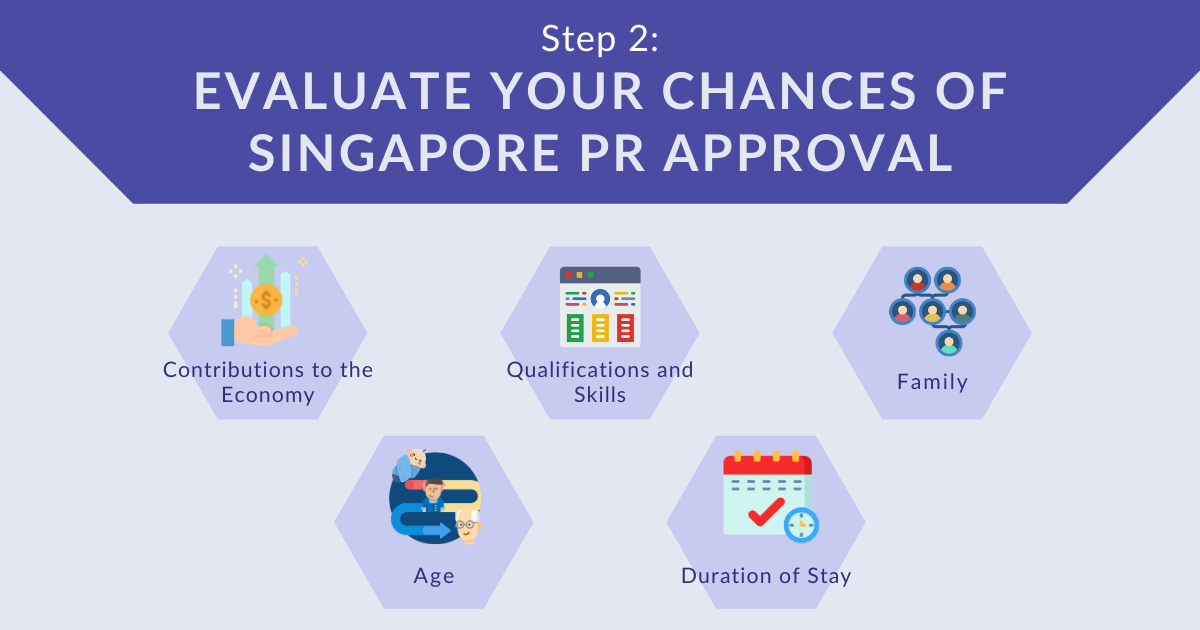 Once you have ascertained your family's Singapore PR eligibility, the next step is to evaluate your chances of PR approval based on five factors that are taken into consideration by ICA. Never head straight into an application without going through this step as it can help your family select a pathway that best suits your circumstances and decide when to apply for PR status. Let's take a look at these five factors.
1. Contributions to the Economy
Singapore is looking for PRs who can contribute to the economy, rather than drain our resources. Consider your family's current employment status in the city-state. Is your spouse currently working? If so, both you and your spouse will be assessed based on your combined contributions, strengthening your application.
2. Qualifications and Skills
Your chances of PR approval are higher if you possess any niche qualifications and skills that are in high demand and do not create competition with Singaporeans. Demand for such skills usually changes but it is worth noting that, given Singapore's ageing population, the country would most likely continue to require more healthcare professionals to care for the elderly.
3. Family
Family can affect your application in more ways than one. Besides combining your strengths (as mentioned above), applying for permanent residency with your family shows a desire to settle down and set roots in the country, especially if you have children. However, if you are a Singapore Citizen or PR who wishes to sponsor your spouse's PR application, note that ICA has tightened their assessment criteria to filter out sham marriages. To overcome this, consider starting with a Long-Term Visit Pass for your spouse in the first couple of years into your marriage.
4. Age
In light of Singapore's ageing population, ICA will assess your application based on your age to avoid granting the status to those who are too close to their silver years. Therefore, the older you are, the less likely you are to acquire Singapore PR status. Nevertheless, the authorities do take a holistic approach in their assessment — your chances of becoming a PR are still decent if you are at an advantage for any of the other factors above.
5. Duration of Stay
Last, but not least, the duration of your stay in Singapore also plays a significant role in the outcome of your PR application. If you have only just moved here, it would be unwise to be hasty and apply for PR status at once. Instead, opt to play the long game and wait for at least a couple of years before hitting the officers with your best shot.
Step 3: Prepare for the Online PR Application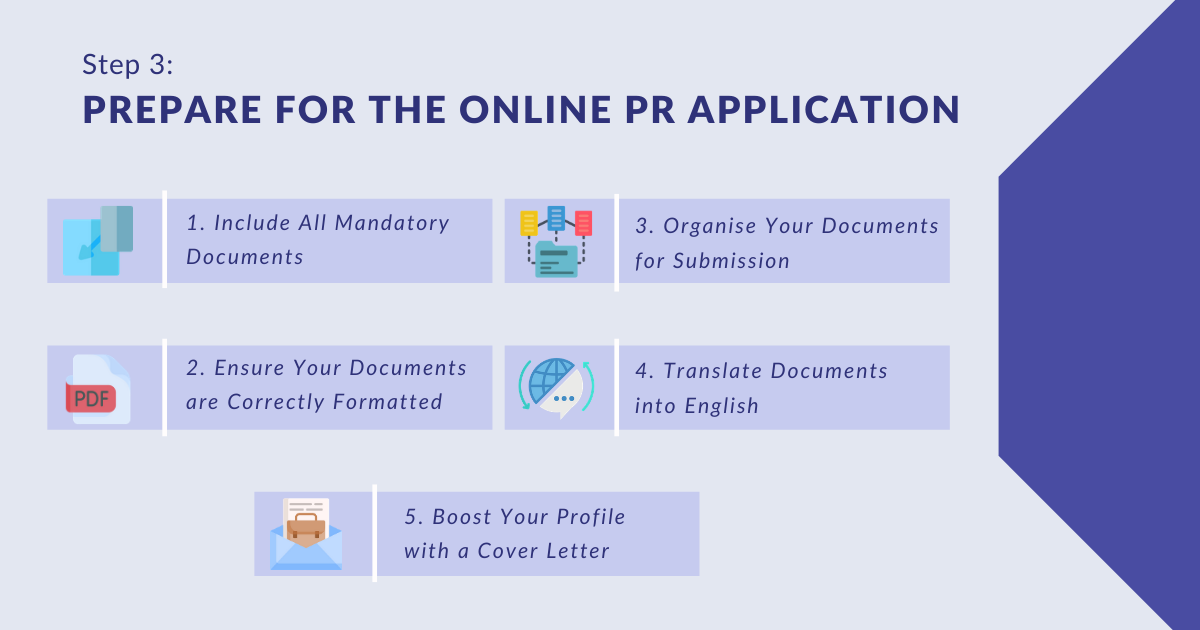 When your family is ready to commit to the Lion City, prepare for the online PR application, starting with the documents required for Singapore PR. This preparatory step is crucial since you will only have seven days (168 hours) to complete everything during the online application. Time is of the essence here. If you fail to complete this step within this period, the e-PR system will force you to restart your application, which can be extremely frustrating.
Moreover, ICA requires English translations of documents that are in other languages — a process that tends to be time-consuming. Preparing for the PR online application process ahead of time allows you to ensure that everything adheres to ICA's requirements. You may refer to ICA's website for a complete list of documents that apply to your family. Here are five tips to help you with this part of the PR application process:
1. Include All Mandatory Documents
Never exclude any mandatory documents unless ICA explicitly states that they are only required if applicable. Instead, check that you have every single item stated in each list. Where possible, request for any missing records, such as a birth certificate, from your previous home country.
2. Ensure Your Documents are Correctly Formatted
To adhere to ICA's requirements, ensure your documents are correctly formatted. The e-PR system only accepts documents under 2MB and saved as PDF or JPG/JPEG files. Passport-sized photographs are the only exception to this rule — check that they do not exceed 1MB and are saved as JPG/JPEG files. Anything else will be rejected by the system.
3. Organise Your Documents for Submission
Besides correctly formatting your documents, you should also organise them so that you can upload them smoothly and accurately during submission. Name each file professionally, and attach the correct applicant's name to each distinct file. If you are applying for permanent residency on behalf of more than one applicant, save their respective documents in separate folders to avoid errors.
4. Translate Documents into English
Where necessary, translate your documents into English, and upload these translations along with the original. Do note that ICA only accepts translations by the following:
The embassy of the document's country of issue
A notary public based in Singapore or the document's country of issue
Any translator of your choosing as long as their work is later (a) attested by the embassy of the document's country of issue; or (b) notarised by a notary public who is based in Singapore or the document's country of issue
5. Boost Your Profile with a Cover Letter
Finally, consider drafting a cover letter for your PR application. Although none has been requested by ICA, a cover letter can be the perfect accompaniment to your profile by setting you apart from other applicants. After all, the ICA officers will not see you in person in the initial stages. A well-written cover letter will draw attention to your strengths, accomplishments and contributions to the Lion City, putting forth a compelling case on your behalf.
Step 4: Proceed with the Online PR Application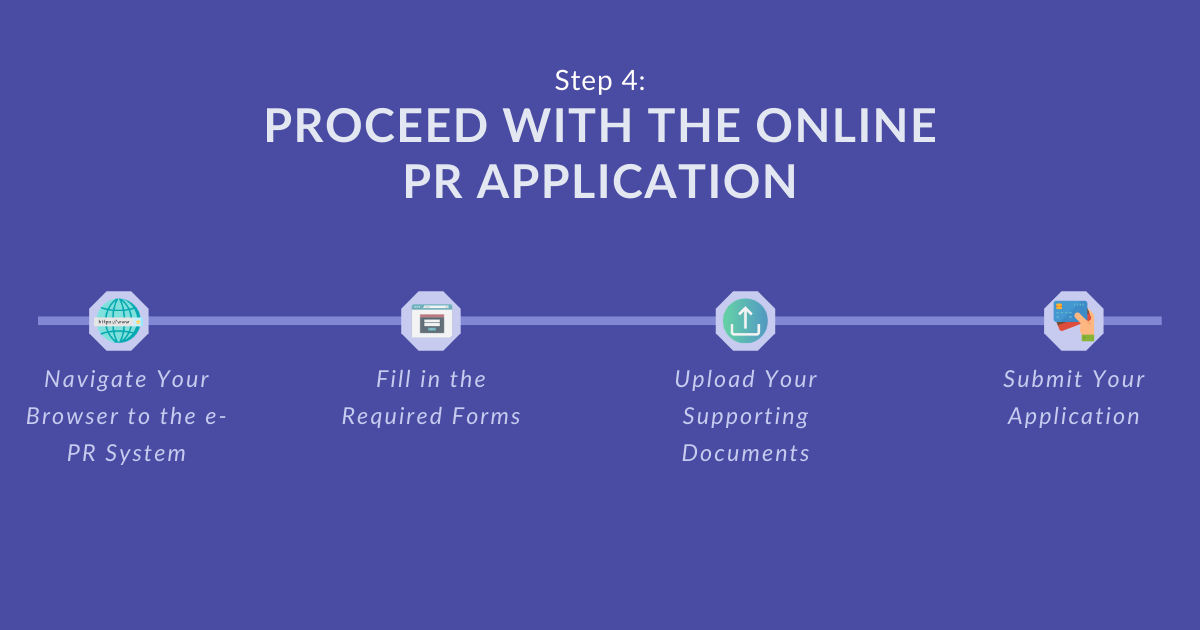 When you are done with your preparation, you may proceed with the online PR application. ICA has prepared a comprehensive step-by-step guide on their e-PR system — you should refer to it as you go. However, this system does not apply to GIP applicants, who are required to apply for permanent residency via Contact Singapore, under the purview of the Economic Development Board. For every other applicant, here is an overview of the online PR application chronology:
1. Navigate Your Browser to the e-PR System
You can access the e-PR system via ICA's website. Once you are there, click on the red button that says "MyICA" on the top right-hand corner of the homepage, and use your SingPass account to log in to the system. However, if your child is applying for PR as a student, they need to prepare their FIN and the issuance date of their Student Pass, in place of a SingPass. After logging in, find 'Apply/Sponsor for Permanent Residence' under 'e-Services'.
2. Fill in the Required Forms
The system will require you to fill in three forms in the following order: PR Application Form, Disclosure Page, Personnel List. Note that you should not leave any of the fields in these forms blank. The information that you provide in the Disclosure Page, in particular, will enable the system to generate the right online application for you. For both the PR Application Form and Personnel List, enter 'NA' if any sections do not apply to the applicant. Take your time with these sections as you will not be able to amend them once you begin uploading your documents.
3. Upload Your Supporting Documents
When you are done reviewing the information in the previous sections, you are ready to upload your supporting documents. Remember to provide a valid reason if you indicate 'I do not have the document' in any segments. If you have prepared all your paperwork ahead of time, you should not have any issues with this part of the application process.
4. Submit Your Application
Finally, you can submit your completed application after paying the S$100 application fee. You may make the payment using the following methods:
MasterCard debit/credit card
Visa debit/credit card
American Express credit card
Local internet banking
A Final Note
Most applicants should find ICA's e-PR system straightforward and clear cut. As long as you heed their requirements, the online PR application will be easy as pie. The most tedious part, however, is the preparatory step. With such long lists of documents required for Singapore PR, too many applicants ended up overlooking paperwork that could have handed them a PR approval letter. Others failed to organise their documents, causing them to make costly mistakes that denied them the coveted PR status.
At Paul Immigrations, a PR application consultant can ensure that all your documents are filed accurately. Our team will guide you through the entire process and even assist you with drafting a compelling cover letter that will help you stand out from the crowd. Contact us for a personalised, one-on-one consultation, and let us guide you in your Singapore PR application today.