A cover letter is basically a specially tailored one-page document directed to the recruiter or potential employer that comprises of your contact details, the vacancy role you are applying for and further specifics with regards to the information in your resume or main application which, in this case, is your PR application. If you have ever tried writing a cover letter for yourself,  you would know that it is no easy feat. For many, it has proven to be a daunting task and although the Internet provides you with an array of great tips on how to craft that perfect piece in just a single click, it does not necessarily make your task any easier and less time-consuming.
And so, it begs the question: are cover letters really worth all the hassle? Do companies still require or expect candidates to attach one when submitting their application? The numbers are glaring, to say the least — studies have indicated that 56% of employers consider cover letters as an essential component of an application, with only 18% of recruiters thinking otherwise.
Submitting your Singapore Permanent Residency (PR) application is no different. With the Immigration and Checkpoints Authority (ICA) putting a close to conventional face-to-face interviews, including a cover letter along with your PR online application is often the crucial point for prospective candidates to make a good first impression in the mind of the reviewing officer, making it more important than before.
With the main text in your PR application cover letter highlighting clearly your keen interest in becoming a resident of Singapore as well as an expansion of your skill set and other relevant experiences, you should also include considerations that make you best suited for the PR status. Within the text, you should align your unique abilities or expertise, highest qualification, prior professional experience and other contributions closely to the requirements of the Immigration and Checkpoints Authority (ICA) to reiterate why you are keen to take the next step in making Singapore your second home. Read on to find out more.
Why You Should Include a Cover Letter in Your Singapore PR Application
Contrary to popular belief, a cover letter is more than just a courtesy or formality to submit — it is a window of opportunity to impress. Several studies have suggested that employers favour applications that are accompanied by one, thus making it a vital component in any of your application strategy. A well thought-out piece provides a mental presentation to the reviewer of the following:
1. Immediate Value
First impression always counts, more so in this modern era of digital processing and recruiting. Sending a powerful and captivating message across by means of a professional write up is your first opportunity to stand out from the crowd and position yourself as a strong candidate amidst stiff competition. Emphasising your unique attributes and key strengths is likely to grab the reader's attention and boost your chances of progressing through the selection process.
2. Unique Fit
It provides one with the platform to showcase his or her unique combination of experience and skill set, and how these are aligned with the key requirements of the PR application. It is an early opportunity in the application process to portray a distinct link between your abilities, knowledge and experience and how they complement the needs and interests of Singapore. It is important to note that while possessing a distinctive skillset or special talent may grant you a unique edge over the other candidates, it will also depend on what exactly these talents are and how these traits can potentially elevate the individual and the community at large. Such talents may include but not be limited to individuals who possess a strong track record in artistic and/or sporting excellence.
3. Enthusiasm
A compelling and personalised epistle shows that you have gone the extra mile to put in the extra research on Singapore and genuine interest in comprehending the government's expectations of a future citizen. You should also seize this opportunity to convey that you share a similar vision and mission to that of Singapore and your keen excitement about the possibility of contributing economically and socially to an ever-growing innovation-centric nation.
4. Personality
Picking the right words to craft your document can highlight your personality in a way your resume cannot. When crafted in the right tone, the written text gives the recruiting officer a valuable peek into your personality and the traits that can be of value to a dynamic and ever-progressing nation. It also allows you to elaborate with a more personal tone on why you are the best candidate to qualify for the coveted PR vacancy slots.
What to Include in Your Cover Letter for Singapore PR Application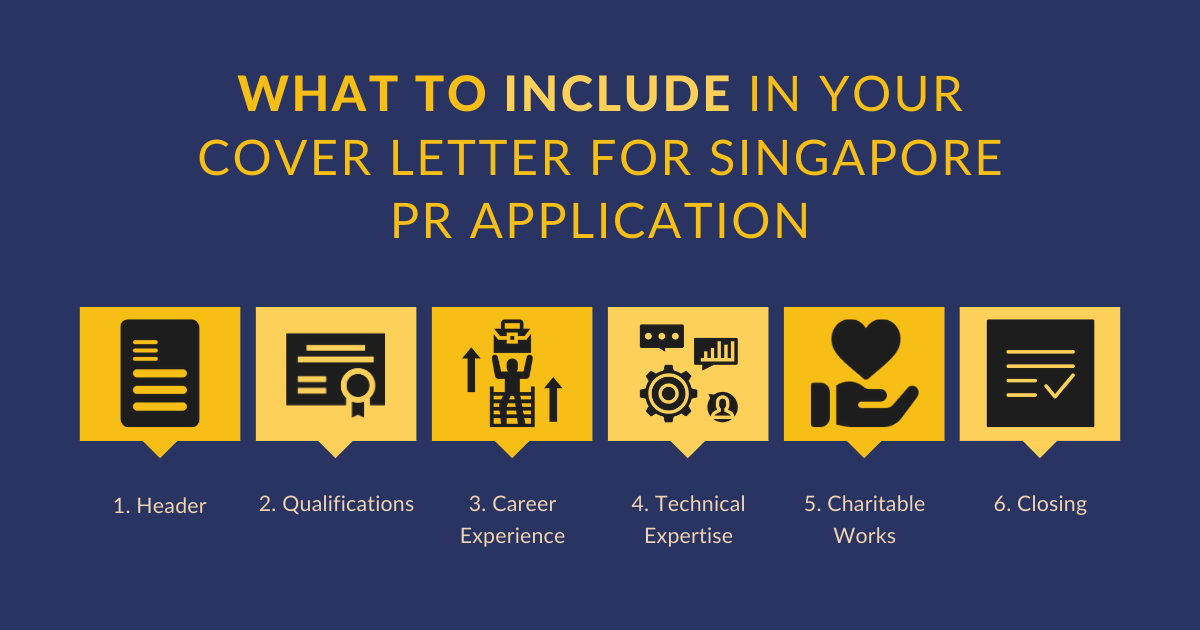 For those of you who are unsure where to even begin, the following serves as a general guideline of the standard categories of information that you may want to include, such as:
1. Header
A header is a list of information placed at the top of your document that contains the date, your full name along with the employer's address which, in this particular case, is the ICA's. Always make a habit of addressing your letter to a specific person. Should there be no named person for you to address it to, you may begin the communication with the customary "Dear Sir/Madam".
2. Qualifications
With an influx in the number of PR applications coming through via the popular Professional, Technical Personnel and Skilled Workers (PTS) scheme, the ICA is bound to receive more qualified and skilled applications, which will undoubtedly raise the entry bar. As such, degrees or relevant certification obtained from reputable institutions are considered additional points in your favour. List down the degrees, diplomas or any other relevant qualification you have attained in chronological order, starting with the most recent. Provide the name of the institution, its location in the city, your programme major as well as the year of your graduation. You may also choose to include your supplementary training, if any, such as certifications, licenses or accreditations.
3. Career Experience
List down all of your prior professional experience and provide a succinct summary of your role, responsibilities and accomplishments. Be as concise as you can and wherever possible, quantify your experiences. For instance, if you were spearheading a team, list down exactly how many people were under your direct supervision. These details may seem trivial but it certainly helps the recruiting officer comprehend the extent of your experience and offers them a sneak peek into your soft skills, some of which may be valuable traits to have when it boils down to social integration such as organisational, teamwork, communication as well as time management skills. You may also want to include any promotions you received at the different stages of your career by listing down the new job titles and detail the additional responsibilities you took on. Rule of thumb: always use action words to describe what you have achieved.
4. Technical Expertise
If you are a subject-matter expert and have extensive knowledge in key industries, it will be considered additional points in your favour. Therefore, include any specialised skills that you have honed over the years, such as coding, programming, graphic design, computer software or even Excel sheet skills. Keep your strengths in the spotlight and provide detailed information or examples of the work you have completed. Having said that, these are not the only criteria considered. Additionally, you may also include awards, recognition or special commendations that you have received on a personal or professional level to gloss up your PR application and showcase your standout talent and abilities that separates you from the rest of the candidates.
5. Charitable Works
While your capacity to contribute positively to Singapore's economy is vital, your potential contribution to society is equally important as well. Utilise your spare time to actively give back to society through charitable works such as volunteering or making regular donations to charitable institutions. However, do note that a one-off contribution or a passive attempt at volunteering does not hold much weight and may be seen as insincere attempts for the sole purpose of boosting your PR application.
6. Closing
End your note by reiterating that you have duly submitted all relevant and supporting with your application and express your keen interest in making Singapore your second home. Thank them for taking the time to review your application and sign off with "Sincerely" accompanied by your name at the bottom of it. A scanned copy of your signature is not required for an electronic submission.
4 Tips on Formatting Your Cover Letter for PR Application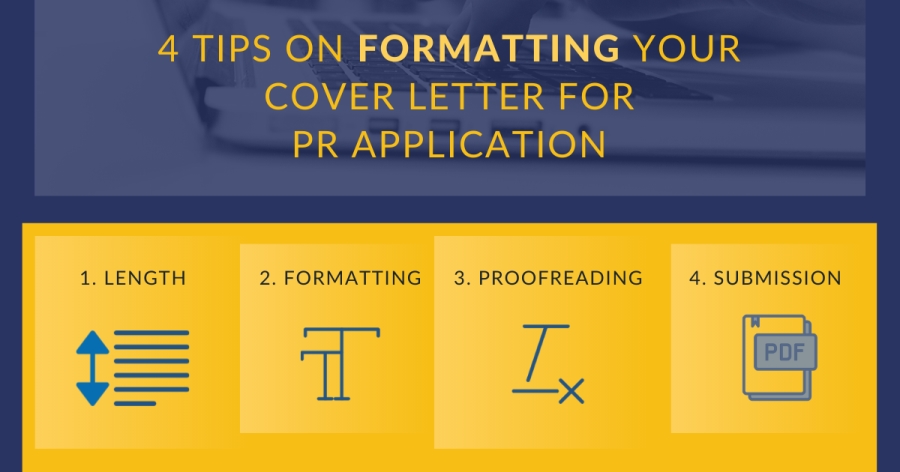 The ultimate goal of this letter is to display and expound your uniqueness as a candidate brimming with the potential to bring in value to Singapore as a whole and to demonstrate that you are experienced, literate and excited about it. A well-penned piece holds the key to showcase these traits and attributes lucidly to the reviewing officer, which justify the importance of putting in additional time and effort to address the finer details.
1.  Length
Most readers, if not all, appreciate a short and concise write-up as they will be faced with a mountain of applications to sift through. Your text document should ideally be a single page long. Nonetheless, if you feel like you have more than a couple of relevant and unique set of experiences to share that may well boost your chances of a PR approval, you may write slightly longer to better fit all the vital information in.
2. Formatting
Writing experts and consultants suggest that leaving lots of "white space", or areas without text, can effectively draw the reader's attention to the most important areas of your text without overwhelming them with thick chunks of paragraphs. These white spaces can be created through headings, tabs and bulleted lists. Be mindful not to overdo it — you do not want to give the wrong impression of having nothing much to write. Consistency in your document is also important. Ensure that the font type and font size (with the exception for headers and words that you may want to bold for greater emphasis) remain the same throughout. If you opt for round bullet points in one section, do not use a squared one elsewhere. Paying careful attention to these small details indirectly show you are conscientious in your work.
3. Proofreading
A cover letter acts as your first formal introduction to the ICA officials, so be sure to proofread your documents to detect any spelling errors or grammatical mistakes. Some people have a habit of printing out a draft and reviewing it by hand. Find a method that works for you and stick to it. Also, be sure to adopt British English when crafting your message and run it through software checks such as Ginger or Grammarly that are available for free online to fool-proof your text. You should be aware that there are many instances in the corporate world where qualified candidates harm their chances by not proofreading adequately and this, in turn, affects the impression formed by the potential employer or the recruiter. The same applies to PR applications.
4. Submission
With ICA now receiving applications electronically, you have to be wary and save your documents according to the format that has been specified (usually PDF format). When in doubt, always save your documents in PDF as this is a common industry practice and its files can be easily accessed by most software programs.
The Takeaway
There are two schools of thought surrounding cover letters. If done right, it serves as a powerful asset to elevate your PR chances and make it into ICA's list of shortlisted candidates. However, if executed poorly, it may hurt your chances and consequently knock you out of the running. Should you require professional writing help to craft a compelling and impressive write-up or any other miscellaneous services with regards to your Singapore PR application, do get in touch with us here at Paul Immigrations and allow our qualified consultants address your concerns and guide you at every step of the PR application process.