Acquiring permanent residency in Singapore will not only provide you and your loved ones with better opportunities, but it will also give you access to a wide range of benefits enjoyed by Singaporeans. Moreover, in the long run, becoming a PR will forge a path towards becoming a citizen of the country, allowing you to live and work in the country as a fully fledged Singaporean.
Fortunately, there are a number of PR schemes that you can consider based on your needs and situation. Whether you are a working professional or an investor, here are three schemes that will get you closer to your dream of becoming a Singapore PR.
3 Schemes for the Application of Singapore PR
1. Professionals, Technical Personnel and Skilled Workers Scheme
The Professionals, Technical Personnel and Skilled Workers Scheme (PTS) caters to individuals who hold an EntrePass, Personalised Employment Pass, Employment Pass or S Pass. Most foreigners who are gainfully employed in Singapore apply for PR under this scheme. One of the reasons for its popularity is the ability to include dependants within one application. Thus, if you are eligible for PR under this scheme, you would be allowed to include your spouse and unmarried children who are under the age of 21 years old. Unfortunately, children over 21 years old, parents and parents-in-law do not qualify as your dependants. If they would like to stay here, they should apply for the Long Term Visit Pass (LTVP), instead, which is renewable and valid for up to 5 years. Note that male dependants who are PRs are required to serve National Service (NS) once they turn 18.
2. Global Investor Programme (GIP)
Launched by the Economic Development Board (EDB) and the Ministry of Manpower (MOM), the Global Investor Programme is an initiative targeting foreign investors in Singapore. In most cases, applicants who are applying for PR under this scheme will be looked upon favourably and might even stand a better chance of becoming a Permanent Resident in the country. If you wish to apply for PR under this programme, your unmarried children who are under 21 years of age and spouse will also be eligible for PR. However, any male dependants who are PRs must serve NS upon turning 18 years of age — any attempts to renounce PR to avoid conscription can affect your family's chances of staying in Singapore.
3. Foreign Artistic Talent Scheme (ForArts)
The lesser-known Foreign Artistic Talent Scheme (ForArts) caters to outstanding international art professionals. Launched in 1991, the scheme — which was jointly initiated by the National Arts Council (NAC) and the Immigration & Checkpoints Authority (ICA) — was focused on according the PR status to international artists with significant contributions to the local arts scene. However, the ICA will be the final authority that determines your eligibility.
Eligibility for Singapore PR Under the PTS Scheme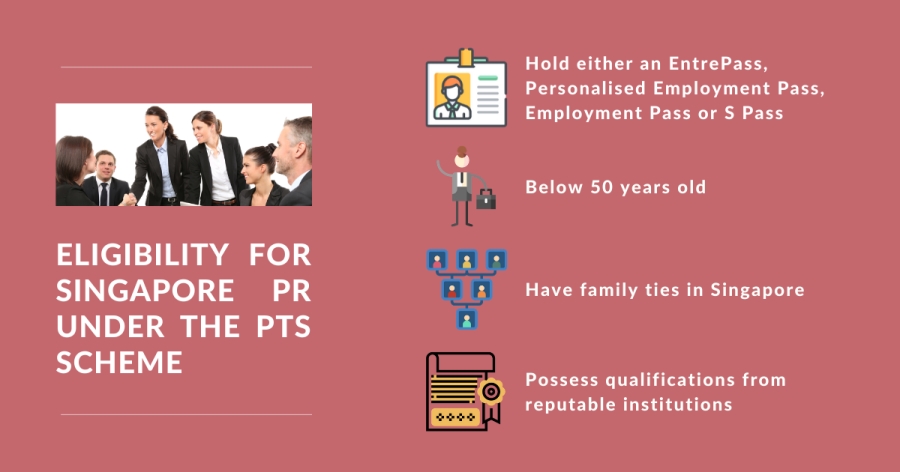 The Professionals, Technical Personnel and Skilled Workers (PTS) scheme is designed to enable those who work in Singapore to apply for PR. Therefore, to be eligible for PR under this scheme, you would have to hold one of the following work passes:
EntrePass
Personalised Employment Pass
Employment Pass
S Pass
However, note that other factors — such as your educational qualifications, relevant skills, financial and professional backgrounds — will also be taken into account when applying for PR. For instance, belonging to a niche industry can put you at an advantage over those whose skills create more competition for Singaporeans. Other variables include being under the age of 50 years old, having family ties in Singapore, and obtaining qualifications from reputable institutions. Additionally, working in the country for at least 12 months as well as contributing to non-profit organisations and the local community will go a long way in increasing your chances of becoming a Singapore PR. However, unlike Australia and New Zealand, the Singapore government does not abide by a point system when ascertaining who should become PRs.
Eligibility for Singapore PR Under the Global Investor Programme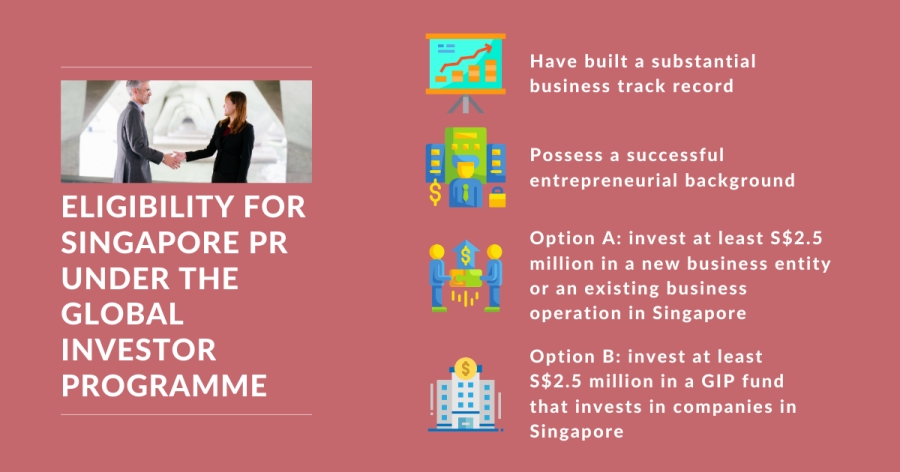 As an investor, you can apply for PR under the Global Investor Programme (GIP) if you have made a substantial business track record or have a successful entrepreneurial background. There are two ways to be eligible for the GIP:
Option A requires you to invest at least S$2.5 million in a new business entity or take the initiative to expand an existing business operation in the country
Option B requires you to invest at least S$2.5 million in a GIP fund that invests in companies in Singapore
If you are choosing option A, make sure that you provide a detailed five-year business or investment plan. Additionally, under option A, you must be working in a specific sector/industry. Some of these industries include Electronics, Nanotechnology, Space, Shipping, Automotive, Aerospace Engineering and Sports Business. Do note that these are just some of the approved industries — for the complete list, refer to the Economic Development Board's official website.
Eligibility for Singapore PR Under the ForArts Scheme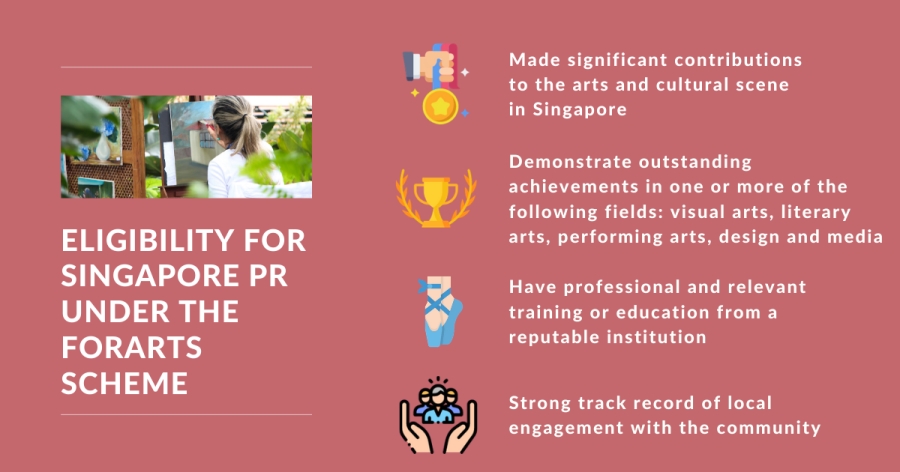 To be eligible for PR under the Foreign Artistic Talent Scheme (ForArts), you must have made significant contributions to the arts and cultural scene in Singapore. Thus, your portfolio should demonstrate outstanding achievements in one or more of the following fields:
Visual arts
Literary arts
Performing arts
Design
Media
Apart from that, you must have professional and relevant training or education from a reputable institution as well as a strong track record of local engagement with the community. Another key determiner that impacts your chances of becoming a Singapore PR under ForArts will be your plans to be involved in the arts and cultural sector in the country.
9 Factors that Impact Your PR Eligibility in Singapore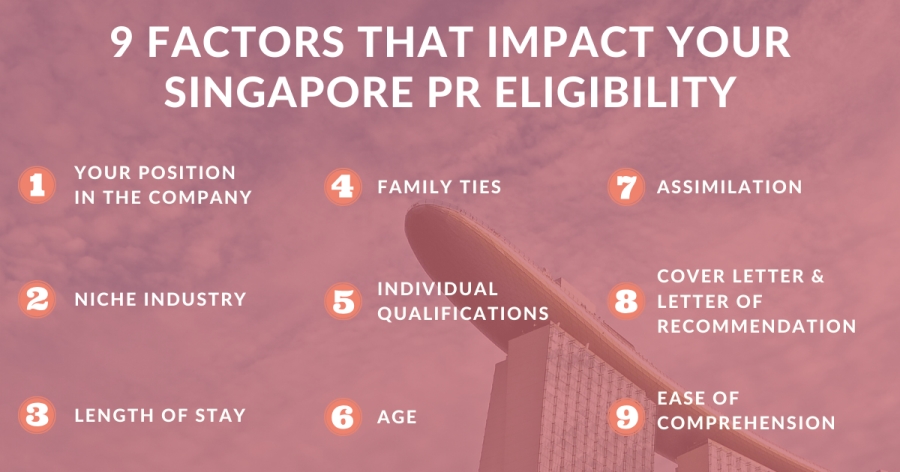 Apart from the requirements of each of the above schemes, several factors can strongly impact your chances of obtaining Permanent Resident status in Singapore, including the following:
1. Position in the Company
Having a high position in a company can increase your chances of becoming a Singapore PR as it since it suggests that you are an instrumental figure in the economy. A high position in a company also indicates that you earn a higher salary, which will show the authorities that you are more than capable of supporting both yourself and your dependants.
2. Niche Industry
Working in niche industries that are in high demand will also help. As the government increases its spending in industries such as biomedical science and R&D, there is a growing demand for niche skill sets and professional experience in those areas.
3. Length of Stay
Length of stay in the country plays a significant role in your eligibility. Although it is tempting to rush and apply for PR as soon as you start your first job, it would be advisable for you to work in the country for six months or more before doing so.
4. Family Ties
Having family ties in Singapore will be a positive attribute since it will indicate that you have a keen interest in maintaining close family ties. In addition to that, it will also show that there is a higher chance of your family assimilating into society, especially with your children growing up and being educated here.
5. Individual Qualifications
Individual qualifications play an integral role in the eligibility criteria. Your application is at an advantage if you have received a degree from reputed, local institutions such as the National University of Singapore or Nanyang Technological University.
6. Age
Since Singapore has a growing ageing population, you will stand a better chance if you are young. Being young will show that you can make more contributions in your lifetime. Moreover, the younger you are, the higher the chances of peer-to-peer socialising and the eventual integration. Do note that age is not a fixed criterion or factor.
7. Assimilation
Learning the local languages, especially Mandarin, will give you the upper hand when it comes to job opportunities. In addition to boosting your resume, you will also have an easier time when it comes to integrating and assimilating into society. There has been an increasing demand for multilingual workers over the years, hence learning a local language will prove to be an advantage. Another thing you can consider doing is actively partaking in certain celebrations and activities in your neighbourhood or community.
8. Cover Letter and a Letter of Recommendation
Although neither a cover letter nor letter of recommendation is necessary, submitting them will shed you in a positive light. A well-written cover letter in your ICA PR application will not only summarise your achievements, qualifications and educational background, but it will also showcase your strengths and weaknesses. Meanwhile, a letter of recommendation will provide a testament to your abilities from a third party, proving your worth as a potential PR to the authorities. It will also showcase how your qualifications and professional experience can contribute to the growth of the country.
9. Ease of Comprehension
Ensure that your application is easy to understand since the ICA officers receive thousands of other PR applications annually. For instance, if you are submitting any relevant handwritten documents, make sure that their contents are neat and easy to read.
3 Common Mistakes to Avoid When Applying for PR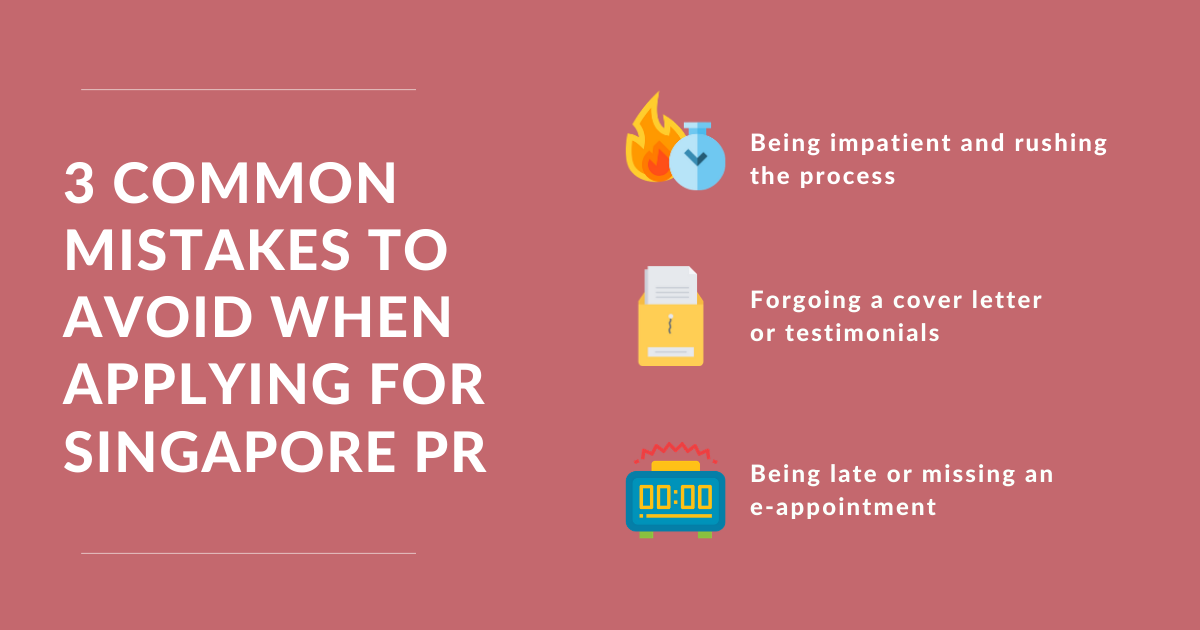 Apart from ensuring that you meet all the eligibility criteria, it is equally important to avoid mistakes that might compromise your application, including the following:
1. Being Impatient and Rushing the Process
Rushing the application process can be detrimental to the eligibility of your application. Avoid jumping the gun by applying for permanent residency right after completing six months of work in Singapore. Although six months is the least amount of time you would need to work and stay here before you are eligible for PR, this might work against your favour. Instead of securing the status, applying for PR way too early can backfire by raising suspicions in officers who are evaluating your application. Therefore, consider being patient and making a submission only after working and living here for more than a year. Moreover, a longer duration of stay will better showcase your ability and interest in making significant contributions to the country.
2. Forgoing a Cover Letter or Testimonials
You might think that your application will be processed faster without a cover letter or testimonials, but this isn't always the case. Instead, keeping them out of your application might reduce your chances of becoming a PR in the country. As long as you ensure that you have consolidated them in an organised manner, these documents will boost your profile and put you in a more positive light. If you want your application to stand out from the rest, be sure to have a well-written cover letter that highlights your strengths. The letter should showcase how your professional and educational background can significantly contribute to the growth of the economy and society as a whole.
3. Being Late or Missing an e-Appointment
If you have been contacted by the authorities for an interview, try your best not to miss an e-Appointment as these may take months to schedule once you miss it. Being late or missing your scheduled appointment will also cast you in a bad light. If you find yourself unable to attend an appointment, it would be responsible for you to cancel it in advance so as to prevent wasting the time of the interviewer. Besides that, make sure that you have all the original, relevant documents with you for verification purposes.
The Bottom Line
If you are still unsure about which scheme is right for you, consider hiring a PR application consultant to aid you in the process. An experienced consultant will not only decide which scheme is best for you but will also assist you in how you should go about applying for it. Hiring a consultant may seem a needless cost, but rest assured, in the right hands, applying for Singapore PR becomes a seamless journey.
Make an appointment at Paul Immigrations today, and speak to our expert consultants who will walk you through the entire PR process. With their help and expertise, you will be able to apply for a scheme that best reflects your needs. Apart from choosing a suitable scheme, our consultants are trained to provide assistance from the start to the end of the application process. Be it writing your resume or even submitting relevant documents, your application will be sure to stand out from the competition.