An estimated 500,000 people residing in Singapore are Permanent Residents, and this number is steadily growing, even with PR approval rates relatively declining in recent years. For many, making Singapore a destination to work and live in is a dream. There are many reasons why foreigners choose to make the island their home. Apart from plentiful job opportunities, the city-state is known for its thriving economy, security and political stability. In a nutshell, living and working in this city-state not only opens more doors, but it also provides the individual with a peace of mind by offering a conducive environment in which they can prosper and grow.
What Makes Singapore One of the Best Countries to Live In?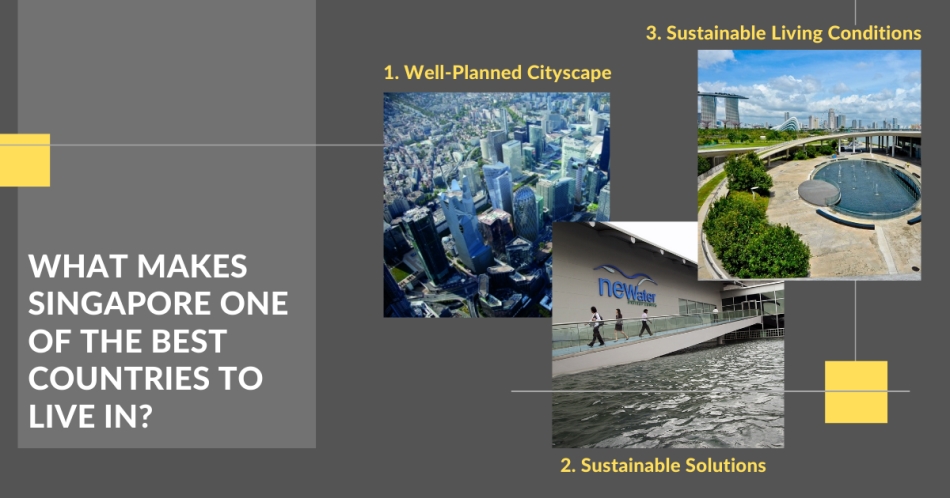 Singapore consistently ranks highly in numerous surveys as one of the world's most liveable cities for various reasons. One of the most defining factors that make Singapore a popular choice is its safe and stable environment. Other factors such as healthcare, diversity of culture, geography also function as a metric of measurement for living conditions.
1. Well-Planned Cityscape
Contrary to popular belief, living in a high-density or crowded city is not necessarily a bad thing, and this is especially true when it comes to a city as compact as Singapore. In addition to the seamless synergy of human-made structures and greenery, numerous efforts have been made to create a city that is not only well-planned but also reflects a dynamic economy that has adapted to its high population density in ingenious and creative ways. The result is an efficient city-state that prioritises convenience and speed. Singapore's infrastructure, such as delivery systems and public transportation, has improved vastly over the years to accommodate the rising population. Such innovative and flexible solutions, executed by the government, has led to a conducive environment for all residents in the country.
2. Sustainable Solutions
Singapore is known for utilising sustainable solutions to better serve its residents. The country has initiatives in place to mitigate and resolve common problems caused by urbanisation and population growth such as environmental degradation, congestion and pollution. To tackle these concerns, the authorities have branched their efforts out into five key areas to create a better environment for both its residents and the world. These areas include infrastructure, clean energy, urban mobility, water and environment and the built environment, all of which play a major role in the development and future of the country. In addition to finding and implementing better and environmentally-friendly solutions for various problems, the country also has plans to utilise underground space fully to tackle the growing population.
3. Sustainable Living Conditions
Unsurprisingly, the city-state's ability to achieve high liveability conditions amidst a high density and largely urbanised metropolis is one of its greatest feats and achievements. Within mere decades, these conditions were birthed from careful strategic planning to benefit and counter potential problems that might arise in the future. To date, the country has even come up with development efforts for the next 40 to 50 years into the future. Additionally, Singapore is known for its creative use of space. One way it has achieved this is by recycling existing land to accommodate residents and commercial businesses. Apart from serving the community and supporting the economy, these spaces can also be used for recreational purposes.
8 Perks of Becoming a Singapore PR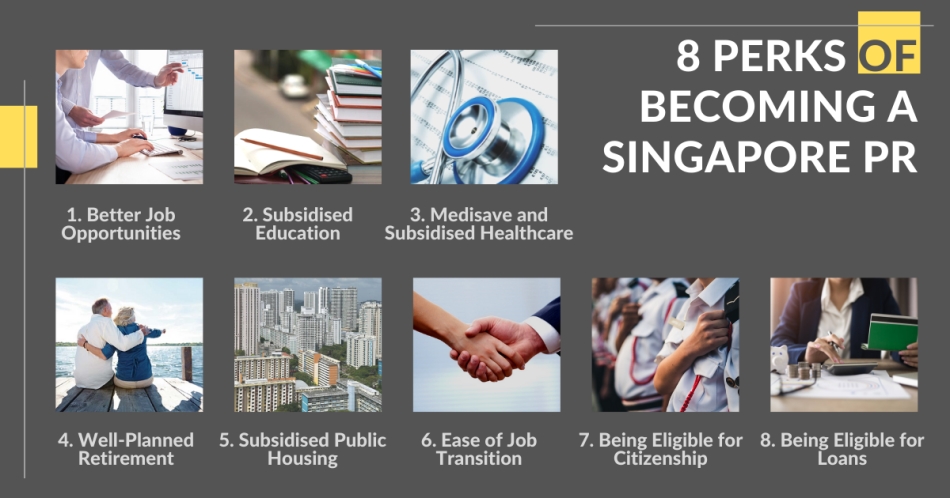 Anyone can reside in our safe and highly liveable country with a valid immigration pass, be it an Employment Pass or a Long-Term Visit Pass. However, becoming a PR will provide you with a leg up on foreigners when it comes to housing, job opportunities, education and healthcare.
1. Better Job Opportunities
Acquiring PR status will not only open more doors for you, but it will also provide you with an advantage over Employment Pass holders. The Ministry of Manpower (MOM), which oversees the implementation of labour policies related to the local workforce, has several initiatives put in place to give Citizens and Permanent Residents priority when it comes to job opportunities. One of these initiatives includes a foreign worker quota that compels businesses in Singapore to limit the number of foreigners in their companies and prioritise Citizens and Permanent Residents. This course of action not only prevents employers from being too dependent on foreign labour, but it also encourages them to employ Permanent Residents and Citizens.
2. Subsidised Education
Education in Singapore can be expensive if you are an expatriate or a foreigner. Although there is an overwhelming number of international schools in the country, high annual tuition and enrolment fees can easily break the bank. Parents are expected to fork out a minimum sum of S$30k annually to enrol their children at a preschool in most cases. Moreover, although local schools are relatively cheaper, the cost of local education has been on the rise. However, as a PR, you will have access to affordable and heavily subsidised education. The same goes for institutions of higher learning — generally, most institutions in the country provide subsidised tuition fees for PRs and Singaporeans. Another advantage of enrolling your child in a local school as opposed to an international one is the cultural exposure that they will receive when they mix and mingle with local children. Not only will they assimilate to the culture and society quickly, but they will also find it easier to integrate in the future.
3. Medisave and Subsidised Healthcare
The Central Provident Fund (CPF) plays an integral role in the lives of Singaporeans and PRs. CPF is similar to a pension plan — each month, a portion of your salary will be deducted and deposited into the CPF Account. An individual's CPF account consists of an Ordinary Account (OA), a Special Account (SA), a Medisave Account, and finally, a Retirement Account (RA). With your Medisave account, you will be able to offset your healthcare and medical bills without having to worry about unexpected or costly fees. Additionally, you will also be able to pay premiums for certain types of insurance, such as private medical insurance. Keep in mind that you can utilise your Medisave in more ways than one. For instance, you can use a portion of your Medisave to purchase an Integrated Shield Plan, a private medical insurance plan that provides additional coverage for payments that do not fall under MediShield Life.
4. Well-Planned Retirement
In addition to covering most of your medical bills, a CPF account will keep you afloat during your retirement years. Under the Retirement Sum Scheme, CPF account holders will be provided with monthly payouts to support a basic standard of living during their retirement. And that's not all — your retirement sum can be combined with CPF LIFE to ensure that you are provided with lifelong monthly payout. All CPF members will be included in CPF LIFE automatically as long as they are either a Singapore PR or Citizen, born in 1958 onwards, and have a minimum of $60,000 in their Retirement Account with six months to spare prior to your payout eligibility age (PEA). Don't worry if you are still not placed on the CPF LIFE scheme. You will be able to join the plan at any time between your PEA and a month before you turn 80 years old or remain on the Retirement Sum Scheme.
5. Access to Subsidised Public Housing
As a PR, you will have access to public housing at subsidised rates. You can use your CPF Ordinary Account (OA) savings to purchase a new or resale HDB flat. Your OA savings will essentially pay all or part of the purchase price of your HDB flat. All CPF account holders will be able to use their CPF savings to pay for their new HDB flat as well as stamp duty, legal fees and other costs including flat upgrading cost. However, the amount of CPF savings that you can withdraw depends on the type of flat that you wish to purchase, and PRs can only buy a Build-To-Order (BTO) flat if they are married to a Citizen.
6. Ease of Job Transition
Changing jobs will no longer be a tedious and heart-wrenching process when you are a Permanent Resident. As you may be aware, Employment Pass Holders are required to re-apply for a new pass before they can switch jobs. This not only increases the risk of rejection or delay, but it also has the chance of hindering or impeding your career progression. With a Permanent Resident status, you will be able to make job transitions quickly and easily without being at the mercy of your employers.
7. Being Eligible for Citizenship
As a PR, you will also be eligible to apply for citizenship after living and working in the country for at least two years. Once you become a Citizen, you will be able to obtain a Singapore passport and enjoy the same rights as locally born residents. Holding a Singapore passport has many perks in itself. For instance, Singapore passport holders will be able to travel to 189 destinations without the need for a visa. According to the 2019 Henley Passport Index, Singapore has secured the top spot alongside Japan as one of the world's most powerful passports. In addition to the freedom to succumb to your wanderlust, you will be granted voting rights, parenthood incentives, and have a leg up on PRs when it comes to public housing.
8. Being Eligible for Loans
There comes a time in everyone's life when we need to borrow money to achieve our goals. Fortunately, being a PR will give you a higher priority when it comes to securing various loans, such as housing loans to purchase property and, in some cases, even education loans. No longer would you have to put your dreams on hold due to a lack of finances. All you would need to do is ensure that you have compared interest rates between banks to get the best plan for repayment before securing a loan.
3 Additional Benefits of Becoming a Singapore PR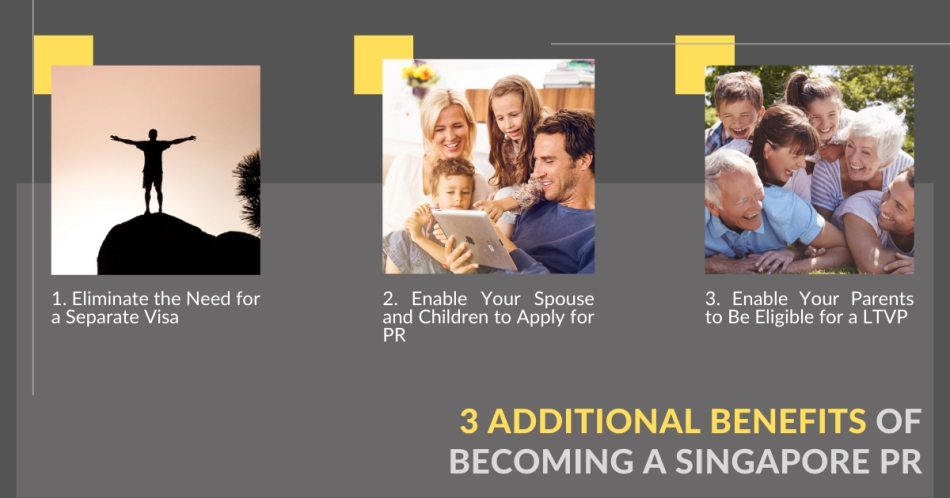 Apart from enjoying subsidies for housing, education and healthcare, becoming a PR in Singapore will unlock four additional benefits:
1. Eliminate the Need for a Separate Visa
Firstly, the status will allow you to live in, enter and leave the country without the need for a separate visa. For your duration as a PR, you will receive a Blue Identity Card as your PR identification.
2. Enable Your Spouse and Children to Apply for PR
Secondly, most Singapore PR schemes allow you to include your dependants, including your spouse or unmarried children under the age of 21 years old, in your PR application. This way, your entire family can reap the benefits of becoming a Singapore PR, too.
3. Enable Your Parents to Be Eligible for a Long-Term Visit Pass
Finally, if you have parents from your home country, you will be able to apply for a Long-Term Visit Pass for them. With this pass, you won't have to cut their visits short or worry about the expiry of their Short-Term Visit Pass.
The Bottom Line
Although it might be a little intimidating to start anew in a new country, becoming a PR in Singapore will open new doors for both you and your loved ones. If you have already acquired PR status, know that this will be a new beginning in the chapter of your life.
If you are keen on getting a PR but unable or unsure of how to go about it, consider hiring an immigration consultant. Circumvent all the uncertainty by investing in a consultant who can better evaluate your chances of PR approval. These consultants and specialists will not only provide you with the expertise you need to get a step closer to your dreams, but they will also provide you with much-needed advice and assistance to help you gain a better perspective on your PR application process.
At Paul Immigrations, our specialists are trained to handle each applicant's case professionally. In addition to writing your cover letter, revamping your resume and filling out the applications, our specialists will do their best to create an outstanding profile that best reflects your talents, skills, qualifications and professional experience. Book an appointment today to start on your journey towards becoming a Singapore PR.