A world-class city to work, play and live in, Singapore has firmly established itself as the global cosmopolis offering a myriad of business opportunities for companies and individuals alike. The city has strongly appealed to scores of foreign talents and it comes as no surprise that many of these expats are keen on attaining the coveted Singapore Permanent Resident (PR) status. As permanent residents, they get to enjoy a portion of the special privileges reserved only for the citizens.
Benefits of Living in Singapore
Becoming a PR in Singapore certainly has its perks and they include:
Financial and tax benefits like CPF
Property ownership benefits
World-class healthcare
Low crime rate
Clean environment
Excellent international connectivity
Employment Opportunities
Being a permanent resident of Singapore can provide you and your family with a higher standard of living and also a sense of stability with regards to your immigration status as you will be able to pursue or switch to any business or employment here that matches your interest at liberty.
Furthermore, under the Central Provident Fund (CPF) Act, PRs in Singapore are entitled to receive CPF contributions from their employer, subsidised healthcare and education as well as access to public housing. Foreigners with PR status may eventually apply for citizenship as well.
Types of PR Schemes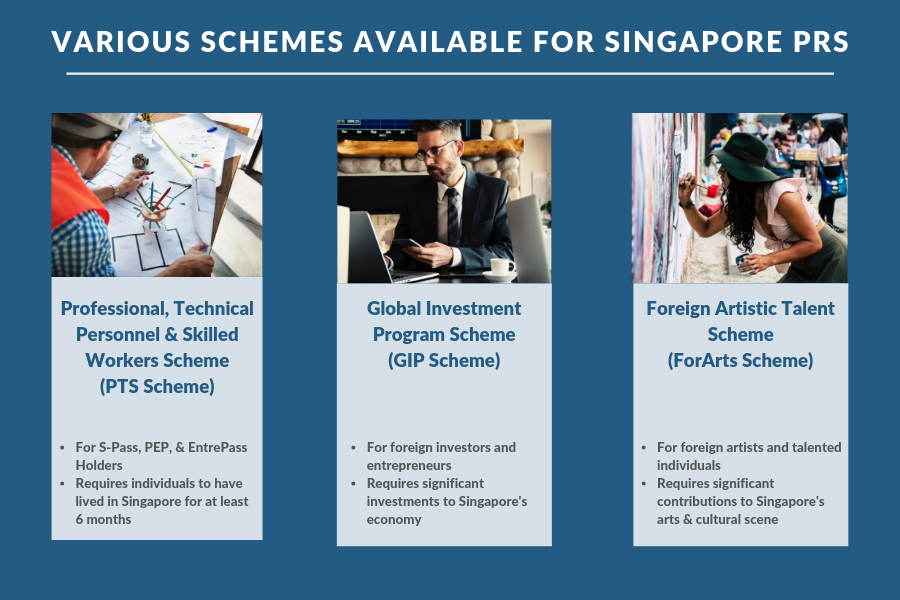 Individuals who are keen to make Singapore their second home have three different PR schemes to choose from, namely the Professionals/ Technical Personnel and Skilled Worker (PTS) Scheme, Global Investor Programme (GIP) and the Foreign Artistic Talent Scheme.
1. PTS Scheme
The PTS scheme is designed to present a window of opportunity for individuals holding the Singapore EntrePass, S-Pass, Employment Pass (EP) or Personalised Employment Pass (PEP) to become permanent residents. It is by far the fastest and easiest route for foreigners aiming to obtain Singapore PR, with working professionals successfully attaining their PR status via this scheme.
2. GIP Scheme
Similar to PTS, the GIP scheme also boasts high approval rates. However, this scheme is specially reserved for high net worth foreign investors who are able to invest S$2.5 million into the country's economy through a new business start-up or a GIP-approved fund that invests in Singapore-based corporations. To qualify, the criteria include a successful entrepreneurial background as well as a substantial business track record.
3. Foreign Artistic Talent Scheme
Initiated in 1991, the Foreign Artistic Talent scheme gives recognition to internationally acclaimed artists in fields such as film, music, photography, literature, dance or theatre for their outstanding contribution and cultural significance. This particular scheme aims to encourage talented and dedicated individuals to drive forth the arts and cultural landscape in Singapore through their diverse influence and profound engagement with local communities.
Factors That Affect Your Singapore PR Application
The Singapore Immigration and Checkpoints Authority (ICA) assess its applicants' eligibility for the PR status.  Some of the factors that they consider are:
Type of Work Pass (EntrePass, S-Pass, PEP or EP)
Age
Academic qualification
Income bracket
Professional experience and expertise
Kinship
Other factors, such as charitable contributions, special recommendation and social integration are also considered during the assessment process, although these components are not part of the point system criteria. However, having these components as part of your portfolio will reflect your desire of staying in the country and integrating into society, making you a strong candidate in the sea of PR applications.
If you are a foreigner or expat who is keen to make Singapore your second home, keep reading to discover the factors and guidelines that will increase your chances of successfully applying for a PR status in Singapore.
1. Higher Chance of Approval at a Younger Age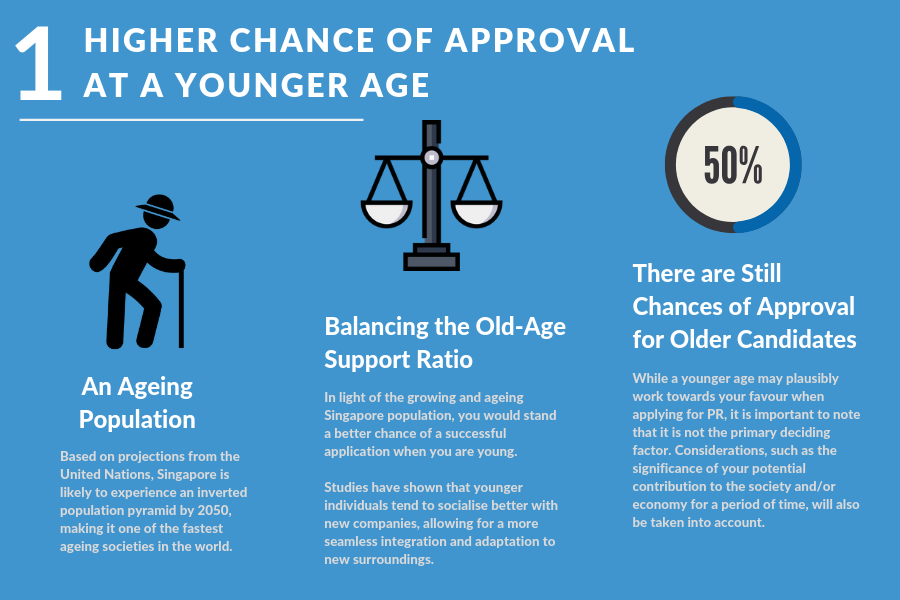 Singapore's population has been described as a ticking "demographic time bomb" by economic experts with the number of its citizens above the age of 65 predicted to equal those under the age of 15 for the first time in history. As it stands, Singapore has already topped the ASEAN list with the oldest society among the 10 member nations. The median age of Singapore's current resident population is currently 40.5 years old — a stark contrast to the projected median age of 29.8 years for ASEAN nations come 2020.
An Ageing Population
Experts revealed in their reports that by 2030, a surge in the percentage of seniors to 27 percent can happen, while that of youths will dip down to the 11 percent mark. This will widen the age gap between the young and old even further, ultimately creating profound problems for Singapore. When that happens, it will place the city-state in a similar position with current-day Japan, whose seniors make up 26.6 percent of the country's entire population. Based on projections from the United Nations, Singapore is likely to experience an inverted population pyramid by 2050, making it one of the fastest ageing societies in the world.
Balancing the Old-Age Support Ratio
In light of the growing and ageing Singapore population, you would stand a better chance of a successful application when you are young. The younger you are, the more years you have to vigorously contribute to Singapore's society and economy, as well as contributing to the rebalancing and stabilising the country's support ratio for their elderly resident dwellers. Moreover, psychosocial studies have shown that younger individuals tend to socialise better with new companies, allowing for more seamless integration and adaptation to new surroundings.
There are Still Chances of Approval for Older Candidates
Despite the decline of the old-age support ratio, it does not necessarily dictate a tougher passageway for older candidates to apply for Singapore PR.  While a younger candidate is able to bestow upon the country their youth and time, older candidates bring about an entirely different package to the table — their wealth of knowledge and valuable experience. While a younger age may plausibly work towards your favour when applying for PR, it is important to note that it is not the primary deciding factor. Considerations, such as the significance of your potential contribution to the society and/or economy for a period of time, will also be taken into account.
2. Good Academic Background is a Definite Bonus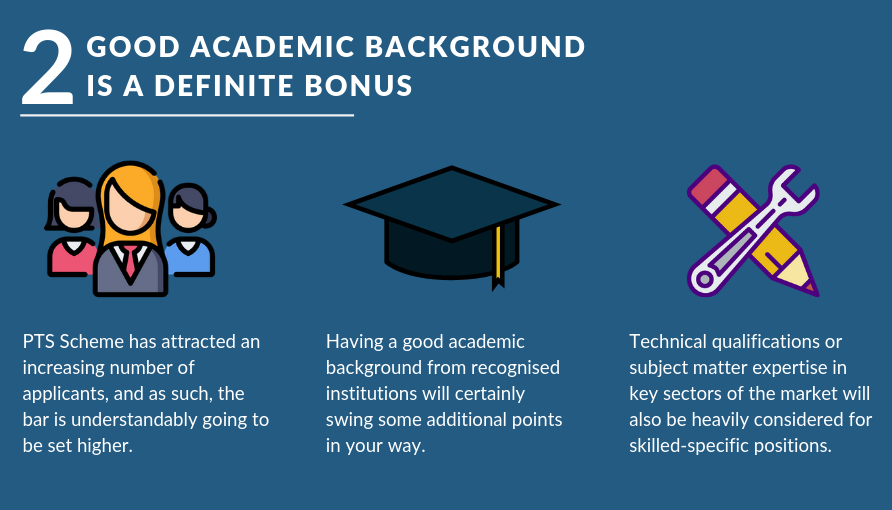 Over the years, the PTS Scheme has gradually attracted an increasing number of applicants, and as such, the bar is understandably going to be set higher.
Why Education Level is Important
With the majority of foreigners opting for the PTS scheme and the ICA receiving more skilled and qualified applications, having a good academic background from recognised institutions will certainly swing some bonus points your way. Likewise, technical qualifications or subject matter expertise in key sectors of the market will also be heavily considered for skilled-specific positions. However, bear in mind that this is not the only criteria considered in your PR eligibility assessment.
3. Your Means to Support Yourself and Your Loved Ones in Singapore Matters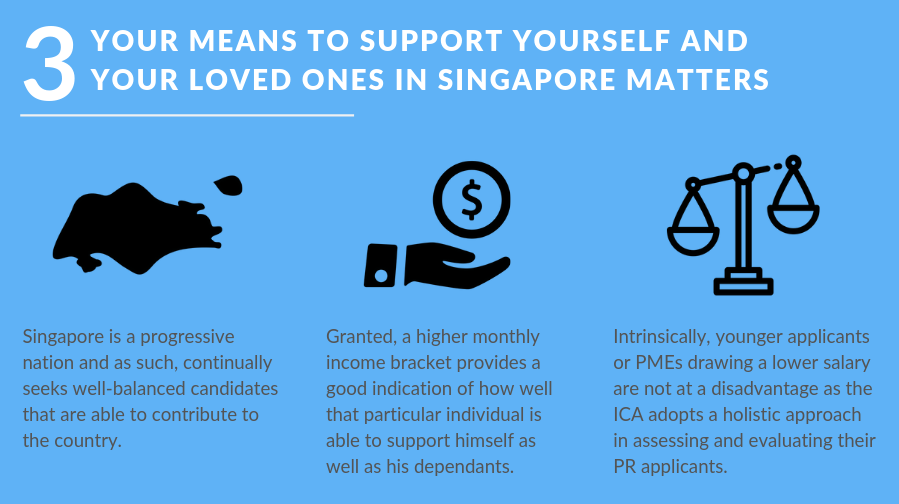 Singapore is a progressive nation and, as such, continually seeks well-balanced candidates that are able to contribute to the country. Because of this, many would lucidly assume that one of the major key strategic drivers for PR approvals to be the income bracket — the higher your position in a company, the more you earn and the higher your chances PR approval. However, this is not entirely true.
Holistic Contribution
It is vital for potential applicants to grasp the notion of holistic contribution. Granted, a higher monthly income bracket provides a good indication of how well that particular individual is able to support himself as well as his dependants. However, regardless of one's hierarchy standing in a company, all manner of contribution counts. This includes both the earning capacity and spending power within the city-state. Intrinsically, younger applicants or PMEs (professionals, managers and executives) drawing a lower salary are not at a disadvantage as the ICA adopts a holistic approach in assessing and evaluating their PR applicants.
4. Type of Work Expertise Can Help Increase Your Approval Chances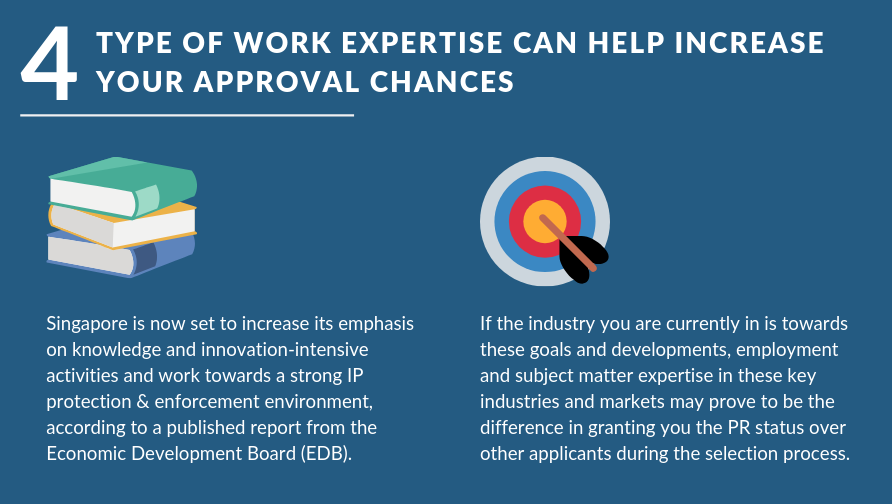 Take some time and consider this: What are some of the key business sectors that drives and propels the Singapore economy? Having established research and development (R&D) as a cornerstone of the country's economic development with a strong network of private and public sector R&D centres, Singapore is now set to increase its emphasis on knowledge and innovation-intensive activities and work towards strong IP protection & enforcement environment. Being an expert in industries can definitely help increase your approval chances.
Industries and Duration of Employment Matters
As Singapore marches towards these goals and developments, employment and subject matter expertise in these key industries and markets may prove to be the difference in granting you the PR status over other applicants during the selection process. Another consideration in relation to this factor is whether or not the industry you are currently in is seasonal or brief, and if the terms of employment you are in is simply assignment-based or not.
5. Having Kinship and Family Ties in Singapore Plays a Part
Starting on a new immigration journey with your family in Singapore is viewed as a positive influence and is aligned with the interests of current Singaporeans.
Family, a Top Priority
A study on family bonds conducted by the Families for Life Council found that Singaporeans ranks family as a top priority, ahead of personal health and financial stability. Moreover, the likelihood of your dependants embracing Singapore's culture and way of life may be higher having to spend a bulk of their growing up and educational phase here, which may eventually lead them to view Singapore as their own home and opt to stay on as citizens in the future.
Nurturing the Future Generation
Applicants who already have family members or relatives residing in Singapore as PRs or Citizens can stand a better chance at permanent residency. This is because keeping your circle of kith and kin within close proximity generally encourages family ties to foster and this will further nurture the younglings to firmly embed their roots right here, in an ever-growing multi-racial society in Singapore.
6. Commendations Will Highlight Your Great Value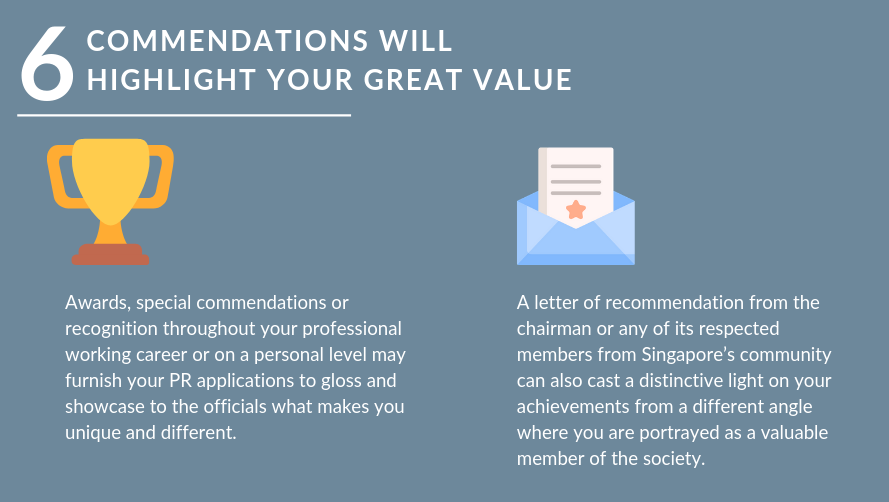 Interested parties who have amassed awards, special commendations or recognition throughout their professional working career or on a personal level may furnish these accolades in their PR applications to gloss and showcase to the officials what they are capable of and how it makes them unique from the other candidates.
Special Mentions Go a Long Way
If you are already contributing positively to Singapore's community through one of its many organisations, you may request a letter of recommendation from the chairman or any of its respected members. This letter of recommendation can be included in your PR application and will cast a distinctive light on your achievements from a different angle where you are portrayed as a valuable member of society.
7. Social Integration is Key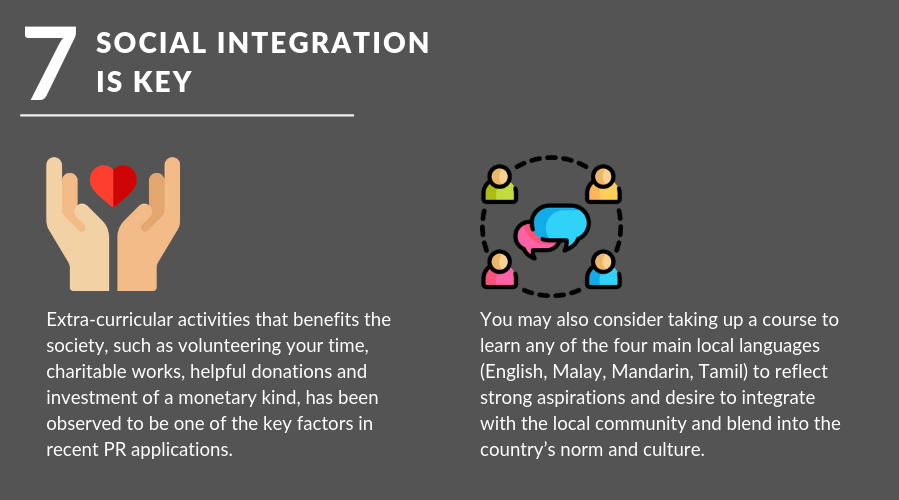 Apart from economic contribution, other extra-curricular activities that benefit the society, such as volunteering your time, charitable works, helpful donations and investment of a monetary kind, has been observed to be one of the key factors in recent PR applications. These benevolent initiatives reflect strong aspirations and a desire to integrate with the local community and blend into the country's norms and culture.
Taking Up a Local Language
You may also consider taking up a course to learn any of the four main local languages (English, Malay, Mandarin, Tamil) and include that language certification in your portfolio. This may also boost your chances of a successful PR application as there are a number of positions in the employment market, especially with multinational corporations (MNCs), where multilingualism is seen as an added advantage. Not only that, proficiency in any of the four local languages will go a long way in ensuring good interactive communication with your fellow neighbours.
8. Standing Out In The Application Process with the Help of Experts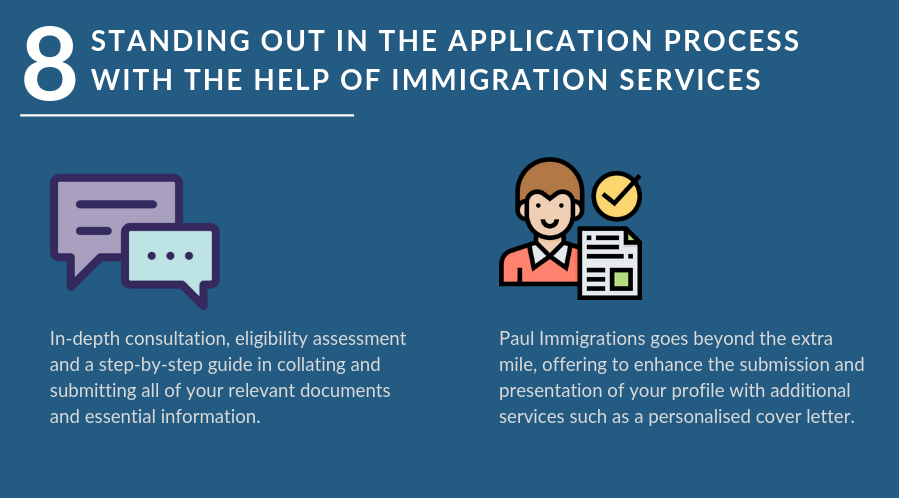 The ICA receives a large volume of PR applications on a regular basis, making it of utmost importance that you fill out the application forms along with other relevant documents in an organised manner. It is vital that you present all of the key information clearly so that the authorities are able to assess and evaluate your application efficiently.
Immigration Services
If you are unsure on how to go about filling out the application, Paul Immigrations offers application services that include in-depth consultation, eligibility assessment and a step-by-step guide in collating and submitting all of your relevant documents and essential information. On top of these services, the team goes beyond the extra mile, offering to enhance the submission and presentation of your profile with additional services such as a personalised cover letter.
Set Your Application Apart
These immigration services can be extremely helpful, especially if you are not entirely certain about the whole PR application process. An organised presentation of documents and a standout profile will provide ICA officers with a bird's eye view of your application and set you apart from the rest of the applicants, boosting your chances of approval even further.
The Takeaway
The whole process of applying for PR can be a tedious and hair-pulling one. There are many push and pull factors that can determine your chances and these are the 8 considerations that you should work on to enhance yours. If, at any point in time, you find yourself requiring any help or the need to understand more, feel free to speak to our consultants at Paul Immigrations today.