Numerous listicles and surveys have recognised Singapore as a lovely place for families to make a home out of, which is, in part, due to the many benefits that Singapore Citizens (SCs) and Permanent Residents (SPRs) receive. Subsidised public flats, effortless savings via the Central Provident Fund (CPF) scheme, and even baby bonuses that help in the expansion of the family make our country the family-friendly haven that it is today. But what would any of these benefits amount to if your family is unable to reap them without the PR status?
If you are reading this page, chances are, applying Singapore PR for your spouse has been on the cards for a while, but you might be uncertain of their chances of approval. Moreover, the Immigration & Checkpoints Authority (ICA)'s website does not provide sufficient information on the PR application process, which might be confusing.
To make matters worse for your family, the immigration officers are aware that some individuals have been acquiring the PR status for personal gain, taking advantage of the many benefits that come with the status. That has led the immigration officers to be stricter in their judgment and only approve those who are willing to contribute to the nation for the long haul.
Fret not, though. Whether you are uncertain of your significant other's chances of PR approval or lack confidence in your understanding of the procedure, peruse these seven tips on how you can improve your spouse's PR application below and find out how you can beat the odds.
Tip #1: Apply for PR From a Dependant's Pass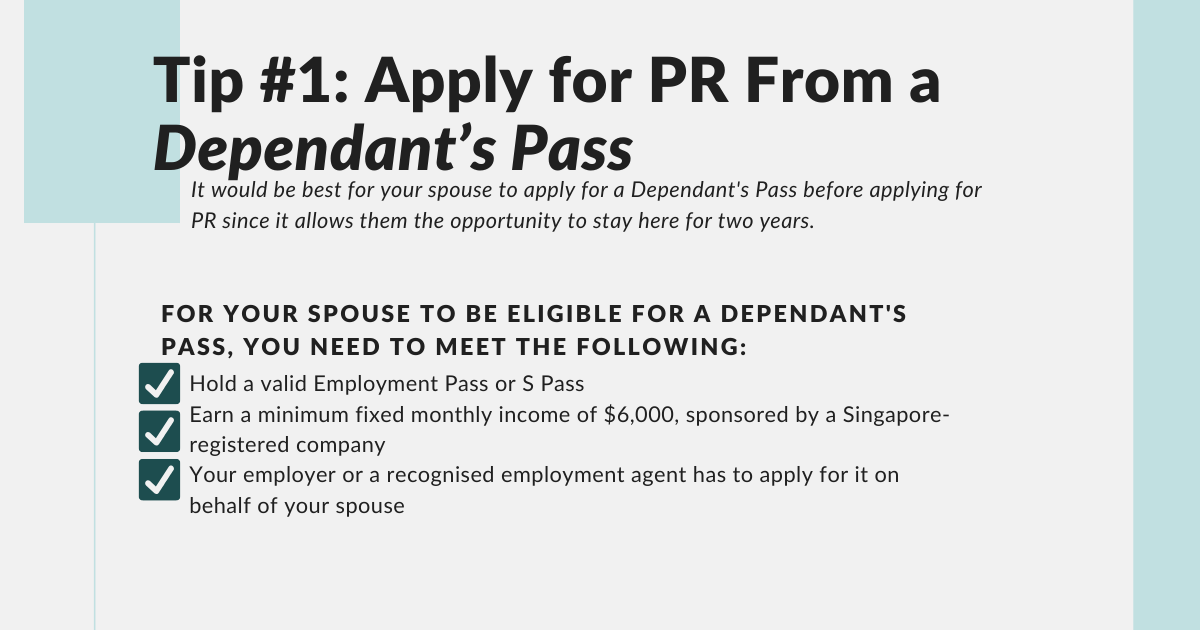 Some might feel that it is possible to obtain permanent residency even before attaining a Dependant's Pass. However, it would be best for your spouse to apply for the latter first since it allows them the opportunity to stay in the country for some time. As a general guide, the Dependant's Pass typically lasts for about two years. In that time spent in the Republic, your spouse would then be able to show his or her commitment to the country and adjust to the shift before making the move permanently. In doing so, it might increase their chances of being granted PR status.
Is Your Spouse Eligible for the Dependant's Pass?
For your spouse to be eligible for a Dependant's Pass, you need to meet the following:
Hold a valid Employment Pass or S Pass
Earn a minimum fixed monthly income of $6,000, sponsored by a Singapore-registered company
Your employer or a recognised employment agent has to apply for it on behalf of your spouse
Tip #2: Find Work in Singapore Before Applying for PR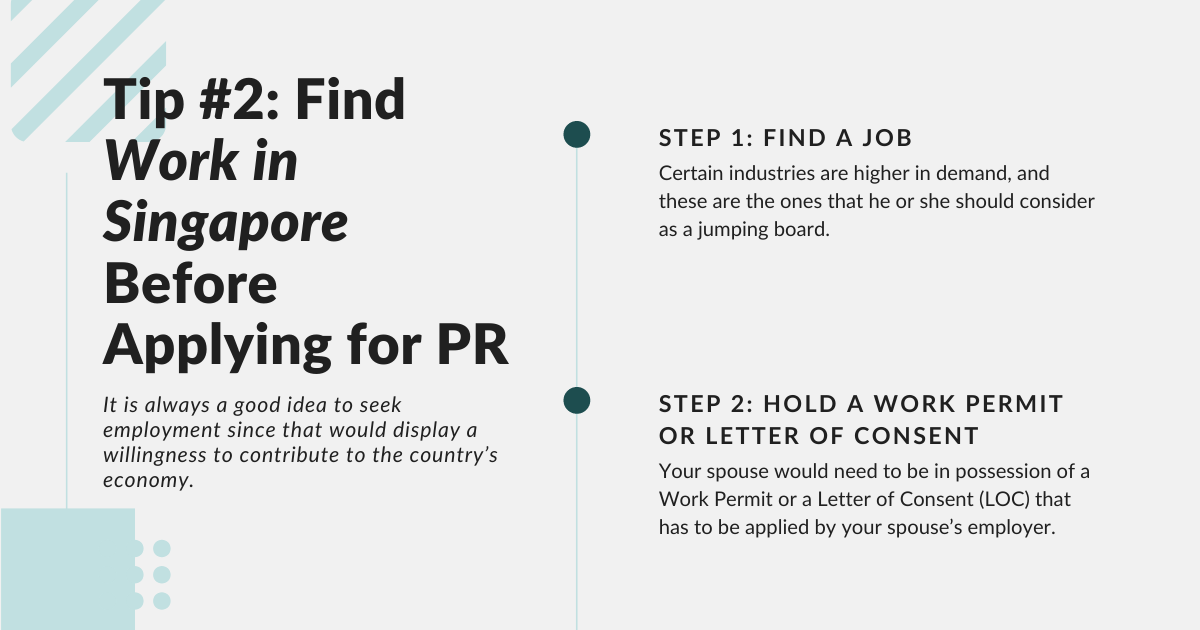 If your spouse has access to a Dependant's Pass, it is always a good idea to seek employment since that would display a willingness to contribute to the country's economy. Here's how your significant other can achieve this:
Step 1: Find a Job
The first step would be to find a job. Certain industries are higher in demand, and these are the ones that he or she should consider as a jumping board. Top recruitment firms have agreed that those who have the skills and qualifications for analytical and data-driven positions would be in luck — some examples would be data scientists and product managers. Others seeking employment in the finance and banking sector would have a similarly positive experience as well since demand is always there for skilled finance professionals. Ultimately, however, for your spouse to present themselves as an attractive job candidate, they should leverage their experience in working abroad to stand out from the rest of the applicants.
Step 2: Hold a Work Permit or Letter of Consent
After finding a suitable job, your spouse would need to be in possession of a Work Permit or a Letter of Consent (LOC) that has to be applied by your spouse's employer. The granting of this LOC by the authorities is important since its absence could impede your spouse from starting his or her first day of work.
Tip #3: Strengthen the PR Application With Supporting Letters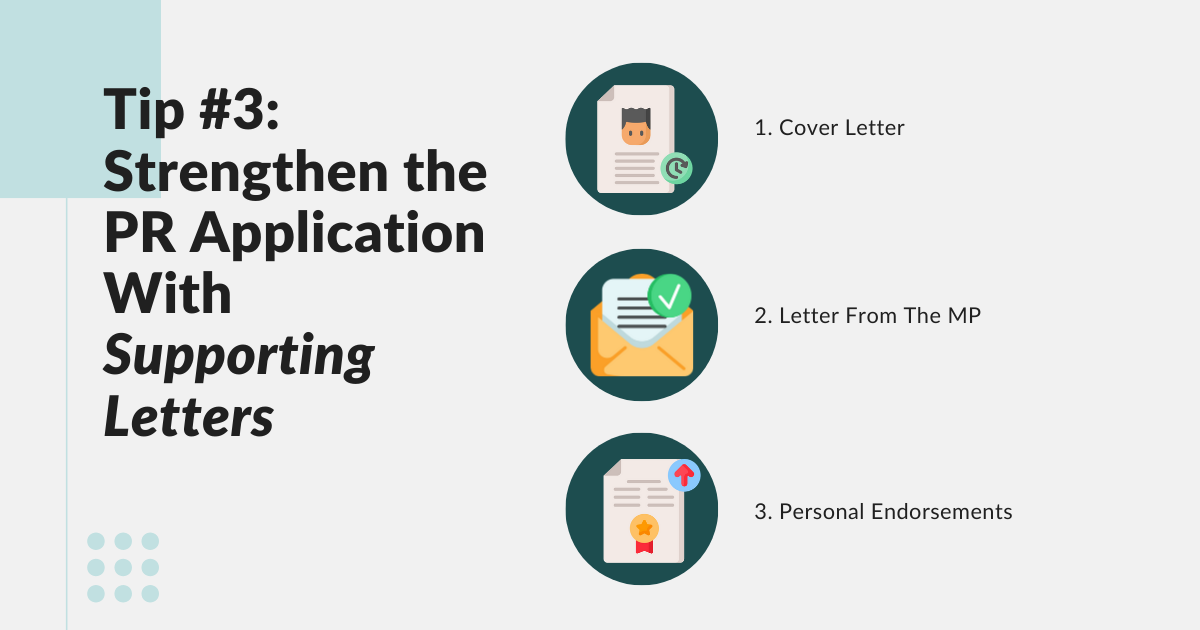 1. Cover Letter
Include a personalised cover letter that furnishes the ICA officer with information on why your spouse's PR application should be accepted. This letter should highlight your spouse's strengths and achievements, giving the reader a bird's eye view of their value as a potential PR. Therefore, be sure that your spouse invests plenty of time elaborating their plans in Singapore, why they wish to stay in the country, as well as a detailed overview of their various contributions to society. Since this letter is meant to impress, proofread it before it is uploaded to ensure that its contents are accurate and free from typographical errors.
2. Letter From The MP
Consider including a letter from your neighbourhood Minister of Parliament (MP), especially if your spouse has made notable contributions to Singapore. Although a letter from your MP might not seem necessary, including one might turn the tides if it was personalised to include your significant other's key strengths and contributions. The reason why most of these letters do not appear to add much value to other people's PR applications is that they lack information that highlights the applicant's talents and contributions. However, if your spouse has received one that does showcase their strengths, ensure that you include them in their application.
3. Personal Endorsements
Personal endorsements from officials in key positions will make a great impression on your overall profile. If your spouse has been working or was involved in government and key national projects, getting a letter from a government official in a prominent position will help your spouse get closer to achieving his/her dream of becoming a Singapore PR. However, do note that the documentation required for these kinds of circumstances might come with different requirements compared to that of an MP letter.
Tip #4: Be a Part of the Community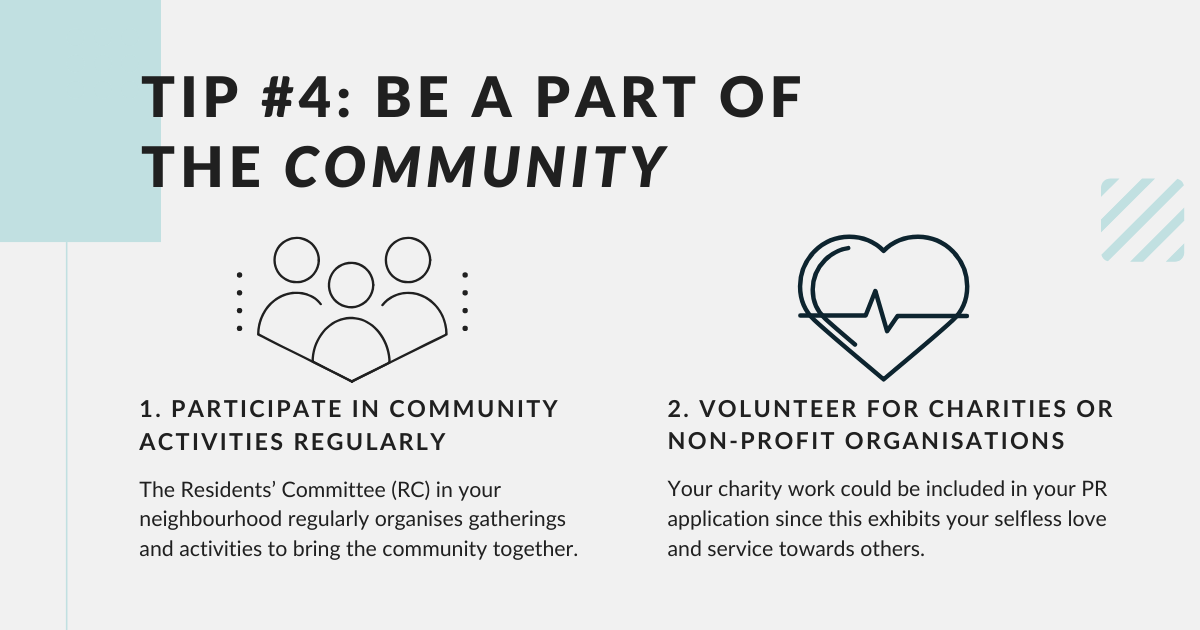 If you have been staying here in this Lion City long enough, you will find that no one culture represents our tiny nation as a whole. Instead, Singapore's population is uniquely diverse, made up of different races, religions and backgrounds.
As a prospective Singapore PR, your spouse should take the initiative to familiarise themselves with and learn more about these differences in culture. To do this, they can step out of their social circle and get more involved in the community by participating in activities around your neighbourhood or doing voluntary work for charities or non-profit organisations. Even visiting expatriate clubs to mingle with other friendly faces from home can be a great starting point.
1. Participate in Community Activities Regularly
Regardless of where you reside in Singapore, you are never truly alone. The Residents' Committee (RC) in your neighbourhood regularly organises gatherings and activities to bring the community together. Some of it could be for the celebration of cultural festivities, but do not be surprised if an invitation is extended to you to join a field trip that explores the hidden spots in Singapore. When you do so, you go beyond just staying within your circle of family and friends, and you start appreciating other cultures aside from your own. This would also enable the immigration officers to get an idea of how willing you are to assimilate into the Singapore psyche and the local community at large.
2. Volunteer for Charities or Non-Profit Organisations
Your charity work could be included in your PR application since this exhibits your selfless love and service towards others, which could work to your advantage when considered by the immigration officers. Have a magnanimous heart but unsure of where to start? Singapore has hundreds of charities and non-profit organisations that offer a helping hand to those in need. The bulk of these charities and non-profit organisations could use a helping hand too since they often face manpower and financial issues. Some of these charities would include the Singapore Red Cross, The Salvation Army, Habitat for Humanity and Willing Hearts. Moreover, when you engage in charity work and provide assistance to others outside of your social circle, you brighten the world and help the community in need.
Tip #5: Apply for Singapore PR With Your Children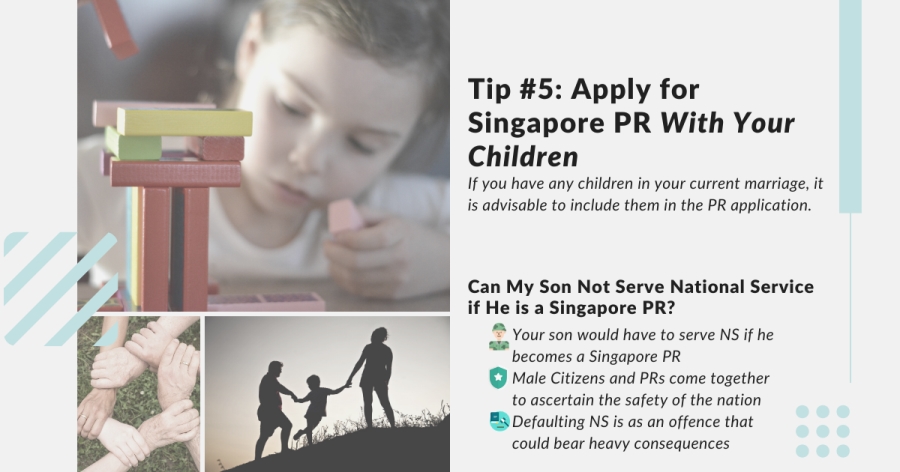 If you have any children in your current marriage, it is advisable to include them in the PR application. As mentioned before, the success of your application is determined on a multitude of factors and one of which is how much your family can contribute to the nation in the near and distant future. When you include your children, you are signalling to the immigration officers of your desire to contribute to Singapore and the willingness to remain rooted in Singapore for the immediate future and beyond. Moreover, by allowing your children to grow up within the conducive and supportive environment provided by the nation, there is a higher chance that they would reciprocate and support the country's economic future.
Can My Son Not Serve National Service if He is a Singapore PR?
This question tends to come up quite often since many foreigners would rather keep their sons away from the two years of National Service. To give you a straight answer, your son would have to serve National Service as a duty to the nation if he becomes a Singapore PR. This two-year military stint is seen as a way for male citizens and permanent residents to come together to ascertain the safety and security of the nation. In the case that you do not wish your son to go through NS, it would be best to exclude them from the application. Something that you should avoid would be to renounce the PR status just before the enlistment date. The act of defaulting National Service is as an offence that could bear heavy consequences on the NS defaulter as well as his family members.
Tip #6: Apply After a Few Years of Marriage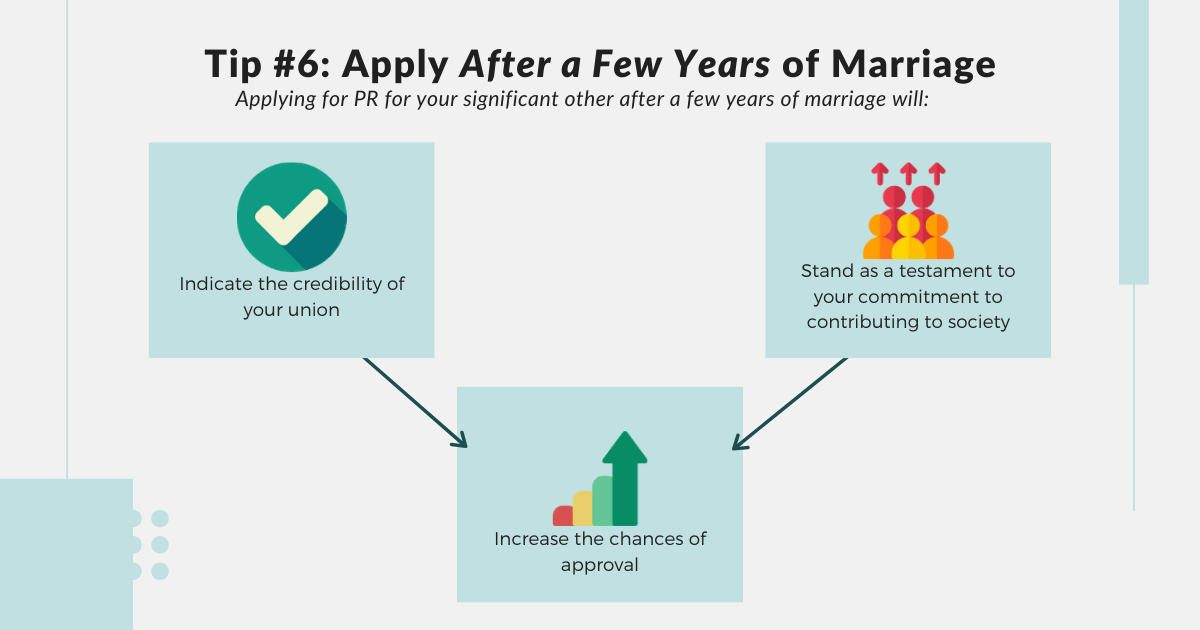 You might think the length of your marriage might not matter during the PR application process, but this is a gross misunderstanding. Applying for PR for your significant other after a few years of marriage will indicate the credibility of your union and provide a testament to your commitment to living and contributing to society at large. Needless to say, this will go a long way in increasing the chances of approval for your significant other.
The Singapore government places a strong emphasis on a nuclear family that is tight-knit and stable. Therefore, if you have any children, consider applying for PR on their behalf as well as doing so will increase the chances of your spouse obtaining the status, too.
Tip #7: Speak to an Immigration Expert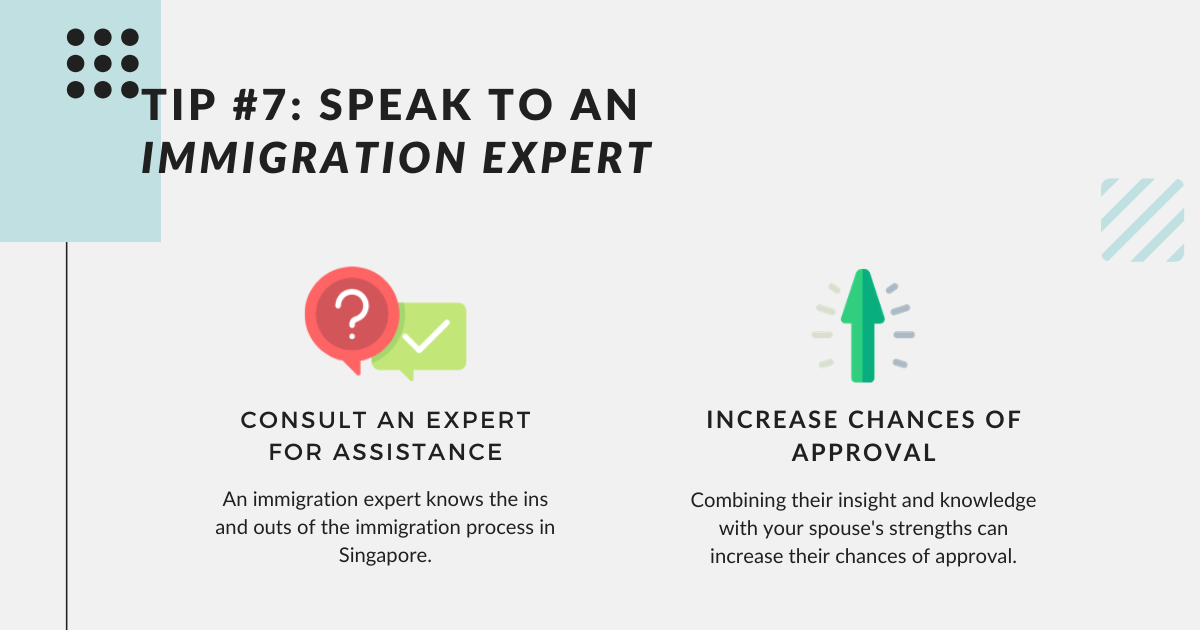 Applying for PR on behalf of your other half can be a challenging process, and it can be even more so if you are doing this by yourself. Should you require any assistance, consider speaking to an immigration expert. Doing so will not only increase your spouse's chances of becoming a permanent resident in Singapore, but it will also help reduce the risk of rejection.
An immigration expert knows the ins and outs of the immigration process in Singapore. Years of experience gives them the insight needed to prepare a PR application that puts the applicant in the best light possible. Combining their insight and knowledge with your spouse's strengths can increase their chances of approval.
A Final Note
We understand the challenges and obstacles that one might face whilst determining how to apply Singapore PR. Apart from consolidating documents, preparing supporting letters, and ensuring that you have followed the guidelines for submission, there are many other things that you would need to prep for during the PR application process.
At Paul Immigrations, our specialists will guide you through the entire process, from submitting the relevant documents to assisting you with your cover letter and resume. Our specialists have the expertise to highlight your spouse's strengths and talents, boosting their profile to maximise their chances of PR approval. With the help of our specialists, you will have a higher chance of getting your PR approved and one step closer to living the Singapore dream.