Becoming a permanent resident (PR) in Singapore is nothing short of challenging. Apart from meeting the requirements, there are also a handful of factors that can influence the outcome of your PR application. These include family ties to Singaporeans, qualifications, age, duration of residency, family profile as well as contributions to the economy. Here are some tips that you can follow not only to meet the requirements but also to increase your chances of PR approval in the process.
Requirements to Apply for Singapore PR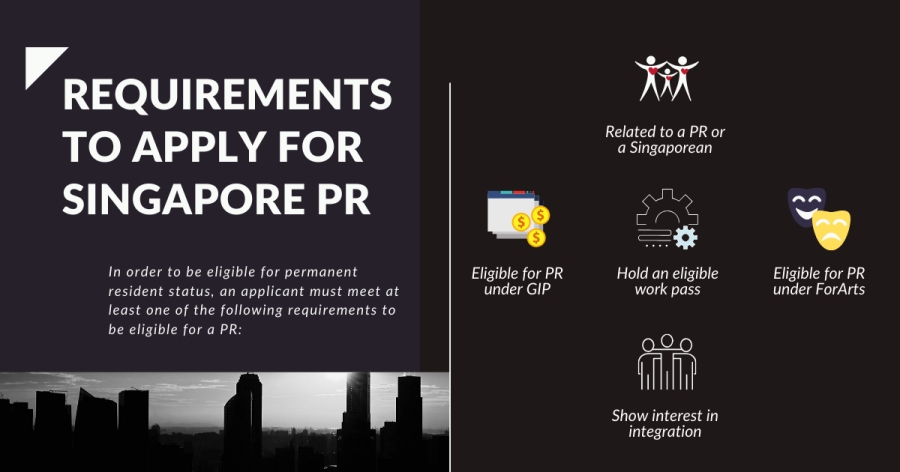 Before we delve into the tips for meeting the aforementioned requirements for a PR application, it is important to understand what they are. In order to be eligible for permanent resident status, an applicant must meet at least one of the following requirements to be eligible for a PR:
The applicant must be related to a PR or a Singaporean.
The applicant must hold an eligible work pass.
The applicant must make a significant economic contribution to the country's economy to apply for PR via the Global Investor Programme (GIP).
The applicant must be enrolled in a local educational institution to apply for PR under the Foreign Artistic Talent Scheme (ForArts).
The applicant must show a keen interest in integration, and meet other requirements such as duration of stay, and certain educational and professional qualifications.
Tip #1: Apply For PR With a Singaporean Family Member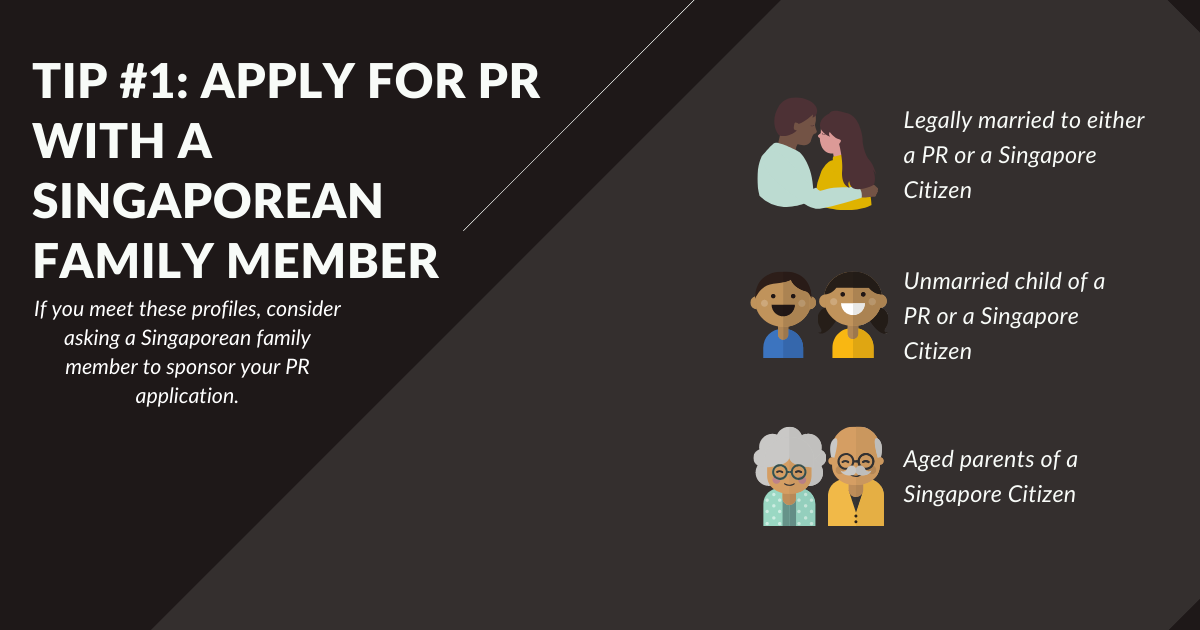 The first and foremost requirement to apply for a PR involves the direct relation to family members who are either a Singapore Citizen or PR. In this category, the following applicants are eligible to apply for PR:
Applicants who are legally married to either a PR or a Singapore Citizen
An unmarried child of a PR or a citizen of the country
Aged parents of a Singapore Citizen
If you meet the above profile, consider asking a Singaporean family member to sponsor your PR application. However, if you are already married and your spouse is neither a Singaporean nor PR, fret not, for there are four other requirements that you can consider, some of which are not as challenging to meet or fulfil.
How Does This Affect Your Chances?
The government places a strong emphasis on tight-knit families and ensuring that they have a chance to grow together in a multiracial society. Additionally, having your family stay with you also indicates that you have a keen and genuine interest in maintaining close family ties. Moreover, there is a higher likelihood of your family integrating into society as there is a higher chance that your children will grow up and be educated in the country. As they grow older, they will come to call Singapore their home and stay on and contribute as citizens.
Tip #2: Apply for a Work Pass That is Eligible for Singapore PR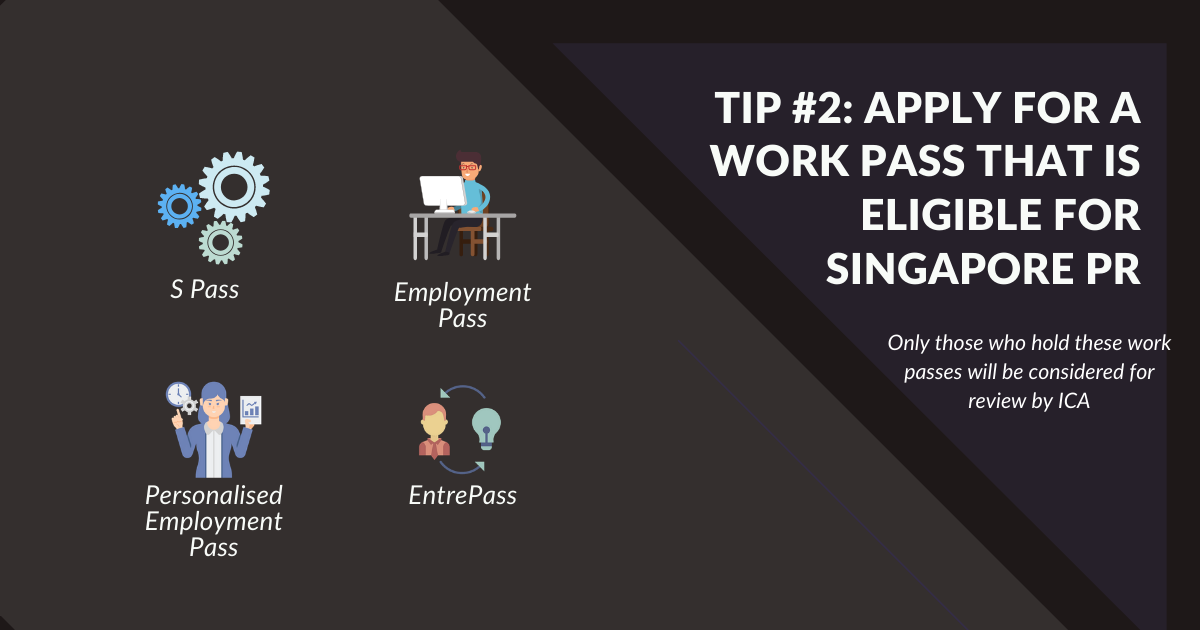 The second requirement is to hold an eligible work pass in the country. Unfortunately, not every foreigner with a work pass is eligible for Singapore PR. Only those who hold the following work passes will be considered for review by the Immigration & Checkpoints Authority (ICA):
S Pass
Employment Pass (EP)
Personalised Employment Pass (PEP)
EntrePass
Therefore, if you wish to become a Singapore PR, aim to apply for any of the above work passes. With them, you will be eligible for PR under the Professional, Technical Personnel and Skilled Workers Scheme (PTS scheme). It is also worth noting that those who become PRs under the PTS Scheme will be exempt from National Service (NS).
1. How to Qualify for an Employment Pass
To qualify for an EP, you must meet the following requirements:
You must draw a minimum fixed salary of S$3600/month. This condition usually applies to young graduates. If you are a more experienced candidate, you might need to be paid a higher salary to qualify.
You will also need to hold an executive or managerial position or hold a specialised job.
You will need to possess a tertiary degree from a university that is reputable and hold a strong professional employment history. Without a degree, there should be an indication of a high salary, instead.
2. How to Qualify for an S Pass
To qualify for an EP, you must meet the following requirements:
You must earn a fixed income of at least S$2300 per month, which will be revised to S$2400 in January 2020.
You must hold a recognised qualification such as a degree, diploma, or any relevant certificate if they are a specialist and/or technician.
3. How Does This Affect Your Chances?
Holding these passes demonstrate the extent of your financial independence and contributions to the economy. For instance, EP holders with a higher position in a company usually enjoy a higher salary and better benefits, enabling them to support themselves, rather than depend on the state for handouts. In addition to this, having years of experience in a managerial position in a Singaporean company is a plus point, especially if your employer writes a glowing letter on your behalf. Thus, to maximise your chances of becoming a PR, make consistent efforts to build rapport with colleagues and boss. They might then be more inclined to support you by writing letters of recommendation that can help sway the immigration officers. It would also be wise to accumulate at least two years of experience in working here before applying for Singapore PR to prove your ability to assimilate into society.
Tip #3: Build a Substantial Business Record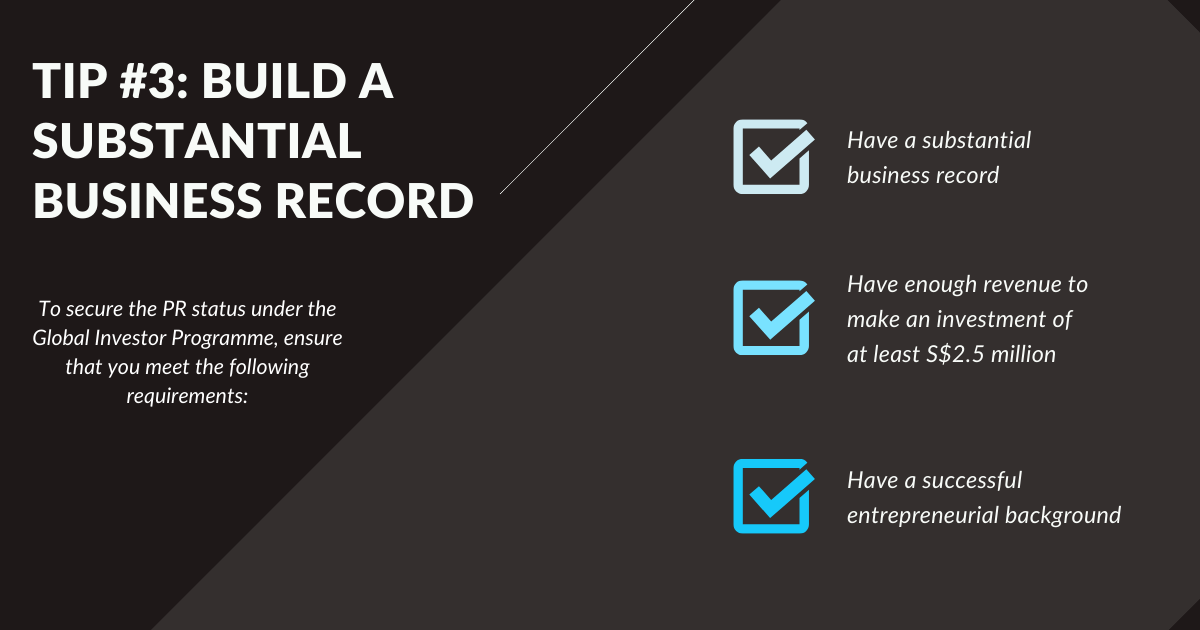 Administered by Contact Singapore under the Singapore Economic Development Board (EDB), the Global Investor Programme (GIP) is suited for foreign investors who are keen on investing in or starting a new business in the city-state. Those who are applying for this scheme to attain their PR status will be looked upon favourably and might even stand a better chance of becoming a Permanent Resident in the country.
Thus, to secure the PR status for yourself, ensure that you meet the following requirements:
Have a substantial business record
Have enough revenue to make an investment of at least S$2.5 million
Have a successful entrepreneurial background to give officials the confidence in your experience and expertise
Apart from that, you can consider growing a business in at least one of the following industrial sectors (refer to EDB's official website for the complete list):
Aerospace Engineering
Alternative Energy/Clean Technology
Automotive
Chemicals
Consumer Business
Electronics
You may also be pleased to learn that the initiative also allows dependants of foreign investors to be eligible for PR. Under this scheme, you can include your spouse and unmarried children, under the age of 21, who were born, or legally adopted, within the context of a legal marriage. However, do note that your male sons would be obligated to serve National Service (NS) if they are granted the status. Should they attempt to renounce the status to avoid NS, their decision can affect your entire family's stay in Singapore.
Tip #4: Make Significant Contributions to the Local Arts Scene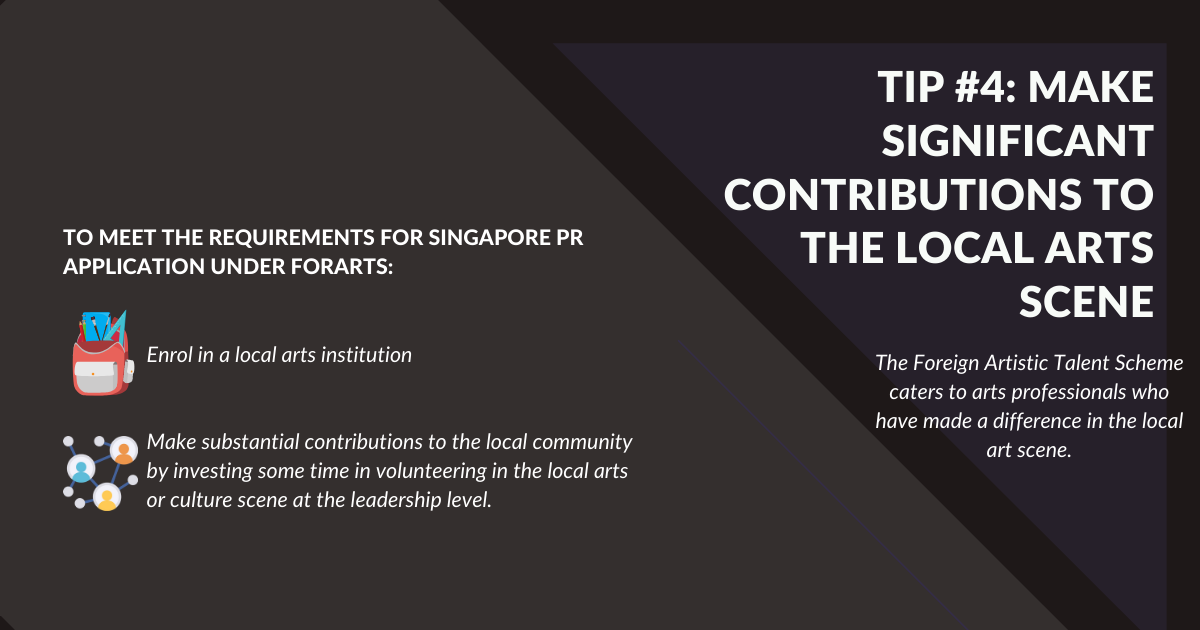 The Foreign Artistic Talent Scheme caters to art professionals who have made a difference in or impact on the local art scene. Incepted in 1991, the scheme, which was jointly initiated by the National Arts Council (NAC) and ICA, focuses on granting PR to applicants who meet the following three key criteria:
They have received relevant training or education in the arts from a good institution.
They are able to able to show outstanding professional experience in one or more of the following fields: Visual Arts, Performing Arts, Literary Arts, Design, and Media.
They have made key contributions to the local culture and arts scene.
In addition to the above-listed criteria, they must also be able to demonstrate plans to continue to help grow and develop the local arts and culture sector in the little red dot.
Enrolling in a local arts institution is one of the main ways you can meet these requirements. At the same time, you can make substantial contributions to the local community by investing some time in volunteering in the local arts or culture scene at the leadership level.
Tip #5: Participate in Local Events and Activities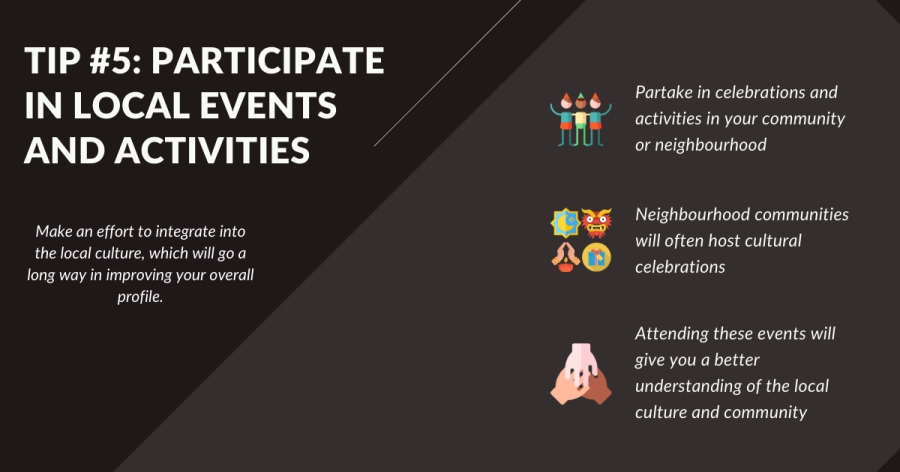 As a would-be Singapore PR, it is important that you make an effort to integrate into the local culture. These efforts will not only help you assimilate faster into society but will go a long way in improving your overall profile. The willingness to integrate will essentially indicate your keen interest to contribute to the society at large.
There are a few ways that you can go about successfully assimilating into society. One of the best ways you can do so would be to partake in celebrations and activities in your community or neighbourhood. Neighbourhood communities will often host various cultural celebrations to bring the community together. Attending or even volunteering in these events and activities will give you a better understanding of the local culture, people and community.
Tip #6: Stay for at Least Two Years Before Applying for PR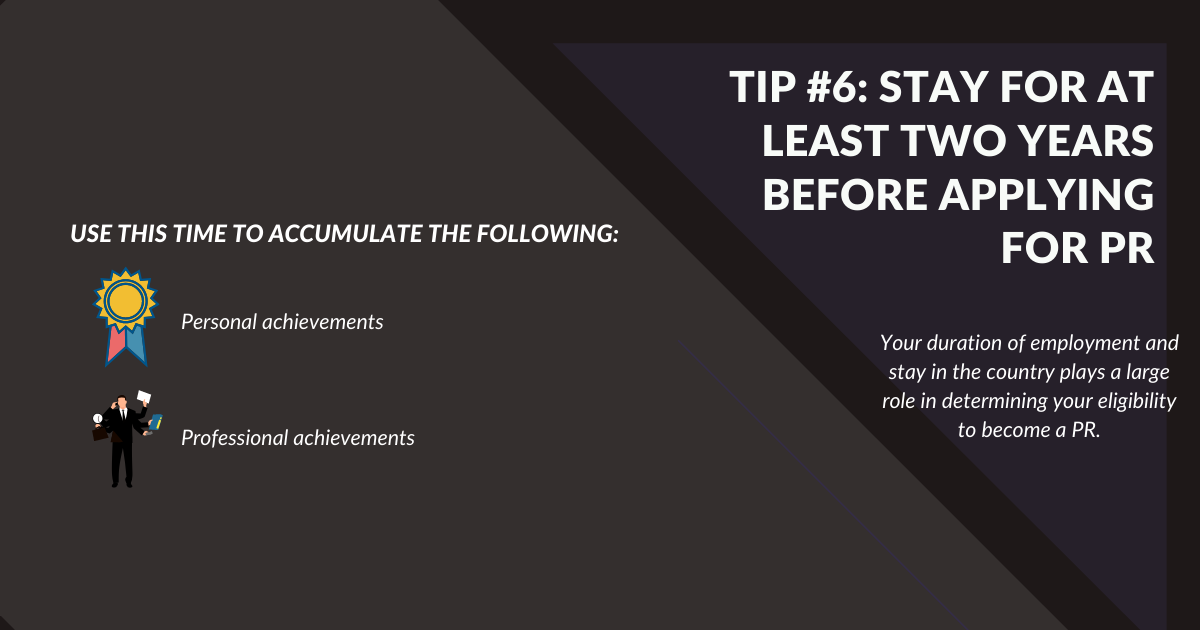 Your duration of employment and stay in the country plays a large role in determining your eligibility to become a PR. Although many hopefuls apply for PR right after completing the bare minimum requirement of six-month employment, it is ideal for applicants, such as yourself, to garner more experience in Singapore beforehand. Rather than act hastily, be patient enough to increase the duration of your employment before applying for permanent resident status.
If it's possible, try to accumulate as many achievements as possible within the duration of your employment or stay, be it personal or professional. It is important to keep in mind that P1 Pass holders should wait at least two years before applying and P2 Pass holders should wait at least three years. Additionally, if you hold an S or a Q1 Pass, you will need to wait for 4 years.
Tip #7: Draw Attention to Qualifications When Applying for PR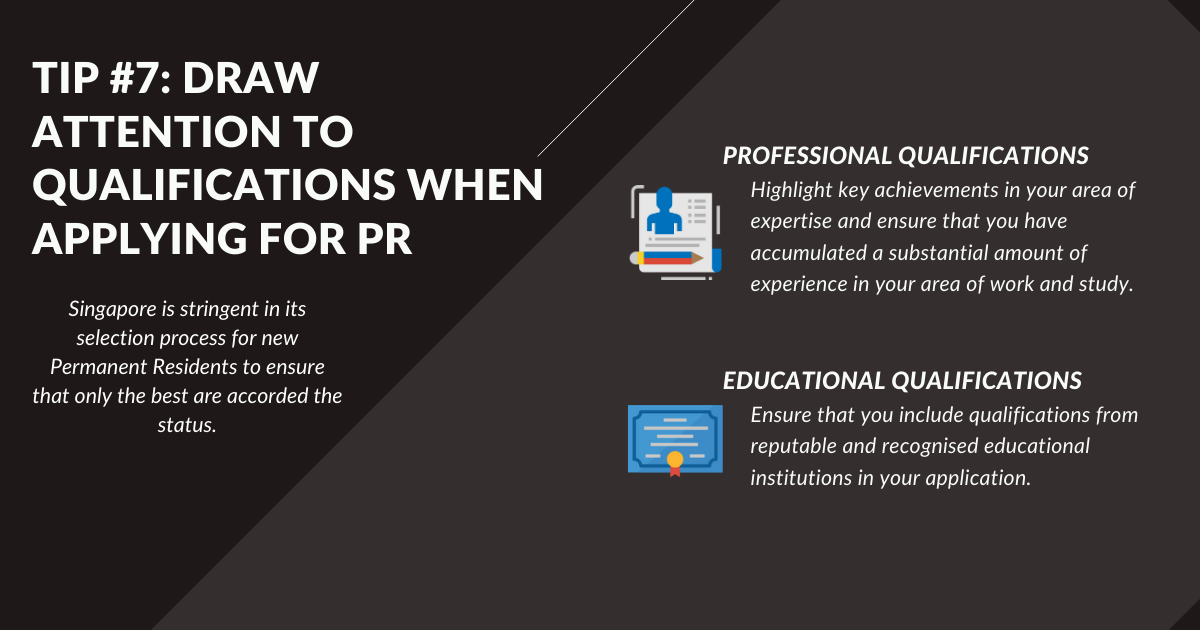 Singapore is stringent in its selection process for new Permanent Residents to ensure that only the best are accorded the status. Since the government invests a certain sum of revenue in certain industries, such as R&D, it is safe to assume that having professional experience in these sectors will give boost your profile.
Therefore, as an applicant, be sure to draw attention to your professional and educational qualifications in the following ways:
1. Professional Qualifications
Highlight key achievements in your area of expertise and ensure that you have accumulated a substantial amount of experience in your area of work and study. This will also go a long way in boosting your resume. Even if you don't have a long list of professional experience, highlighting certain talents and strengths, especially if you are a skilled worker, might help improve your chances. The officers reviewing application do so on a case-by-case basis; hence, you don't have to meet all criteria to obtain your permanent resident status.
2. Educational Qualifications
Ensure that you include qualifications from reputable and recognised educational institutions in your application since these documents will demonstrate your expertise in your chosen field of study. Nevertheless, one should remember that skilled workers are also in demand, not just those with educational certificates from top universities.
The Bottom Line
Although meeting any of the above requirements might seem like a colossal challenge, don't feel disheartened if you do not meet the requirements. Every application is reviewed on a case-by-case basis to ensure that each individual is given a fair assessment.
If you are not sure how to go about applying for PR, hiring an immigration consultant will go a long way in ensuring that your application goes smoothly, with as little risk of rejection as possible.
At Paul Immigrations, our consultants have the experience and insight to handle your application. In addition to guiding you through the entire application process, they will assist you with writing your cover letter, revamping your resume and filling out the applications. So what are you waiting for? Book an appointment today and get a step closer to achieving your dreams of becoming a Singapore PR.