Are you confused about the Singapore PR application process? Or perhaps you are worried about doing something wrong when attempting to apply PR for spouse. Fret no longer. We understand how daunting applying for PR status can be, especially considering how difficult it is to become a Singapore PR these days. While the inner workings of the assessment process remain a mystery, there are ways for you to ensure that you put your best foot forward. Read on to discover what you should and should not do when applying Singapore PR for your spouse.
An Overview of the Singapore PR Application Process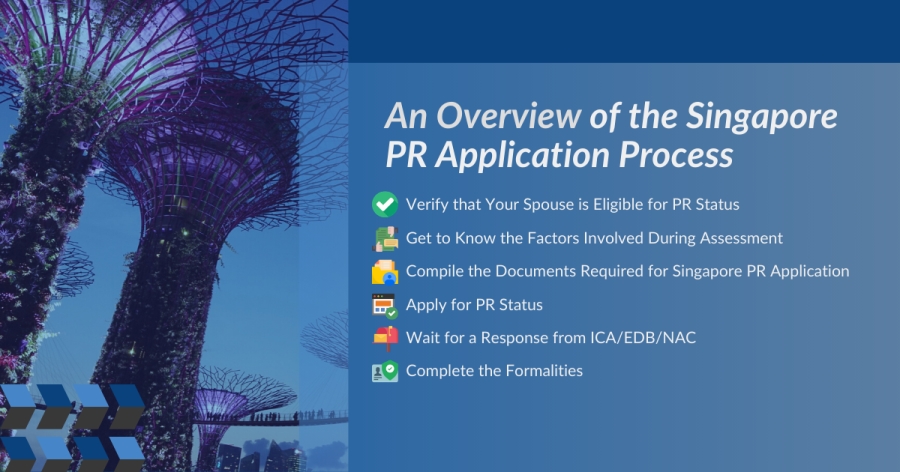 Let's start by going back to basics with an overview of the Singapore PR application process. After all, there is little point in learning what you should or should not do without at least some understanding of the ins and outs of the system. Scroll down if you believe you have a relatively firm grasp of the process itself — otherwise, read on for a brief overview of it:
1. Verify that Your Spouse is Eligible for PR Status
For couples like yourselves, kick-start the PR application process by verifying that your spouse is eligible for permanent residency. Non-resident spouses of Singapore Citizens or PRs should automatically meet the basic eligibility requirements under the Family Scheme. Unfortunately, common-law unions do not fall under this category. In such cases, your spouse may wish to consider applying for PR status on their own merits via any of the following schemes:
Professionals, Technical Personnel and Skilled Workers (PTS) Scheme
Global Investor Programme (GIP)
Foreign Artistic Talent Scheme (ForArts)
2. Get to Know the Factors Involved During Assessment
Next, get to know the various factors involved during the assessment process for all PR applications, including the following:
Family ties to Singaporeans
Economic contributions
Qualifications and skills
Age
Family profile
3. Compile the Documents Required for Singapore PR Application
You may then move on to compiling all the necessary documents. Note that each category comes with a unique list of required supporting documents. Therefore, you need to make sure that you have the right one. If your spouse is eligible for permanent residency under the Family and PTS Schemes, refer to the official Immigration & Checkpoints Authority (ICA) website for more information. You may also peruse our website for comprehensive guides on applying for PR status for your spouse under these schemes. However, GIP and ForArts applicants should obtain their lists from the Economic Development Board (EDB) and the National Arts Council (NAC) respectively.
4. Apply for PR Status
Once you are ready, you may proceed to apply for Singapore permanent residency. All applicants must pay a non-refundable fee for each application, but the amount varies from scheme to scheme. For instance, those under the Family or PTS Schemes must pay S$100 whereas those under the GIP have to pay S$7000, excluding any transaction fees by the bank. Refer to the following to find out where your spouse should apply for PR status, based on each category:
Family Scheme: ICA's e-PR system
PTS Scheme: ICA's e-PR system
GIP: GIP e-application form
ForArts: Email the relevant NAC officers, or send your application to NAC by mail
5. Wait for a Response from ICA/EDB/NAC
After applying for permanent residency, wait patiently for a response from the authorities. Expect the authorities to finalise their decisions anywhere between four to six months. If your application requires more time and attention, you might even find yourself waiting for a year before the officials let you know the outcome of your attempt. During this period, they may contact you for more information or to set an appointment for an interview with you — do not be alarmed if this happens to you. Chances are, you already have one foot in the door if they are willing to go the extra mile with you. If you wish to stay abreast of your application's status, click on 'Enquire Application Status' on the e-PR system, or contact the respective government agencies directly.
6. Complete the Formalities
If your application is successful, you will receive an in-principle approval letter (IPA) from ICA, complete with instructions on how to book an e-Appointment to complete the formalities. Bring along hard copies of your supporting documents in case they request for them. You should also be prepared to make the following payments, where applicable:
S$50 for your blue identity card
S$20 for an Entry Permit
S$50 for a five-year Re-Entry Permit
S$30 for an Entry Visa
7 Don'ts When Applying Singapore PR for Your Spouse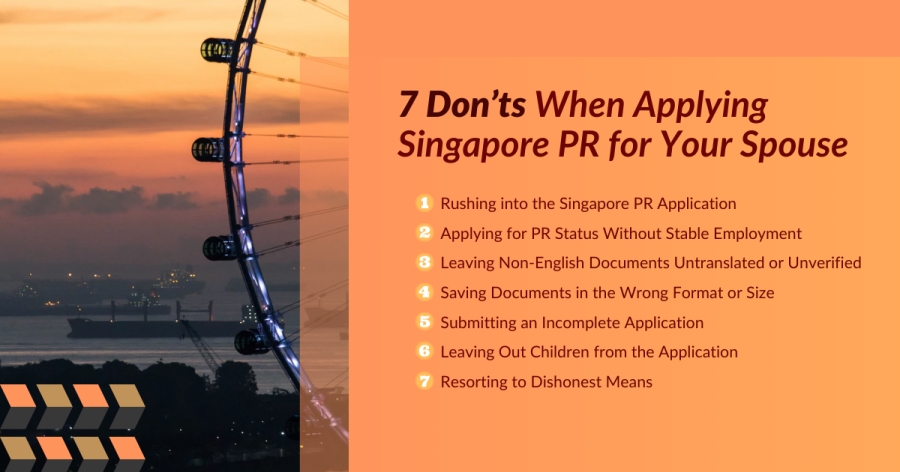 So far, we have covered the fundamentals of Singapore PR applications. Now, let's talk about what not to do when applying for permanent residency on behalf of your significant other. No one enjoys the bitter taste of rejection — avoid receiving that dreaded PR rejection letter by steering clear of any of the following:
1. Rushing into the Singapore PR Application
The constant changes to the assessment process can tempt any PR applicant to rush into the application. However, hastiness gets you nowhere here. PR hopefuls who apply for the status too early rarely achieve a successful outcome. Generally speaking, the authorities do not want PRs who are bound to leave the city-state as soon as the opportunity arises — jumping the gun will suggest just that. In addition to this, the authorities are unwilling to grant permanent residency to Non-Resident spouses immediately since far too many have attempted to abuse the system through marriages of convenience. As such, applying for permanent residency in less than two years of residing here will rarely help your spouse.
2. Applying for PR Status Without Stable Employment
Applying for permanent residency when either of you is unemployed is a gamble that you should not take. Remember, the ICA officers consider economic contributions when assessing whether you are eligible for Singapore permanent residency. Unemployment will prove neither self-reliance nor ability to contribute to the country's economy. Instead, it will cast doubt on your potential to give back to society while raising concerns about overreliance on the nation's resources. Refrain from applying for PR status at this point unless at least one of you currently draws a monthly income that is both stable and considerably high.
3. Leaving Non-English Documents Untranslated or Unverified
If any of your spouse's supporting documents are not in English, submitting them without accompanying translations will not do you any favours. English is Singapore's lingua franca across the island, and ICA officers will only process non-English documents that have been translated and verified by an authorised representative. Unverified translations are, therefore, also entirely unacceptable since the ICA officers would not be able to tell if the information is accurate. The officers deal with hundreds of thousands of applications at a time — do not make their tasks that much more arduous.
4. Saving Documents in the Wrong Format or Size
Your supporting documents cannot be in any format or size of your choosing. All PR applicants have to upload their supporting documents to the e-PR system, which means that you, as an applicant, need to ensure that your files adhere to its requirements. Otherwise, you will see an error message on the e-PR system, indicating that the file exceeds the stipulated size limit or is not in the right format. Incorrectly formatted and sized documents will only slow down what could have been a smooth process. Make sure that you check all your documents beforehand.
5. Submitting an Incomplete Application
When filling in the online Singapore PR application form, do not rush through the process and submit an incomplete form by leaving any blanks. Most of us are used to ignoring sections in any other given form when they do not apply to us. However, doing so would not be acceptable when applying for permanent residency. Since the ICA officers will not meet you face-to-face initially, they would regard the information that you have provided them as insufficient or incomplete, which may lead to non-acceptance of your application. You would then have to re-apply for Singapore PR status all over again six months later.
6. Leaving Out Children from the Application
If you have any children, leaving them out of your spouse's application would be a huge mistake. Doing so would suggest that your family is not quite ready to commit to life in Singapore, and your residency would not be permanent. Your spouse's chances of securing the status would decrease even further if you exclude your son since this would imply that you would prefer him to avoid one obligation in particular — National Service (NS). The authorities will know if you elect against including your children since they will examine your family profile during the assessment process. Avoiding NS counts as a minus in their eyes.
7. Resorting to Dishonest Means
Even if you are desperate to acquire permanent residency, do not resort to dishonest means. Singapore's civil service, including ICA, is well-renowned for their efficiency and low corruption. Sooner or later, the authorities will uncover any fraudulent information, be it a sham marriage or false educational certificate, and you would have to bear severe legal consequences.
7 Do's When Applying Singapore PR Status for Your Spouse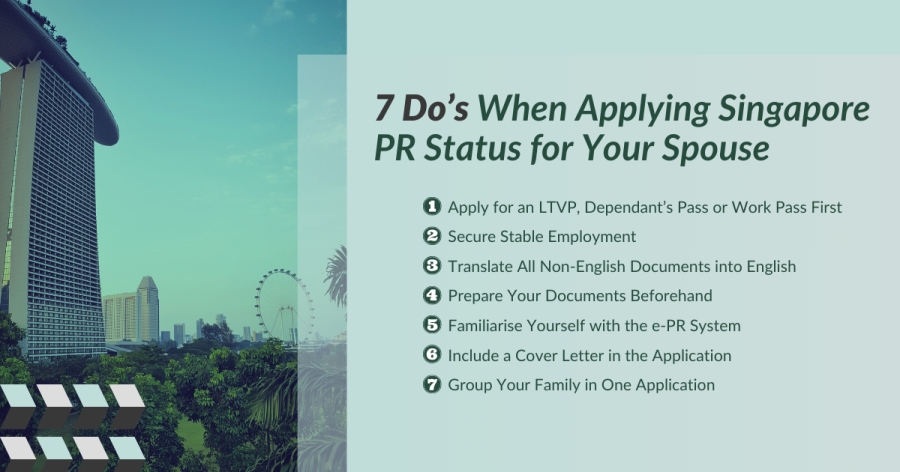 Now that you know what to avoid, let's move on to what you should do when applying for permanent residency for your spouse's behalf. Stick to these seven do's, and your significant other will be one step closer towards permanent residency:
1. Apply for an LTVP, Dependant's Pass or Work Pass First
Since ICA takes duration of residency into account, consider applying for an immigration pass for your spouse so that they can stay in Singapore for at least a couple of years first. Singapore Citizens and PRs can apply for a Long-Term Visit Pass (LTVP) on behalf of their Non-Resident spouse while others should look into a Dependant's Pass or work pass. Citizens, in particular, should consider the LTVP+ for their Non-Resident spouse, which will allow them to stay here for a significantly longer duration.
2. Secure Stable Employment
Next, both of you should secure stable employment for at least two years to prove that you can support your family in the long run. Note that LTVP/LTVP+ and Dependant's Pass holders need to receive permission to work in Singapore. LTVP/LTVP+ holders can apply for either a Letter of Consent (LOC) or a Work Permit, Employment Pass (EP) or S Pass. However, the conditions vary for those on Dependant's Passes. While dependants of an EP, Personalised Employment Pass (PEP) or EntrePass holder can acquire an LOC, Dependant's Passes that are linked to an S Pass must be replaced with a separate work pass.
3. Translate All Non-English Documents into English
Avoid the mistake of submitting non-English documents without any accompanying translations by acquiring them from the following ICA-approved sources:
The embassy of the document's country of issue
A notary public who is based in Singapore or the document's country of issue
Privately crafted translations that are either attested by the embassy of the document's country of issue or a notary public who is based in Singapore or the document's country of issue
4. Prepare Your Documents Beforehand
Ensure that the online PR application goes smoothly by preparing your documents beforehand. You can do this by digitising any hard copies in either PDF or JPG/JPEG format while keeping them under 2MB. However, note that your passport-sized photograph follows a separate set of guidelines from the rest of your documents. While your documents are acceptable as long as they are in PDF or JPG/JPEG format and under 2MB, your passport-sized photograph should be under 1MB and in JPG/JPEG format. In addition to this, your entire face should be visible, rather than obscured by any accessories or stray hairs. No headgear is allowed either unless you habitually wear one for racial or religious reasons.
5. Familiarise Yourself with the e-PR System
For the tech-savvy, the e-PR system is simple enough to navigate. However, the system comes with details and requirements that you should be aware of from the start. Therefore, take the time to read through ICA's thorough step-by-step guide, available on the e-PR system, carefully. You should also refer to this guide during the online application itself to ensure you leave no stone unturned.
6. Include a Cover Letter in the Application
Although a cover letter is not in the list of documents required for PR application, consider including one in the application. Cover letters can provide the ICA officers with a bird's eye view of your spouse's case as well as an idea of who they are as an individual. Remember, the officers will not see your significant other in person unless they contact them for an interview — let a cover letter do all the talking on their behalf.
7. Group Your Family in One Application
Finally, consider grouping your family in one application if your children are neither Citizens nor PRs yet. When you do this, the authorities will assess your family's combined strengths as a whole, rather than only an individual's positives. Moreover, it suggests that your family is keen on settling down in Singapore together for good, rather than leave the country as and when you please. Your spouse would then have a much higher chance of becoming a PR.
The Takeaway
So much is involved in a Singapore PR application that a novice might find themselves feeling quite overwhelmed by it all. If you need assistance, team up with a Singapore PR application consultant, who can guide you through every part of the process. Our consultants at Paul Immigrations have the expertise and tools to boost your spouse's chances, including drafting a compelling cover letter, penned by a professional writer. Contact us today to find out more.