Singapore is a fantastic place to raise a family with its world-class education and its safe and habitable environment. Over the past two decades, something that has come into prominence is the evolution of the typical family structure, shifting from a two-generation family tree to the dramatic rise of the three-generation household that is now commonplace.
As such, together with the increasing elderly population in our city-state, the government has taken steps to transform the Republic into an age-friendly city where the needs and preferences of the elderly are taken care of. If you would like your aged parents to retire in comfort in your new home country, the next step is to attain the Singapore Permanent Resident (PR) status for them to live in our city permanently.
Unfortunately, information on the Immigration & Checkpoints Authority (ICA) on the Aged Parents Scheme is not the clearest since it is targeted at a wider, general audience. This may land your family in a spot of uncertainty as they do not apply to your unique situation. Paul Immigrations has compiled six tips to help you acquire the PR status for your folks. Read on to find out how you can improve their application and have them stay with you in their new home.
Tip #1: Understanding PR Eligibility Under the Aged Parent Scheme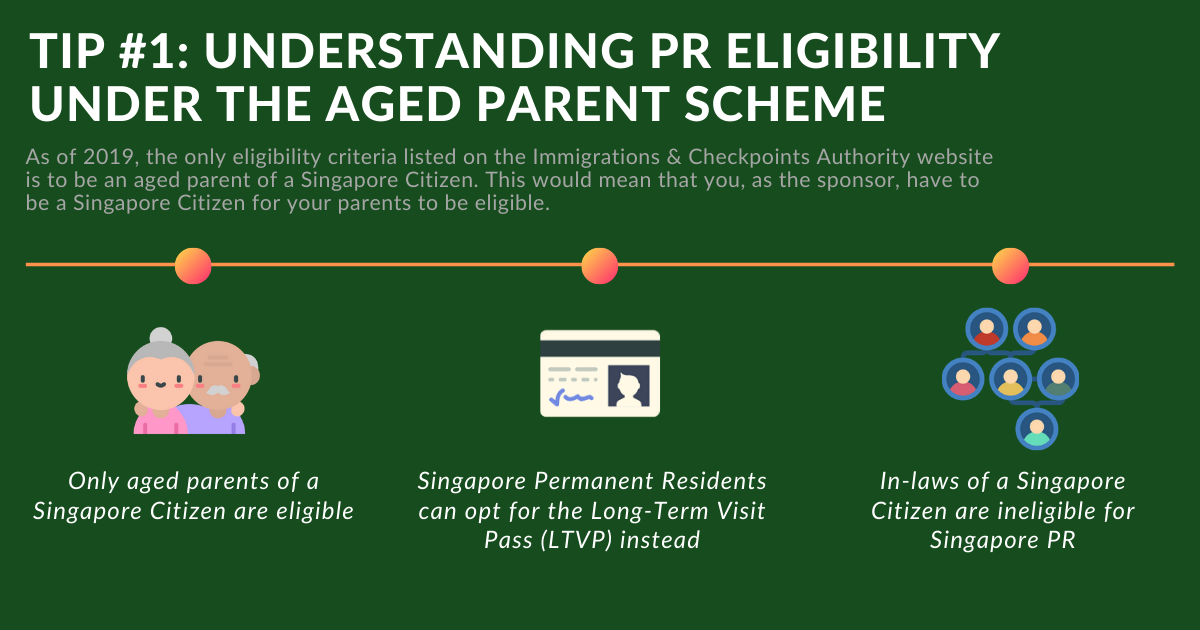 As of 2019, the only eligibility criteria listed on the Immigrations & Checkpoints Authority website is to be an aged parent of a Singapore Citizen. This would mean that you, as the sponsor, have to be a Singapore Citizen for your parents to be eligible. For Singapore PRs who are yet to take the next step, they can opt to have their folks here on a Long-Term Visit Pass (LTVP). However, note that this pass has more limitations than the Permanent Resident status.
Unfortunately, only biological parents are eligible to apply under this scheme — in-laws, on the other hand, would not be applicable. The main takeaways from this tip are:
Only aged parents of a Singapore Citizen are eligible
Singapore Permanent Residents can opt for the Long-Term Visit Pass (LTVP) instead
In-laws of a Singapore Citizen are ineligible for Singapore PR
Tip #2: Compile All The Documents Required for Singapore PR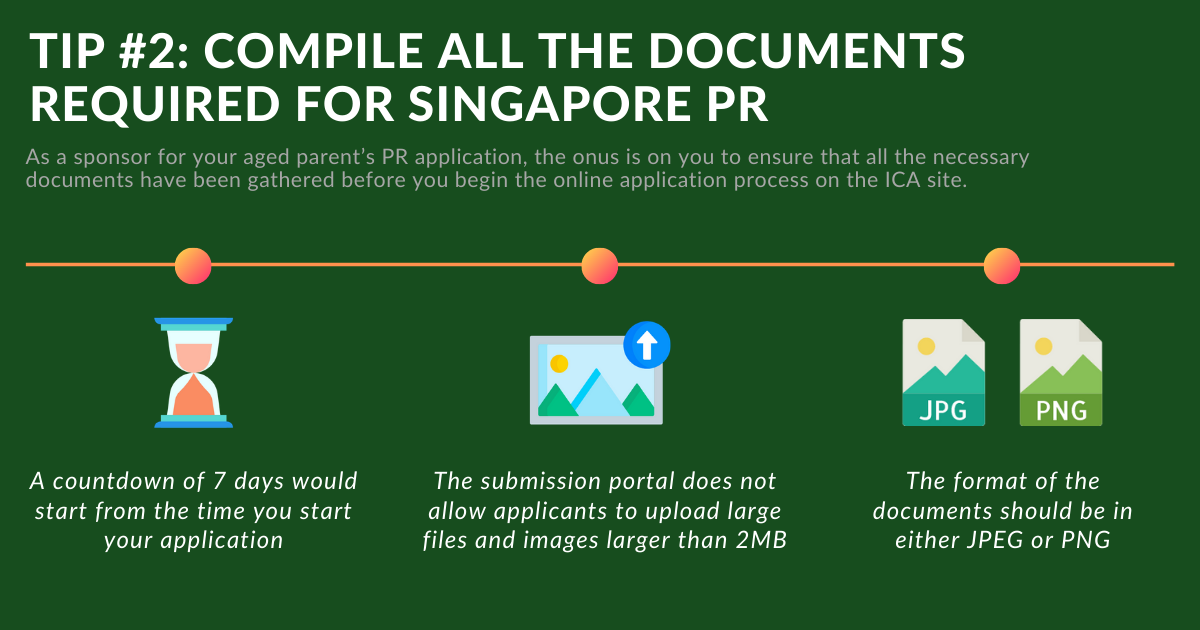 As a sponsor for your aged parent's PR application, the onus is on you to ensure that all the necessary documents have been gathered before you begin the online application process on the ICA site. As you begin the PR application process on the website, a countdown clock set to 168 hours/seven days would start ticking. This would not leave you much time to unearth documents and have them checked or translated. Once the 168 hours have passed, the system would automatically scrub the unsubmitted forms, and you would then have to open a new application and start all over from page one. To avoid this, take the time to compile all the documents required for Singapore PR beforehand.
With regard to the submission of documents on the ICA website, the portal does not allow applicants to upload large files and images. Each document file size should not exceed 2MB, thus there is a need to select the right setting on your scanner to have the output kept within this size limit. The format of the documents also matters — submit them in either JPEG or PNG. However, the passport-sized photo of each applicant has to be uploaded in JPEG image format only.
Tip #3: Translate Documents That Are Not in English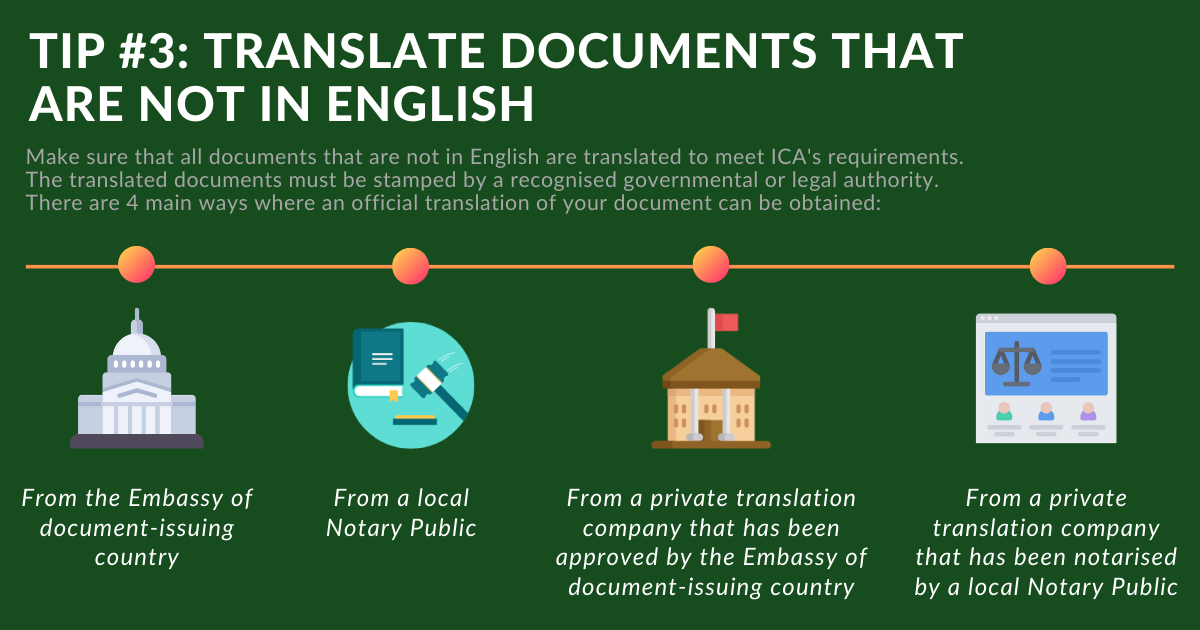 Despite Singapore being a multi-racial and multilingual city with four official languages in Malay, Mandarin, Tamil and English, the working language of Singapore and its government organisations is English. Therefore, any documentation submitted would have to follow this rule. However, in the case of certain applicants, the official documentation from their home country may be written in a language outside of the English language. That does not mean that these important documents should be excluded from the submission. Instead, ensure that they meet ICA's requirements by translating documents that are not in English and having them stamped by a recognised governmental or legal authority.
There are four main ways where an official translation of your document can be obtained:
From the Embassy of document-issuing country
From a local Notary Public
From a private translation company that has been approved by the Embassy of document-issuing country
From a private translation company that has been notarised by a local Notary Public
Upon receiving the translated documents, scan a copy of both documents (the original and translated version) and upload both onto the e-Portal for consideration.
Tip #4: Take Your Time and Review Your PR Application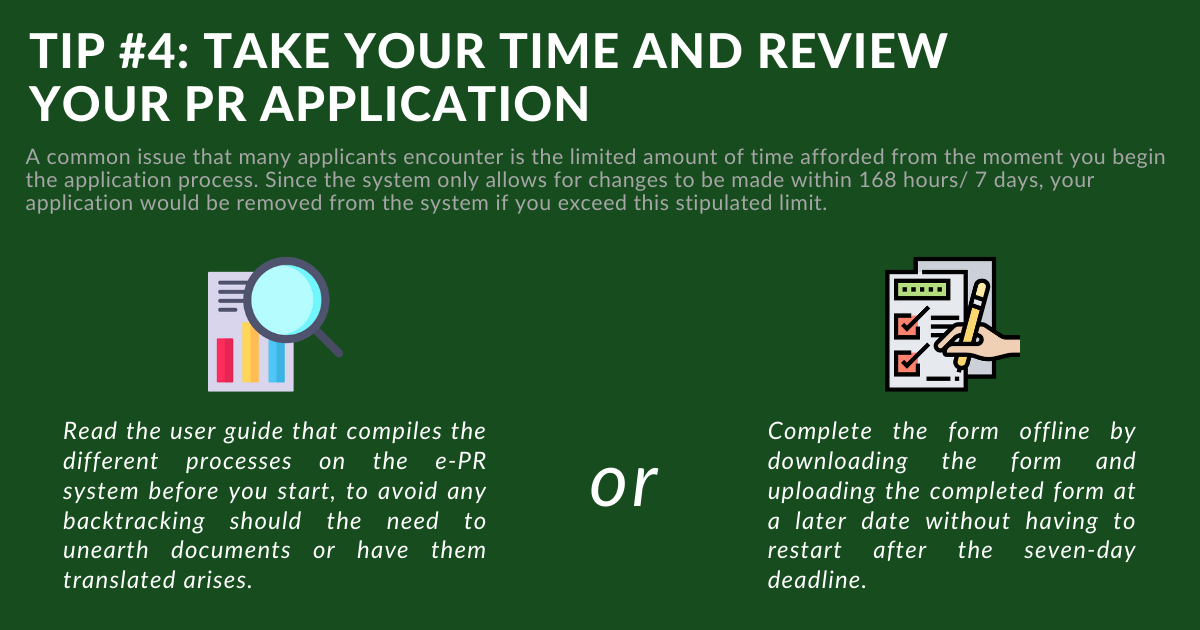 A common issue that many applicants encounter is the limited amount of time afforded from the moment you begin the application process. Since the system only allows for changes to be made within 168 hours/seven days, your application would be removed from the system if you exceed this stipulated limit. This might cause a build-up of anxiety as the hands of the clock tick closer to expiry, and that might lead to the incorrect filling up of forms or even the omission of certain documents. It is clear as day that an incomplete submission would not bode well for your aged parents. This could complicate matters and put your family's life plans on hold as you are asked to sit through the lengthy process once again.
What is advised would be to read the user guide that compiles the different processes on the e-PR system before you start. This would inform you of the details and documents needed to avoid any backtracking should the need to unearth documents or have them translated arises. Another suggestion would be to complete the form offline by downloading the form and uploading the completed form at a later date without having to restart after the seven-day deadline. Before uploading your documents, ensure that the applicant's particulars are accurate. Following the start of uploading, no amendment can be made to that section.
Tip #5: Be Patient in the Wait for their Singapore PR Approval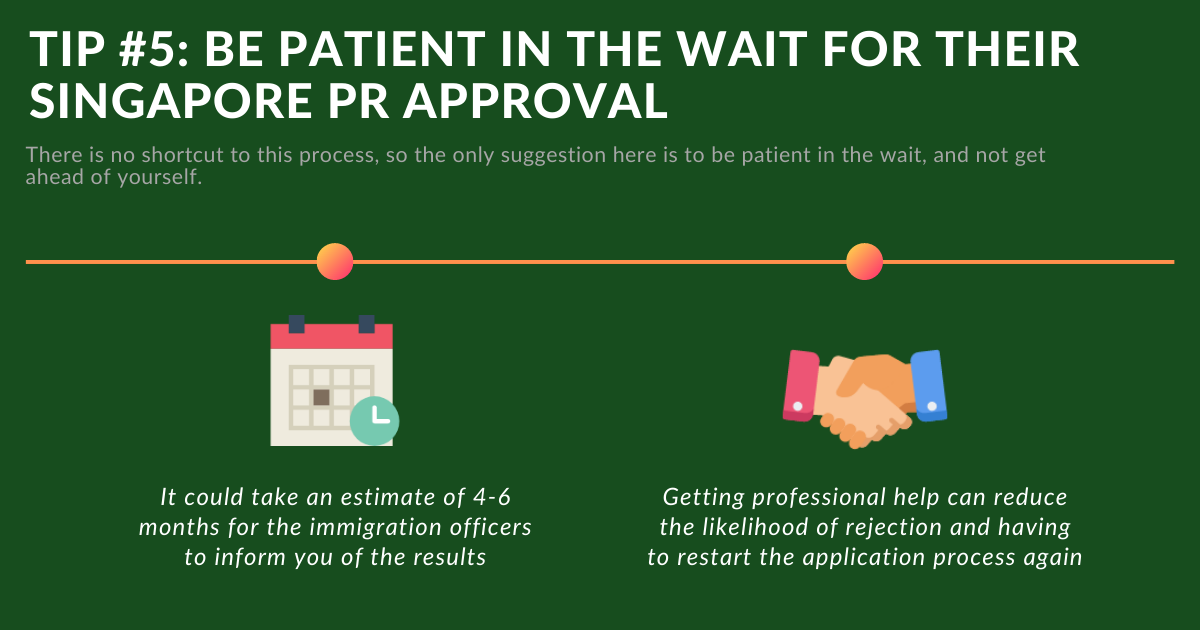 Unfortunately, the process to acquire Singapore PR is not one that happens in the span of a week or two. It could take an estimate of four to six months for the immigration officers to vet through the different documents and make the all-important decision of approval or rejection. Just think about the thousands of submissions that come in each year. Within each batch, the officers would have to pick the most deserving of applicants to receive the highly desired PR status. There is no shortcut to this process, so the only suggestion here is to be patient in the wait, and not get ahead of yourself. If you are on a strict timeline, getting professional help would be your best tip to reduce the likelihood of failure and having to restart the application process all over again.
Tip #6: Getting Help from a Singapore PR Application Consultant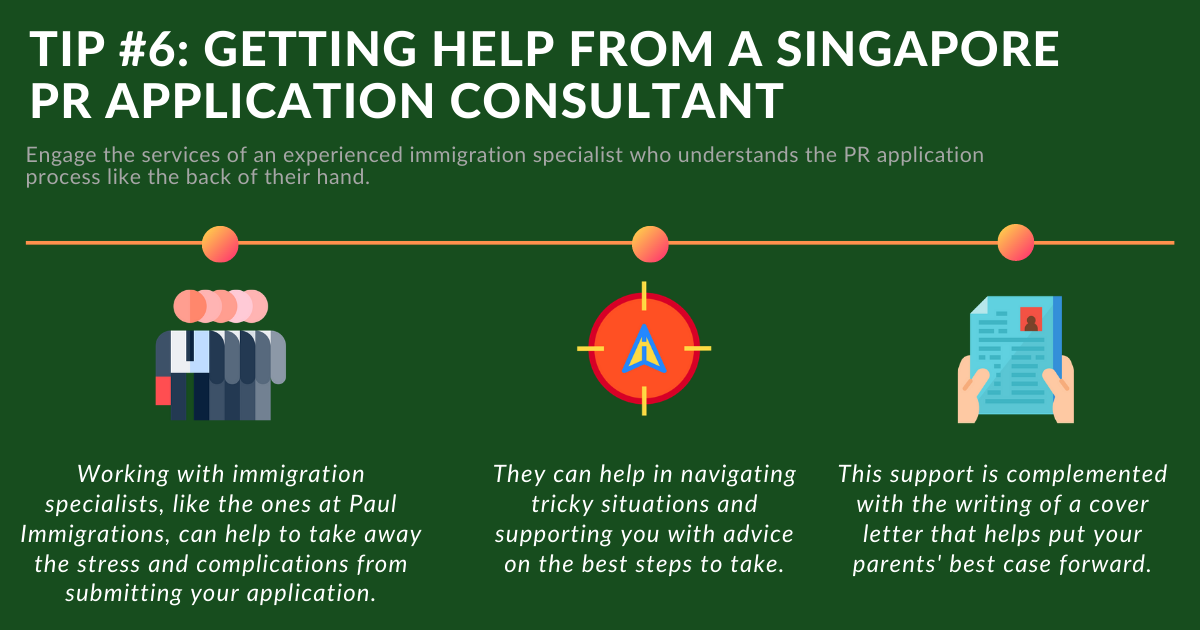 The best is usually saved for last, and the final tip is to engage the services of an experienced immigration specialist who understands the PR application process like the back of their hand. Working with an immigration specialist is highly advised since it takes away all the stress, hassle and complications that could come from submitting your application. These specialists are equipped with the knowledge and experience to guide you from start to finish. They would help you with navigating tricky situations and supporting you with advice on the best steps to take to ensure that your parents attain this highly-coveted status.
The immigration specialists in Paul Immigrations, in particular, have been well-trained to handle slippery situations that could derail your chances of success. In addition, this support is complemented with the writing of a cover letter that helps put your parents' best case forward.
Bonus Tip: If Your Application Was Rejected, Try Again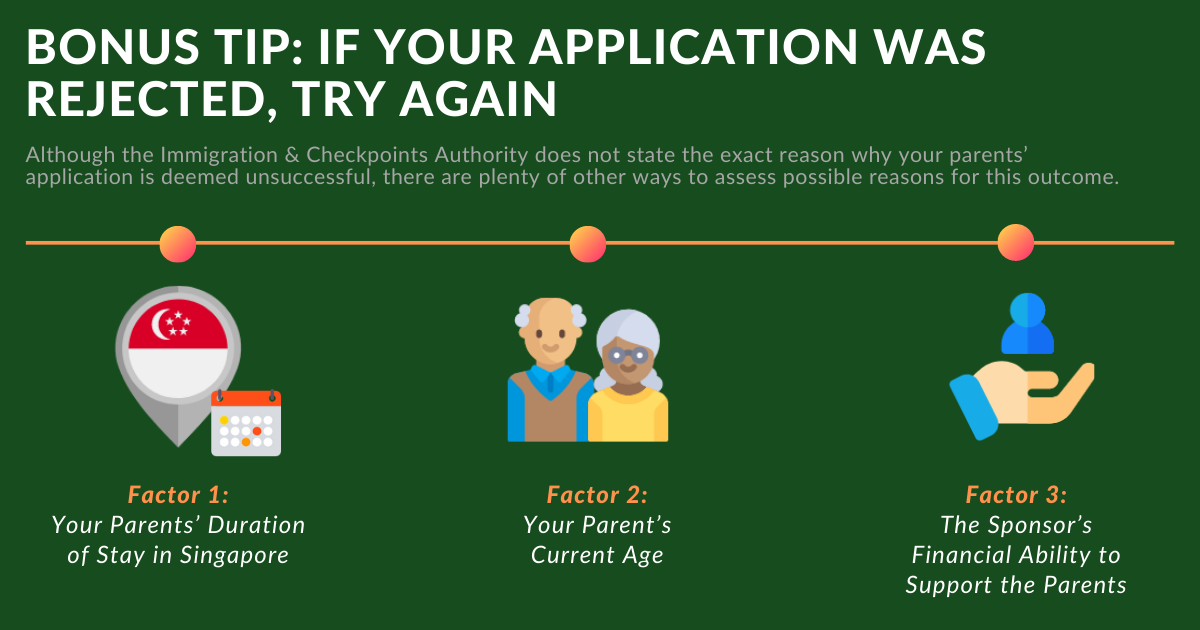 In the case where your aged parents' application to be a Singapore PR does get rejected, do not be disheartened and regard it as a definite answer that is cast in stone for eternity. Although the Immigration & Checkpoints Authority does not state the exact reason why your parents' application is deemed unsuccessful, there are plenty of other ways to assess possible reasons for this outcome. For instance, relook at your submission to determine if any important documents have been left out by accident.
If you need assistance with this, work with an immigration specialist to put together a brand new convincing case on why your parents deserve the PR status. An unsuccessful application could be down to a spelling mistake or even the clarity of a scanned document.
After identifying all the errors in your past application, the next step would be to understand the different factors that contribute to your parents being granted the PR status. Here are three factors to consider:
Your parents' duration of stay in Singapore
Your parents' current age
The sponsor's financial ability to support the parents
Factor 1: Your Parents' Duration of Stay in Singapore
Your parents' duration of stay can affect the outcome of their application. Generally, if they have stayed in the city for a long time, they would have assimilated to our country and have no problems with interacting with the locals, allaying concerns that the immigration officers might have over them not fitting in. Some applicants might find the differences in culture and tradition in Singapore too drastic from their birth country, which could cause unhappy sentiments and even friction with the locals to arise when misunderstandings eventually surface. The length of time spent in Singapore would also suggest how keen your folks are on staying in Singapore, instead of as a way to reap all the benefits of being a Permanent Resident of Singapore.
Factor 2: Your Parent's Current Age
The age of your parents would also be a factor of consideration. Every country has to take the interests of her citizens at heart by ensuring there are enough financial resources to tide them through tough times. Granting PR status to older applicants could have an impact on the government's resources since elderly Permanent Residents would be entitled to subsidies for services and medication at public healthcare institutions like public hospitals and polyclinics. In addition to this, they would also be eligible for the Home Caregiving Grant (HCG) which offers a monthly cash payout of $200 and Caregivers Training Grant (CTG) that defrays the expenses that arise from hiring a caregiver. Thus, the older your folks are, the less likely their chances of PR approval. An application that is submitted sooner, rather than later, would be highly advised to secure the PR status for them.
Factor 3: The Sponsor's Financial Ability to Support the Parents
This factor is paramount since the approval of an application under the Aged Parent scheme relies heavily on whether you can support them. Considering how they would be in their years of retirement, your folks would be less likely to be employed, much less drawing a salary as well. The responsibility to provide for them and offer them comfortable lives would then rest on the sponsor's shoulders. During the PR application process, the onus would be on the sponsor, to prove his or her financial capabilities to the immigration officers with documents like payslips and CPF contributions from the last half of the year. For sponsors who are currently drawing an average salary, it may be best to reconsider the PR application following a year or two until there are significant changes in your employment situation.
Final Note
The Singapore PR is in high demand because of the attractive benefits that come with retiring in age-friendly Singapore. Besides financial benefits such as subsidised health costs and subsidised housing, there are other advantages such as access to educational opportunities and being insured by the Central Provident Fund (CPF) scheme. To allow your parents to retire comfortably with a peace of mind, speak to an immigration specialist to build a convincing case to the ICA officers for your folks. Our highly trained consultants at Paul Immigrations can assist you with this — contact us today to find out how.