Since the introduction of the Singapore Permanent Resident (PR) status, the authorities have kept mum about the reasons behind the outcome of each PR application. Rejected applicants are thus often left scratching their heads, wondering why they have not been successful. What many of them do not realise is the sheer importance of other factors that are often taken into consideration by the authorities, beyond the basic minimum requirements.
The Immigration & Checkpoints Authority (ICA) has stated that each applicant will be assessed based on at least six contributing factors. These allow the ICA officers to accurately assess the applicant's ability to seamlessly integrate into our society and contribute to the country for the long haul. As a potential Singapore PR applicant, you must know where you stand — read on to find out more about these six factors and how they can affect your eligibility.
PR Eligibility 1: Your Contributions to the Local Economy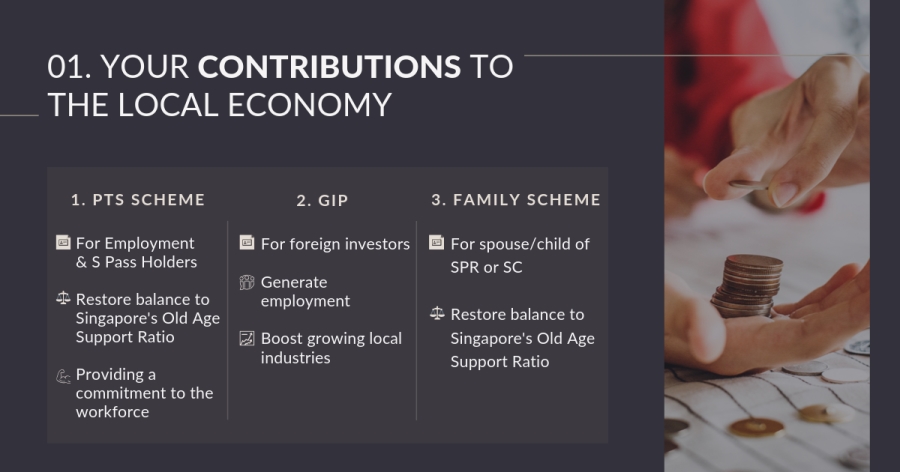 Firstly, all PR applicants will be assessed based on their ability or the potential to contribute to the local economy. Therefore, with the exception of international students and aged parents of Singapore Citizens (SC), all applicants are required to provide supporting documents of their current mode of employment if they are gainfully employed.
This is clear for those who wish to apply for Permanent Residence under the Professionals, Technical Personnel and Skilled Workers (PTS) Scheme and Global Investor Programme (GIP). Applicants under the PTS scheme and GIP tend to have a greater awareness of the importance of their contributions in this regard since this has been strongly emphasised within their respective eligibility criteria. However, it may be easy to overlook the fact that this also applies to the spouse and child of a Singapore PR who fall under the Family scheme.
1. Professionals, Technical Personnel and Skilled Workers Scheme
Reserved for Employment Pass (EP) and S Pass holders, applicants under the PTS Scheme may be at an advantage since they have the potential to restore balance to the local old-age support ratio while providing a commitment to the workforce to the industries in the city. If this applies to you, be prepared to provide copies of your current EP or S Pass as well as the necessary employment and income tax paperwork. Additionally, it is recommended that you support your application with testimonials from previous employers to give the ICA officers a better idea of your value as a member of the local or global workforce.
2. Global Investor Programme
The Global Investor Programme requires applicants to go through a far more rigorous process, where they will be assessed for their ability to invest in or run a company in Singapore. In this regard, it is clear that the outcome of their application hinges on their potential to contribute to the local economy by generating employment and boosting growing local industries.
3. Gainfully Employed Applicants Under the Family Scheme
Finally, the spouse and child of a current Singapore Citizen or PR are at a major advantage if they are gainfully employed. Similar to those under the PTS scheme, their addition to the local workforce may be seen as a potential boon to the imbalance in Singapore's old-age support ratio. Thus, they must ensure that they include supporting documents of their current employment paperwork, including their payslips, to properly bolster their application.
PR Eligibility 2: Your Qualifications and Skills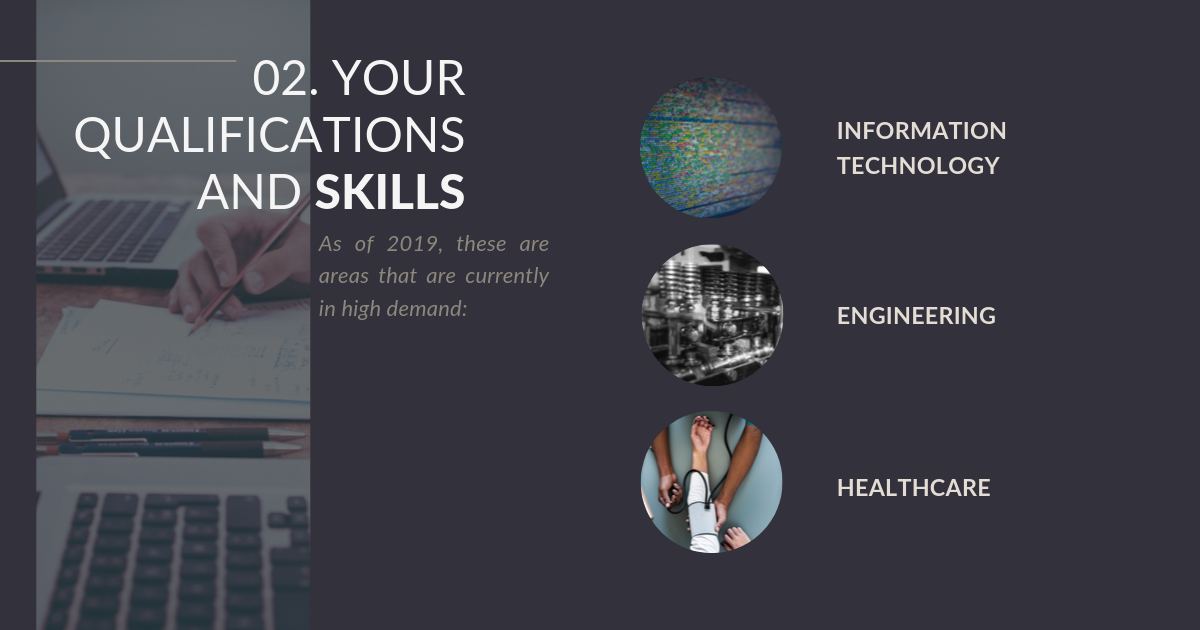 Singapore's main strategy has always hinged on its people — education and skills will always be a major point of consideration in most bureaucratic matters. This is no different when it comes to the assessment of PR applications. The ICA officers will place heavy emphasis on your skillset and qualifications in terms of your potential to fill any gaps within the local workforce.
While the relevance of your qualifications and skills is obvious if you fall under the PTS Scheme and GIP, this is just as applicable to PR hopefuls (except aged parents) who are expected to submit copies of their highest educational qualifications.
Surveys that provide an idea of the skills that are in high demand here can help determine where you stand. As of 2019, the following are a few areas that are currently in high demand:
1. Information Technology (IT)
Informational Technology (IT) professionals are highly sought after at the moment. Those who specialise in cybersecurity should see great demand from employers in response to recent cyber attacks. According to a survey conducted by Robert Walters in 2018, the local financial sector alone is expected to see an increase in recruitment of candidates who possess the relevant IT skill sets.
2. Engineering
The recent recovery in gas and oil prices means that specialists in engineering should find their skills in high demand. The same survey published by Robert Walters found that, in particular, engineers who are skilled in the medical devices, semiconductor, manufacturing and consumer electronics industries will find their qualifications more relevant to the job market. In particular, such specialists will find themselves in high demand in the Research & Development sectors.
3. Healthcare
Largely due to our rising elderly population, the job market for healthcare professionals will also flourish. The Ministry of Manpower has cited nursing degree and diploma holders, medical science degree holders as well as healthcare specialist degrees such as podiatry and radiology as qualifications and skills that will be sorely needed.
PR Eligibility 3: Family Ties to Singaporeans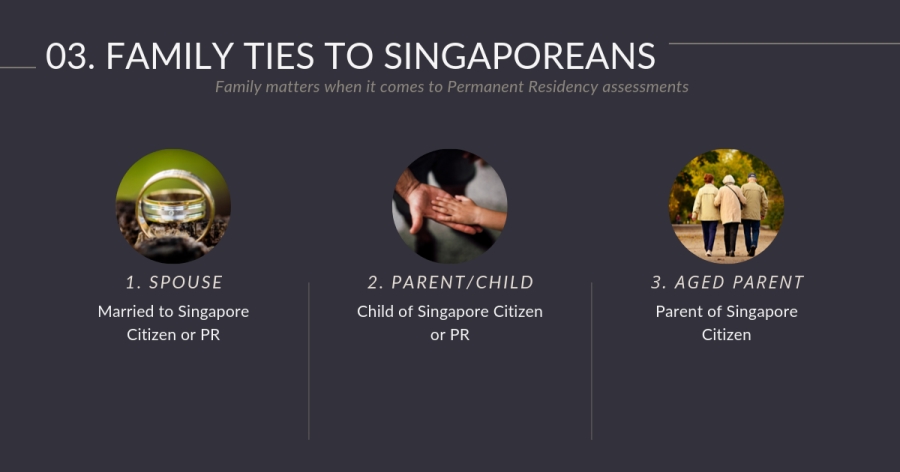 Another factor that determines your Singapore PR eligibility relates to the presence of family ties to Singaporeans. In other words, having family members who are currently Singapore Citizens (SC) or PRs may be counted in your favour since it will be much easier for you to integrate into society and more likely for you to set roots into our island.
1. Spouse of a Singapore Citizen or Permanent Resident
If you are a spouse of a current SC or Permanent Resident, your application may be seen in a more favourable light. Through the Family Scheme, your spouse may aid in your PR application as a sponsor. However, the Ministry for Home Affairs recently stated that from 2009 to 2018, the approval rate for spouses is 49%. This suggests spouses of an SC or PR cannot bet on this factor alone since the odds are slightly under 50-50. Instead, applicants must know how to make their application stand out in more ways than one. For instance, those with Singaporean children are more likely to succeed than those without.
2. Child of a Singapore Citizen or Permanent Resident
If your child is under the age of 21 and unmarried, they will be eligible for Singapore PR under the Family Scheme. In such cases, a parent to whom they are born, or legally adopted, in the context of a legal marriage can act as their sponsor.
3. Aged Parent of a Singapore Citizen
While the spouse and child of a Singapore PR may apply for PR, the same cannot be said for aged parents of a Singapore PR. Instead, this is a privilege that is only applicable to an aged parent of an SC, which in this case the SC can be their sponsor in the PR application.
PR Eligibility 4: Your Family Profile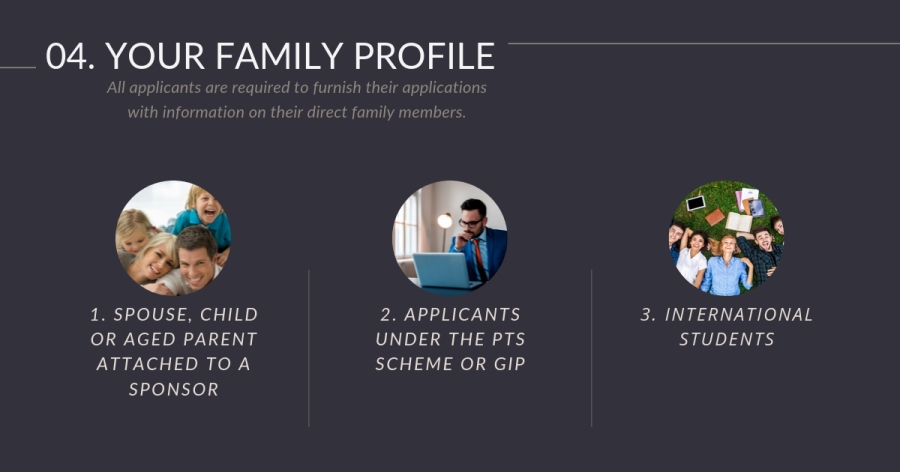 As a Singapore PR applicant, you are not the only one whose profile is under assessment — your family will inevitably be involved in one way or another. All applicants are required to furnish their applications with information on their direct family members. Here is how your family profile can affect you as an applicant, depending on your type of application:
1. Spouse, Child or Aged Parent Attached to a Sponsor
If you are an applicant under the Family Scheme, the relevance of your family profile should be apparent. The list of documents that are required from you during the submission process is a giveaway. Besides a marriage certificate, sponsors are expected to submit copies of their highest educational certificates, qualifications, taxation paperwork as well as documentation of their employment status. In addition to that, the ICA officers will take note of the presence of children who can tip the scales of the old-age support ratio in Singapore's favour. This way, your family's potential to contribute to the country in the long run will be assessed together as a unit. Moreover, in the case of aged parents applying for PR, the ICA also includes information on the sponsor's siblings among the list of documents required from the sponsors.
2. Applicants Under the PTS Scheme or GIP
Under the PTS Scheme or GIP, married applicants who would like to include their dependents in their applications are required to submit the latter's documents on their behalf. Even if you are unmarried, you are still required to provide either a birth certificate, family profile, or household census — all of which must include your parents' names. This allows the ICA to paint a better picture of your family profile when determining whether you would be a suitable candidate.
3. International Students
While international students apply for PR on their own merits, all applicants under this scheme are nevertheless required to provide certain documents from their parents. Similar to unmarried applicants under the PTS Scheme or GIP, this would allow the ICA officers to form a picture of the applicant's family profile to determine their suitability as PR.
PR Eligibility 5: Your Age Can Be a Turning Point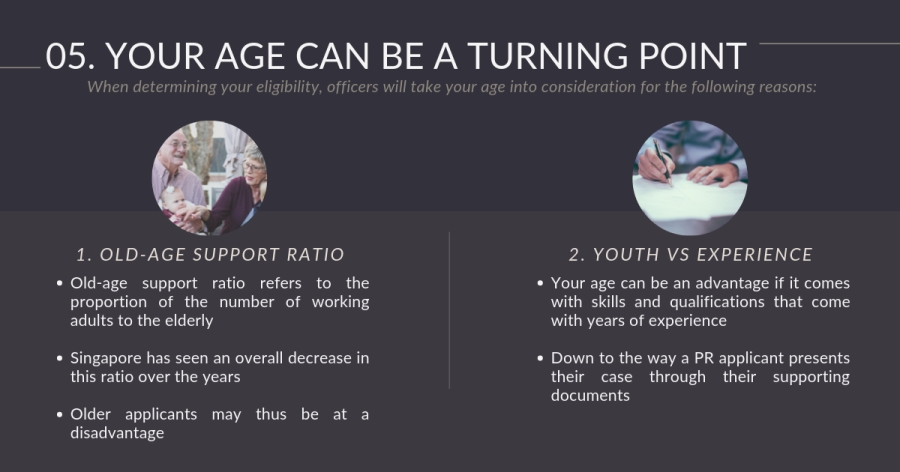 Age is not just a number when it comes to PR application assessments. The ICA has cited this is a major factor that can affect the outcome of your application. When determining your eligibility, officers will take your age into consideration for the following reasons:
1. Old-Age Support Ratio
Older applicants might be at a disadvantage when applying for Singapore PR, especially if they are unemployed, due to the city's dwindling old-age support ratio. According to the Department of Statistics Singapore, our country has been seeing a decrease in the proportion of the number of working adults, between the ages of 20 to 64, to the elderly, aged 65 years and above, who require greater support. The old-age support ratio has since dropped from 13.5 to 5.1 from 1970 to 2017. Thus, if your age is closer to 65, you would have to leverage other strengths to offset any disadvantages that might come with your age.
2. Youth vs Experience
While plenty can be said about the potential of the young, your age can also be an advantage if it comes with skills and qualifications that come with years of experience. For instance, global investors who possess the skills and capital to invest in Singapore are still highly likely to be strong candidates for PR regardless of age. It is, thus, mostly down to the way a PR applicant presents their case through their supporting documents.
PR Eligibility 6: Your Length of Residency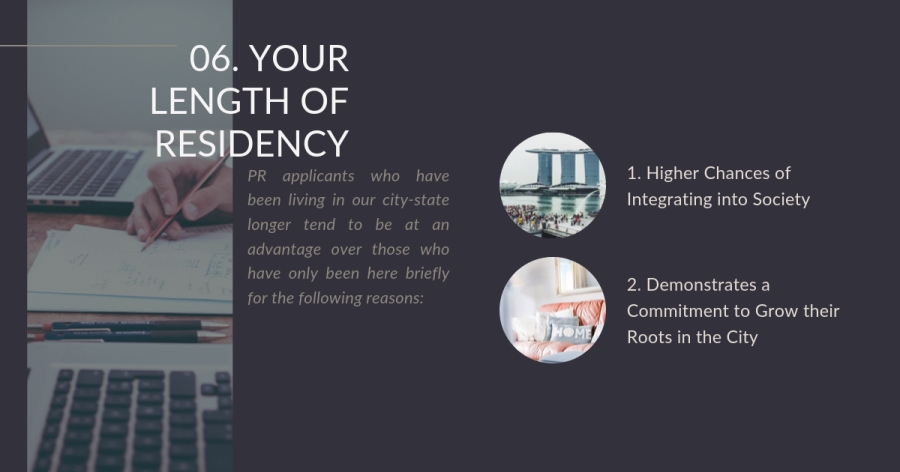 Finally, your length of residency plays one of the most important factors in your PR application. In general, PR applicants who have been living in our city-state longer tend to be at an advantage over those who have only been here briefly for the following reasons:
1. Higher Chances of Integrating into Society
PR applicants who have been residing on the Little Red Dot for much longer are generally more likely to integrate seamlessly into society, having formed bonds with Singaporeans over the years. Moreover, you are more likely to be intimately familiar with our local culture and customs if you have been living here longer, which is important in such a multicultural nation. Another way to improve your ability to integrate into society is by taking up lessons in one of our official languages such as Mandarin, Malay, and Tamil. You may then add your certification to the list of documents to be uploaded during the submission process.
2. Demonstrates Commitment to Sinking Roots
Your length of residency also demonstrates a commitment to sinking roots into our city-state. The ICA places greater emphasis on this since the officers need to be certain that you are unlikely to renounce your Permanent Residency for the foreseeable future. Since uprooting and moving to a new country generally becomes more demanding the longer anyone stays in one place, those who have been living here much longer are more likely to find success with their application.
The Takeaway
Given the number of applications that the ICA receives on an annual basis, knowing precisely how to leverage your strengths has now become more important than ever. Yet, no applicant should place their chances on only one of the aforementioned factors. All your supporting documents need to showcase as many relevant ones as possible to truly strengthen your case.
At Paul Immigrations, our specialists can ensure that you stand out from the crowd by helping you draw out your individual strengths. Contact us today for a personalised consultation.