Permanent residency in Singapore has always been highly valued given that this little red dot is considered as one of the most developed, secure and economically competitive city-states in the world. A world-class city to work, play and live in, Singapore has firmly established itself as a global cosmopolis, offering a myriad of business opportunities for companies and individuals alike. The city has strongly appealed to scores of foreign talents, and it comes as no surprise that many of these expats are keen on attaining the coveted Permanent Resident (PR) status and enjoy for themselves a slice of the special privileges reserved only for the citizens.
So, what exactly are the perks that you can look forward to as a permanent resident of one of the world's most liveable cities in the world, as accorded by Economist Intelligence Unit's (EIU) liveability ranking index? In this article, we dive down and explore some of the key benefits should you decide to call Singapore your second home.
1. Competitive Economy and Outstanding Infrastructure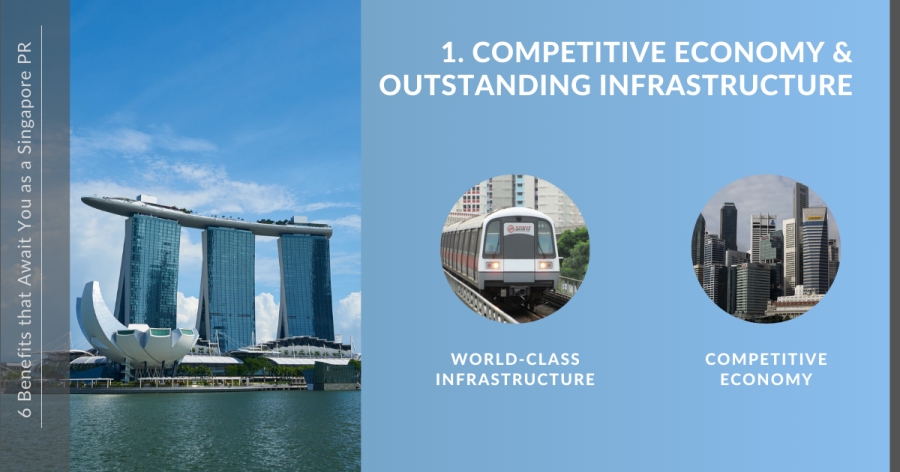 Having few and limited amount of natural resources, the government has invested heavily in its infrastructure and human capital. In a recent World Bank Survey, it was found that Singapore's entrepreneurs would only need under three days to get their business up and running from scratch, four days to import a container and a wholesale electricity market with spot bidding every 30 minutes, all of which attest to the country's mighty and robust infrastructure.
World-Class Infrastructure
While many surveys on costs of living factor in owning a vehicle as a core necessity, the circumstances in the Republic are different due to its limited land area. Although owning a car is understandably costly, this has eliminated the need for its residents to endure traffic congestion suffered by a multitude of other cities. Instead, Singapore has overcome this with a public transportation system that is now one of the most cost-effective infrastructures in the world, with the bulk of the local dwellers opting for it for their daily commute. This comes as no surprise as most of the island is well-connected and easily accessible via the different modes of public transport, be it taxis, trains and buses.
World's Most Competitive Economy
Most notably, Singapore topped the rankings for best employer relations and best labour in the 2019 Global Competitiveness Report. With a score of 84.8, our city-state is the world's most competitive economy in 2019, overtaking the United States, which trails closely behind in second place. The report examines the relationship between competitiveness and the two other dimensions of sustainable development (environmental sustainability and social cohesiveness) and has aptly reflected our deep-rooted system of meritocracy which has resulted in a cohesive working culture that values hard work, efficiency and productivity over networks, connections and social background.
2. A Better Future With CPF as a Singapore PR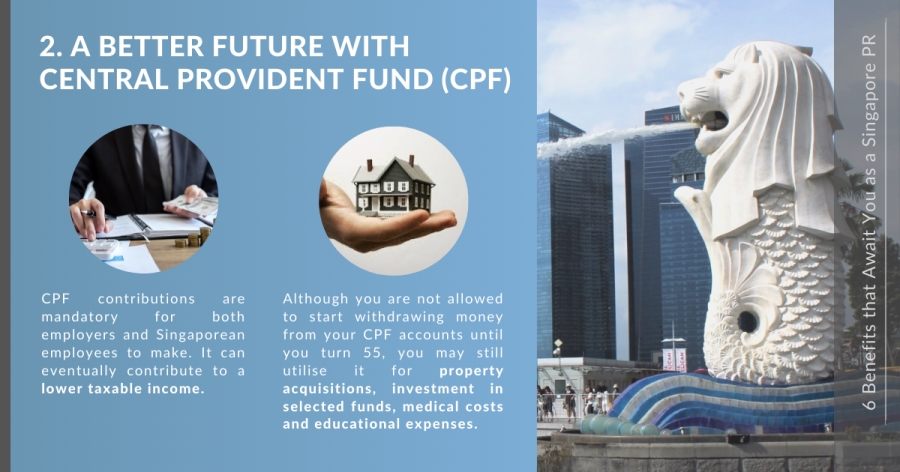 Employers operating in the Little Red Dot are required to contribute to the mandatory Central Provident Fund (CPF) of their Singaporean employees. These contributions will eventually contribute to a lower taxable income as the latter is computed after deducting the CPF contribution from your monthly salary. For some, this translates into a significant amount of savings from their annual income tax.
A Flexible Pension System
Although you are not allowed to withdraw money from your CPF accounts until you turn 55, you may still utilise it for specific big-ticket purchases, including property acquisitions, investment in selected funds, medical costs and educational expenses. In addition to this, CPF comes with competitive interest rates of up to 3.5% per annum for the Ordinary Account as well as up to 5% per annum for the Medisave and Special and Accounts. Moreover, if for some reason you wish to renounce your PR status, you can be assured that you are entitled to the full amount of your CPF monies and can withdraw them upon doing so.
3. A Conducive Business Environment for Singapore PRs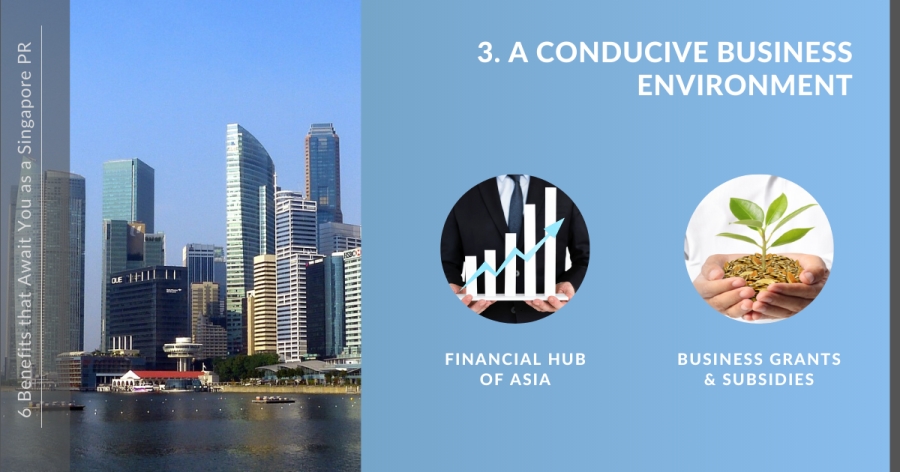 The secret to Singapore's economy meteoric rise lies in its effective and stable policies. This comes at the back of productivity growth that has been projected at two per cent up to the year 2020, according to a report by the Ministry of Trade & Industry, as well as a projected Gross Domestic Product (GDP) growth of between two to three per cent from the year 2020 to 2030.
Financial Hub of Asia
Singapore has firmly established itself as an ideal financial hub and, given its strategic geographical location in the Asia Pacific region, has attracted many multinational corporations (MNCs) and tech giants that turn to our city-state as a launchpad for their headquarters in the Asian region. In turn, this creates more career opportunities for all residents, including PRs, creating the perfect symbiotic relationship.
Business Grants and Subsidies
The Singapore government has always been favoured for its pro-business environment, such as the rule of law and pro-innovation regulatory environment, its skilled and continually upgrading workforce as well as a progressive tripartite partnership that enables the government, businesses and labour to overcome challenges together. Apart from having committed a bulk of their 2019 budget expenditure on economic and social development, the large amount of government subsidies and grants available for both established companies and start-ups alike — be it a small, medium enterprise (SME) or a sole proprietorship — has eased the burden considerably for many of the new generations of budding entrepreneurs.
4. More Job Opportunities for Singapore PRs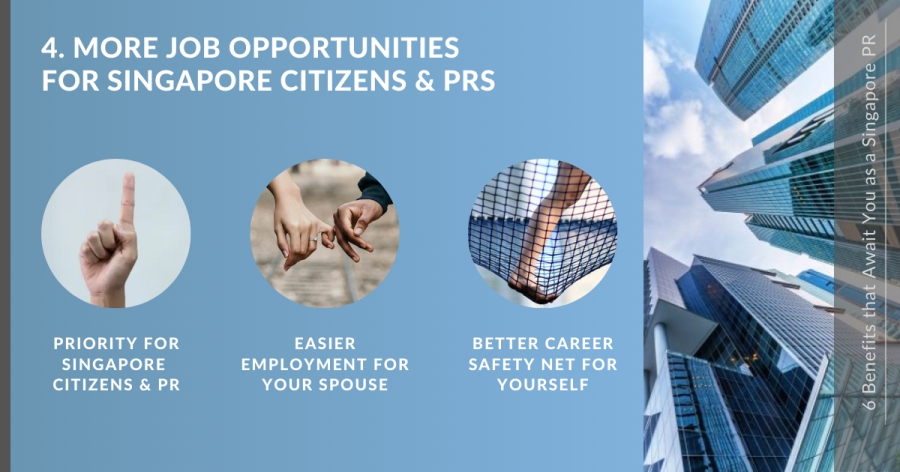 Although foreigners can attain gainful employment in our city-state as long as they hold a valid work pass, becoming a Singapore PR can create more job opportunities for the entire family.
Priority for Singapore Citizens and PR
Singapore has always seen low unemployment rates, but recent regulations by the government have led to even lower figures. The Ministry of Manpower (MOM) imposed and enforced restrictions to ensure that employers prioritise PRs and Citizens (collectively referred to as the "resident working population"). As a result, the overall unemployment rate plunged even further from 2.9 per cent in 2018 to just 2.2 per cent in Q2 2019, according to data released by the MOM. Conversely, this has had the reverse effect on foreign employment growth, which has been observed to steadily decline as employers begin to exercise caution when hiring new employees and focus efforts on employing the resident working population. Additionally, MOM has put in place a quota system for foreign workers allowed in each of the different industries, with the numbers dependent on the industry's needs. This move further curbs employers from an overreliance on non-resident foreign talents and labour.
Easier Employment for Your Spouse
When you become a PR, your spouse will find it easier for him or her to seek employment. The Immigration and Checkpoints Authority (ICA) and the Ministry of Social and Family Development (MSF) have jointly announced that spouses of PRs can apply for a Long-Term Visit Pass (LTVP), enabling them to apply for jobs. Moreover, the Singapore government has been encouraging employers to adopt more flexible work arrangements to entice more women and older workers, creating the perfect environment for families with children.
Better Career Safety Net for Yourself
Another added benefit of the PR status you will get to enjoy is a much smoother process of transitioning between jobs. Since an Employment Pass (EP) or S Pass is tied to an employer, leaving your job would result in the cancellation of your current pass before a new application is made by your next employer. Unfortunately, numerous employers have delayed the cancellation process out of spite before, forcing the EP or S Pass holder to leave the country. Without a valid pass, they could only return when their new EP or S Pass has been approved. This often results in monetary losses and precious time wasted in the process. Becoming a PR can prevent this risk altogether, creating a better safety net for yourself.
5. Being a Singapore PR Puts You on the Route to Citizenship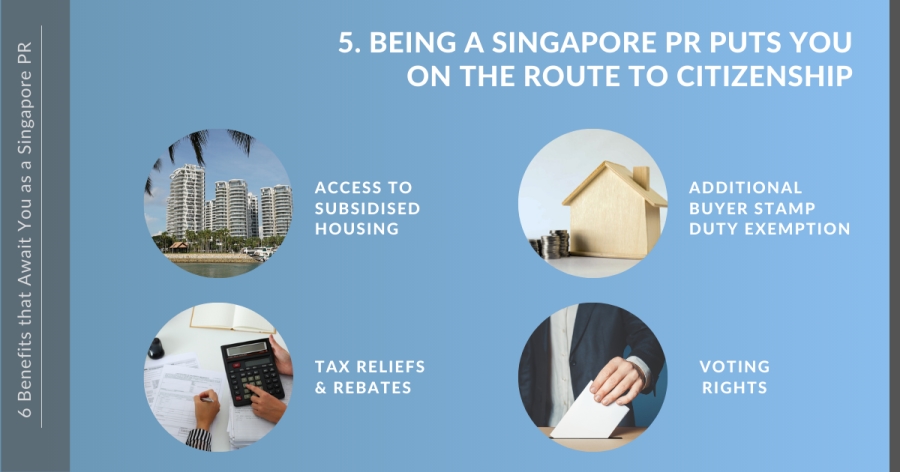 Becoming a Singapore PR successfully would mean a foot through the door to Citizenship and the right to the coveted red passport, granting you a wider range of benefits in this city-state, including the following:
Access to Subsidised Housing
When it comes to housing options, Singapore Citizens are entitled to benefits and privileges that are second to none. A Citizenship will deem you eligible for heavy subsidies when purchasing housing such as Built-To-Order (BTO) and Executive Condominium (EC) units. On the other hand, foreigners are limited to purchasing strata-titled residential properties such as a private condominium unit, strata landed housing in an approved condominium unit or a leasehold estate in a landed residential property for a term not exceeding 7 years, including any further term which may be granted by way of an option for renewal. Nevertheless, your options as a Singapore PR are greater than foreigners who are not PRs — the status will automatically qualify you for the purchase of resale public housing.
Additional Buyer Stamp Duty Exemption
Singapore Citizens are exempt from Additional Buyer Stamp (ABSD) that has been placed on foreigners and PRs, as part of the cooling measures to moderate the demand for residential property. Implemented on 8 December 2011, ABSD has been put in place to ensure that residential property remains affordable for Singaporeans and that prices move in tandem with economic fundamentals. ABSD applies on top of the mandatory Buyer Stamp Duty (BSD) payable on the purchase of immovable residential properties in the city-state. For first property purchases, foreigners are required to fork out an additional 20% of the purchase price or market value, whichever is higher, and 10% required for Singapore PRs.
Tax Reliefs and Rebates
Singapore Citizens enjoy tax reliefs and rebates that are exclusive to them, thus reducing the amount of taxes that they are obligated to pay. For instance, married Singaporean parents are eligible for Parenthood Tax Rebate (PTR), and grandparents who look after their grandchildren are eligible for Grandparent Caregiver Relief (GCR), both of which do not apply to non-Citizens. These benefits exist on top of remarkably low taxes for tax residents with progressive rates of 0% for the first $20,000, 2% for the next $10,000, 3.5% for the next $10,000 and so on. On the other hand, non-residents are taxed at a flat rate of 15% or the progressive resident tax rates, whichever is the higher tax amount, and do not qualify for any tax reliefs or rebates.
Voting Rights
The right to vote forms the foundation of representative democracy, which is essentially democracy based on the principle of citizens electing a group of people to represent their interests. In the Lion City, the right to vote extends only to Citizens who are ordinarily residents and not less than 21 years old on the cut-off date for the registration of electors.
6. Live in a Safe and Secure Environment in Singapore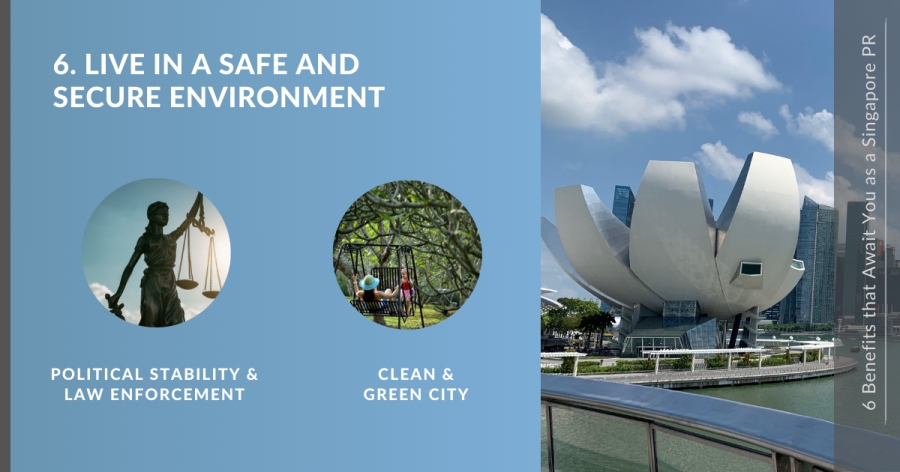 Becoming a Permanent Resident of any country is a commitment, and making that decision does not come easy. More often than not, safety and security are common pull factors involved in a potential candidate's decision-making process. However, when you make the move to this city-state, you stand to enjoy:
Political Stability and Law Enforcement
In spite of the downbeat global economic outlook, Singapore continues to stand out due to its stable political environment and reputable law enforcement. Although the city-state has often been subject to mockery when it comes to its plethora of fines for seemingly trivial offences, it is these restrictions that help mould the city into the peaceful haven that it is today. Compared to some of the neighbouring countries in the Asia Pacific, protests or riots are scarce and political unrest in is almost unheard of here.
Clean and Green City for the Family
With countless tourist attractions such as Gardens by the Bay which is known for its extraordinary landscape, Universal Studios Singapore where you can get your adrenaline pumping, or the majestic Jewel Changi Airport which blends gardens, attractions, activity areas, retail, dining and more in a stunning glass and steel dome development, this city-state of ours is a delightful destination to bring your parents, relatives and friends for a holiday. Application for a Long-Term Visit Pass (LTVP) for your parents to stay here is also possible, once you are a Singapore Permanent Resident.
Final Note
Becoming a Singapore PR certainly has its perks — quality housing, unrivalled healthcare, low crime rate, clean environment, excellent international connectivity, exceptional infrastructure, social cohesiveness, political stability, pro-business policies and environment, superior education system, immigration stability, career development, clean and green environment and many more. If you are still undecided or unsure of the next step, consult our qualified professionals at Paul Immigration who are dedicated to aid you throughout your entire PR application process and increase your probability of success.