After decades of raising you to be the educated and accomplished individual that you are, it is now time to start giving back to your parents. That could come in many forms, like pampering them with a relaxing trip to the spa every once in a while, or even a sumptuous meal at a restaurant where they do not have to clean up after.
Still, nothing beats the gift of staying together as a family. Now that you have made the lion city your home as a new citizen, your folks might appreciate moving to the Lion City as well. Thankfully, the Singapore government has made it possible for your aged parents to join your family as you embark on this new phase of life, by obtaining Permanent Residency status. But how do you make the most out of the application on behalf of your father and mother, given the strict regulations?
Read on to find out how you can increase the success of your folks' applications and help them realise their dreams of spending their retirement years in the elderly-friendly lion city.
Is Your Aged Parent Eligible to Apply for Singapore PR?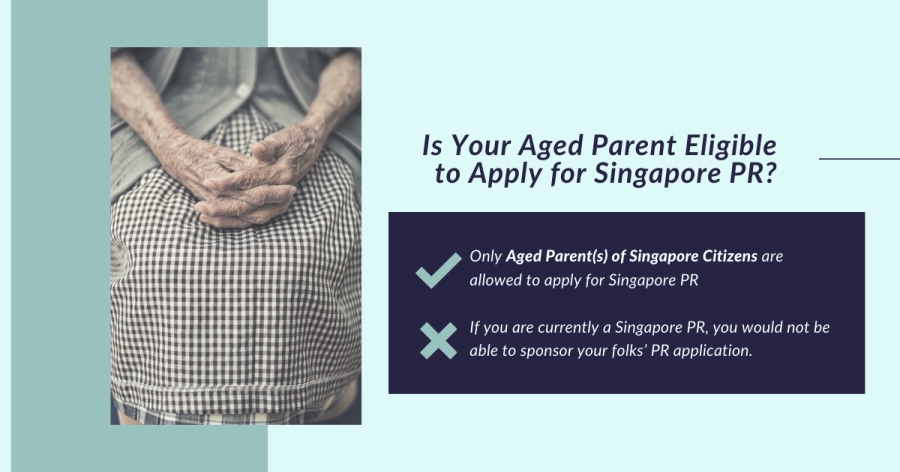 Let's first get into the nitty-gritty of your folks' eligibility for PR in the little red dot. Not to dampen your spirits, but only Aged Parent(s) of Singapore Citizens are allowed to apply for PR. Alas, if you are currently a Singapore PR, you would not be able to sponsor your folks' PR application. Should you hope to have them over for the long term, it would be better to hold off their submissions until you acquire citizenship. There are numerous past cases where applicants had disregarded the eligibility criteria and submitted an application regardless of the category they fall under. That would only cost you both time and money.
What is the Difference Between Singapore PR and LTVP?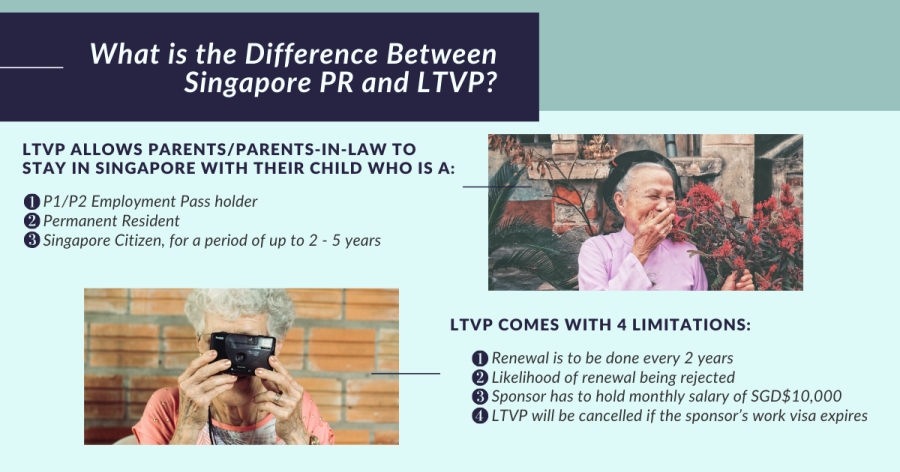 The majority of applicants under this scheme will find themselves holding a Long-Term Visitor Pass (LTVP). Generally, the likelihood of success with the process of applying for an LTVP is much higher compared to PR status. The LTVP allows parents or parents-in-law to stay in Singapore with their child(ren) who is/are:
P1/P2 Employment Pass holder
Permanent Resident
Singapore Citizen, for a period of up to two to five years
In comparison with the PR status, the LTVP functions rather similarly as it allows your aged parents to stay for a longer duration (and work with a valid Letter of Consent or Employment Pass) in Singapore. However, the pass comes with four limitations:
Renewal is to be done every two years (three months before the expiry of LTVP)
Likelihood of renewal being rejected
Sponsor has to hold a monthly salary of SGD$10,000 or higher
LTVP will be cancelled if the sponsor's work visa expires
Meanwhile, none of these limitations will apply to Permanent Residents. If they become Singapore PRs, your folks would have the right to stay here for the rest of their lives.
How to Submit a Stronger PR Application for Aged Parent
To eliminate the need to apply for LTVPs, concentrate on putting forth a stronger PR application form for your folks. When applying for PR, applicants need to show their capabilities, skills and talents on why they ought to be Singaporeans. The same would also apply to your folks. In the Aged Parent PR application, there are many ways to build a stronger submission, including the following:
1. Familiarise Yourself with the Application Process
Time is of the essence when it comes to the filing of application via the e-PR system. Applicants only have a strict time limit of 168 hours (seven days) to complete and submit the various forms and documents after starting their e-application. That is why it is important to look through the list of documents required for Singapore PR before you begin. Familiarising yourself with the applying of PR process would reduce the likelihood of having to scramble for old documents, making needless mistakes or risk having to redo the submissions from scratch. Preparation is key when it comes to building a strong application for your folks.
2. Provide All the Necessary Documents
It goes without saying that all the necessary documents have to be in order or you run the risk of presenting an incomplete application. Below is a list of important records that you must include in your submission according to the Immigration & Checkpoints Authority's website:
Identification documents of the applicant in the form of valid travel documents (passport, identity card, birth certificate, deed poll)
Any employment paperwork if the applicant is currently working in Singapore
Documents of the sponsor (identification documents, highest educational certificates, employment documents and identification documents of siblings, if any)
3. Prove Financial Capabilities
As a sponsor, the onus is also on yourself to prove to the immigration officials that you have adequate financial resources to support your folks in their retirement years. Since your father and mother might no longer be drawing a salary at this stage of life, the financial burden will rest on your shoulders. In the application process, the sponsor is required to show certain measures of their financial capability like their current income or living situation. Doing so allows the immigration officials to get a general idea of how capable you are in providing for your larger family. In the case that you are currently drawing a low salary or are renting a place for personal stay, it would be ideal to wait for a change in circumstances before applying PR for your parents.
4. Integration is Key
How your parents assimilate into the community is another integral factor in their application for Singapore PR. To do so, your folks should do their part to maintain a harmonious society where people of different nationalities and races can live together as one. If your folks have already assimilated into society or can easily do so, they would be more likely to attain PR status. Some suggestions would be to participate in cultural festivities or help out with voluntary work within the community. You may also consider encouraging your parents to learn conversational English to converse with other locals. Understanding our culture and way of life would also be recommended as it would reduce any friction that could arise when misunderstandings eventually happen.
5. Delay Your PR Application
The header might raise a few eyebrows, but hear us out… while now is always a good time than later to start acquiring PR for your parents, it might be wise to temporarily hold off the PR application for a few months or a year if your folks have only just arrived in the country. Give your parents as much time as they need to settle into the way of life here and decide if this city is a comfortable enough place for them to live in. The process of integration into society takes more time than a month or two — our best advice is to be patient. Moreover, the immigration officers would be more likely to grant PR status to those who have integrated into the community seamlessly. Therefore, instead of moving hastily, use the time to encourage your folks to step outside of their comfort zone and adapt to their new environment.
Why Is It Hard to Get Singapore PR for Aged Parents?
Let's get something straight. The Singapore PR is highly revered by many from the plentiful benefits that Permanent Residents are entitled to. However, according to an article published in the local newspaper TODAY in 2018, the government limited the number of immigrants entering the city-state when the influx of foreigners was a big talking point after the General Election in 2011. In a bid to appease voters, the authorities have implemented stricter criteria for PR applications to ensure that only those who are deserving of the status attain it.
As a result, it is, indeed, tougher to apply for Singapore PR. But fear not, the ICA takes each submission seriously and vets them carefully. If your parents are eligible for PR under this scheme, they should present themselves as a high-functioning and contributing member of the nation through their application.
4 Common Issues When Acquiring Singapore PR for Parents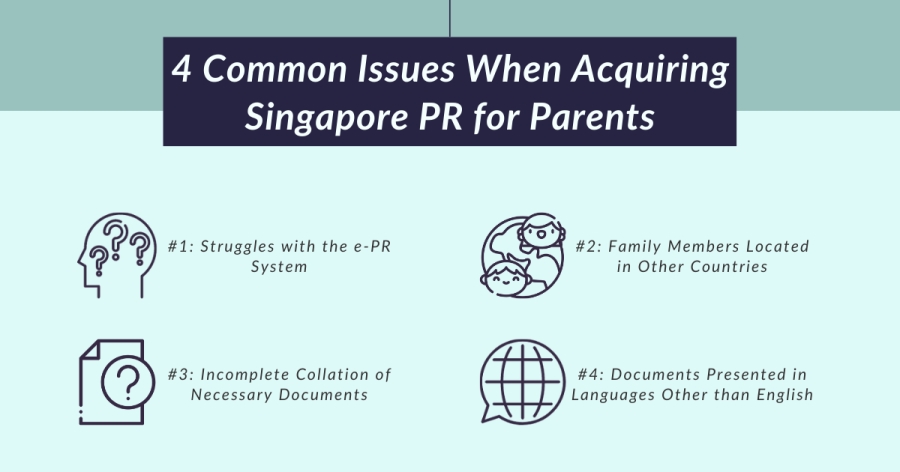 The application process may seem pretty straightforward, but you might find yourself stuck at one point or another. Here are four common problems that you might face when applying for PR on behalf of your folks:
Issue #1: Struggles with the e-PR System
Exploring online portals may seem almost second nature to those in the tech-friendly generation, but some applicants may struggle with the e-PR system. For those who are not comfortable with the use of a mouse or an iPad, the application process may prove to be challenging since the required documents have to be scanned and uploaded onto the portal. If you would rather have this weight lifted off your shoulders, take your documents to an immigration specialist who can help you with the submission from start to finish.
Issue #2: Family Members Located in Other Countries
There is a straightforward reason why immigration officials request that you provide information on your other family members — they need this to make an informed decision. If you have siblings in other countries, the immigration officials believe that your elder folks would be in the presence of family members that can care for them and allow them to live out their retirement years in comfort in their previous home country. Unfortunately, this would mean the chances of your parents acquiring Singapore PR would be lower as you might not be their sole caregiver.
Issue #3: Incomplete Collation of Necessary Documents
Since the application process is done entirely through the e-PR system, you need to ensure that you present the necessary documents flawlessly, according to the requirements set out on the ICA website. From labelling each file to saving in the right format, you will have so many things on your plate that it can feel overwhelming. Moreover, in the case that you do get rejected due to an incomplete collation of documents, the ICA will not reveal the reasons for rejecting your application. Although their decision to withhold their reasons is often subject to criticism, the authorities insist on doing so such that future applicants do not alter their submission to game the system. As such, you would never know if your documents were not in order. To ensure that you leave nothing to chance, read through the document requirements page on the ICA carefully before submission or consult an immigration professional for their expertise.
Issue #4: Documents Presented in Languages Other than English
Depending on their country of origin, your important documents may be presented in a language other than English. According to ICA requirements, you need to have them officially translated into English for it to be looked at by the immigration officers, which can be quite a hassle. Moreover, an important point to note is that not any handwritten translation would suffice. The document needs to be either translated at the local embassy of the document-issuing country or a notary public in Singapore. Otherwise, you could have private translations of these records verified and stamped at the above two authorities. Submission of documents that are in a language outside of English and are not translated would be disregarded.
The Final Word
The promise of living in Singapore as Permanent Residents is an extremely appealing proposition to many elderly parents. In such an elderly-friendly environment, most of their needs in their retirement years — from housing, medical to lifelong learning — would be taken care of. Nevertheless, avoid getting ahead of yourself by taking things one step at a time. Start by preparing a strong application for your elderly family members.
Worried about how your submission will hold up when the immigration officials scrutinise each and every detail? Take the stress out of your hands by consulting dedicated immigration specialists who will help construct a convincing proposal on behalf of your parents. Immigration policies may change and tighten in accordance to the happenings in parliament each month — it is wise to start ASAP. Speak to the experienced team at Paul Immigrations today!