Despite being a small island, Singapore has proved over the years that she is able to hold her own among other far larger and similarly developed countries on the global stage. The Republic's high-quality education system, as well as advanced medical services and facilities, are the envy of other nations, which is why it is no surprise that many foreigners choose to call this Lion City home.
According to the 2018 Population in Brief report conducted by the Prime Minister's Office Strategy Group Singapore, the Immigration and Checkpoints Authority Singapore (ICA) accepts an estimate of 30,000 new permanent residents (PRs) annually. Most of these PRs are of working age, i.e. 25 to 49 years old.
It is also safe to say that this age group partly consists of individuals who are married and might wish to apply for permanent residency for their spouses too. If you are in this category, you will be glad to know that you can apply for permanent residency in the Lion City for your husband or wife, as long as the both of you meet the eligibility criteria outlined by the ICA (Singapore citizens with foreign spouses can submit a PR application for their partners too.)
However, since there are thousands of applicants per year, making your spouse's application stand out is essential to increase their chances of success. Below, we discuss a number of ways to help you do just that.
Consideration #1:  Apply for a Dependant's Pass First
In Singapore, holders of the Employment Pass or S Pass are able to bring their spouse and children into the country by applying for the Dependant's Pass. This allows the family members to stay in the country for a duration of up to two years, as long as the main work pass remains valid.
If you are planning to apply for Singapore PR for your husband or wife in the future, opting for this pass might be a good idea. If your spouse's application is successful, they will be allowed to stay in the country for a maximum of two years, which highlights their commitment to remain in the Republic for a longer period of time.
In addition, your husband or wife will be able to work in the Lion City should they find an employment opportunity. This also sheds a good light on your partner as it shows that they are self-sufficient and have a willingness to contribute to the country's economy, making them an asset to the Republic. Thus, this might increase their chances of being granted PR status.
Below, we will discuss this option in greater detail.
1. Who is Eligible for the Dependant's Pass?
First and foremost, you will need to be holding a valid Employment Pass or S Pass for the Dependant's Pass to remain valid. In addition, you will need to be earning a minimum fixed monthly income of $6,000 and be sponsored by an established, Singapore-registered company. If you meet all of these requirements, this option will be made available for your legally married spouse or unmarried children (including legally adopted children) below 21 years of age.
2. How Long can a Dependant's Pass Holder Stay in Singapore?
The Dependant's Pass is valid for a maximum of two years, as long as the main work pass remains valid.
3. Who Has to Submit an Application for the Dependant's Pass?
Your employer or employment agent has to apply on your spouse's behalf.
4. Is this Option Still Applicable to Your Spouse if You are an EntrePass Holder?
In this case, this option is available for your common-law or legally married spouse if you meet the following requirements: (i) your total annual business spending is a minimum of $100,000, and (ii) you have three LQS (Local Qualifying Salary) employees, or one local PME (professional, manager or executive).
Consideration #2: Secure a Stable Job in Singapore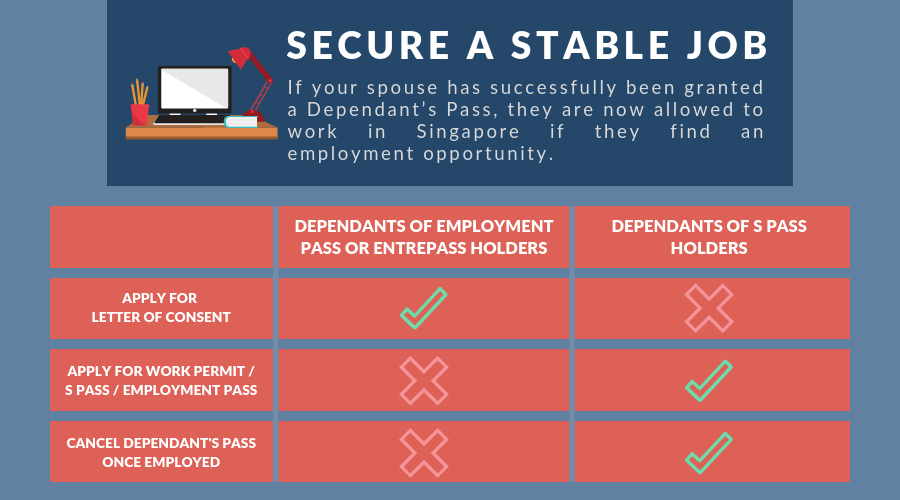 If your husband or wife has been granted a Dependant's Pass, they are now allowed to work in the country if they find a suitable employment opportunity. Ideally, your partner should try and look for stable employment that will allow them to work throughout the duration of their stay in the country. This shows their dedication towards earning a living while staying in Singapore as well as their willingness to build a life here in the future.
There are a couple of things to note if your spouse manages to find employment in this little red dot, all of which we will discuss below.
1. Dependants of Employment Pass or EntrePass Holders
If you hold either of these two passes, your spouse's employer or employment agent has to apply for a Letter of Consent (LOC). Without this LOC being granted to the employer, your husband or wife would not be able to start work. Do note that additional documents are required in the LOC application for certain professions such as lawyers, healthcare professionals, and those working in food establishments.
2. Dependants of S Pass Holders
In this case, your spouse will have to apply for a Work Permit, S Pass, or Employment Pass if they meet the respective eligibility criteria. If they are granted a Work Permit, the validity period of their Work Permit will depend on that of your S Pass. However, if your husband or wife is granted an Employment Pass or S Pass, they will no longer be on the Dependant's Pass and would be required to cancel it.
Consideration #3: Integrate into the Local Community
Being a nation made up of people from different races and religions, the ability to respect and live in harmony with those who come from different backgrounds is essential in this small city-state. Therefore, as a foreigner, your partner's efforts to integrate into the local community might considerably increase their chances of being granted PR in Singapore.
This can be done through:
Joining an expatriate association of your spouse's respective home country
Volunteering for charities or non-profit organisations
Taking part in community activities in your neighbourhood
Activities like these display your partner's desire to understand the culture of this city and their inclination to bridge the gap between themselves and the local community.
Below, we will discuss in greater detail how your other half can take part in these activities to help them integrate.
1. Joining an Expatriate Association
Staying in a foreign place can be a daunting experience, especially if its culture is entirely different from that of your home country. This can also make integrating into the local community that much harder. To ease your spouse's stay in the Lion City, have them join an expatriate association of their home country. Having a strong network of people who have gone or are going through the same experiences of being an expatriate in this little red dot will provide your other half with some relief and comfort while being in a new place. Furthermore, these associations will be able to help your partner connect to the local community more easily through workshops and events.
2. Volunteer for Charities or Non-Profit Organisations
Taking part in volunteering activities in charities or non-profit organisations in Singapore is a good way for your spouse to get to know the local community while simultaneously lending a helping hand to those in need. Some of the charities and non-profit organisations who are always looking for volunteers include the Children's Cancer Foundation, SPCA (Society for the Prevention of Cruelty to Animals) Singapore, and MINDS (Movement for the Intellectually Disabled of Singapore).
3. Take Part in Activities Organised by the Local Neighbourhood
What better way to connect with the locals in this tropical city-state than by getting involved in the activities organised by your local neighbourhood? The Residents' Committees (RCs) of your respective neighbourhood often holds different types of events and activities as a way for residents to bond and get to know one another. As a foreigner, this is a good opportunity for your spouse to mingle with the locals, which might help them integrate into the Singaporean society more easily. This proves your partner's willingness to assimilate, which might increase the success rate of their PR application being accepted.
Consideration #4: Apply for Singapore PR for Your Child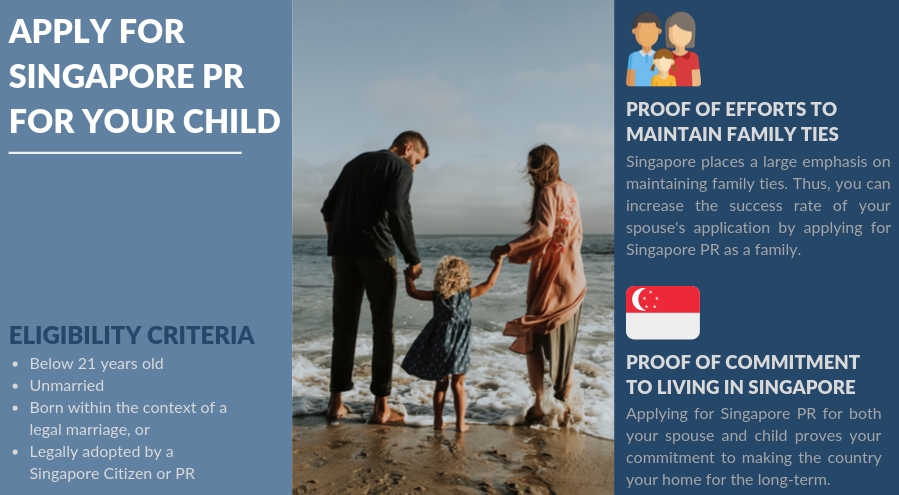 A healthy family nucleus is central to Singapore's society as it contributes to the security and strength of the nation. Therefore, if you and your spouse have children who are non-citizens of Singapore, consider applying for PR status for your child as well. This is possible if they meet the following requirements set by the ICA:
Below 21 years old, unmarried
Born within the context of a legal marriage, or
Legally adopted by a Singapore citizen or PR
By applying for Singapore PR for your child, it might significantly improve your partner's chances of being granted PR status in the country. Here are the reasons why:
1. Proof of Efforts to Maintain Family Ties
As we have mentioned above, Singapore places a heavy emphasis on happy and healthy families, and that includes the maintaining of family ties. Thus, the Singapore government is hoping to keep families together as much as possible so that families living in the country remain tight-knit and stable. In the case of PRs who wish to apply for Singapore PR for their spouses, they can increase the success rate of their application by applying for permanent residency for their child too.
2. Proof of Commitment to Living in Singapore for the Long-Term
Applying for permanent residency in Singapore for your child(ren) in addition to your husband or wife, proves your commitment towards making the Republic your home for the long-term. It shows your interest in truly contributing to the Republic and becoming a beneficial resident of the country. Therefore, this might increase the success rate of your partner's PR application.
Consideration #5: Include Supporting Documents in Your Spouse's Application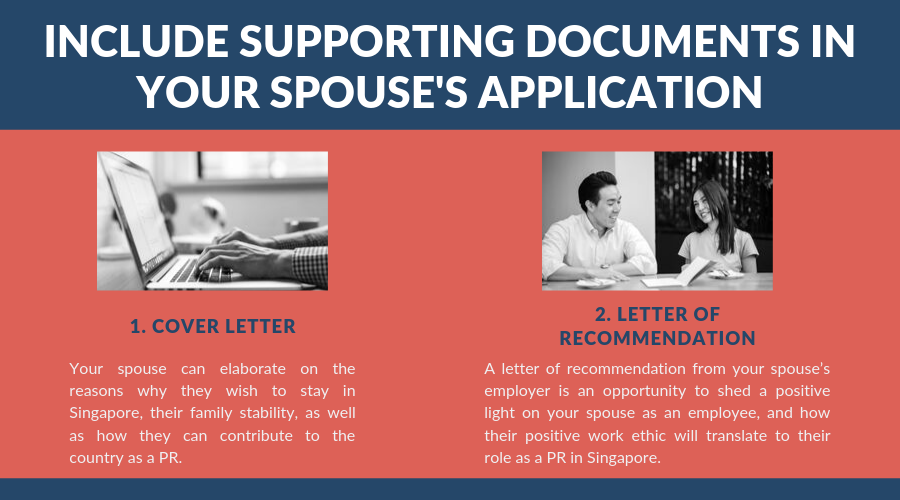 When preparing the PR application for your husband or wife, there are certain documents ICA will require you to submit such as your spouse's birth certificate, highest educational certificates, as well as their payslips for the last six months (if your husband or wife is employed). These documents have to be included in your partner's application, and any missing documents may risk your application.
However, since every applicant will be submitting the same set of required documents, this can make it harder for your spouse's application to stand out from the rest. Therefore, apart from including the necessary documents required by ICA, supplement your partner's application with additional supporting documents. This extra step might help increase the chances of your husband or wife being granted PR status. A couple of examples of supporting documents your husband or wife can include in their application are:
1. Cover Letter
Writing a cover letter is a way for your husband or wife to provide more information on why their PR application should be accepted. In the cover letter, your other half can elaborate on the reasons why they wish to stay in this city, their family stability, as well as how they can contribute to the country as a PR.
2. Letter of Recommendation from Your Spouse's Employer
If your husband or wife finds employment while staying in the country and have been working in the same company for at least six months, consider having your spouse's employer write a letter of recommendation. A letter of recommendation from your partner's employer is an opportunity to shed a positive light on your other half as an employee, and how their positive work ethic will translate to their role as a PR in the Republic.
The Takeaway
The process of preparing the application for permanent residency in the Republic can be tedious and time-consuming. If you are unsure of any part of the application process or wish to have another set of eyes to review your partner's application, engage an immigration consultant such as those from Paul Immigrations. The specialists from Paul Immigrations will guide and advise you on every step of the process, ensuring your partner's application is in tip-top shape and increasing their chances of being granted permanent residency in the Lion City.