From the outside looking in, Singapore has been described as a world-class nation with a forward-moving infrastructure that prioritises the well-being of her citizens and residents. The stats back it up as well. Our city-state has frequently topped rankings as one of the best to live in, attributed to the government's emphasis on a structure based on meritocracy. As a result, the education, healthcare and businesses in the city have been built from the ground up into the reputable system that it is now. No surprises, then, that our country has seen many foreigners vying to make the switch to make her their new home by applying to be a Permanent Resident (PR).
To set the record straight, there is no way for a Permanent Resident application to be fast-tracked simply because there is a strict step-by-step methodology that the immigration officers take to properly examine your documentation and grant approval. Unlike other government authorities around the world that provide priority processing for an additional fee, the Singapore Immigration & Checkpoints Authority (ICA) has never allowed such a service.
However, what you can do to "fast-track" your Permanent Resident application would be to ensure that all your documentation is in order to allow for efficient and effective approval. Read on to uncover five tips that would keep the processing time to a minimum and help you receive approval in the quickest time possible.
Fast-Track Tip #1: Applying Under the Right Singapore PR Scheme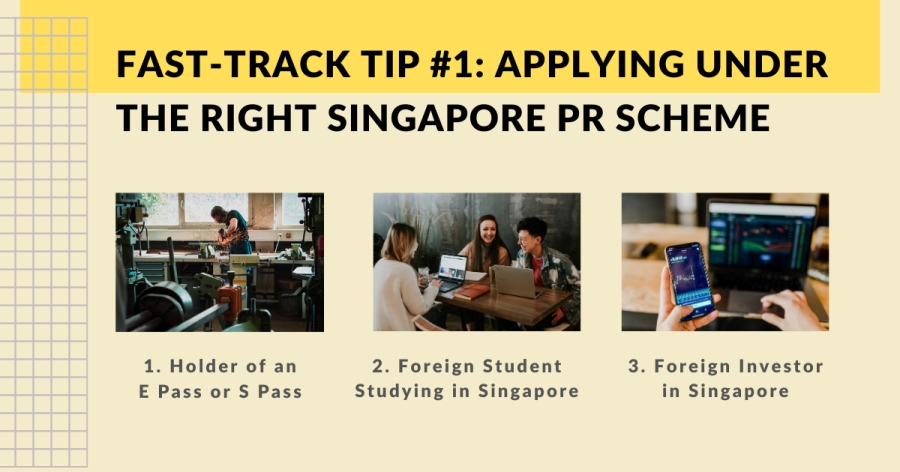 There are different schemes that one can consider when applying for PR, whether it is for yourself or for a dependant like a spouse, a child or an aged parent. However, understanding what is written on the website could bring more questions than answers at times. If you intend to apply for SPR yourself, you are eligible for it if you fit into one of these three categories:
1. Holder of an Employment Pass or S Pass
Employment Pass or S Pass holders can apply for PR under the Professionals, Technical Personnel and Skilled Workers (PTS) Scheme. This scheme has been put into place to allow the government to retain foreign talents who help support the country's economy. Besides the two aforementioned passes, you may also be eligible under this group if you are currently a holder of an Entrepreneur Pass (EntrePass) or Personalised Employment Pass (PEP) and are still gainfully employed in Singapore at the time of submission.
2. Foreign Student Studying in Singapore
Foreign students studying on local shores are eligible to apply for SPR as long as they have resided in the country for at least two years before the date of submission and passed at least one national exams, such as the Primary School Leaving Examination (PSLE) or General Certificate of Education  (GCE) 'N'/'O'/'A' levels. The only exception for student applicants who have yet to pass any national exam would be those who are in the Integrated Programme (IP) where students are permitted to skip the GCE 'O' level examination to sit for the GCE 'A' levels straightaway. It is worth noting that an article published in TODAY newspaper in 2018 has mentioned that around 82% of foreign students were successful in obtaining their SPR. If you are eligible for PR this way, apply now rather than wait until you have secured employment as an adult to apply via the PTS scheme.
3. Foreign Investor in Singapore
Foreign investors who are keen to invest at least S$2.5 million in Singapore's economy should apply for PR under the Global Investor Programme (GIP).  This scheme has been conceived by The Ministry of Manpower (MOM) and the Economic Development Board, with the primary purpose of attracting foreign investors who are willing to start new businesses in our city-state or pour investments into existing Singapore-based companies. In doing so, they would be able to obtain Permanent Resident status. However, to do so, they would have to meet the prerequisites for the GIP programme by having a strong and successful entrepreneurial background and a strong business track record. Only opt for this scheme if you have both the financial means and capability.
Fast-Track Tip #2: Compile All Documents Beforehand
Upon understanding the different SPR schemes and narrowing them all down to the one that you will be applying under, the next step would be to compile the documents that are needed. Each scheme comes with its list of documents required for Singapore PR, and it would be wise to visit ICA's website to refer to it as a checklist. Compiling all the documents needed in your application would be preferable since there is a validity period of seven days before your incomplete application is removed by the system. Failure to do so may delay the process even further.
You should also ensure that your documents meet the following basic guidelines beforehand:
JPEG or PNG format
File size of under 2MB
Doing so would enable you to upload every document to the e-PR system without any issues at all. However, when attempting to keep each file size and format within these requirements, take the time to verify that the document's contents remain legible. Having to speed through this is a surefire way to delay the approval process since the immigration officers would have to take extra time and effort to process your submission if they are unable to refer to your supporting documents efficiently.
Fast-Track Tip #3: Maintain Accuracy in Your PR Application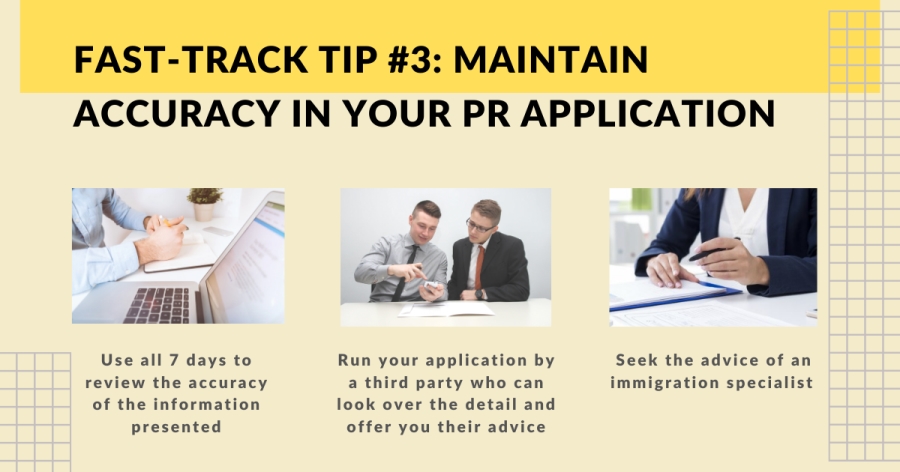 As mentioned earlier, a countdown of seven days begins the moment you start on your PR application. Unfortunately, there is no do-over and you would have to start from scratch once it expires. To keep these mistakes down to a minimum,
Use all seven days to review the accuracy of the information presented instead of submitting your application hastily.
If you can, run it by a willing third party who can look over the details inserted and offer you their unbiased thoughts.
Seek the advice of an immigration specialist who can look over your entire application and flag any details that may weaken your chances while including your strengths and talents in the submission.
Fast-Track Tip #4: Understand that the Wait Can Be Lengthy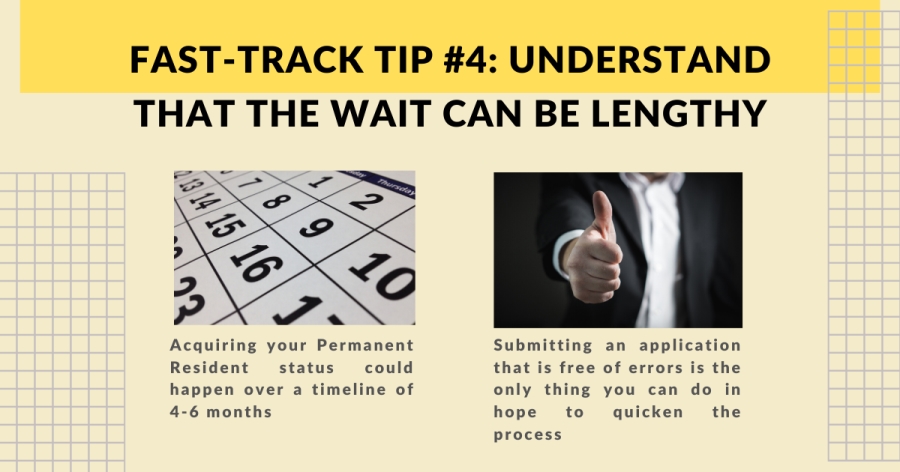 Let it be known that the time taken to acquire your Permanent Resident status could happen over a timeline of a few months. You might assume that your submission would only take less than an hour for one to look through from start to finish. However, the Immigration & Checkpoints Authority (ICA) receives thousands of submissions each month, and the process of narrowing down the best applicants can extend the time needed to assess all of them.
For those hoping to find a way to acquire their SPR urgently, there are no two ways around this. The only improvement you could make on your side is to submit an application that is free of errors and can be assessed with ease by the immigration officers. Once the submission is done, sit back and be patient in the wait.
If you find yourself worrying about the outcome, understand that the estimated wait time for approval is four to six months, with the additional time needed to tackle tricky applications.
Fast-Track Tip #5: Seek Help With Your Singapore PR Application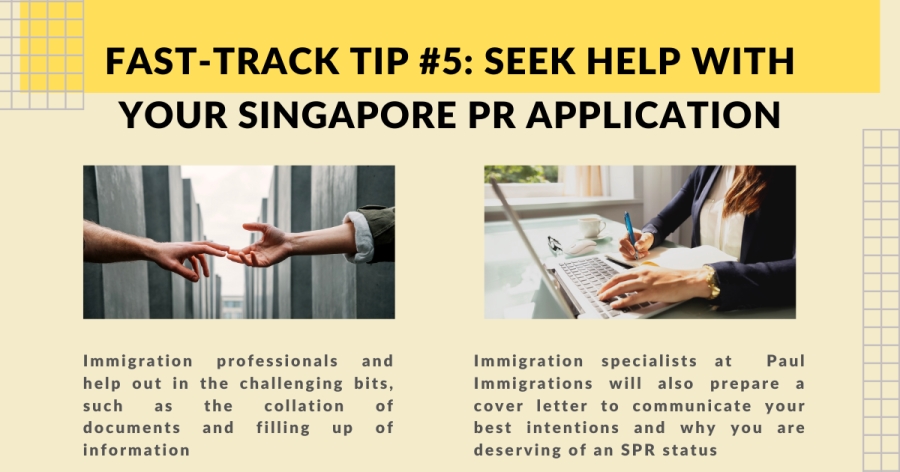 At times, reaching out for professional advice might just be the best investment you could make to prolong your stay in the Lion City and eventually make this place your forever home. This would make sense if you foresee yourself having issues throughout the application process. By engaging the services of immigration professionals, you can breathe easy since the challenging bits, such as the collation of documents and filling up of information, would be fully taken care of.
At elite immigration companies like Paul Immigrations, the immigration specialists may offer to write a cover letter to communicate your best intentions and why you are deserving of an SPR. This is usually done through an interview where the expert writers would unearth information like your contributions to the country and write them into a convincing cover letter for the immigration officers to read. While this is not mandatory, the inclusion of a cover letter can persuade the officers that you can be an asset to the country and sway their decision.
4 Factors That Contribute to the Success of Your SPR Application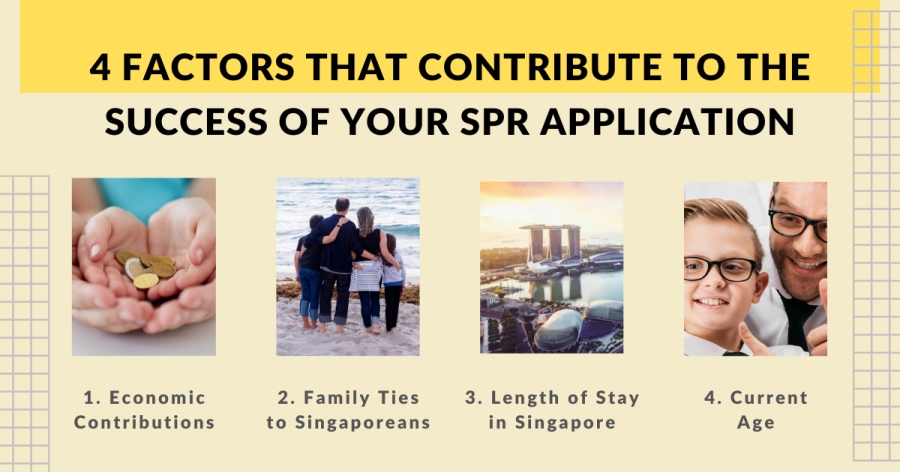 Aside from the SPR requirements written out on the ICA's website, there are other factors that the immigration officers would take into consideration when granting PR approvals. This would include factors like an individual's family ties to Singaporeans, contributions to the economy, one's age, the educational qualification one has, the length of time one has resided in the country, and one's family profile. While they would all have an impact on your chances of approval, the four most important factors are:
1. Economic Contributions
Singapore does not have access to natural resources, like coal or oil — its biggest resource is its people. That is why the government encourages Singaporeans to upgrade their skills and introduces foreign talents that would help boost the local economy and maintain the country's reputation as a bustling business hub. This would work the same for those considering to apply for Singapore PR. The immigration officers would look at their economic contributions to determine whether they would be an asset to the country. In addition to this, applicants who are skilled in industries that are in high demand will be at an advantage. As of 2019, industries such as Information Technology, Engineering and Health Services are in high demand, and that could motivate the approval decision.
2. Family Ties to Singaporeans
Having a family member(s) who is a Singapore Citizen or PR would greatly bolster your application since it suggests a desire to plant your roots in the country with your family. The government's stance is always aimed at retaining one's family nucleus — having families stay together would be in their best interest since it retains happy citizens and permanent residents. This factor would be more applicable to those who are applying as a:
Spouse of an SC/SPR
Child of an SC/SPR
Aged Parent of an SC
3. Length of Stay in Singapore
One's length of residence is also taken into consideration when granting the SPR status. Applicants who have resided here for a prolonged period are more likely to have successfully integrated into society, compared to those who have only lived here briefly. This is exceptionally important since Singapore is a multi-racial and multicultural city where people of different nationalities, races and creeds have to live harmoniously with each other. By having lived in Singapore for some time, this would show that the applicant has successfully gotten used to the way of life here, and that would reduce the likelihood of friction with the rest of the community.
4. Current Age
It might raise a few eyebrows, but there is a valid reason for why one's age is a consideration in granting one's SPR application. In the case of older applicants, they might find themselves at a slight disadvantage since the city has an ageing population — the cost of subsidised healthcare for the swelling number of elderly Singaporeans could put a strain on the city's resources. On the opposite end of the spectrum, younger applicants might find the Permanent Resident status difficult to attain since they lack years of experience. However, if they do have skills and qualifications, that should be less of an issue since they could always show these qualities with the supplement of these documentations and a well-written cover letter.
Final Note
Living in Singapore permanently doesn't just have to be a pipe dream. The best advice would be to apply for your SPR as soon as you can before stricter immigration policies are implemented. By considering the above tips, your PR application process should be hitchless. It may not be a necessity, but we recommend working with an established immigration consultancy like Paul Immigrations. Our experienced immigration specialists can advise you on an appropriate route for you, help build a strong case in your application and assist in the complete compilation of your additional documents. This would then increase the chances of approval and take you one step closer to realising your dreams of living here for the long term.