Singapore's reputation on the international stage as a cosmopolitan city-state, with a high standard of living, state-of-the-art medical facilities and services, as well as, an internationally acclaimed education system, has made her a coveted place for foreigners to call home. Over the years, the number of permanent residents in the Republic stands at over half a million, according to the 2018 Population in Brief report published by population.sg.
Keen on making this Lion City your home for the long-haul and join these 500,000 Singapore Permanent Residents? First, you would have to submit a strong PR application before you would be granted approval. Find out more about how you can do so with an eligibility check and these tips that would increase your chances of success in your submission.
Are You Eligible to Apply for Singapore PR?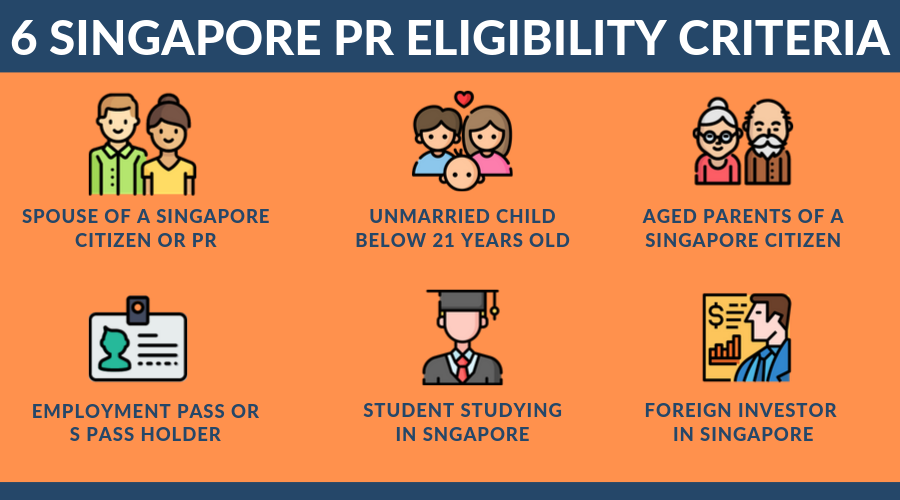 Before applying for permanent residency in Singapore, do make sure you meet the eligibility criteria outlined by the Immigration & Checkpoints Authority (ICA). If you fall under one of the categories below, you are eligible to apply for permanent residency:
Spouse of a Singapore citizen or permanent resident
Unmarried child below 21 years old who was born within the context of a legal marriage or have been legally adopted by a Singapore citizen or permanent resident
Aged parent of a Singapore citizen
Employment Pass or S Pass Holder
Student studying in Singapore
Foreign investor in Singapore
5 Tips on Submitting a Strong Singapore PR Application Form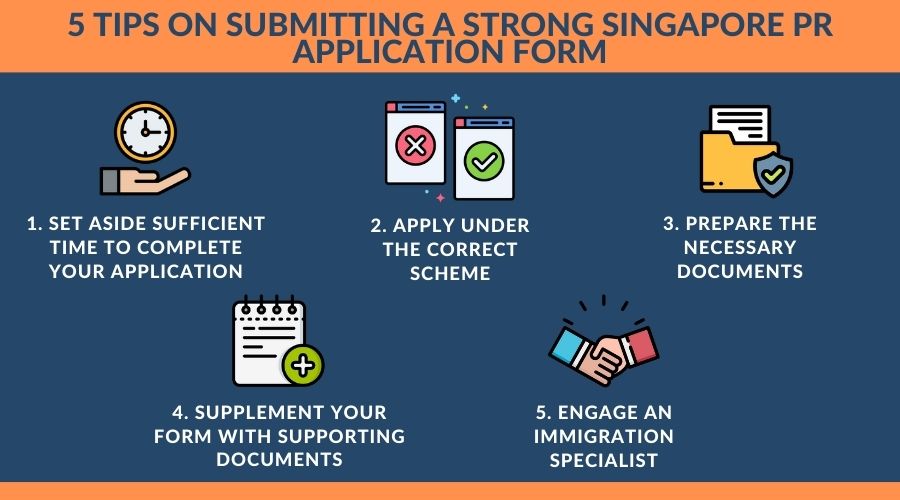 The Singapore permanent resident application process can be a tedious one, mainly due to the various paperwork involved. It is important to ensure that all of the necessary documents requested by ICA are intact or it may automatically disqualify your application, rendering the time spent on it a waste.
At any given time, there are thousands of foreigners who are applying for PR status at the same time as you are. Therefore, you need to ensure that you do all that is in your power to submit a complete application that puts you on equal footing with the other applicants.
In this article, we will discuss five practical tips you can adopt to elevate your submission. They are as such:
Set aside sufficient time to complete your application
Apply under the correct scheme
Prepare the necessary documents
Supplement your form with supporting documents (i.e. cover letter)
Engage an immigration specialist
Set Aside Sufficient Time to Complete Your Application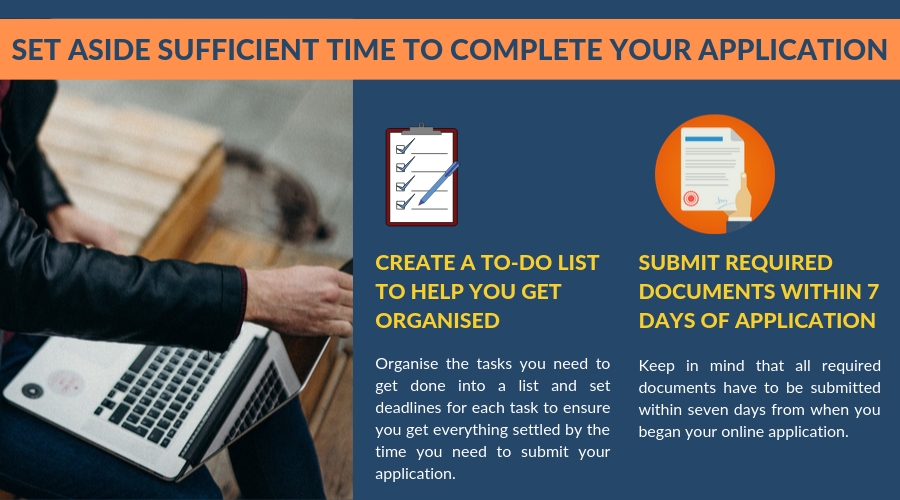 The process of applying to be a PR in the country is an important one for anyone wishing to make this little red dot home. Any mistakes or missing information will cause the application to be rejected. Since the results are often only released half a year later, it could be months after till you can submit an appeal or a complete application. Hence, it would be wise to give yourself enough time to get all the information sorted before submitting your strongest application. Heed these tips to do so:
1. Create a To-Do List
To get the most out of the time you have set aside to complete your application, organise the tasks you need to complete within a To-do list. Set deadlines for each task to make sure you get everything settled before your date of submission arrives. If need be, set reminders on your phone to help you stay on track. This would prevent the mad rush that happens when time is running out and you are nowhere near done.
2. Submit Required Documents Within Seven Days of Application
As of now, all applications to gain PR status in the Republic are done through the e-PR portal via the ICA website. This means you will need to submit your application form online as well as upload your documents — those required by ICA and additional supporting ones — to the portal. It would be best to submit all of the required paperwork in one go to avoid any back and forth. Gather all the necessary documents and scan them onto your desktop before proceeding. However, if you do miss out on a document during the submission process, keep in mind that all documents have to be submitted within seven days from the moment you start your online application.
Ensure You Apply Under the Correct Scheme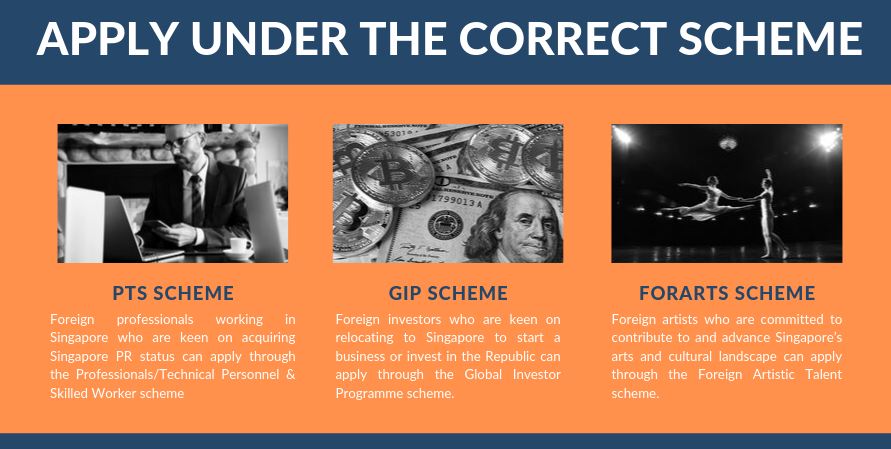 There are different schemes that one can apply to acquire permanent residency. However, each scheme has its own unique criteria. Before applying, it would be best for you to understand the different ones to identify which would be the most suitable for your current circumstances and check if you meet the eligibility criteria.
Currently, there are three PR schemes available:
Professionals/Technical Personnel & Skilled Worker Scheme (PTS)
Global Investor Programme Scheme (GIP)
Foreign Artistic Talent Scheme (ForArts)
1. Professionals/Technical Personnel & Skilled Worker Scheme
Foreign professionals working in Singapore who are keen on acquiring PR status can apply under the Professionals/Technical Personnel & Skilled Worker (PTS) scheme. This is by far the most common as well as the easiest route towards gaining PR status in the little red dot. This scheme is also applicable to the applicant's spouse and any unwedded children under 21 years of age. To be eligible for the PTS scheme, you have to fulfil the following criteria:
Have worked in Singapore for at least six months
Must be employed and working in Singapore at the time of submission
Hold a Personalised Employment Pass (PEP), S Pass, Entrepreneur Pass (EntrePass), or Employment Pass
2. Global Investor Programme Scheme
The Global Investor Programme scheme, or GIP scheme, is administered by Contact Singapore — a division of the Singapore Economic Development Board. Foreign investors who are keen on relocating to the country to start a business or invest in the Republic can apply through the GIP scheme under one of two options: (i) invest a minimum sum of S$2,500,000 in a new business entity or in the expansion of an existing business operation, or (ii) invest a minimum sum of S$2,500,000 in a GIP fund that backs companies based in Singapore. This scheme is also applicable to the applicant's spouse and unwedded children under 21 years of age. To be eligible for this scheme, you have to fulfil the following criteria:
Have three years or more of entrepreneurial and business track record
Produce your company's audited financial statements by an accredited audit firm for the last three years
Your company's turnover in the year immediately before your application has to be a minimum of S$50 million, and at least S$50 million per year on average for the last three years
You must own a minimum 30 percent stake in the company if it is privately-owned
3. Foreign Artistic Talent Scheme
The Foreign Artistic Talent scheme, or the ForArts scheme, is an initiative between the National Arts Council and ICA. Foreign artists who are committed to contributing to and advancing the Republic's arts and cultural landscape (i.e. in the field of Performing Arts, Visual Arts, Literary Arts, Design and/or Media) can apply through the ForArts scheme if they meet the following requirements:
Have relevant training/education in their respective field
Have relevant professional experience as well as outstanding achievements in their field
Able to contribute significantly to Singapore's arts and cultural landscape
Have firms plans set in stone to be a part of Singapore's arts and cultural scene
Prepare the Necessary Documents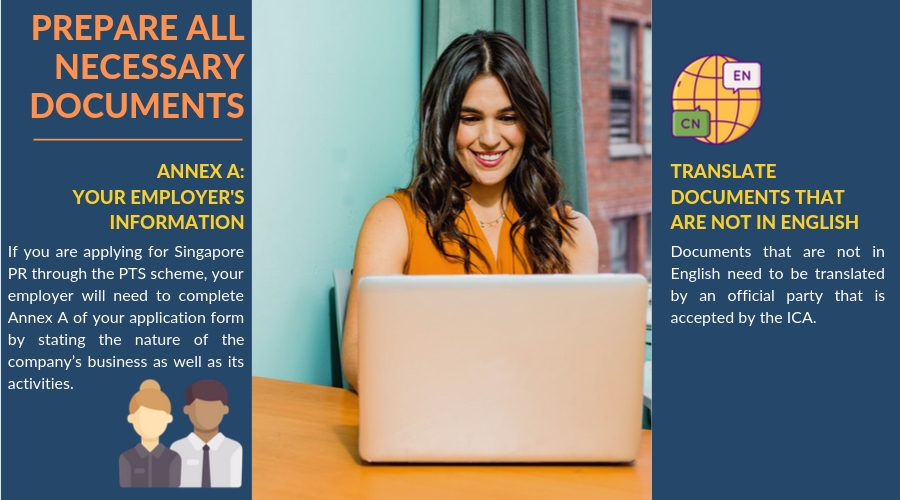 Apart from the application form, there are various other documents you will need to include when you apply for Singapore PR through the e-PR online portal. In addition, if you are planning to apply for PR for your spouse and/or children, you will be required to provide their information as well. Some of the compulsory documents you will need to provide to ICA include:
Valid travel document and passport pages displaying personal particulars and official descriptions
Identity card, if applicable
Birth certificate
Highest educational certificates (including all tertiary qualifications)
Do note that the above list is not exhaustive — for the full list, refer to ICA's website where you will be able to find a document list for each type of PR application.
Below, we will go into details a few important documents you will need to include.
1. Annex A: Your Employer's Information
If you are applying for PR through the PTS scheme, your employer will need to provide information on their end by completing Annex A of your application form. Your employer will be required to state the nature of the company's business as well as its activities. For instance, if the company is involved in the manufacturing industry, your employer will then have to clarify the type of product(s) manufactured. Your employer will also have to confirm the details of your basic salary. Do take note that completion of Annex A does not imply that your employer is sponsoring your PR application.
2. Translate Documents that aren't in English
If you have documents that are of another language other than English, make sure to get them translated before submitting them to ICA. You will be required to submit scans of both the original documents as well as the translated version when applying through the e-PR portal. Ensure that the translation is performed by an official and certified source approved by the ICA. Translations accepted by ICA include:
Those furnished by the embassy of the country of issue
Those produced by a notary public in Singapore or from country of issue
Privately created translations attested by the embassy of the country of issue, or notarised by a notary public in Singapore or the country of issue
Supplement Your Application Form with Supporting Documents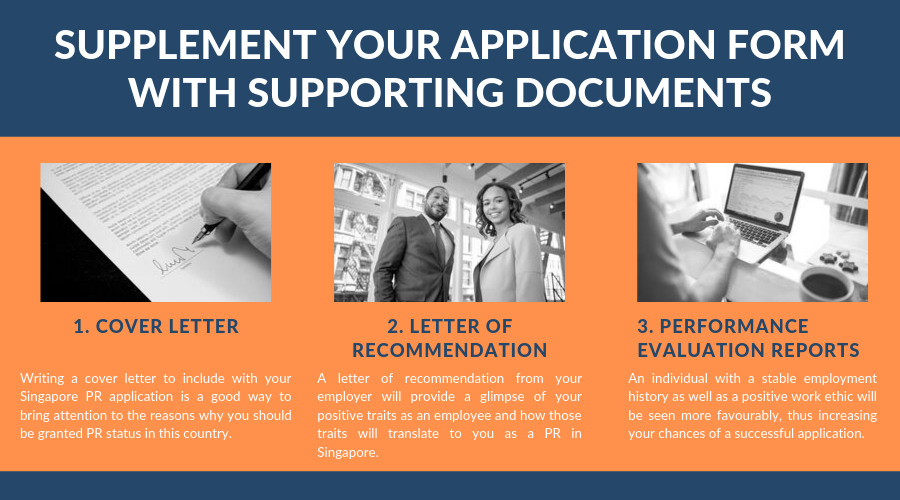 With thousands of applicants hoping to gain PR status in the Lion City each year, it can be hard to try and find that extra factor that will set you apart from everyone else. Each and every applicant will be submitting the same set of required documents, making you just one of the many in this large sea of applicants vying for the PR status.
So, how do you make yourself stand out and increase the chances of you being granted PR status in the Republic?
Well, one thing you can do is by supplementing your application with additional supporting documents. These documents should serve the purpose of shining a positive light on you and your achievements as well as highlighting your potential to contribute to the country in the long-term. Some examples of supporting  documents you can include in your submission are:
1. Cover Letter
Attaching a cover letter alongside your PR application is a good way to highlight the reasons why you should be granted PR status in this country. This is an opportunity for you to highlight how you can be of benefit to the country and how you can contribute to its economy further. Some additional points you can state in your cover letter are:
Your reason for wanting to make Singapore your home
A list of things you love about the country
Your financial stability
Your family situation (if applicable)
A summary of the supporting documents you have submitted
2. Letter of Recommendation from Employer
If you are a foreign professional applying under the PTS scheme, ask for your employer to write you a letter of recommendation to submit with your application. This will provide a glimpse of your positive traits as an employee and display qualities like your good attitude and leadership skills to the immigration officer.
3. Performance Evaluation Reports from Previous Jobs
Similar to the purpose of a letter of recommendation from your current employer, performance evaluation reports from your previous employment can showcase your character as an employee as well as display how important you are to the company and Singapore's progress. An individual with a stable employment history as well as a positive work ethic will be perceived favourably, thus increasing your chances of being granted PR status in the Lion City.
The Takeaway
Applying for the Singapore PR status can be overwhelming for some people, and we truly understand that. If you prefer to have the task taken off your hands, while still increasing your chances of getting an approval at the same time, seek help from professionals like Paul Immigrations.  The immigration specialist will be able to help you:
Review your application
Advise you on how you can increase your rate of success
Navigate through the complex parts of the application process
Improve the content and presentation of your application
Craft a customised cover letter