The specifics of the assessment and decision-making process behind approving new Singapore Permanent Residents (PR) can seem quite the mystery. None has stepped forward from behind the curtain to unveil much, beyond the bare minimum. Even the letters that the Immigration & Checkpoints Authority (ICA) sends to all applicants tell nothing of the reasons for the approval or rejection of any application. Hence, it is not at all uncommon to hear about applicants who are disheartened and confused by the negative outcome of their own attempt.
As secretive as it may be, not everything about the PR application process is out of your hands. There are plenty of achievable ways for you to put your best foot forward — to begin with, here are five tips on applying for Singapore PR.
Tip 1: Consider Applying for PR as a Family Unit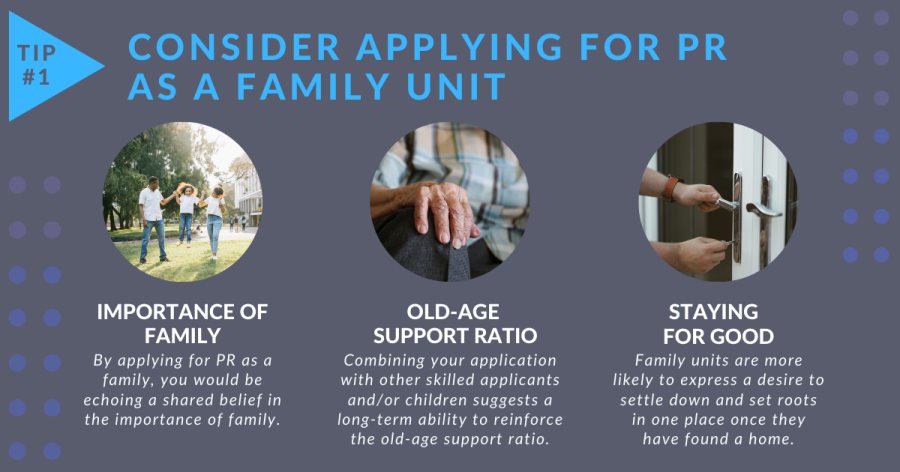 For those of you with family members who have not yet been accorded the PR status, consider applying for it together as a family unit. This is particularly pertinent to PR applicants who fall under the Family Scheme as well as the Professionals, Technical Personnel and Skilled Workers (PTS) Scheme. Whether you are married to a Singaporean or are an Employment Pass holder who intends to settle down here for good, applying for permanent residency as a family unit allows you to combine all your individual strengths into one complete profile. You would then be assessed based on what your entire family has to offer as a whole, rather than as a single individual. Furthermore, this places you at an advantage for the following reasons:
1. Echoing a Shared Belief of the Importance of Family
By applying for PR together, you would be echoing a shared belief in the importance of family — the one facet that has always ranked at the top of the priority list of most Singaporeans. Since 2013, the National Values Assessment survey has consistently found this to be the case, even among the younger generations. It would be helpful to showcase this common belief through your intention to settle down together as a family unit. For instance, if you have any children, consider including them instead of leaving them out. This would show that you place family among the top of your list of priorities too. However, you do need to bear in mind that your sons would have to serve National Service (NS) upon turning 18. Since any attempts to circumvent this legal obligation may affect your freedom to live and work here, this is a decision with pros and cons that you would have to seriously weigh and discuss together beforehand.
2. Reinforcing the Old-Age Support Ratio
Combining your application with other skilled applicants and/or children suggests a long-term ability to reinforce the old-age support ratio. This ratio relates to the number of working adults to the number of elderly who need to depend on others, which has recently been a major subject of concern for the authorities. Where there were once 13.5 working adults to one elderly resident in 1970, research by Singapore's Department of Statistics shows that this has decreased to 5.1 in 2017. By introducing both skilled working adults and children in your application, your entire family will be a positive addition to this ratio, preventing it from decreasing further.
3. Likelihood of Staying for Good
Compared to singles, family units that are headed by adults above the age of 24 are more likely to express a desire to settle down and set roots in one place once they have found a home. This has consistently been reflected in global rankings, including a survey conducted by Gallup in 2011. According to Gallup, approximately 20% of young adults up to 24 years of age wish to migrate to another country. By comparison, this figure declines as the demographic moves above the age of 25, when adults are far more inclined to put down roots for good. Your application would be seen in a much more positive light if you and your spouse fit this profile.
Tip 2: Compile All Documents Required for PR Application in Advance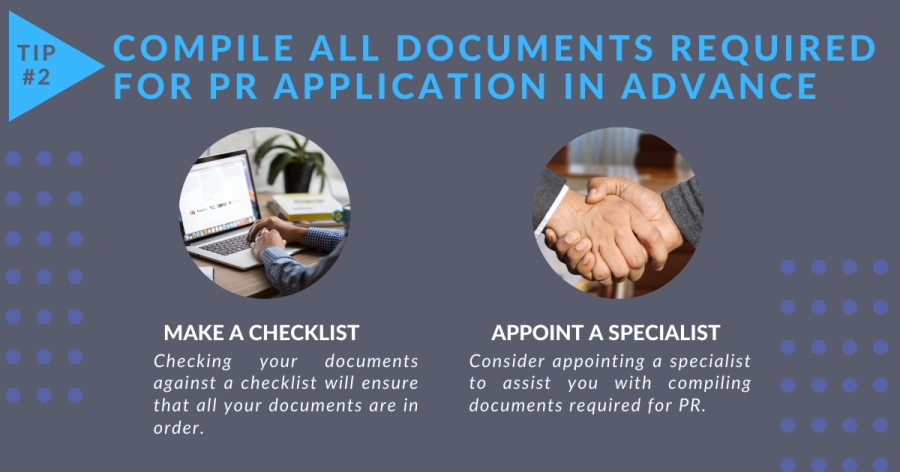 The importance of compiling all documents required when applying for permanent residency in advance cannot be overstated. Since ICA no longer accepts physical submissions, all applications must be submitted online through their e-PR system. However, as efficient as this system may be, it has but one major limitation: it will only grant applicants, such as yourself, a limited time of seven days (168 hours) from the time of application, to upload all the necessary documents. Failure to do so within this stipulated time limit may lead to non-acceptance, and you would have to start from square one. Hence, avoid causing yourself undue stress by ensuring that you have all your documents in order beforehand. Here are a couple of ways for you to manage this effectively:
1. Compare Your Documents Against a Complete Checklist
One of the most effective ways to ensure that your documents are in order is to compare them against a complete checklist. Since a checklist of documents required for PR application varies, depending on the scheme under which an applicant falls, you may take the first step by verifying the eligibility of all applicants beforehand. This would help you pinpoint the checklist of documents that you should be referring to. Once you have done so, you may print out your very own checklist and proceed to tick off paperwork that is ready for submission beforehand.
2. Appoint a Specialist to Assist You With This Process
Alternatively, you may appoint a specialist to assist you with compiling documents required for PR. Considering the number of documents that have been deemed mandatory by the ICA, it may be challenging to collate and organise them. A specialist who is familiar with the process can take this task off your hands so that you would not need to worry about missing anything out — our specialists at Paul Immigrations offer this service for all our clients, too. This is especially recommended for those of you who may not necessarily have the time or energy to sift through all your documents due to tight schedules.
Tip 3: Ensure All Documents Required for PR Application are Correctly Formatted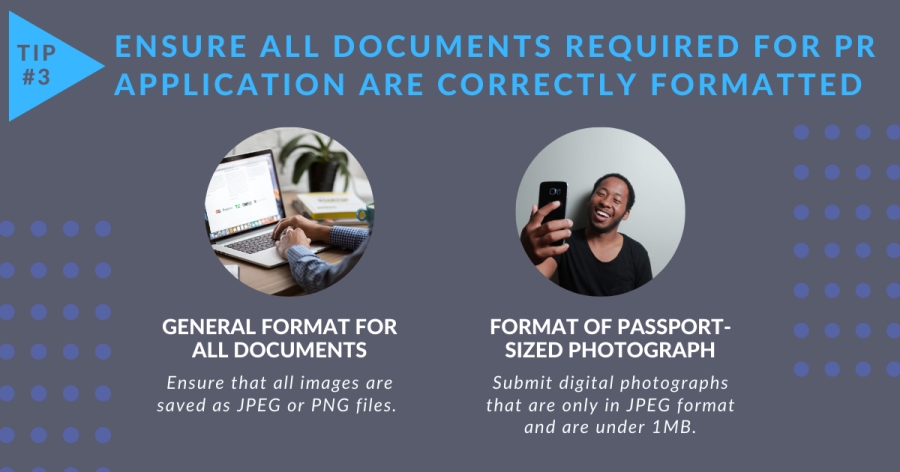 Besides compiling all documents required for PR application beforehand, you should also ensure that they are correctly formatted and ready for online submission. This means that you would have to create digital copies of these documents while adhering to the format requirements that have been set by ICA. If you fail to do so, this may lead to non-acceptance during the submission process. You may refer to the section below for a complete overview of them:
1. General Format for All Documents
Before uploading your documents, first verify that all your images have been saved to your desktop as JPEG or PNG files and are under 2MB. One way to do so is to set your scanner — or any other image-capture device that you are using — such that it saves all your images in the right format from the beginning. That way, you do not have to be obliged to go through the hassle of converting them later on. In addition to this, you may wish to avoid saving any of your scanned documents as PNG files since images that have been saved in this format tend to be larger. Instead, opt for JPEG, which is usually smaller due to image compression. However, it is nevertheless important that the print in your scanned document remains legible to allow the ICA officers to examine its contents. Do not compromise too much on quality.
2. Correct Format of Passport-Sized Photograph
While the rest of your documents may be larger in size, the format requirements of a PR applicant's passport-sized photograph are slightly different. ICA specifically requires digital photographs that are only in JPG or JPEG format and are under 1MB.
Tip 4: Fill in the Online PR Application Accurately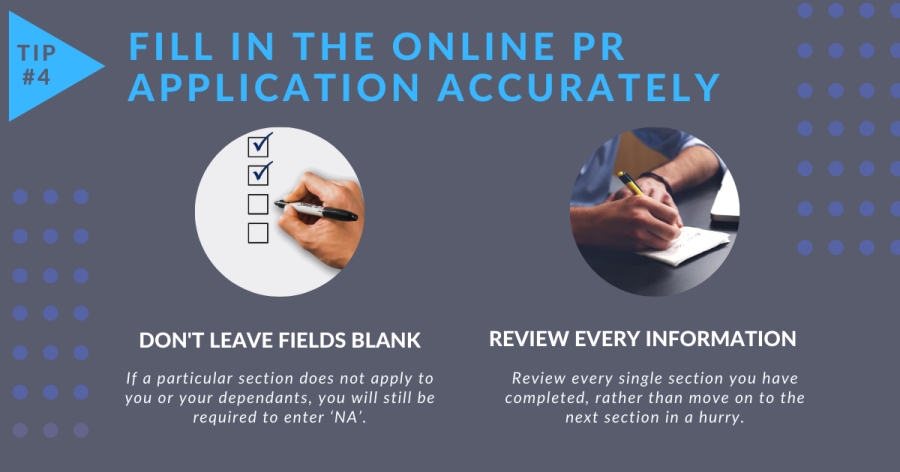 Most critically, be sure to fill in the online PR application accurately from start to finish. This is where you can never afford to slip up since the initial stages of the e-PR system is set up as such that your responses will determine the direction of your application. Although the system has eliminated chances of making mistakes in written form, errors are still bound to occur if you are not careful. Therefore, heed the following when moving on to this part of the process:
1. Never Leave Any Fields Blank
Under no circumstances should you leave any fields in the e-PR system blank. If a particular section does not apply to you or your dependants, you will still be required to enter 'NA'. A similar rule applies to the section of the online application where you are required to upload supporting documents. In cases where you opt to forgo documents that are optional, such as an identity card for applicants who are not required to register for one, type 'NA' under the 'Optional' field. However, if the document is mandatory, you are expected to provide a valid reason for leaving it out. ICA recommends that you check the option 'I do not have the document' in the system and provide the reason in the subsequent field that is labelled as 'Reason'.
2. Review Every Information that You Have Provided
At a couple of junctures of the online application, the e-PR system will grant you the option of returning to previous sections in order to review the information you have provided. Take this opportunity to review every single section you have completed, rather than move on to the next section in a hurry. Even the slightest of errors can affect the outcome of your application, and you would have to wait before making another attempt. In addition to this, you should print out a copy of your completed application for your own reference before logging out of the system. This way, you would be able to keep track of the details of your application, and notify ICA if there have been any significant changes to your life that could influence your chances positively.
Tip 5: Avoid Rushing to Re-Apply After Receiving a Rejection Letter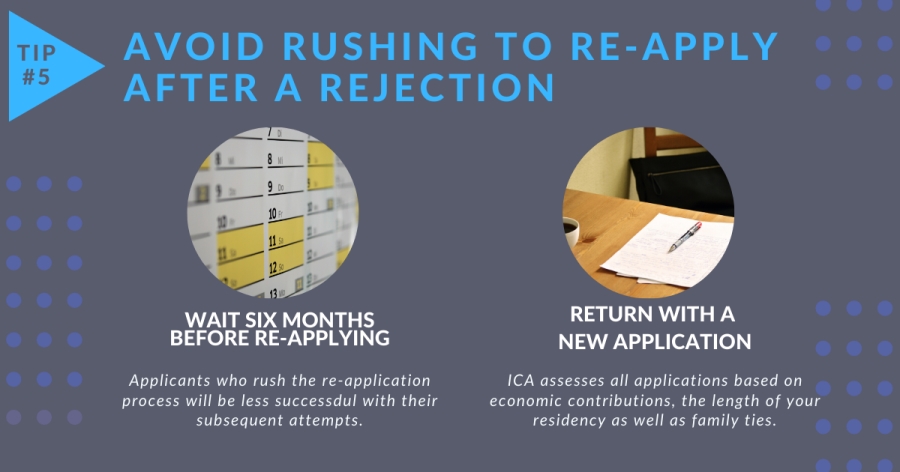 The Singapore PR application process can cause many to feel the urge to rush and push through with a subsequent attempt after receiving a rejection letter. After all, for those with long-term plans to remain here for the foreseeable future, the Singapore PR status trumps every other temporary pass that is available to foreigners. This is a status that is second only to citizenship in terms of benefits such as lower school fees and career opportunities. However, do take note of the following if you ever find yourself in a bind over when to re-apply:
1. Wait for At Least Six Months Before Re-Applying
If your application has been rejected, cast aside the temptation to appeal or rush headlong into another attempt too soon. Applicants who commit this error are unlikely to find much success with their subsequent attempts. At the end of the day, you are most likely going to end up with a few hundred dollars short and no PR status to speak of. Instead, take ICA's advice and wait for at least six months before starting afresh with a new application.
2. Return With a New Application at a Better Time
Return to the e-PR system with a new application at a better time, especially if there have been significant changes in your life. ICA assesses all applications holistically, granting PR status on the basis of multiple factors such as economic contributions, the length of your residency as well as family ties to Singaporeans. For instance, if you fall under the PTS Scheme, continue to climb the corporate ladder within your company or find greener pastures that offer an even better paycheck in another local enterprise. This would demonstrate the importance of your contributions to the economy over a longer duration, suggesting a much greater likelihood of integrating into society in the long run. The same idea applies to married couples — your spouse is more likely to become a PR if you have children later on, especially when this is paired with a combined income that can support your entire family. Once these changes have occurred, you may proceed anew with another attempt.
The Takeaway
Applying for Singapore PR is a challenging and demanding process that calls for focus and attention to detail. Heed the five tips above and you will be one step closer towards PR status as long as you are eligible for it. Unfortunately, all of this is much easier said than done. Should you have any concerns at all, book an appointment with us and speak to one of our specialists at Paul Immigrations today. With the combination of our expertise and your strengths, you will maximise your chances of attaining the PR status. Remember, take no chances with your PR application — make it count.