2019 marks 200 years of history for Singapore and it has been aptly celebrated with a slew of events to commemorate the nation's bicentennial milestone. The Singapore Bicentennial celebration that took place earlier this year included a new experiential showcase held at the Fort Canning Centre. The showcase traces the stories of Singapore's early settlers and communities. It also included the historical trails featuring historical spots such as Telok Ayer Street with projection installations, as well as augmented reality trails of the Singapore River and Fort Canning Park.
For those who aspire to become a Permanent Resident (PR) or a fellow Singapore Citizen (SC), knowing about the history of the Republic and what it has become is a great way to understand Singapore and truly call this island your home.
Reason #1: A Country with a Unique Identity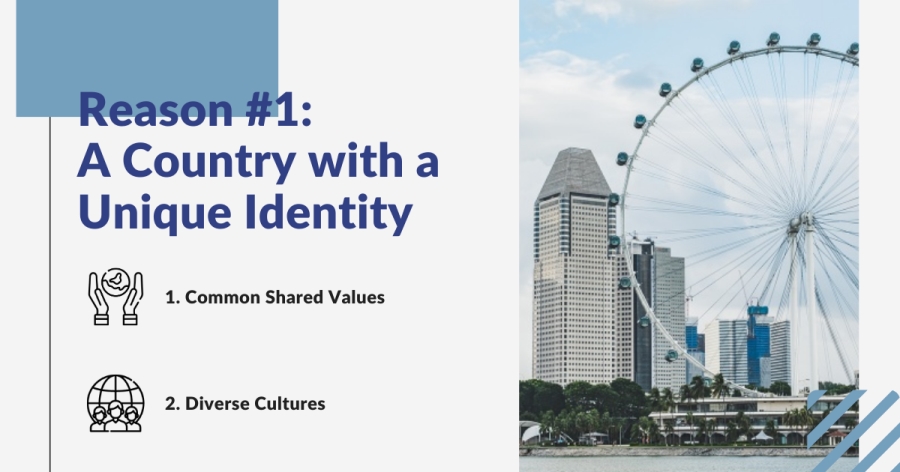 Unlike SG50 celebrations where we revisited and recognised the journey our forefathers took to transform Singapore's "troubled childhood" into today's success story, the Singapore Bicentennial is one where we commemorate how this city-state came to become an independent sovereign state from a history of British colonisation.
While the colonisation by the British has always been an area of contention in certain areas of Singaporean debates, the aim of the Singapore Bicentennial is to provide people with the opportunity to look past our colonial history and reflect on the values that have shaped and is continuing to shape our society.
1. Common Shared Values
The values of openness, self-determination and multiculturalism, as identified by the event organisers are what make many residents love living here. Singapore possesses an identity of its own, made up by its diverse ethnicities and religions coexisting seamlessly in history, conversations, policies, social interactions and even in the local cuisines and landmarks. Both despite and because of this very identity, Singaporeans all share a common point and trait in how we speak, the values we adopt and accept, as well as the embracing of people from various backgrounds.
2. Diverse Cultures
The diversity and good mix of cultures here mean people arriving at our shores, especially Westerners, can adjust and adapt quickly. For the people looking to find their place in Asia, Singapore is both a great starting point and destination in the physical and cultural perspectives. With deep influential ties and shared history with the West (especially with the British), you can find Buddhist temples right next door to British-inspired shophouses, mosques alongside burger joints and even prawn noodle shops that transform into craft beer bars at night.
Reason #2: World-Class Financial and Technology Hub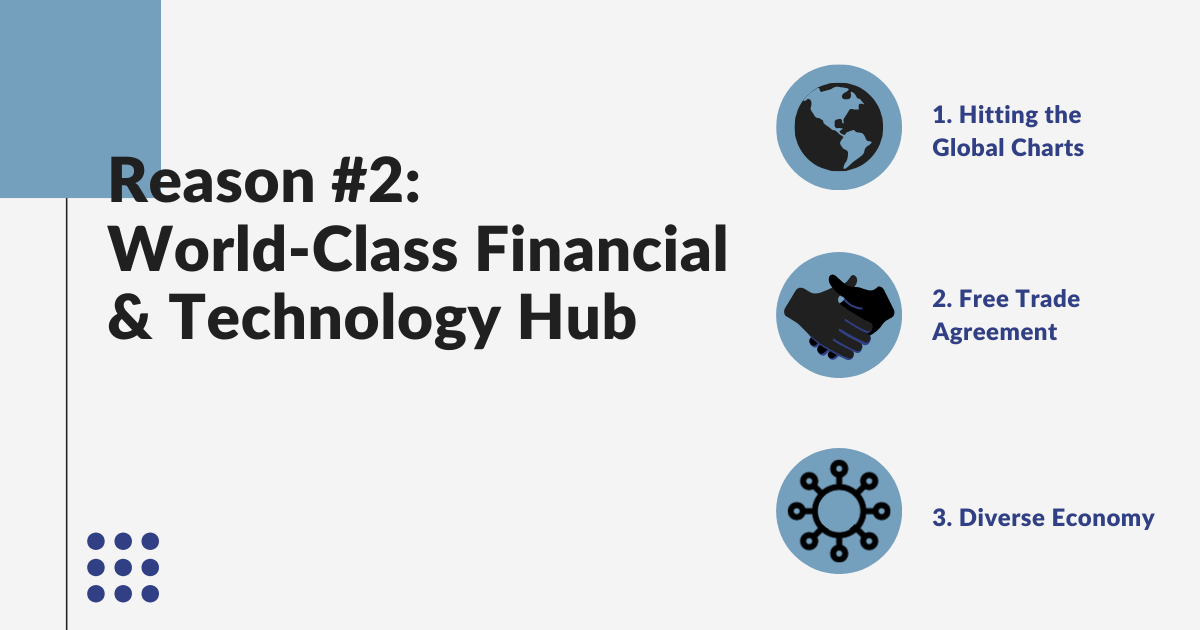 What started as a fishing village 200 years ago and reflected as a mere tiny red dot on the world map, the city-state of Singapore has changed its tide over the years and morphed itself into a leading world-class financial and technology hub in Asia. Literally a powerhouse of Southeast Asia, Singapore has gone on to become the preferred and chosen destination for global firms aiming to propel themselves into the region's growing markets.
1. Hitting the Global Charts
According to a recent report from the Economic Development Board (EDB) of Singapore, 80 out of the 100 top tech firms in the world not only have operations in this country, but they are also looking to bolster their presence and increase their investments. Not quite surprising, seeing how Singapore came in sixth in the 2017 Bloomberg Innovation global ranking position, just ahead of Japan and the United States, while China secured 21 positions. In another study conducted by real estate advisory firm Jones Lang LaSalle, Singapore grabbed pole position as the top foreign investment destination for several Chinese tech giants, including Tencent, Baidu and Alibaba.
2. Free Trade Agreement
Do not be fooled by Singapore's tiny market size with a local population of just over five million. To date, this tiny powerhouse of Asia has successfully initiated 22 regional and bilateral Free Trade Agreement (FTA) and has just penned two mega-FTAs including the Comprehensive and Progressive Trans-Pacific Partnership (CPTPP) and the European Union-Singapore Free Trade Agreement (EUSFTA), both of which have great standards for promoting the platform and digital trade economy. These two mega deals essentially opened the doors of all the world's major market players to Singapore-based enterprises. To be eligible for these FTAs, regional value chains must be rerouted to the Lion City, where there exists a critical mass of strategic partners and service providers, as well as a robust supplier of networks.
3. Diverse Economy
It was reported that the government has set aside a sum of $19 billion under the Research, Innovation and Enterprise (RIE) 2020 Plan, which sole purpose is to foster and promote an emphasis on health and biomedical sciences, digital economy and services, advanced manufacturing and engineering, as well as urban, sustainable solutions. These well-funded efforts are set to involve a string of robust collaborative networks, which include leading MNCs, local universities and the rapidly growing ecosystem of business incubators, start-ups and venture capitalists.
Reason #3: Public Housing in Singapore
Singapore's public housing is touted as one of the island-state's crown jewels, alongside our water solutions, best national airline, top-rated airport, urban infrastructures and many more. Our modern housing today can be regarded as having begun with Singapore Improvement Trust (SIT), set-up in 1927 by the then-British colonial government to build affordable housing and carry out improvement works. In 1960, just before independence,  the Little Red Dot replaced the SIT with the Housing and Development Board (HDB) as the statutory board in charge of overseeing all public housing development.
1. Quality Housing Standards
As of 2018, nearly 80% of the population lives in public housing. Overall public housing in this city-state is generally made up of high-density residential blocks situated within amenities like parks, living spaces, community centres and malls.  By forming such self-contained communities, the basic and essential needs of the residents are not only provided for, but the various amenities like schools and municipal facilities increase the convenience, overall standard of housing as well as social interaction. Larger estates are known as "new towns" and there are more than 20 of such towns like Jurong West, Tampines and Woodlands.
2. Affordable Housing
Public housing is heavily subsidised by the government to ensure affordable housing for both its citizens and permanent residents. To ensure there are proper housing options for different income groups and family sizes, flats come in various sizes of various prices: two-room flexi, three-room, four-room, five-room, 3Gen (for extended families) and executive flats, and executive condominiums among other less-conventional choices.
3. Dynamic Improvement
Over time, as Singapore's populace matures and grows more sophisticated, the design for HDB flats shifted from just meeting the basic need for a roof over the head with essential provisions to housing quality that goes beyond the flats' design to the outdoor environment and surrounding amenities. HDB has been putting a lot of effort into improving estates' landscape architecture as well as enhancing the visuals of housing estates and are currently working toward building homes with integrated smart systems. Apart from these advancements, HDB also carries out regular maintenance and upgrading works to refresh, repair and revitalise damaged and ageing properties.
4. Ownership
Singapore's housing situation is distinct from many countries' in that we enjoy exceptionally high homeownership. The founding leaders of the city-state recognised that to build a strong societal fabric and national participation, Singaporeans need to hold greater stakes in nation-building — owning a home is a powerful way to achieve that. A great majority of public housing today are owner-occupied, with some renting out a part of or all of the flat to make some additional income. To ease the financial burden of maintaining a home, and soften the blow to one's finances when purchasing one, the government allows homeowners to service their housing purchase with the savings they have in the Central Provident Fund (CPF), the national comprehensive savings plan compulsory for all citizens and PRs.
Reason #4: Outstanding Infrastructure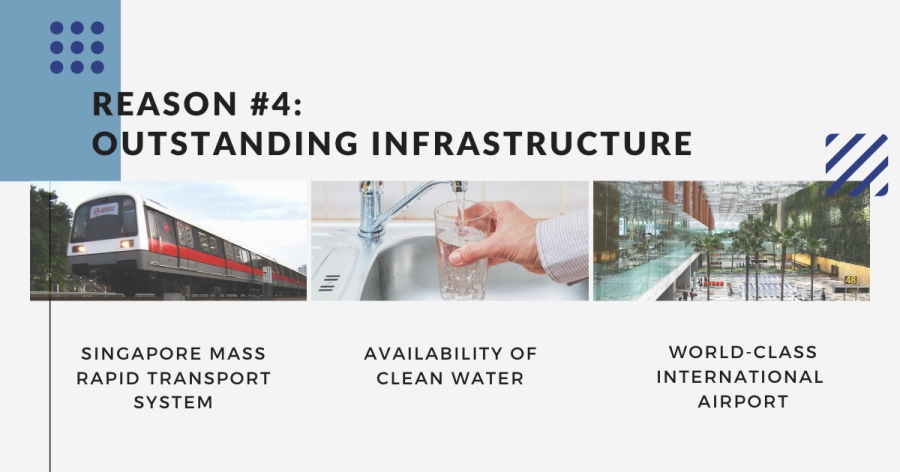 According to the 2017 Mercer Quality of Living study, which separately ranked global cities with the best infrastructure, the Little Red Dot has topped the list of cities in Asia offering the highest quality of life and its infrastructure was deemed the best in the world. The key criteria include measures of electricity, water availability, info-communications network, public transport system, traffic congestion and airport effectiveness, among others.
1. Singapore Mass Rapid Transit System
The Mass Rapid Transit (MRT), the nation's crown jewel of transport and civil engineering, has cemented itself as one of the most defining icons of the island-state's success that continues to draw aspiring immigrants here. This expansive train network runs across Singapore both under and above ground level with five inter-connected lines that span more than 228 kilometres and 157 stations, serving more than 3.3 million commuters in a single day to form the backbone of the local public transport.  As of today, the city-state's rail network is more interconnected than ever before. Not only are there now more interchange stations to connect commuters to different other lines to shorten the time required of their journey, it is also bolstered by a light rail system that puts stations nearer to homes, as well as bus depots at various heavy-footfall stations to bring more convenience and alleviate the burdens on the rail.
2. Availability of Clean Water
The island-state has evolved from a thirsty developing nation left to fend for itself to a prime example of sound water management amidst other effective policies. As the water agreement between Malaysia and Singapore is set to expire in 2061, the Little Red Dot has been taking steps to become completely self-sufficient in the water supply by then. This can be seen in its ultra-clean and top-grade recycled water initiative called NEWater, as well as working on two additional desalination plants to support the existing three, that is already meeting about twenty-five per cent of the island's water needs. With the Public Utilities Board (PUB) keeping an eagle-eyed oversight of the country's entire water supply system and placing strong emphasis on water resource management, long-term infrastructural planning and implementing crucial water plans, Singaporeans can be assured that they will never have to thirst again as long as the government keeps a tight grip on the island's faucet.
3. World-Class International Airport
The much-lauded Singapore Changi Airport, a multiple-time winner of World's Best Airport Awards, not only serves runways and landing paths, it is a destination in itself.  The 4-terminal complex (as of 2019, with the 5th terminal poised to begin construction in 2020 to meet increasing demand) will be a transit area so comfortable, cosy and convenient that for a moment, you may actually forget you are actually in an airport. The terminals at Changi Airport are well-curated gardens of sunflowers and orchids and a koi pond, comfy lounges, free massage chairs and amenities such as retail shops ranging from high-end brands and vintage eateries to a cinema and console-gaming stations.
Reason #5: Social and Political Stability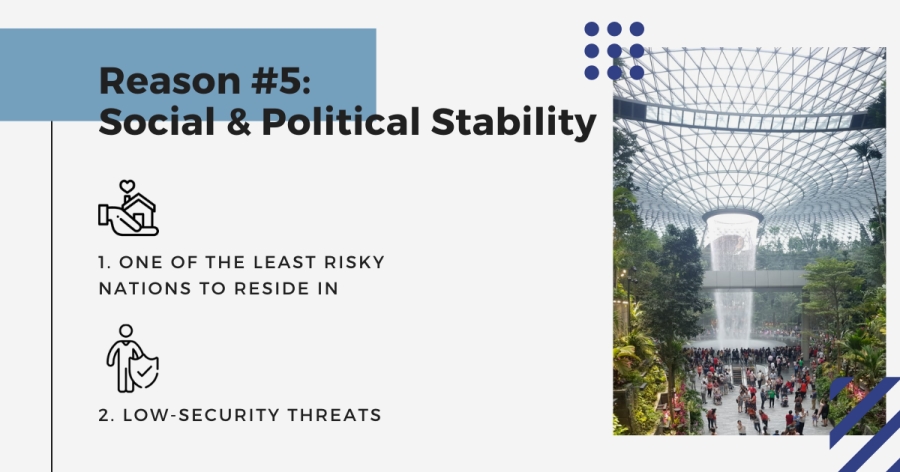 The former fishing village has successfully managed to ensnare itself into the globe's most complex of value chain because its rulers have strived to firmly establish transparency and consistency in their governance of the law and its highly-competent policymakers have efficaciously implemented befitting rules and regulations, and in return, earned the trust of non-profit organisations (NGOs), small and medium enterprises (SMEs) and multinational businesses alike.
1. One of the Least Risky Nations to Reside In
According to a 2010 report by the Hong Kong-based Political and Economic Risk Consultancy, Singapore is accorded the high honour of being in 2nd-place for the least risky Asian nation. Ask any Singaporean or anyone who is familiar with the Republic and they will very likely agree that it is extremely orderly, systematic and very safe to live, work and play in. After all, the crime rate in this Little Red Dot is among the lowest in the world. In addition, the Republic moved up three notches to the third spot in Transparency International's 2018 Corruption Perceptions Index, which is an annual ranking of countries deemed to have the least corruption in the public sector.
2. Low-Security Threats
Over the years, Singapore has aptly maintained its status as one of the world's safest destinations, having ranked 5th out of 162 in the global list of the safest and most dangerous cities. This has allowed governmental institutions to ramp up their efforts to engage in mutually beneficial and open-sourced public-private business partnerships. This is evident in the routine invitations dished out from the State's policymakers to foreign firms in welcoming them to participate in capacity building and problem-solving exercises, as well as inspire confidence in all investors who wish to invest here and create good jobs for the people.
The Takeaway
With the various reasons we have discussed above that make this Little Red Dot the global cosmopolitan city it is today, there is no wonder that many foreigners come to the country in droves to seek a better, more secure life for themselves as well as their families. Whether these individuals flock to the Republic to further their education or seek better employment, many have end up staying here for the long-term due to the benefits they are able to enjoy while living in the country.
If you are in a similar situation and are considering relocating. to the Lion City as a PR, why not consult an immigration consultant to guide you through the entire process? Here at Paul Immigrations, our consultants carry with them years of expertise that will help increase the success rate of your PR application. So if you do not want to risk getting a rejection, consult our experts today and get one step closer to becoming a Singapore PR.