Singapore has flourished over the years from a modest fishing village into the bustling city that it is now. As you can see, the city skyline is now sprawling with skyscrapers, filled with huge conglomerates and mega-corporations. With that, it brings many new inhabitants who have uprooted from their home country and made this little red dot their new home. From a realistic point of view, not everyone would be able to make Singapore their permanent place of living without citizenship or permanent resident (PR) status. This is the case for many foreign spouses of Singaporean citizens or Singapore permanent residents. Most enjoy the benefits of the city while on their Long Term Visitor or Dependent Pass, but there is a strong point to be made for attaining the Singapore PR status. Read on to find out more about why you should apply for Singapore PR.
What are the Different Types of Passes For Your Spouse?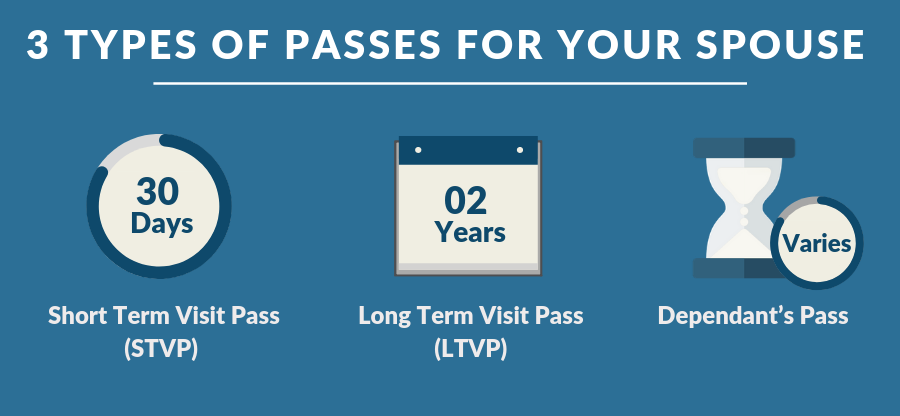 If you are considering to have your spouse stay permanently with you in this city-state, here are the permits that your spouse can obtain to do so:
Short Term Visit Pass (STVP)
Long Term Visit Pass (LTVP)
Dependant's Pass
1. Short Term Visit Pass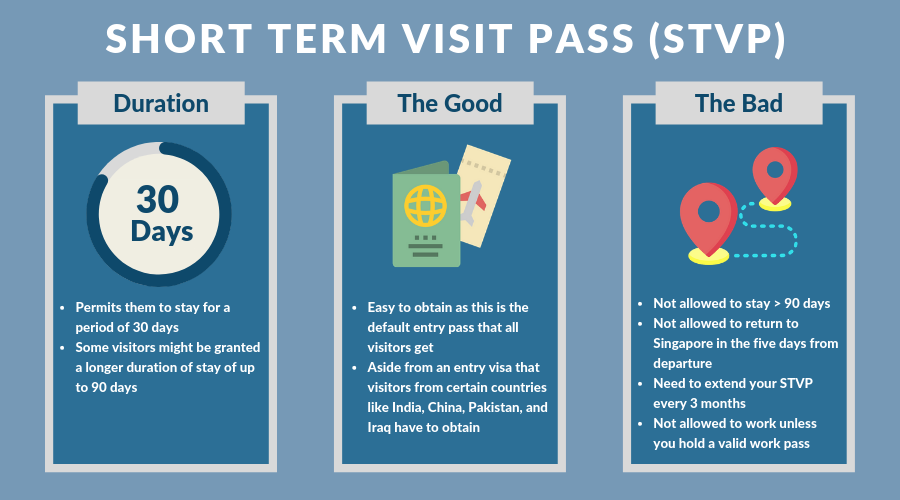 A Short Term Visit Pass is the most common one that all visitors receive upon arrival into Singapore. It permits them to stay for a maximum period of 30 days. Some visitors might be granted a longer duration of stay of up to 90 days. However, this would be reviewed on a case-by-case basis, depending on certain factors set by the ICA. In many cases, an extension can be applied for those on a 30-day STVP as long as it does not exceed a duration of more than 89 days from the date of entry. Additionally,  STVP holders would not have access to most subsidies and benefits that Singapore citizens and PRs are entitled to.
Who is it for?
Anyone who wishes to stay in Singapore for a duration no longer than 90 days, whether it is for a trip to tour the city, to catch up with their loved ones living or working here.
The Good
Easy to obtain as this is the default entry permit that all visitors get
Aside from an entry visa that visitors from certain countries like India, China, Pakistan, and Iraq have to obtain, you do not have to go out of your way to apply for it
The Bad
Not allowed to stay for a period of more than 90 days
Not allowed to return to Singapore in the five days from your departure
The hassle involved in having to extend your STVP every three months
Not allowed to work unless you hold a valid work permit
2. Long Term Visit Pass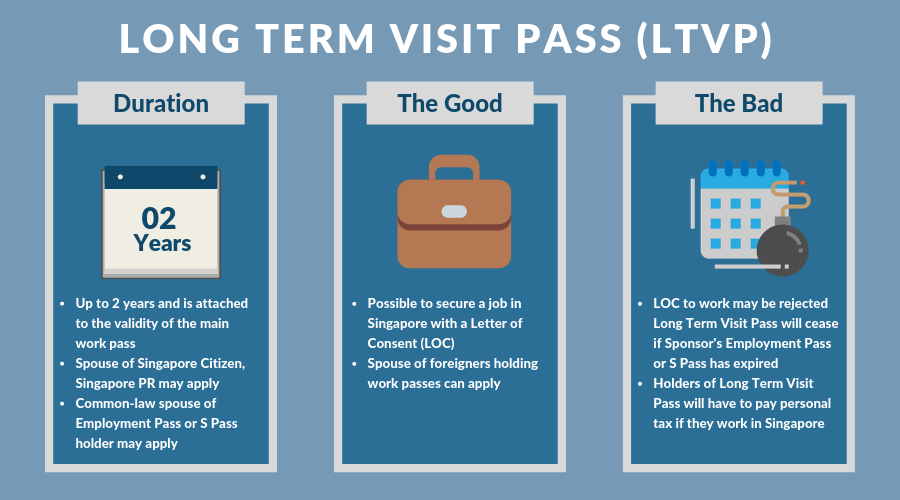 If you are a spouse of a citizen or permanent resident, you are eligible for a Long Term Visit Pass. Typically, the successful applicant or holder can stay in the country for a duration of up to two years and is attached to the validity of the main work permits (i.e. either Employment or S Pass). When the main work permit ends, the LTVP ceases to exist. On the topic of finding work, foreign spouses on the LTVP would be able to seek out suitable employment opportunities on local shores without having to apply for work passes. A common struggle that most companies face is with foreign worker quotas and levies. However, these restrictions would not be imposed on individuals holding the LTVP, allowing for more career opportunities.
Who is it for?
Spouse of Singapore Citizen or PR
Common-law spouse of Employment or S Pass holder who earns a minimum fixed monthly salary of $6000 from an established Singapore-registered company
The Good
Possible to secure a job in Singapore, however, prospective employers will have to apply for a Letter of Consent (LOC) subject to approval
Spouse of foreigners holding work passes can apply
The Bad
Letter of Consent (LOC) to work may be rejected since the decision is at the discretion of the Ministry of Manpower's officers
LTVP will cease to exist if the sponsoring Employment or S Pass has expired or is cancelled
Holders of LTVP will have to pay personal tax if they work in Singapore
3. Dependant's Pass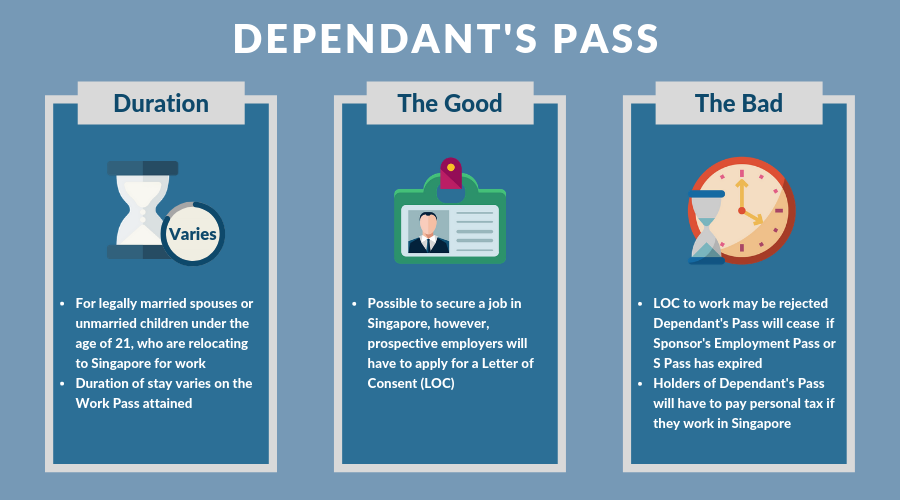 The Dependant's Pass is for family members of individuals who are relocating to Singapore for work — either on an Employment, Entre, or S Pass — with a monthly income of $6,000. Under this scheme, only legally married spouses (common-law spouses would be rejected, but they can apply for the LTVP) and unmarried children below the age of 21 would be eligible for this. Typically, the Dependant's Pass can be applied together with the sponsor's work pass.
Who is it for?
Legally married spouse of Employment, Entre or S Pass holders. Common-law spouses may stand a risk of getting rejected for an application for this pass.
The Good
Possible to secure a job in Singapore, however, prospective employers will have to apply for a Letter of Consent (LOC) which is subject to approval
The Bad
Letter of Consent (LOC) to work may be rejected since the decision is at the discretion of the Ministry of Manpower's officers
Dependant's Pass will cease to exist if the sponsor's Employment Pass has expired or is cancelled
Holders of the Dependant's Pass will have to pay personal tax if they work in Singapore
5 Benefits of Your Spouse Acquiring Singapore PR
It is a fact that foreign spouses need not apply for PR status to live here with you. However, there are many benefits tied to the successful application of permanent residency. Let us look at some of the benefits that your spouse can enjoy if they were to get PR approval:
1. No Need to Renew LTVP
The premise behind the LTVP is to allow either Employment or S pass holders the option to bring their common-law spouse over here. The LTVP often has a validity of up to two years and needs to be renewed manually by submitting the application forms up to six months before it expires. Not only is this a tedious process to manage every two years, but renewal is not always guaranteed. The application would always be evaluated against the current eligibility criteria, rather than the one that was used to grant the previous LTVP. This uncertainty could be unsettling, especially if you hope to make Singapore your long term home.
2. Buy from a Wider Range of Properties
In this little red dot, the government has imposed stringent rules in favour of citizens and PRs to help them find housing in this city with greater ease. Unfortunately, this benefit does not extend to foreigners living here. Consider the rule that states that only Singapore citizens and PRs are allowed to purchase resale units of subsidised government-issued properties, for instance. In this case, foreigners are not allowed to purchase Executive Condominiums (ECs) and Housing Development Board (HDB) homes, leaving them only with private properties to choose from. Foreigners would also have to make do with higher transaction fees since they are charged with a 15% buyer's stamp duty (BSD) when purchasing private properties. By comparison, Singaporeans and PRs only have to foot BSD of 5%.
3. More Opportunities for Jobs
By converting to a PR of the little red dot, a bustling city-state, you would have doors opened towards a brighter career path. We say that simply because most PRs appreciate the flexibility that comes without the necessary paperwork that accompanies any job change. When someone with a LTVP or Dependant's Pass changes jobs, the employer would have to re-apply for a new Letter of Consent (LOC) and deal with all the stress and headache that accompanies it. PRs would not have to deal with that since they can find jobs without the need for a LOC. It is also common to see job listings that only seek out Singaporeans and PRs due to hiring restrictions. Becoming a PR would help you circumvent these barriers.
4. Granted Access to Affordable Health Care
In an ideal world, health care should be made affordable for all. However, this is not the case for foreigners living here. As of 201, expatriates on the LTVP and Dependant's Pass do not have access to most health care subsidies that a Singapore citizen or PR is entitled to, except for emergency services. On the other hand, locals and PRs are entitled to subsidies of up to 80% and 60% for healthcare services at government facilities and wards respectively. This means that foreigners have to foot the bill by themselves should a trip to the doctor's be needed. Once your spouse attains permanent residence, he or she would be protected under the national health insurance, MediShield Life.
5. Benefit from Singapore's Central Provident Fund (CPF) scheme
Under the Central Provident Fund (CPF) scheme, you and your employer would have to set aside and stash a monthly minimum amount to your pension fund. These stores of money can then be used to pay for various necessities like health care, your home, and your retirement. For workers on a Dependant's, Employment, S Pass or Work Permit, their employers would not have to make any CPF contributions. Despite working here, you would not be able to take advantage of this scheme and the interest accrued within your CPF account. Only after your spouse attains PR status, would they then have their CPF accounts open.
Is Your Spouse Eligible for Singapore PR?
Living in the little red dot on a Work, Dependant's or Long Term Visitor Pass are all great options, but becoming a PR brings more benefits and subsidies that would improve your quality of life. Your spouse is eligible for Singapore PR if they are legally married to a Singapore citizen or permanent resident.
What is the Basis for a Successful PR Application for Spouse?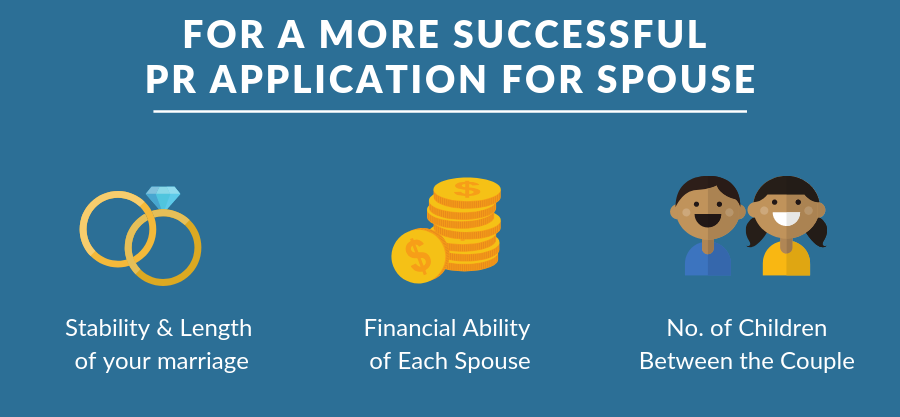 From experience, the success of your PR application for your spouse rests on multiple factors. These include the stability and length of your marriage, the financial ability of each spouse, and the presence of children in the family. The length of the marriage, in particular, is an aspect that the Immigrations & Checkpoints Authority would look into closely since there have been incidents of sham marriages over the years (that is the obtaining of permanent residence through a fake marriage for personal gain). To counter that, harsher penalties have been imposed to prevent foreigners from profiting from such means.
On top of that, the Immigration & Checkpoints Authority officers would also assess your spouse, based on how well you would assimilate into the community when going through your application. This is to ensure that every new citizen or permanent resident can accept, adapt to, and blend in with the rest of the community for the overall cohesiveness of the nation. It is always a great deal when enthusiasm and desire to integrate into the society and the local scene of the place that you are planning to reside permanently in.
How Can You Raise Your Chance of Success?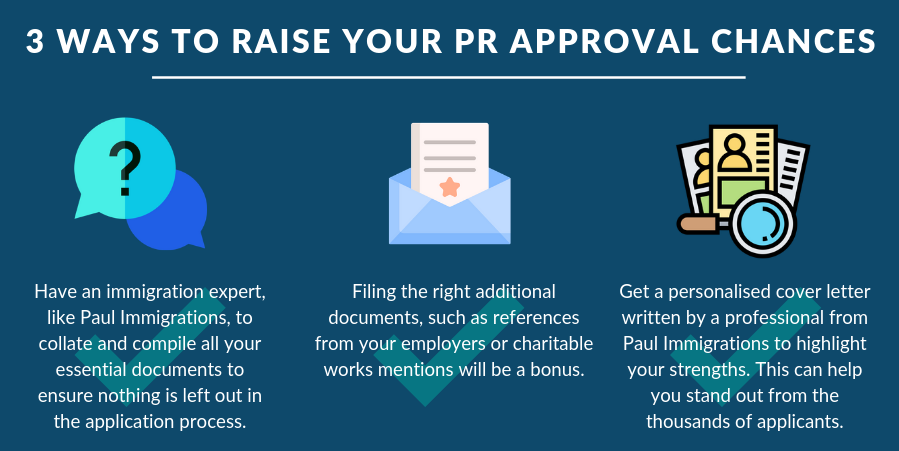 The specific grounds for every successful application are not made known to prevent attempts at gaming the application process. However, what remains controllable to you is the quality of your submission. The experienced team at Paul Immigrations will guide you at every step of the way to ensure that you submit a complete application. This involves helping you take stock and compile all your essential documents to ensure nothing is left out in the application process. The team would also advise you on the additional documents required, such as references from your employers or any mention of charitable contributions made to society. These documents would ultimately help raise your chances of success since they prove that you have successfully assimilated into the community.
Since the PR application process takes at least half of a year (or more), it could potentially mess up any upcoming life plans that you have made for yourself, especially if your application does not make the cut in the initial application. If you are uncertain and unsure of the PR application process for your spouse, getting external help from the experienced team at Paul Immigrations can help you handle this process from start to end.