Being a small city-state has not stopped Singapore from becoming one of the most economically advanced nations in the world. With its high-quality healthcare services and facilities as well as an education system, the envy of other developed nations, Singapore has quickly grown to become a coveted place foreigners wish to call home.
Plus, the country's family-friendly culture has influenced its permanent resident policies to ensure families stay together in the Republic for the long-haul. If you are a Singapore citizen and wish to apply for permanent resident status for your parents, keep on reading to find out more on the benefits your parents can look forward to as a permanent resident in the Lion City.
1. Guaranteed Public Safety and Security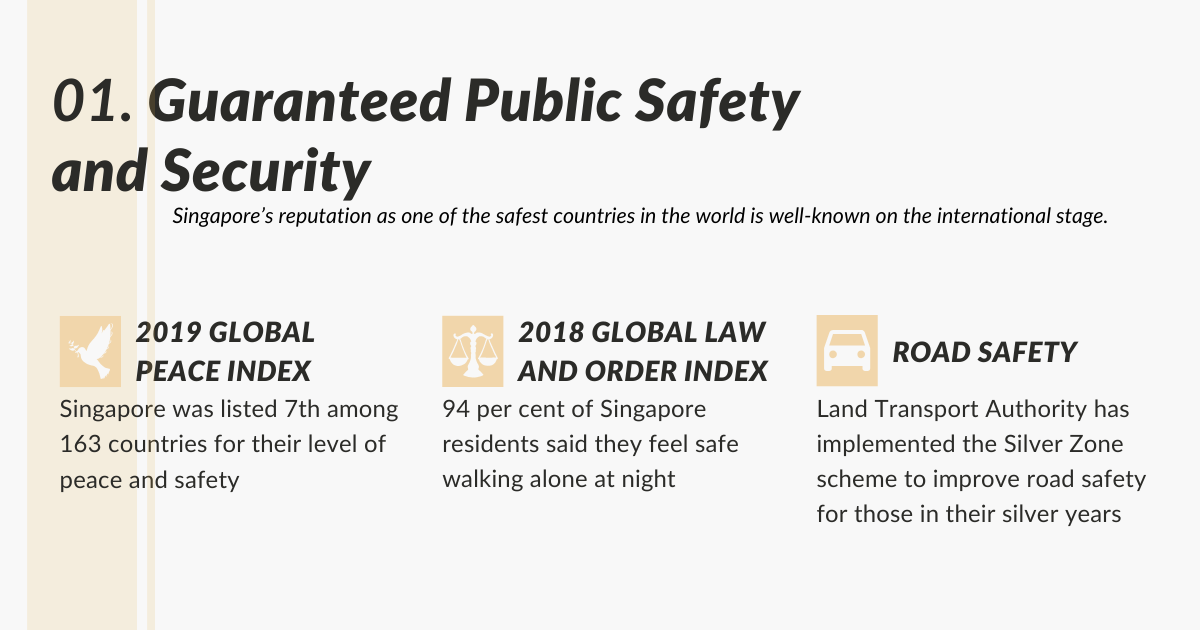 Singapore's reputation as one of the safest countries in the world is well-known on the international stage. According to the 2019 Global Peace Index published by the Institute for Economics and Peace, Singapore was listed seventh among 163 countries for their level of peace and safety. The study ranked the Lion City above numerous other developed nations including the Netherlands, United Kingdom, and Italy. In the Asia-Pacific region, Singapore came second, only being outranked by New Zealand.
These findings can be backed by another poll conducted by Gallup in its 2018 Global Law and Order Index. In its report, Singapore topped the list as the safest country in the world, beating other economically developed countries such as Norway, Iceland, Canada and Denmark. Furthermore, 94 per cent of Singapore residents said they feel safe walking alone at night — higher than the global average of 68 per cent.
Based on these data, applying for permanent residency for your parents would be a no-brainer as you would not have to be overly concerned about their safety and security in the country. With severe penalties put in place by the authorities for criminal activities and misdemeanours, individuals in their silver years would be able to live in this little red dot in peace.
Road Safety and the Implementation of Silver Zones
Another factor that contributes to the perceived level of public safety and security in the Republic is the number of road traffic fatalities the country experiences per year. You would be glad to know that over the past ten years, this number decreased from 3.67 deaths per 100,000 persons in 2009 to 2.20 in 2018. To ensure this data remains low in the coming years, the Land Transport Authority (LTA) has implemented the Silver Zone scheme to improve road safety for those in their silver years. The features of Silver Zones include "rest points" on the road divider to allow the elderly to cross the road in two stages, as well as traffic features to slow down oncoming vehicles. There are currently eight completed Silver Zones; this number is targeted to reach 50 by 2023.
2. Singapore PRs Have Access to Exclusive Medical Benefits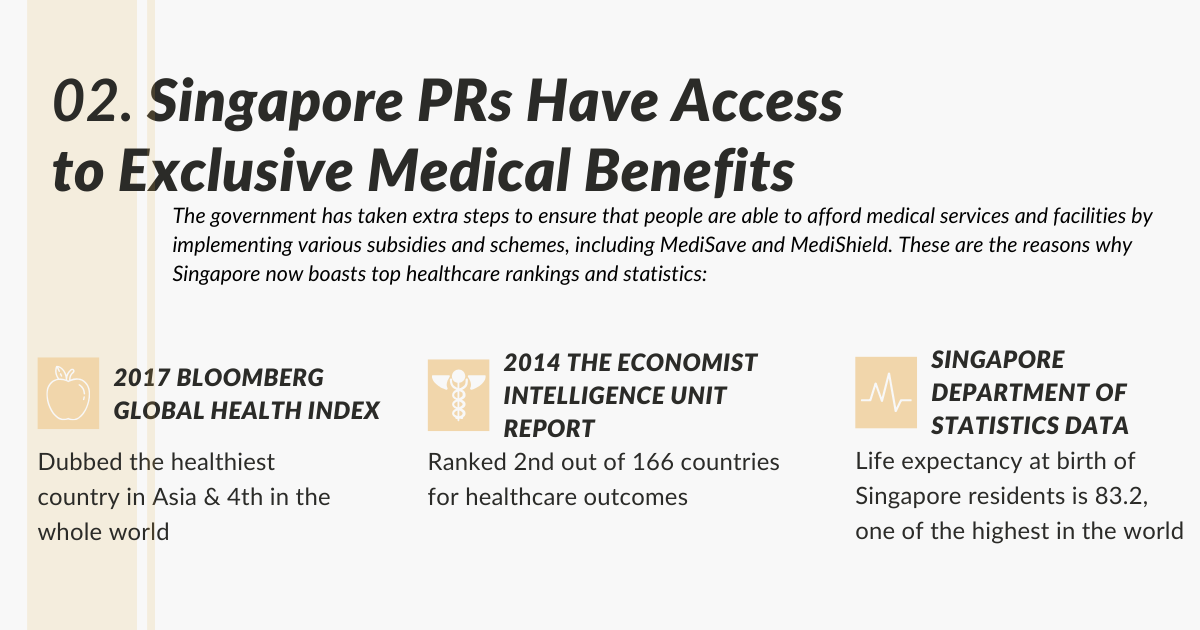 Besides its high level of safety, Singapore is also known for its world-class healthcare sector. According to findings published in the 2017 Bloomberg Global Health Index, this little red dot was placed first and fourth among 163 nations as the healthiest country in Asia and the world respectively. In a 2014 report by The Economist Intelligence Unit, the country was ranked second out of 166 countries for healthcare outcomes. In addition, according to the latest data published by the Department of Statistics, the life expectancy at birth of Singapore residents is 83.2 — one of the highest in the world.
All of these findings reflect Singapore's competency in providing high-quality medical services and facilities for its residents. Furthermore, the government has taken extra steps to ensure each and every one of its people is able to afford these services and facilities by implementing various subsidies and schemes to lighten the financial burden, especially for those from the lower-income bracket. These subsidies and schemes are not only available to the country's citizens but also its permanent residents.
Below, we will discuss some of the subsidies and schemes your parents will have access to as permanent residents in the Republic.
MediSave
MediSave is a national savings scheme to enable individuals with a Central Provident Fund (CPF) account to save for their medical expenses in the future, particularly after they have retired. Under this scheme, a portion of your monthly income will be put into your MediSave account. Besides your medical expenses, the funds in your MediSave can also be used for your approved dependants, including your children, spouse, parents, grandparents and siblings. As your parents, their medical expenses can be paid using the funds from your MediSave account regardless of nationality. However, if your parents are successfully granted PR status, their medical expenses can be covered using your children's MediSave funds as well.
MediShield Life
Administered by the Central Provident Fund, MediShield Life is a basic health insurance plan to ensure that all residents — both citizens and permanent residents — can afford large hospital bills for life, no matter their age or health condition. This plan also covers certain outpatient treatments, including chemotherapy and dialysis. With MediShield Life, your parents will be able to cover a portion of their medical bills (depending on the type of hospital care, such as their type of ward and public or private hospital). If your parents require additional coverage, they can also choose to purchase an Integrated Shield Plan offered by any major insurance company in Singapore.
3. Opportunity for Lifelong Learning as Elderly Singapore PRs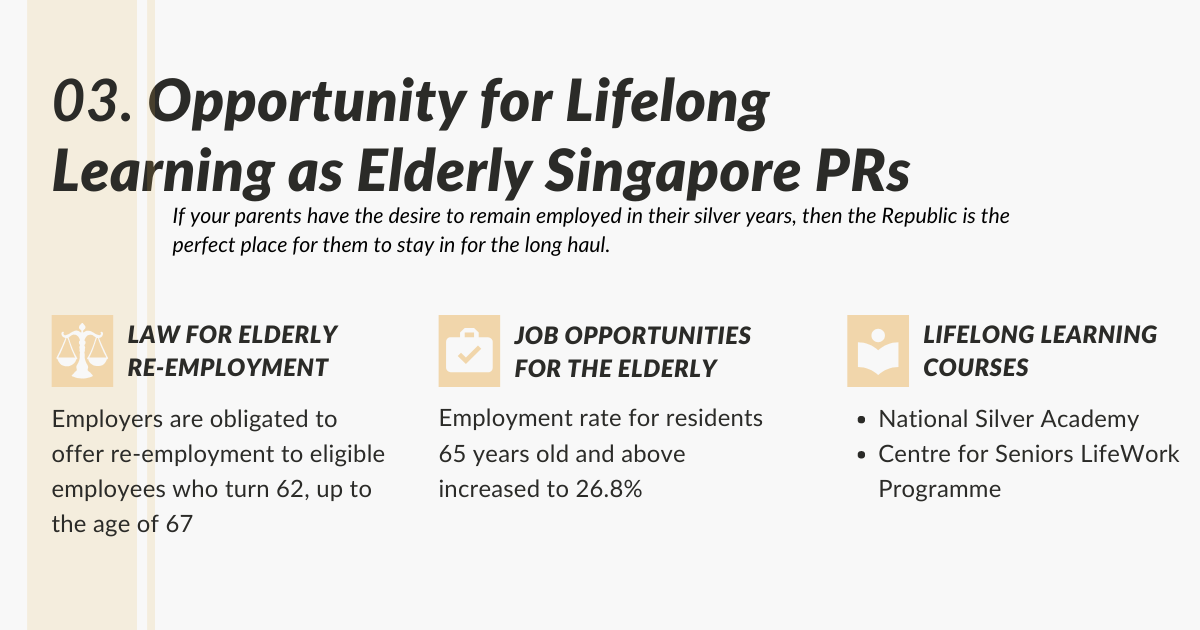 While most people plan to retire once they have reached their silver years, a portion of the elderly population in Singapore remain actively employed even way past their retirement age. According to data published in the Labour Force in Singapore Advance Release 2018, an annual report conducted by the Ministry of Manpower's Manpower Research and Statistics Department, the employment rate for residents 65 years old and above increased from 25.8 per cent in June 2017 to 26.8 per cent in June 2018. This is despite the fact that the retirement age here currently stands at 62, though employers are obligated to offer re-employment to eligible employees who turn 62, up to the age of 67.
This data echoes the sentiments of more than 400 older workers surveyed by the Centre for Seniors in 2019. Approximately one-quarter of this population stated they wished to remain working in their current employment positions. In addition, in a separate study conducted by the centre of an estimate of 300 older workers, more than half wished to continue working full-time.
Due to these findings, the Singapore government has implemented several measures to enable the elderly population in the country the opportunity to remain employable should they wish to work well after their retirement age. Therefore, if your parents have the desire to remain employed in their silver years, then the Republic is the perfect place for them to stay in for the long haul.
Below, we discuss the various plans and schemes the government has put in place to help this age group remain relevant to Singapore's economic progress.
National Silver Academy
The National Silver Academy (NSA) comprises of post-secondary education institutions (i.e. polytechnics, Institute of Technical Education (ITE), and universities) as well as community-based organisations that provide an extensive variety of learning opportunities to the elderly. Individuals in this population group who are at least 50 years old can enjoy different types of learning programmes to help advance their work skills such as three-hour courses, exam-free modules, and short-term courses. The good news is these courses are eligible for subsidies via the SkillsFuture Credit, thus making these programmes offered by NSA more affordable and accessible.
Centre for Seniors LifeWork Programme
The Centre for Seniors LifeWork programme was created to aid employees in the older age group as well as those approaching their silver years to manage their work-life transition. This programme addresses questions of career, retirement, family, as well as health at varying stages of each employee's life. The LifeWork programme offers a series of five workshops consisting of six modules, through which each participant will learn how to define their goals in life as well as identify their strengths and weaknesses in order to remain employable as long as possible.
4. Entitled to the Supplementary Retirement Scheme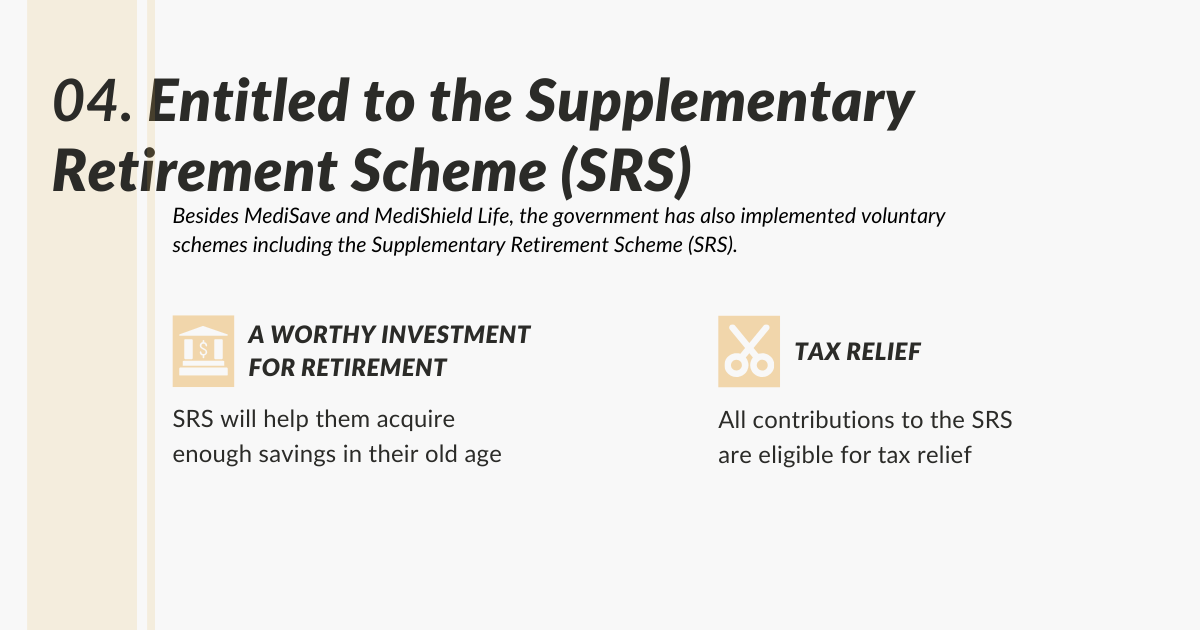 The Singapore government has implemented multiple schemes to ensure its residents will have the financial capability to take care of themselves in their retirement years. Besides compulsory schemes such as MediSave and MediShield Life, put in place to help Singapore residents save for medical emergencies, the government has also implemented voluntary schemes including the Supplementary Retirement Scheme (SRS).
Due to the Republic's growing ageing population, the SRS was established to address the financial concerns of individuals in their silver years in order to help them acquire enough savings in their old age. If your parents are still working, the SRS might be a worthy investment.
The SRS works similarly to the CPF scheme, though the latter is obligatory upon every actively employed Singapore resident. Think of the SRS as a sort of top-up to each individual's CPF account. Those who choose to sign up for the SRS are required to contribute a portion of their income to their SRS account — these contributions are eligible for tax relief.
Eligibility Criteria of the SRS
The SRS is eligible to Singapore citizens, permanent residents, as well as foreigners who earn any income while working in the country. Other criteria the applicant has to fulfill are that he/she has to be 18 years old or above, is not an undischarged bankrupt, not suffering from a mental disorder, and capable of managing him/herself and his/her affairs. This means, should your parents be successfully granted permanent residency in this little red dot and they meet the minimum requirements, they will have the choice of signing up for the SRS to ensure their future in the Republic is financially secure.
5. Live in an Elderly-Friendly Environment as a Singapore PR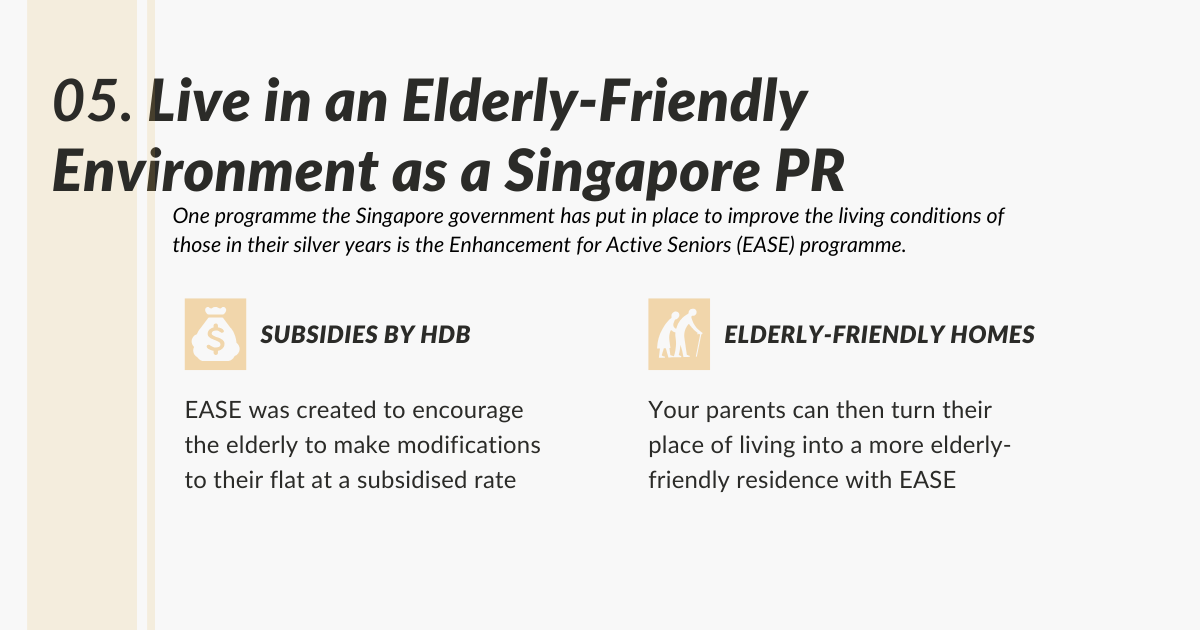 According to the latest population trends published by the Department of Statistics Singapore, the overall resident population in Singapore has grown older in the last ten years. This means the country is increasingly facing an ageing population, with fewer younger people to support the elderly population. Based on the latest findings, the percentage of residents who are 65 years old and above has risen to 14.4 per cent in 2019 — a 5.6 per cent increase from 2009.
Furthermore, not only is Singapore facing a growing ageing population, but its residents are also living to a much older age compared to ten years ago. The resident life expectancy at birth rose from approximately 81 years in 2008 to 83 years in 2018.
With these findings, it is no wonder the government is working towards slowly moulding the country into a more elderly-friendly environment. These efforts have been undertaken to ensure Singapore residents are able to live securely in their silver years, thus reducing their concerns with regard to factors such as accessibility and safety in the country.
One programme the Singapore government has put in place to improve the living conditions of those in their silver years is the Enhancement for Active Seniors programme.
Enhancement for Active Seniors
Established in July 2012, the Enhancement for Active Seniors (EASE) programme is part of the Housing and Development Board's Home Improvement Programme. EASE was created to offer the elderly the opportunity to make modifications to their flat at a subsidised rate to turn their place of living into a more elderly-friendly residence. These modifications aim to enhance the mobility of the residents in their homes, thus ensuring their safety. To be eligible for EASE, you have to be a Singapore citizen with an elderly individual living in your place of residence.
The Takeaway
If you wish to apply for Singapore permanent residency for your parents, ease the process for yourself by engaging an immigrations consultant such as those from Paul Immigrations. Immigration specialists can help assess that your parents meet the Singapore PR requirement criteria. With their guidance through the entire process, you can leave your worries behind and rest, knowing your parents' application is in good hands.