Ever wondered why global multinational corporations (MNCs), giant tech firms, senior foreign professionals and expatriates alike are flocking to Singapore by the dozens and setting up their bases here on our sunny shores? Keep on reading to find out the advantages that await you when you make the Lion City your new home.
Benefit #1: Immigration Stability for Singapore PRs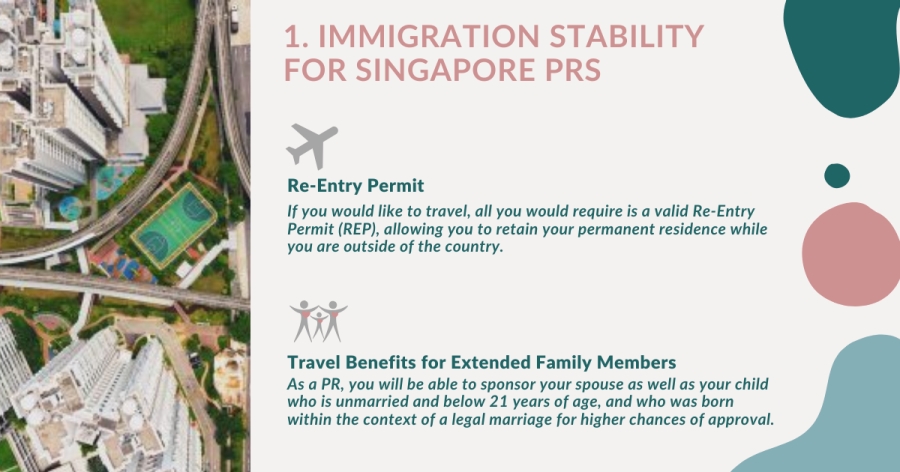 An invaluable perk that is second only to citizens, Singapore PRs can look forward to and enjoy the priceless immigration stability that comes with permanent residency here in the city-state. Firstly, armed with a PR status, you will be given the freedom to travel outside of the country and retain your status as long as you have a valid Re-Entry Permit. Secondly, this immigration stability can also be enjoyed by your family members via two methods: a sponsorship of their PR application by you or applying for a Long-Term Visit Pass (LTVP). Read on to find out more about both these benefits:
1. Re-Entry Permit
Become a Singapore PR, and you will be entitled to live and work here for as long as you wish. If you would like to travel, all you would require is a valid Re-Entry Permit (REP), allowing you to retain your permanent residence while you are outside of the country. Moreover, as a PR, you can travel and explore most parts of the world with your family without the hassle of obtaining additional visas. However, it is important to note the following:
The REP is still subject to renewal once every five years
You will lose your PR status should you leave Singapore or remain overseas without one
Application for the REP renewal should be submitted two months prior to its expiry date
You may apply for the REP at the Embassy or online via the Electronic Re-Entry Permit (e-REP)
2. Travel Benefits for Extended Family Members
Your spouse or dependant may also enjoy similar immigration benefits, should you choose to sponsor them for a Singapore PR application. As a PR, you will be able to sponsor your spouse as well as your child who is unmarried and below 21 years of age, and who was born within the context of a legal marriage for higher chances of approval. Alternatively, if you are still undecided whether you should commit your spouse or dependants at this early stage, you may opt to apply for them the Long-Term Visit Pass (LTVP), which will qualify them for the same immigration travel benefits as a PR. As a sponsor, you may apply LTVP for your:
Common-law spouse
Handicapped children who are above 21 years of age and unmarried
Step-children who are below 21 years of age and unmarried
Parents/parents-in-law
Depending on the type of application, the LTVP Scheme grants holders a maximum of two years' stay in the country. LTVP holders, however, are not allowed to work unless they hold a valid work permit, S Pass or Singapore work visa.
Benefit #2: Enjoy Employment Privileges as a Singapore PR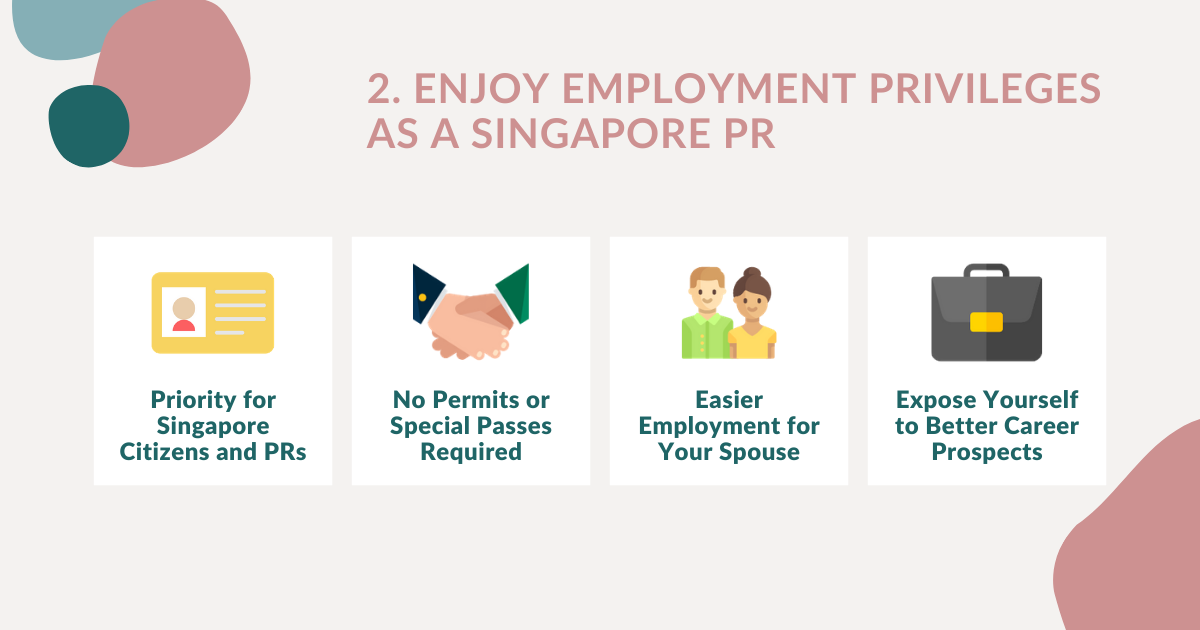 With government efforts to ensure residents in Singapore are offered the opportunity to work, the country has always had a low unemployment rate. This is even more so with the tighter employment regulations established by the Ministry of Manpower (MOM) to prioritise the country's citizens and PRs over foreign workers. This has opened up more doors and job opportunities for not only Singapore Citizens (SCs), but also PRs.
As a PR in the Republic, you will be given priority over foreign employees when seeking job opportunities, and applying for the relevant work pass for your individual circumstance will no longer be necessary. Furthermore, if you are legally married, your PR status might even offer your spouse the opportunity to seek employment here via the Long-Term Visit Pass. Keep on reading to find out more about these employment privileges you will be entitled to as a PR.
1. Priority for Singapore Citizens and PRs
To moderate the foreign employment growth, MOM has designed and enforced a quota system or a limit to the number of foreign workers allowed in each of the different industries. This number varies and is reliant on the particular industry's business activity as well as the worker's source country or region. Levy rates and tiers are also imposed on eligible foreign workers should they meet the employment prerequisites.
2. No Permits or Special Passes Required
PRs in the Republic are able to seek employment without having the need to obtain Letters of Consent (LOC) or work permits. This applies to employment positions in both full-time and part-time capacities, including positions in the public sector (except for government roles that are of a sensitive nature). Furthermore, PRs have the opportunity to seek employment in more than one part-time job, contract positions, or freelancing gigs. Alternatively, PRs have the freedom to explore self-employment opportunities, so if you are someone with entrepreneurial skills, you may choose to start your own business in the Republic.
3. Easier Employment for Your Spouse
Over the recent years, the Singapore government has actively carried out campaigns advocating and encouraging employers to implement and embrace work arrangements that offer more flexibility in a bid to ensure that the national workforce comprises of a resident core. Plus, the Ministry of Social and Family Development (MSF) and the Immigration and Checkpoints Authority (ICA) have jointly announced that spouses of citizens and PRs with a valid Long-Term Visit Pass (LTVP) will have an easier time when looking for employment opportunities.
4. Expose Yourself to Better Career Prospects
Having successfully gained the coveted PR status will see the end of your fear of leaving your current employment to join another. As it stands, a foreign worker who is currently employed in the Republic under the Employment Pass (EP) will have to have their pass cancelled by their current employer before a new application can be submitted by their new employer. This can prove risky as cases of dissatisfied employers who intentionally delay the process of cancellation are not uncommon. In doing so, the affected EP holders will have no choice but to leave Singapore, only being allowed to return at a later date after their new EP has been approved, thus causing the affected individual to lose precious time and money.
Benefit #3: Real Estate Perks for Singapore PRs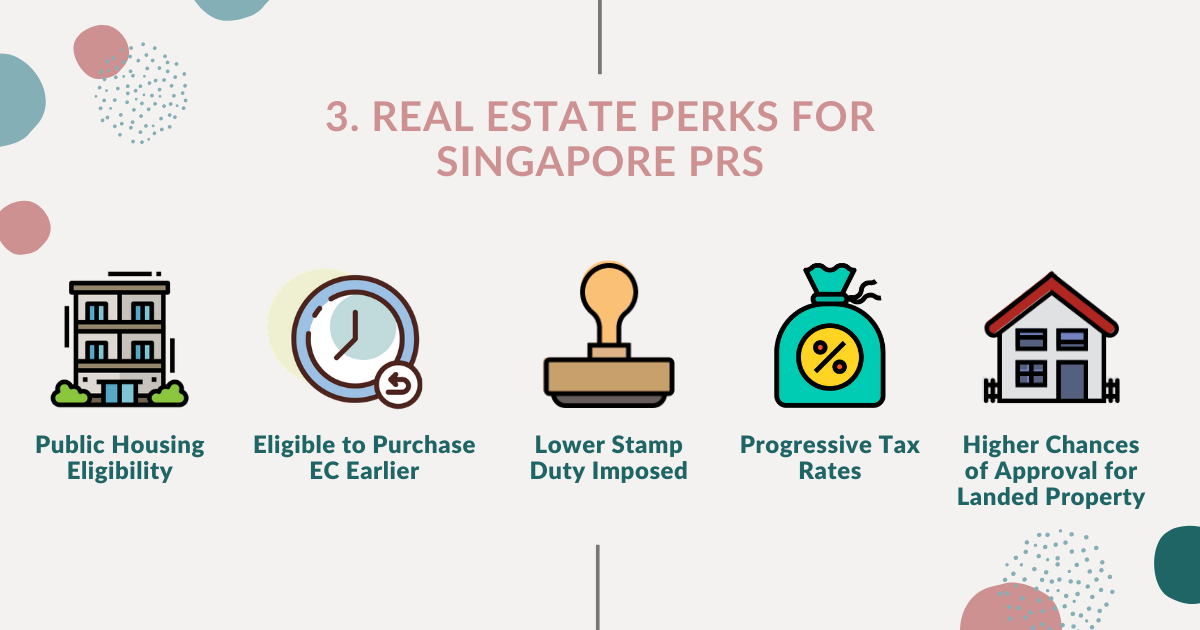 Singapore is known for its quality standard of living and it comes as no surprise that housing here is regarded as one of the island-state's crown jewels. The modern houses in Singapore are usually situated well within amenities such as community centres, shopping malls, parks, schools and other municipal facilities.
1. Public Housing Eligibility
Public housing is heavily subsidised by the Housing and Development Board (HDB) government board to ensure affordable housing for both its citizens and permanent residents. To ensure there are proper housing options for different income groups and family sizes, flats come in various sizes of various prices: two-room flexi, three-room, four-room, five-room, 3Gen (for extended families) and executive flats. While the new Build-to-Order (BTO) units are strictly reserved for citizens, you are eligible to purchase resale HDB leaseholds for your own occupancy once you have crossed the 3-year mark from obtaining your PR status.
2. Eligible to Purchase Executive Condominium Earlier
Having made its debut in 1999, Executive Condominium (EC) is a hybrid type of housing that falls in between the private and public housing category. It is meant to meet the needs of individuals whose household income falls above the public housing ceiling but does not afford them the luxury of purchasing a private property. ECs typically resembles a full-fledged private condominium — built and managed by private developers, guarded security, clubhouses, swimming pools and all the other facilities befitting a strata-titled property. However, ECs come at a relatively cheaper price than its private counterpart as the land cost is subsidised by the government. As it stands, only citizens are eligible to buy newly launched EC projects, but PRs are able to buy resale ECs five years after the Minimum Occupancy Period (MOP) period (94 years or less remaining on leasehold), should they meet the eligibility criteria. This is a stark contrast from foreigners who have to wait a full 10 years before they become eligible to purchase an EC unit.
3. Lower Stamp Duty Imposed on Real Estate Purchases
In December 2011, the Singapore government imposed the Additional Buyer Stamp Duty (ABSD) rate for real estate purchases as part of the cooling measures to moderate the demand for residential property. This move ensures that residential property remains affordable for the resident core and that prices move in tandem with economic fundamentals. ABSD applies on top of the mandatory Buyer Stamp Duty (BSD) payable on the purchase of immovable residential properties in Singapore. As a Singapore PR, you pay a substantially lower ABSD rate as compared to foreigners. For residential property purchases, foreigners are imposed a flat ABSD rate of 20% of the purchase price or market value, whichever is higher. This is up from the 10% (for first residential property) and 15% (for every consecutive residential property) imposed on Singapore PRs.
4. Progressive Tax Rates
Tax residents are taxed at progressive rates — 0% for the first $20,000, 2% for the next $10,000, 3.5% for the next $10,000 and so on — and are also eligible for tax reliefs and rebates. On the other hand, non-residents are taxed at a flat rate of 15% or the progressive resident tax rates, whichever is the higher tax amount. Unlike their counterpart, non-residents do not qualify for any tax reliefs or rebates.
5. Higher Chances of Approval for Landed Property
Land is scarce in this small city-state, which makes it extremely valuable. As such, there are restrictions to the types of residential properties that a foreigner can purchase, which include "landed" housing (freehold estate) such as the likes of terraces, semi-detached or bungalow houses. Non-citizens who wish to purchase freehold estates may only do so for landed homes situated in Sentosa Cove. Should they wish to acquire freehold estates in the other parts of Singapore, they will have to seek approval from the Land Dealings Approval Unit (LDAU) under the Singapore Land Authority (SLA). While PRs are subjected to the same restrictions as non-citizens, the former will stand a better chance of approval should an appeal be submitted to the LDAU.
Benefit #4: Guaranteed Safety and Security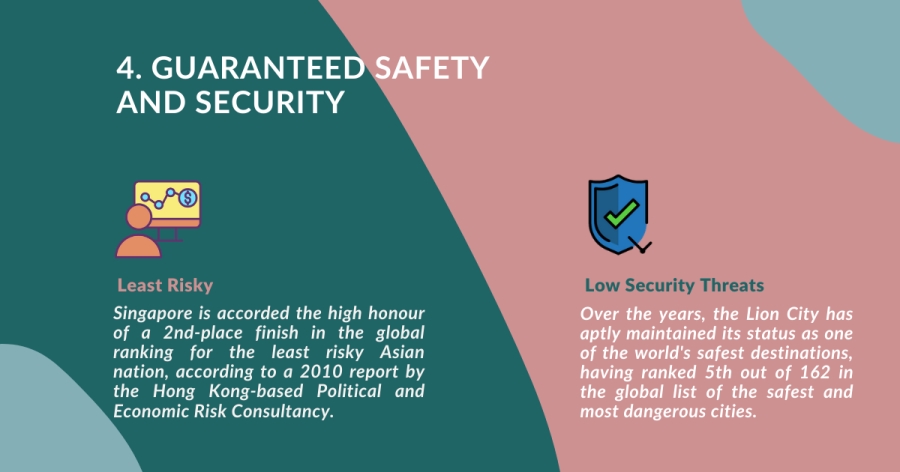 What was once a fishing village has transformed itself into one of the world's most complex value chains without any social or political unrest. This can be contributed to the leaders and policymakers of the nation who have strived to firmly establish transparency and consistency in their governance of upholding the law, earning the trust of their residents and business-makers alike.
1. Least Risky
According to a 2010 report by the Hong Kong-based Political and Economic Risk Consultancy, Singapore is accorded the high honour of a 2nd-place finish in the global ranking for the least risky Asian nation. Additionally, the city-state climbed up three notches to clinch the third spot in the Transparency International's 2018 Corruption Perceptions Index, which is an annual ranking of countries considered to have the least corruption cases in the public sector. It is factors such as these that have convinced multinational corporations (MNCs) and tech giants such as Facebook and Google to set up base in Singapore and inject a further boost into the country's economy.
2. Low Security Threats
Ask anyone who is familiar with Singapore and you are very likely to hear of its systematic, orderly and safe environment for you or your family to live, work and play in. Over the years, the Lion City has aptly maintained its status as one of the world's safest destinations, having ranked 5th out of 162 in the global list of the safest and most dangerous cities. Another global study from research firm Gallup has found that Singaporeans feel safer than residents of any other place in the world for at least the fifth year running, with 94% of adults here feeling safe to be walking home alone at night compared to the global average of just 68%. In the same report, Singapore tops the list in the Law and Order Index, ahead of Norway, Iceland and Finland, while Hong Kong and Uzbekistan finished jointly in fifth. The result is consistent with other studies: the World Justice Project's Rule of Law Index 2017-2018 report saw the Lion City topping the Order and Security charts while the Global Smart City Performance Index ranked the Republic first for the world's safest city that was published this year.
Benefit #5: Entitled to the Singapore Pension Scheme
The Singapore government established the Central Provident Fund (CPF) to enable all Singapore residents — both citizens and PR — to prepare for their retirement years. Acting as the nation's pension scheme, CPF enables individuals to begin contributing to their account the moment their employment begins. In addition, the implementation of CPF ensures the different components the account is meant for (such as retirement as well as other basic expenditure like healthcare bills and property acquisitions) are all taken care of.
1. Mandatory CPF Contribution
Employers operating their businesses in Singapore are obligated to contribute to the mandatory Central Provident Fund (CPF) of their Singaporean and Singapore PR employees. The CPF scheme is a reliable, prudent and high-yielding savings vehicle that is exempted from tax for both its contributions and earnings. While the funds in your CPF account is meant for future retirement use, flexible exceptions are made for specific large ticket purchases such as real estate acquisitions, investment in selected funds, medical costs and educational expenses.
2. MediShield Life
MediShield Life offers both citizens and PRs a basic medical insurance plan that can be used to cover a portion of their bills at public hospitals and clinics in Singapore. The premiums increase with age and can be paid annually through the person's CPF Medisave funds. In addition, individuals who wish to supplement their Medishield Life may do so through the Integrated Shield insurance policies. This option allows PRs to pay a premium lower than non-residents since the former is already equipped with the mandatory MediShield Life.
The Takeaway
Looking to apply for Singapore PR and grow your roots here in the Little Red Dot? Consult our qualified professionals at Paul Immigrations who are dedicated to get you through your entire PR application process and increase your probability of success in attaining an approval.