Thinking of becoming a Singapore Permanent Resident (PR)? So are thousands of others. Year in, year out, the Immigration & Checkpoints Authority (ICA) receives such a high volume of applications that it is not uncommon for applicants to wait over a year for a response on the outcome of their application. This level of demand comes as no surprise since PRs have the right to a plethora of privileges that are nearly on par with those of Singapore Citizens (SC). For many, the status has even helped them become eligible for citizenship.
Unfortunately, this is not a status that one can attain in the blink of an eye. Only an estimate of 30,000 applicants have been granted the status in recent years — less than half of the 79,167 new PRs in 2008. This has been compounded by the shroud of secrecy that surrounds the assessment process, making it tough for applicants to gauge their chances. While there have been calls for the authorities to exercise transparency in their PR assessment, ICA has elected to withhold this information.
As such, you may have heard about countless applicants who appear to be the ideal PR candidate, only to receive a rejection letter. It begs the following question: how do you successfully apply for Singapore PR? Although no complete framework is available, the authorities have, nonetheless, repeatedly emphasised certain factors in response to questions on their PR assessment procedure. Read on to discover what they are.
1. Secure Gainful Employment before Applying for PR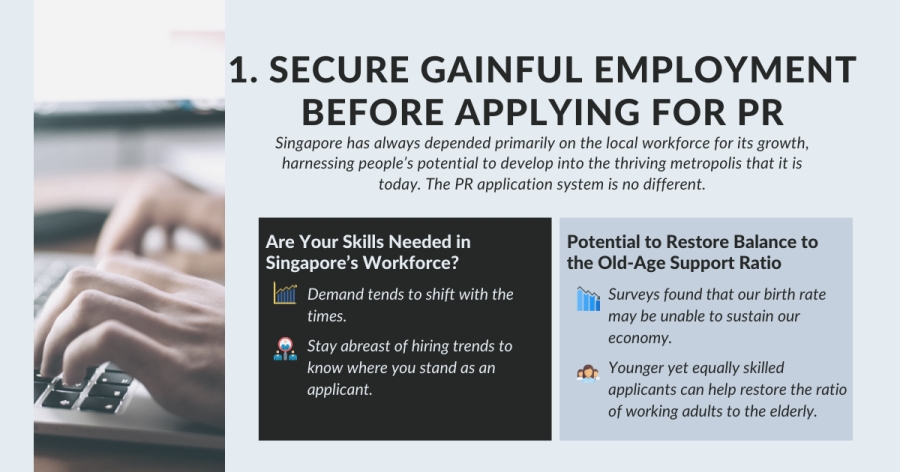 Firstly, ensure that you have secured gainful employment before applying for permanent residency. Singapore has always depended primarily on the local workforce for its growth, harnessing people's potential to develop into the thriving metropolis that it is today. Given the profiles of most new PRs, the PR application system is no different.
ICA has always made it common knowledge that they take the applicant's economic contributions and qualifications into consideration. In 2009, the majority of new PRs applied for permanent residency under the Professionals, Technical Personnel and Skilled Workers Scheme (PTS Scheme). Since this scheme assesses applicants on the basis of their qualifications and employment history, it is clear where the authorities' priorities lie when determining who to accord the status to.
However, this is not merely restricted to those under the PTS Scheme — the same applies to those who apply for permanent residency under other schemes such as the Family Scheme. Most PR applicants under the Family Scheme, for instance, are also required to submit documents that pertain to their current mode of employment and highest educational certificates.
In fact, employability is such an important influencing factor that two percent of applications for the renewal of re-entry permits have been rejected in 2011, with lack of employment as one of the main reasons behind ICA's decision. As such, it is evident that the authorities are looking for PRs who may be an asset to Singapore's economy. Therefore, bear the following in mind when applying for permanent residency:
Are Your Skills Needed in Singapore's Workforce?
As the world evolves, Singapore requires reinforcement in certain sectors of its local workforce to remain competitive — this is where you come in. Demand tends to shift with the times, which means that you ought to stay abreast of hiring trends to know where you stand as an applicant. As of 2019, infocommunications technology (ICT) professionals are expected to continue to be highly sought after, particularly in the wake of recent cybersecurity scares. Positions in high demand include user software developers, interface/user experience designers (UI/UX), data analysts and scientists, as well as information technology (IT) infrastructure managers.
Your Age and Potential to Restore Balance to the Old-Age Support Ratio
The demand of your skills alone, however, may not be sufficient to guarantee you Singapore PR status. Your age is yet another factor that ICA takes into consideration. In other words, even if your skills are sought after, your age may deter the authorities from according you with the PR status. The demographics of the country's population is changing, and not necessarily for the better. Surveys found that our current birth rate may be unable to sustain our economy, particularly given the number of elderly who may need to depend on others. As such, younger, equally skilled applicants are generally at an advantage. However, this does not necessarily spell the end for older applicants. Those who possess an outstanding employment history may still be able to stand out, especially if you are a specialist in a niche area. Moreover, it is worth noting that your application would not be based solely on your skillset — ICA takes other multiple other factors into consideration, too.
2. Group Together with Your Family when Applying for PR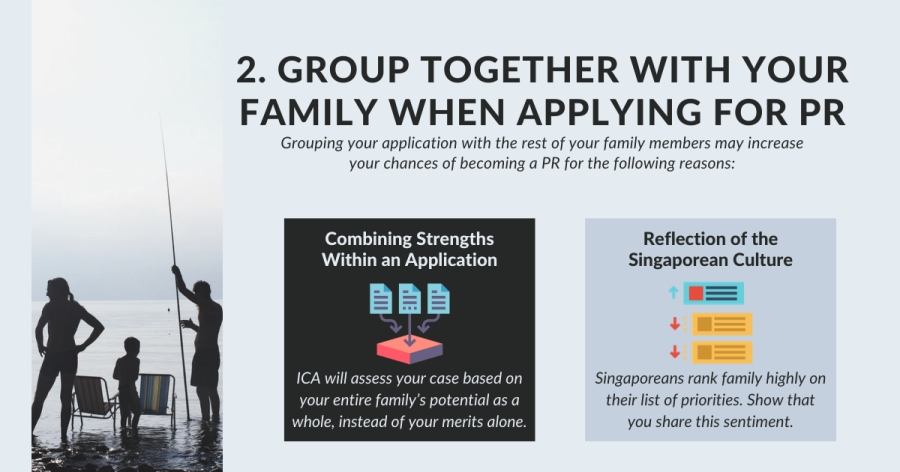 If your spouse and children are not Singaporeans, consider applying for permanent residency with them, provided that you are able to support their stay. Besides economic contributions and qualifications, ICA also takes an applicant's family profile into consideration. Grouping your application with the rest of your family members may increase your chances of becoming a PR for the following reasons:
Combining Strengths Within an Application
Regardless of the scheme that you fall under, applying for permanent residency together with your family would allow you to combine the strengths of each applicant. For instance, if you are the spouse of a Singapore PR, consider including children who were either adopted or born in the context of a legal marriage with your husband or wife in your application. Deciding to apply for PR together as a family unit would prompt ICA to assess your case based on your entire family's potential to contribute to Singapore as a whole, instead of your merits alone.
Reflection of the Singaporean Culture
Applying for permanent residency together as a family unit shows not only unity, but also a reflection of the local culture. Above everything else, Singaporeans consistently rank family highly on their list of priorities. Since its inception in 2013, the National Values Assessment survey found that even younger generations believe that family comes first. It would be helpful to show that you share this sentiment, suggesting greater ease of assimilation into society. For instance, if you are an Employment Pass holder who is applying for PR under the PTS Scheme, consider including your spouse and any unmarried children under the age of 21 in your application if you can afford to support them. However, it should be noted that your son(s) would be obligated to serve National Service once they turn 18 years of age. If they renounce their PR status before turning 18, this may affect their chances of re-applying for PR status in the future.
3. Stay in Singapore for Two Years Prior to PR Application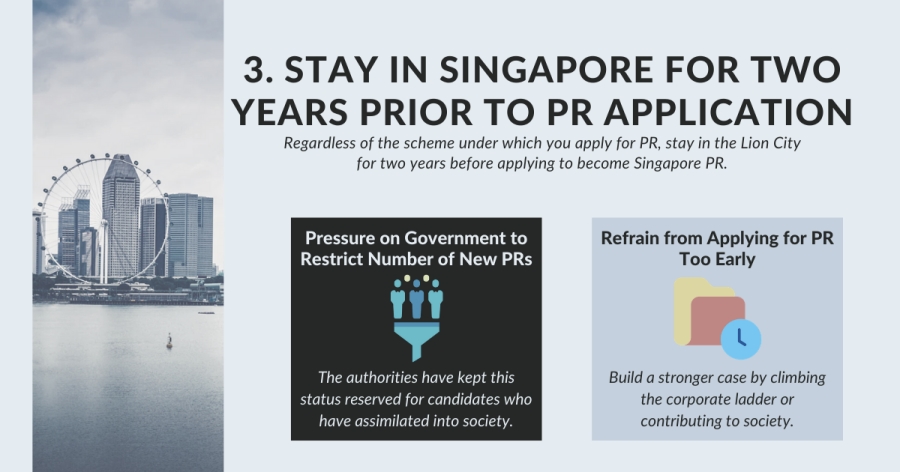 Regardless of the scheme under which you apply for PR, stay in the Lion City for two years before applying to become Singapore PR. The authorities have kept this status reserved for candidates who have assimilated into society, given the pressure on the government to restrict the number of new PRs per year. Therefore, refrain from applying for PR too early and, instead, build a stronger case by climbing the corporate ladder or contributing to society in other ways.
The same rule is extended to those who are applying for permanent residency under the Family Scheme. Although you are technically eligible for PR status, your application is unlikely to be successful if you have only recently tied the knot with a Singaporean. Unfortunately, the existence of family ties to Singaporeans alone does not necessarily mean that the applicant would automatically be accorded PR status. In fact, according to the Ministry of Home Affairs, only 49% of spouses of SCs or PRs have been approved as PR from 2008 to 2018.
If you are the spouse of a Singapore Citizen (SC) or PR, read on to find out the reason for this low number of successful applications as well as how you can ease your journey towards attaining PR status via the Long-Term Visit Pass (LTVP).
Restrictions against Potential Sham Marriages
Part of the reason behind the low approval rate for spouses of SCs or PRs is to safeguard the PR status from being subject to abuse by sham marriages. Hence, although it may be tempting to resort to such means, PR applicants should steer clear of syndicates that offer to arrange them. A sham marriage is an illegal practice, in accordance with Section 57C of the Immigration Act (IA), involving a transaction of money to arrange a mutually beneficial marriage of convenience between two parties (this does not exclude marriages that were solemnised in other countries). Moreover, furnishing false information in the application is a crime in itself under Section 177 of the Penal Code. Since ICA will subject all PR applicants through rigorous checks to uncover sham marriages, it is highly unlikely you will find any cracks or loopholes within such a stringent internal system.
Pave a More Realistic Way Towards PR Using the LTVP
Although these restrictions can affect genuine couples, spouses still have a fighting chance at earning the status with the help of the Long-Term Visit Pass (LTVP). Unlike the PR status, the LTVP is relatively easier to attain as long as you are eligible for it. This would permit you to remain in Singapore with your loved ones for at least two years, giving you ample time to build a family and assimilate into society. Some spouses may even be eligible for the LTVP+, which would allow them to remain in Singapore for up to five years. To expedite the approval process, you can submit a request for a Pre-Marriage LTVP Assessment (PMLA) before your marriage at no charge. If ICA deems you worthy of the LTVP after your marriage, you will receive a Letter of LTVP Eligibility (LLE), which can be included in your application for an LTVP later on.
4. Prepare for the Online Singapore PR Application Beforehand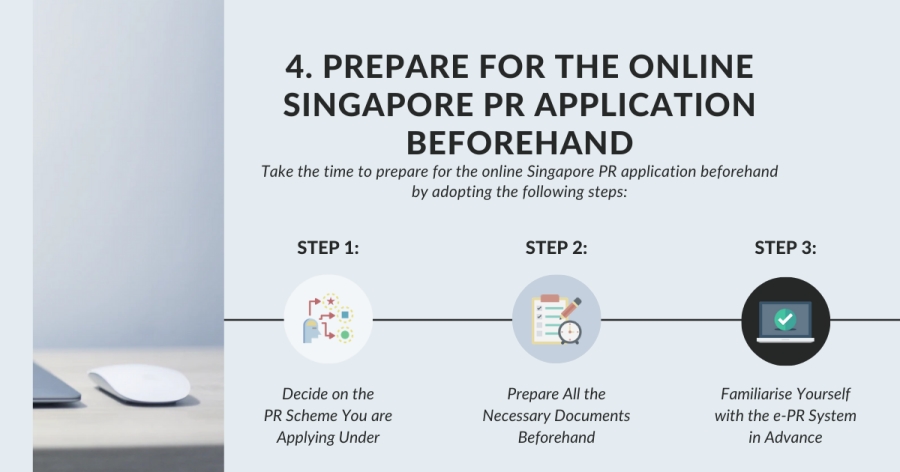 Finally, there would be little point in getting everything right if you are not prepared for the actual application process itself. While the e-PR system is simple enough to navigate on your own, you would have to complete the online application within a limited time of seven days (168 hours). Therefore, as a PR applicant, take the time to prepare for the online Singapore PR application beforehand by adopting the following steps:
Step 1: Decide on the PR Scheme You are Applying Under
Identifying the scheme(s) that you qualify for is simple enough, but being eligible for multiple schemes can complicate matters. As of 2019, there are five schemes under which you may be eligible for permanent residency: Family Scheme, PTS Scheme, Aged Parents Scheme, Global Investor Programme (GIP), and Foreign Artistic Talent Scheme (ForArts). In most cases, applicants often find that they may be eligible for both the Family Scheme and PTS Scheme if they are an Employment Pass or S Pass holder who is planning to marry a Singaporean. In this case, which scheme should you apply under? Well, the key to making this decision lies in the demand of your skill set. If you are sure that your skills are in high demand, opt for the PTS Scheme. Otherwise, your marriage and children may be a much more influential factor.
Step 2: Prepare All Necessary Documents Beforehand
When you have decided on the PR scheme to apply under, proceed with preparing all the necessary supporting documents. Never simply log in to the e-PR system without any of your documents ready, especially if they require English translations that have to be verified by the embassy of the document's country of issue or notarised by a public notary that is based in Singapore or the document's country of issue. In addition, the e-PR system will only accept documents that adhere to the format requirements, underlining the importance of ensuring that all of them are ready for submission. A great way to do so is to create checklists to organise these documents and upload them without a single hitch.
Step 3: Familiarise Yourself with the e-PR System in Advance
Since December 2017, ICA has eliminated the need for walk-in appointments when it comes to PR applications. Instead, you would have to use your SingPass to log in to the online application system, with the exception of international students, who should use their Foreign Identification Number (FIN) and the issuance date of their valid immigration pass. Therefore, take the time to familiarise yourself with how the system runs. Most notably, you should not leave any sections blank during the course of the application process. Instead, if any of them do not apply to you, enter 'NA' into the field in question. You will also be required to provide a valid reason for leaving out a mandatory document. Here is a brief chronology of the e-PR system:
Fill in the initial sections: Application Form, Disclosure Form, Personnel List
Provide supporting documents: Upload the documents required for Singapore PR
Submission: Pay the S$100 application fee and submit your completed application
A Final Note
Still unsure about any part of the Singapore PR application process or how to maximise your chances? Don't worry. Our team of highly trained specialists at Paul Immigrations can guide you through this process, and even offer tips to circumvent any issues that you may face, such as missing mandatory documents. Contact us today and get yourself one step closer to Singapore PR status.