Are you married to a foreigner who wishes to become a Singapore Permanent Resident (PR)? Well, then, you've come to the right place. Singapore PRs have the absolute privilege of remaining in the country permanently. You would only have to ensure that your husband or wife has a valid entry pass whenever you wish to travel together. However, there are six things that you do need to consider when applying for permanent residency for them. Read on to find out more.
Consideration #1: Is Your Spouse Eligible for Singapore PR Status?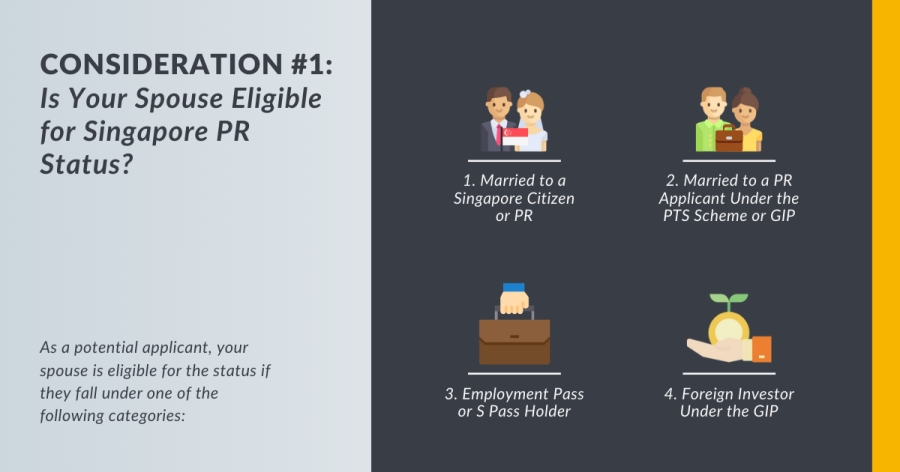 Before starting on the lengthy process of applying for permanent residency, you should verify that your spouse is indeed eligible for PR status. Fortunately, the basic requirements set by the Immigration & Checkpoints Authority (ICA) are straightforward and clear enough to understand. As a potential applicant, your spouse is eligible for the status if they fall under one of the following categories:
1. Married to a Singapore Citizen or PR
If you are either a Singapore Citizen (SC) or PR, your husband or wife will be considered eligible for permanent residency under the Family Scheme as long as you are legally married. However, according to the Ministry of Home Affairs, the average success rate for spouses applying to become PRs is 49% from 2009 to 2018. Part of the reason behind such low odds for foreign spouses is the number of cases where people have resorted to sham marriages to attain the status. Hence, ICA takes extensive measures to screen each applicant thoroughly. It is thus important that your marriage is genuine, rather than one of convenience. Otherwise, if you are proven guilty, both of you may be prosecuted and, consequently, jailed or fined, or both.
2. Married to a PR Applicant Under the PTS Scheme or GIP
If you are applying for PR yourself, under the Professional, Technical Personnel, and Skilled Workers (PTS) Scheme or Global Investor Programme (GIP), you may include your spouse in your application as a dependant. Similar to spouses married to either an SC or PR, the marriage between the PR applicant and their husband or wife must be legal.
3. Employment Pass or S Pass Holder
Alternatively, your spouse may apply for permanent residency on their own merits if they are an Employment Pass (EP) or S Pass holder. In such cases, while you cannot act as their sponsor, you are expected to provide certain documents during the application process as their spouse. This suggests that ICA will take your relationship into consideration when making their decision.
4. Foreign Investor Under the Global Investor Programme
Finally, your spouse is eligible for permanent residency if they invest in the local economy as a foreign investor under GIP. Similar to applicants who are Employment Pass or S Pass holders, you are also expected to furnish supporting documents as their spouse. However, your spouse's application will not be handled by ICA through this scheme. Instead, Contact Singapore, under the purview of Economic Development Board (EDB), will be overseeing their application.
Consideration #2: Do You Have a Child in Your Family?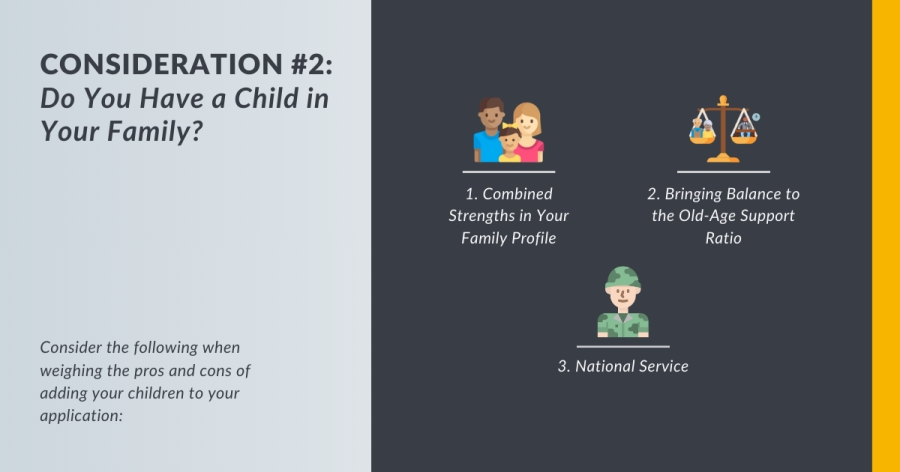 Another matter for both of you to consider is the presence of children in your family. If you have at least one child together, you may wish to consider adding your child to the application (unless your child is already an SC). Regardless of the scheme under which your other half is applying for permanent residency, your child may also be eligible for the status if they were born to you within the context of a legal marriage or legally adopted by you. Consider the following when weighing the pros and cons of adding your children to your application:
1. Combined Strengths in Your Family Profile
When families apply for PR status together, each applicant will be assessed based, not only on their individual merits alone but also on the combined strengths of your family profile. Your children may be seen as valuable assets to our country's future, thus strengthening your chances of attaining the status together. Moreover, doing so signals your intention to set roots here, a critical factor that ICA tends to take into consideration when assessing any application. This is especially important if your spouse intends to apply for permanent residency under the Family Scheme.
2. Bringing Balance to the Old-Age Support Ratio
The presence of children in a PR application can be a great advantage since they can potentially join the local workforce in the future, thus bringing balance to one of Singapore's major areas of concern: the old-age support ratio. This ratio refers to the number of working adults to the number of elderly Singaporeans who needs to depend on others for support. According to Singapore's Department of Statistics, our old-age support ratio has dropped from 13.5 to 5.1 between the years 1970 to 2017. If we are unable to raise the national average birth rate, this ratio has been projected to continue to sink in the coming years. Introducing your children to our population can help balance out this ratio, which can raise the possibility of your application's success.
3. National Service
However, bear in mind that all male children, who have been accorded the PR status, will be obligated to serve full-time National Service (NS) as soon as they turn 18, as mandated in the Enlistment Act. Additionally, upon completing an average of two years' worth of full-time NS, your child will also need to serve Operationally Ready National Service (ORNS) for up to 40 days per year. If this is not desirable, you would need to weigh the pros and cons of adding your sons to your application. Should you opt to leave them out of the application, they would not be obligated to serve NS and may apply for permanent residency under the PTS Scheme as a working adult holding an EP or S Pass. However, doing so may lower your spouse's chances of securing the status. On the other hand, if you do include your child and he opts to renounce this status — thereby forgoing NS — their actions can adversely affect the rest of your family's plans to live, work, or study in Singapore. Ultimately, this is a decision that you would have to make together.
Consideration #3: Is Your Spouse Gainfully Employed?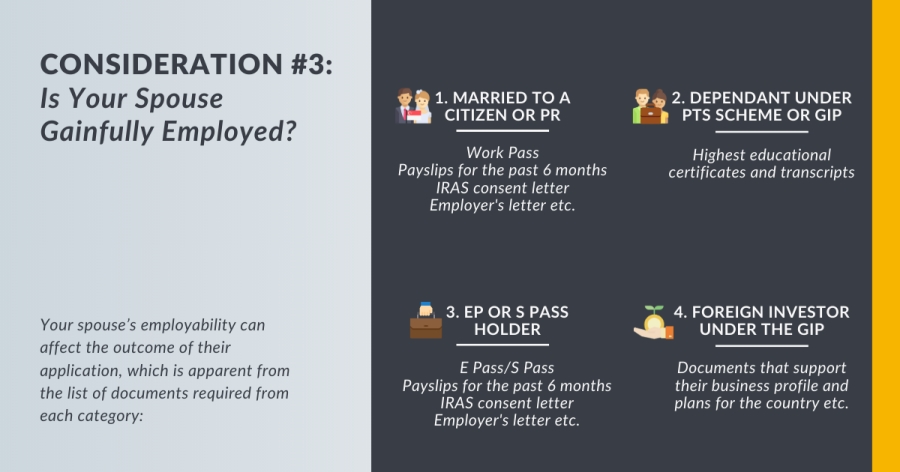 In addition to the aforementioned basic eligibility requirements, ICA takes other factors into consideration such as contributions from the applicant to the local economy. Ideally, PRs should help shoulder the weight of our economy, rather than depend on others for additional support. Thus, your spouse's employability can affect the outcome of their application, which is readily apparent from the list of documents required from each category:
1. Married to a Singapore Citizen or PR
While spouses applying for permanent residency under the Family Scheme are not required to be employed, ICA has set a separate list of documents required from those who are. These include their work pass, payslips for the past six months, a consent letter from the Inland Revenue of Authority (IRAS) as well as a letter from your spouse's employer, indicating their current position held, date of employment as well as a detailed breakdown of their salary (basic, bonus and allowance). All three clearly indicate that ICA will be assessing your spouse's ability to support your family as well as make consistent contributions to the economy through their income tax.
2. Married to a PR Applicant Under the PTS Scheme or GIP
If you are including your other half in your PR application under the PTS Scheme or GIP, you will be the only one who is obligated to provide employment paperwork. However, they are still required to provide their highest educational certificates and transcripts — including all their tertiary qualifications — as well as vocational trade certificates, professional licenses and/or membership certificates that have been awarded to them. This allows ICA to gauge their ability to integrate into society and workforce through their skills and qualifications.
3. Employment Pass or S Pass Holder
The importance of employability is most apparent for those of you with better halves who are applying to become PRs as EP or S Pass holders under the PTS Scheme. Their employment status is a crucial part of basic eligibility requirements under this scheme since these passes require their holders to earn a specific monthly income. For instance, to be eligible for the S Pass, candidates need to earn a minimum monthly income of $2,300 with appropriate work experience, relative to age. Meanwhile, EP holders are required to earn at least $6,000 per month with appropriate work experience, relative to their age.
4. Foreign Investor Under the Global Investor Programme
Where employability is key for those under the PTS Scheme, those under GIP must introduce much more than that. If your spouse plans to apply for permanent residency under this scheme, they need to prove their worth through contributing their skills and resources to the economy. The scheme grants them two different options: investing a minimum of S$2.5 million in existing local EDB-approved companies or investing that same amount in setting up their own firm that will be based here. Therefore, your spouse is required to provide documents that support their business profile and plans for the country in order to be accorded the PR status.
Consideration #4: Are Your Documents Submission-Ready?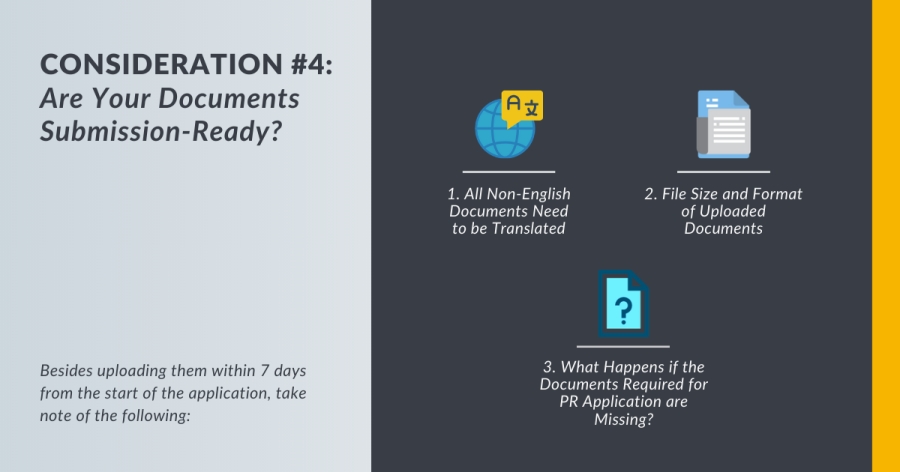 Finally, preparing the documents required for the Singapore PR application is more than about ensuring that you are able to compile all of them. When applying for permanent residency online, you also need to ensure that each of them adheres to standards that have been set by ICA. Besides uploading them within seven days from the start of the application, take note of the following:
1. All Non-English Documents Need to be Translated
Firstly, any documents that are not in English need to be translated prior to submission. ICA only accepts translations from three sources. The first is from the embassy or high commission office of the country where the document was issued while the second is a public notary who is based in Singapore or the country where the document was issued. A third alternative would be to have your documents privately translated. However, these private translations must either be attested by the embassy office of the country of issue or notarised by a public notary who is based in Singapore or the country where the document was issued.
2. File Size and Format of Uploaded Documents
Since the PR application is done online through the ICA's e-PR system, the documents must adhere to the size and format requirements that have been set by ICA. Each of these files must be in PNG, JPG, or JPEG format and fit within a size of 2MB before they can be uploaded to the e-PR system. If any of your scanned documents are larger than 2MB, ensure that you resize them before proceeding with the uploads. An effective way to reduce the size of your files is to convert them from PNG to JPG/JPEG beforehand since JPG/JPEG files are typically smaller.
3. What Happens if the Documents Required for PR Application are Missing?
Missing documents can happen to the best of us. Fortunately, in most cases, there are always solutions to overcome this. For instance, if you are unable to recover a birth certificate, you should be able to request a new one from your country of origin. However, if you find that either of you cannot produce documents such as a certain educational certificate, you may be able to pen a declaration letter to explain their absence. Of course, unless done correctly, this may affect the outcome of your application. Therefore, it would be best to provide a valid reason for leaving them out lest you risk placing your chances at stake.
The Takeaway
Certainly, applying for permanent residency involves far more to be taken into consideration, besides those that have been mentioned above. It is a process that calls for a thorough discussion with your entire family on a myriad of matters. If you require assistance with any of them, our specialists at Paul Immigrations can lend you their expertise on the Singapore PR application process.