A cover letter is typically a one-page document addressed to the interviewer or potential employer that includes your contact details, the role you are applying for and further details surrounding the information in your resume — or in this case, your PR application.
If you have ever tried to craft a cover letter, you know how daunting this task can be. The Internet is full of tips on how to create one, but they do not make the process less difficult and time-consuming. So, it begs the question: is the result worth the effort? Do companies still expect them from candidates? Some studies say that only 18% of recruiters consider them important. However, others state that 56% of employers still want applicants to include such letters. Therefore, it would be wise to opt for the safer route by catering to those who do expect them.
Applying for a Singapore Permanent Residency status is no different. With the government bringing an end to conventional face-to-face interviews with prospective PR candidates, a cover letter is often the point at which first impressions are made in the mind of the reviewing officer, making it an essential part of your application.
4 Reasons to Include a Cover Letter in Your Singapore PR Application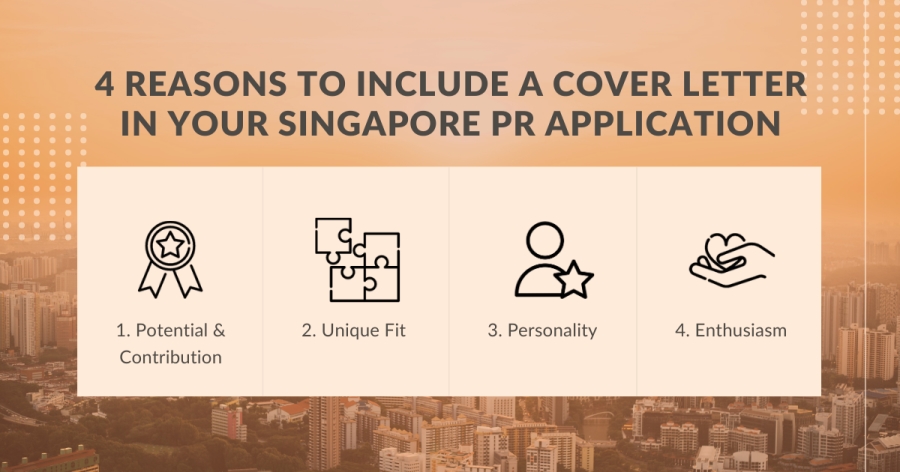 When applying for Singapore PR, yours should highlight your keen interest in becoming a PR and expand on your skillset as well as other relevant factors or experiences that make you best suited for the position. Within it, you should align your qualifications, relevant skills, previous experience and contributions clearly to the requirements of the Immigration and Checkpoints Authority (ICA). Doing so will help emphasise and explain why you are keen to take this giant step into making Singapore your second home.
The cover letter, in this case, is more than just a formality or courtesy — it is an opportunity to impress. Research suggests that employers favour applications that are accompanied by one, making it a critical component in your application strategy. When it is written well and presented cohesively, it can be used as an opportunity to show the ICA officers your:
1. Potential & Contribution
First impressions count, especially in this modern age of digital processing. A concise and compelling letter is your first chance to stand out and be considered a strong candidate amongst tough competition. Immediately emphasising your key strengths will help sell yourself, grab the officer's attention and increase the likelihood of progression through the selection process.
2. Unique Fit to the Local Society
This letter is an important way to showcase how your unique combination of skills and experience meet the key requirements of a Singapore PR. It is your chance to show a clear link between your knowledge, experience and abilities and how they complement the needs of the nation. Candidates with special talents and skillsets will have a unique edge over others. This will also depend on what these talents are and to what potential can these talents elevate the individual and the community. For example, such talents may include but not be limited to individuals who have a track record in sporting and/or artistic excellence.
3. Outstanding Personality
The wording of your letter can express your personality in a way that your PR application form cannot. The tone with which you write gives the officer an important insight into your personality and traits that could add value to their ever-progressing and dynamic nation. It allows you to explain in your own words why you, above thousands of others, are the most suitable candidate to qualify for the coveted PR vacancy slots.
4. Enthusiasm in Contributing to the Country
A tailored and compelling piece shows that you have taken the time to research about the country and understand the government's expectations of a future citizen. It is also an opportunity to express that you share a similar vision and mission to that of Singapore and are enthusiastic about the prospect of contributing socially and economically to the ever-growing and expanding multiracial society in Singapore.
What to Include in Your Cover Letter For Applying Singapore PR?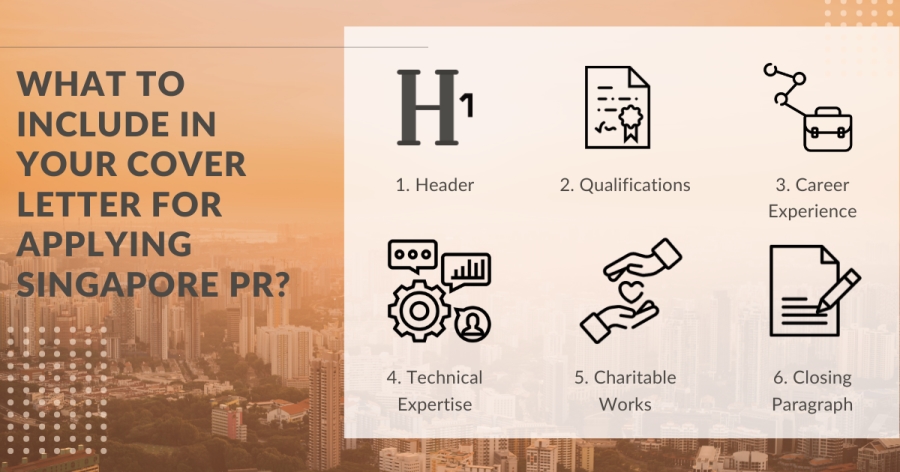 There are two streams of thought regarding these letters. If written compellingly, they are a powerful tool to help secure an interview or make it into the ICA's shortlist of potential PR candidates. But if done poorly, you could knock yourself out of the running. A well-written letter complements your resume and social media presence, pulling out the highlights most relevant to what you are applying for and back it with documented evidence. In addition, correct grammar and spelling are also important when evaluating your application. There are many instances where qualified candidates harm their chances by not proofreading adequately, affecting the impression formed by the recruiter or potential employer.
Confused as to what the cover letter should include? There are several standard categories of information that you may want to include in yours, such as:
1. Header
At the top of the document, begin by writing the following: date, your full name, followed by the employer's full address, which in this case, is the ICA's. Once that is done, address the letter to the Controller of Immigration.
2. Qualifications
As Singapore gets more and more qualified and skilled applicants under the PTS scheme, understandably, the bar is going to be set higher. Degrees obtained at Singapore Institutes of Higher Learning are considered additional points in your favour. Beginning with the most recent, list the degrees and diplomas you have obtained. Under each qualification, note down the name of the institution that you obtained it from, along with its location. Additionally, you should specify your area of study and the date of the completion of your program. You can also list additional training that may be an asset to Singapore, such as accreditations, certifications or licences in fields that are in high demand.
3. Career Experience
Using action words, write about your professional experience and provide a summary of your job functions, responsibilities, and accomplishments. Avoid using vague descriptions by providing detailed specifics of your tasks and providing statistics whenever possible. For instance, if you were a manager, be sure to include the number of people in your team. This would allow the officer to understand the nature and extent of your professional experience and give them a sneak peek at your soft skills — such as communication, teamwork, organisational and time management skills — which are important traits to have when it comes to social integration. You can also note down additional responsibilities that were assigned to you as well as promotions that were accorded to you by listing new job titles.
4. Technical Expertise
Subject matter expertise or extensive knowledge in key/sunrise industries are also considered additional points in your favour. If you have any specialised skills such as computer software, programming or Excel sheet skills, include them in. Focus on your strengths and provide specific examples of work you have completed. However, do note that these are not the only criteria considered. Individuals who have accumulated special commendations, awards and recognition on a professional or personal level can use their accolades to gloss their PR applications to showcase what makes them different from other candidates.
5. Charitable Works
Volunteering, charitable works, and donations, for example, are important factors. However, please note that a one-off contribution or piecemeal attempts at volunteering will not make a huge impact and can be seen as insincere attempts to boost an application. You should utilise the time in Singapore to actively give back to society before expecting the country to take on the commitment of accepting you as a Permanent Resident.
6. Closing Paragraph
End your draft by explaining that you have attached all relevant and supporting documents alongside your application and that you are very keen to call Singapore your second home. Convey confidence in your writing by assuming that the officer will respond positively to your application, and remember to show your appreciation by thanking them for their time. When you are done, write "Sincerely" along with your full name. Since the PR application is online, a signature would not be required. However, most software should allow you to include one if you prefer to do so. Ensure that the signature is aligned with your full name.
4 Noteworthy Tips for Your Cover Letter in the Submission of Singapore PR Application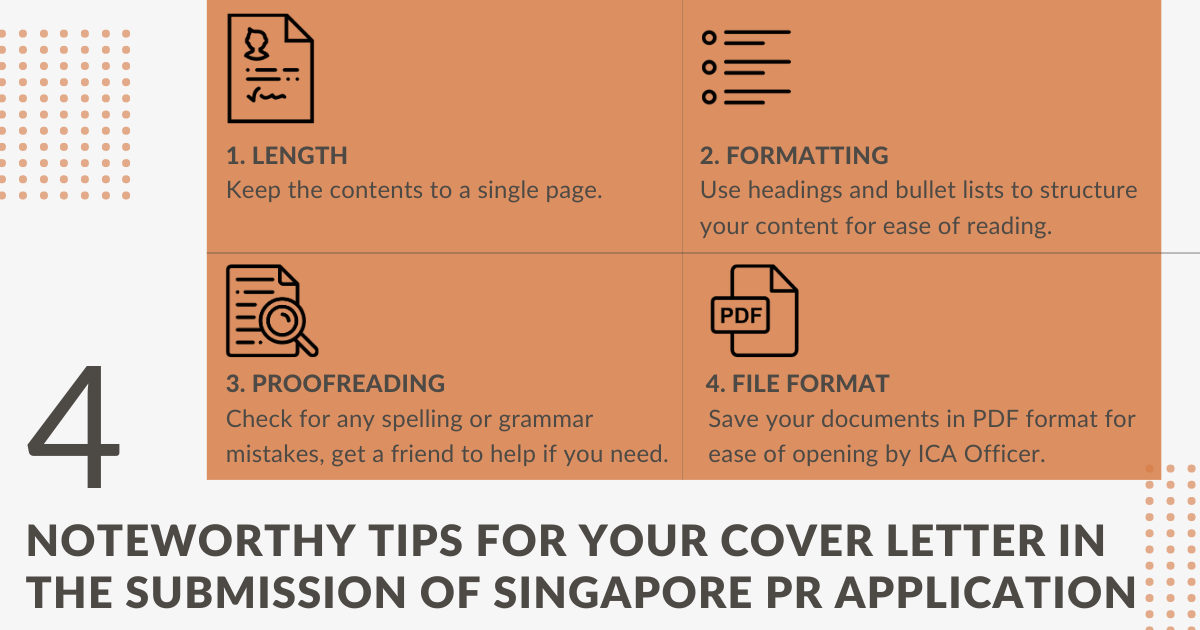 The overall goal of this letter is to demonstrate your uniqueness as a candidate — one that can bring value to Singapore as a whole and show that you are literate, experienced and enthusiastic about it. This is an opportunity to show the officer that you encompass these key attributes, which is why it is important to invest the necessary time and effort to look further into the finer details. Moreover, submitting a piece that does not cohesively present its contents can even distract the ICA officer from the letter's true focus. When fine-tuning a draft to ensure that it impresses, take note of the following:
1. Length
Most readers appreciate a short, concise piece, as they will be reviewing many applications. Try to keep yours to a single page. However, if you feel like you have plenty of relevant and unique set of experiences to share that you believe may boost your chances of a PR approval, you may write in a slightly longer one to fit all the crucial information in.
2. Formatting
When writing yours, be sure to format it such that the document contains sufficient white space or areas that do not contain any text. This would allow the ICA officer to focus on the contents of the letter without leaving them feeling overwhelmed. You can create more of these spaces by using headings, bullet lists and tabs. However, avoid providing excessive white space since this may give others the impression that there is nothing to be said about yourself. On top of this, consistency is key. Stick to one font type and size unless you intend to highlight a particular section for emphasis by bolding or enlarging it. Decide whether you want to use square bullets or round ones, rather than haphazardly alternating between the two. Such attention to detail would put you in a positive light.
3. Proofreading
Since your application is your introduction to ICA officers, be sure to proofread it. If it helps, print a draft out so that you can do so by hand. Use British spelling throughout and run it through software checks such as Grammarly or Ginger for a hassle-free way to proofread your work. If you know someone with an excellent command of English, check with them if they are willing to check your draft at least once.
4. File Format
ICA only accepts its applications electronically now, which means you are going to have to save it according to the format that has been specified (usually PDF format). Even if it is not specified, you should save your documents in a PDF file to ensure that they are easily opened by most software programs. Before you hit the submit button, ensure that the file has been aptly named to convey a professional air, along with your name.
The Final Note
If you are keen on settling in Singapore but are still unsure of the PR application process, there are a number of employment agencies that offers immigration services. Their services include a detailed eligibility assessment, an in-depth consultation and a step-by-step, comprehensive guide in organising and submitting all of your relevant documents. On top of these, there are others who go out of their way, beyond the extra mile with unique services to enhance the presentation and content of their clients' portfolio with supplementary services, such as a personalised cover letter. These immigration services can be extremely helpful, especially if you are not entirely certain on what the PR application process entails. An orderly presentation of documents and an exceptional profile will provide ICA officers with a bird's eye view of your case and set you apart from the rest of the applicants, and in return, boost your chances of PR approval.
For help with writing an impressive cover letter and how to apply Singapore PR, get in touch with the consultants at Paul Immigrations. Allow our qualified professionals to address your concerns and take care of your every need.