Singapore is known on the global stage for its efficiency and capabilities in providing high-standard facilities and services for its people. From providing a world-class healthcare system at an affordable cost for its people to creating an education system the envy of far larger, developed nations, this Lion City has proved to its international counterparts of its tenacity in taking care of the general public.
There is no wonder, then, that Singapore continues to be one of the top destinations for foreigners and expatriates, whether it is for a short stay or to relocate with their loved ones. This fact is supported by the numbers on the 2018 Population in Brief report that is published by population.sg, an initiative by the National Population and Talent Division (NPTD). The report states the number of permanent residents here has remained stable over recent years at 0.52 million.
4 Reasons to Apply Singapore PR for Your Child
If you are currently living in this city-state as a permanent resident (PR) with your family and you have a little one, you might want to consider applying the PR status for him or her. There are a number of benefits if your child attains the PR status. Below, we discuss four important reasons and considerations to help you along in your decision.
1. Lower School Fees As a Singapore PR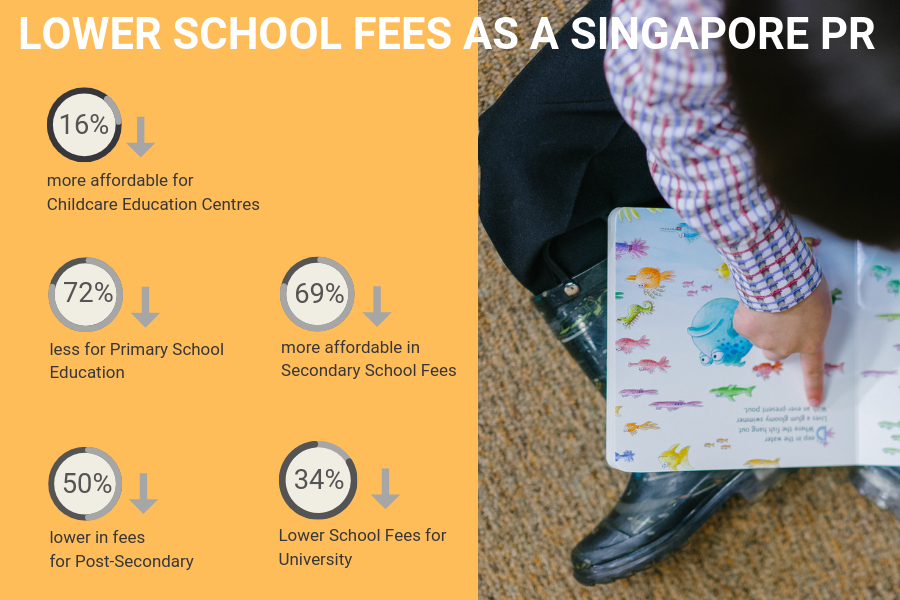 Singapore is internationally renowned for its high-quality education system. In the 2015 results of the Programme for International Student Assessment (PISA), a study conducted every three years by the Organisation for Economic Cooperation and Development (OECD), students in Singapore topped the list for Mathematics, Science and Reading among 72 countries.
The PISA ranking measures the ability of 15-year-old students to apply their skills and knowledge in finding solutions to real-world problems. The city's stellar results display its students' competency in various higher-order thinking skills such as analysing, critical thinking and reasoning. This proves to those who are critical of Singapore's emphasis on academia that, despite its rigorous education system, its students are able to effectively put into practice the skills and knowledge they have gained throughout their academic years.
However, access to the country's high-quality education system comes at a hefty price, especially if your child is a foreigner. The fees for foreign students can be at least twice the amount that of PRs, depending on where your loved one is enrolled. It will make good sense to apply for PR for your child so he/she will be able to enjoy lower fees, if you plan to have them receive their education here.
For your ease of reference, we have compared the fees between PRs and international students for each stage of education in Singapore below:
About 16% More Affordable for Childcare Education Centres
Parents with young children have two options when choosing an affordable early childhood education centre for their little ones:
Ministry of Education (MOE) kindergartens
Preschool anchor operators
MOE kindergartens are the best options (financial-wise) for PRs as they offer the most affordable fees among the three choices listed above, at $320/month for four-hour programmes. Plus, foreigners are not eligible to enrol in MOE kindergartens, making applying for PR for your little one all the more important. The next option in the list is preschools under the Anchor Operator (AO) scheme. The AO scheme provides financial support in the form of subsidies and government grants to selected preschool operators to enable them to provide high-quality early childhood education at more affordable rates. PRs can enjoy cheaper fees for these preschool anchor operators compared to foreigners. My First Skool, for instance, offers their nursery and kindergarten programmes at $963/month for PRs, compared to $1,155.60/month for foreigners. E-Bridge Pre-School, a preschool run by EtonHouse International Education Group, offers their childcare programme at $900/month for PRs a $1,080/month for foreigners.
Up to 72% Less for Primary School Education
Formal education begins in primary school at the age of seven. For PRs, the monthly fees in 2019 are at $180/month ($205/month in 2020). In comparison, international students have to pay a much higher fee depending on which region they are from. Those from any one of the ASEAN (Association of Southeast Asian Nations) countries are required to pay $440/month in 2019 ($465 in 2020), while those from non-ASEAN countries have to pay $700/month ($750 in 2020). Looking at the substantial fee difference between PRs and international students, you will be able to save a significant portion(  approximately an up to 72% less) of your finances by applying for PR for your child.
Estimated of Up to 69% More Affordable for Secondary School Fees
Just like primary school, the fees for secondary schools differ among PRs, as well as ASEAN and non-ASEAN international students. In 2019, PRs have to pay $320/month ($380/month in 2020). In contrast, ASEAN and non-ASEAN international students have to pay $720/month ($780/month in 2020) and $1,250/month ($1,400/month) respectively. That sums up to an estimated about of 69% lesser to fork out for their pre-teen education years as compared to being a foreign student studying here.
50% Lower in Fees on Average For Post-Secondary
Upon graduating from secondary school, students mainly have three routes to take on, if they plan to further their academics here. They are as follow:
Junior College (JC)
Polytechnic
Institute of Technical Education (ITE)
Not including independent JCs in this comparison— which they are able to set their own school fees — PRs are expected to pay $400/month in 2019 ($460/month in 2020) for their Junior College fees. Meanwhile, in 2019, ASEAN and non-ASEAN international students are required to pay $980/month ($1,040 in 2020) and $1,600/month ($1,750/month in 2020) respectively. For polytechnics, the Singapore government offers a tuition grant to any student who is eligible, regardless of his/her status in the country, i.e. PRs are able to apply for the grant too. The yearly polytechnic fees PRs have to pay after the grant is $5,800, while international students are required to pay $10,400. In the case of ITE, the annual fees for PRs is $5,328, while international students have to pay $14,370.
Approximately 34% Lower in School Fees for University
The fees vary for the six public universities in this city-state, ranging from $26,000 to $39,000 for a three-year course. Like polytechnics, eligible students (citizen, PR or international) will be able to receive a tuition grant so he/she can enjoy the education programme at a much lower rate. For instance, PRs entering the National University of Singapore (NUS) are required to pay $11,500/year, while international students have to pay $17,500/year.
2. Better Chances of Your Child to Enrol in Your Preferred Public School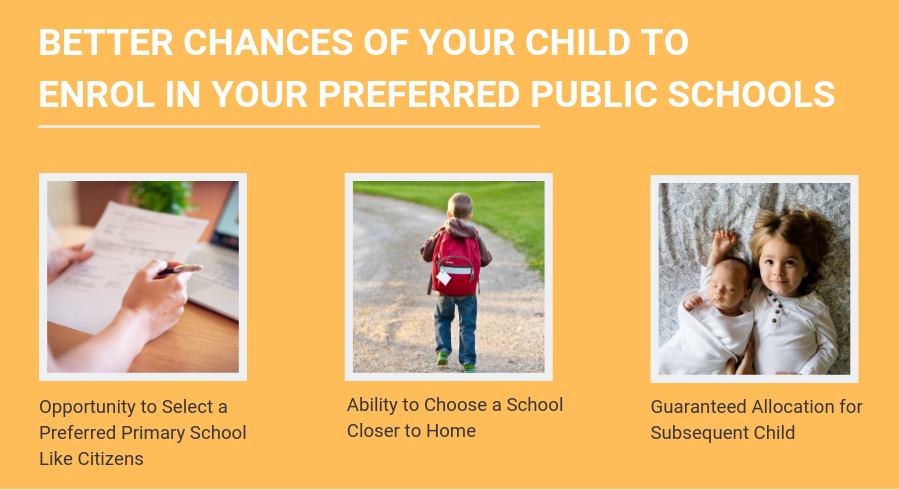 In this city-state, parents are required to register their younglings for a primary school in the year prior to their enrolment. The registration process includes several phases, and it allows parents to register their child into a primary school of their own choosing (though this does not guarantee the students a place in their preferred school).
Opportunity to Select a Preferred Primary School Like Citizens
PRs, as well as international students, are also eligible to apply for primary school education here, but with one main difference. PRs have the opportunity to register for a primary school they prefer, just like Singapore Citizens. International students, however, are only allowed to submit an indication of interest online if they wish to enrol in a public primary school. Furthermore, this submission does not guarantee admission as priority is given to Singapore Citizens and PRs. Thus, if you wish to enrol your little one into a public primary school rather than a private one, applying for PR for your child is definitely the way to go.
Ability to Choose a School Closer to Home
It is not unlikely that the number of registrants for a primary school exceeds the vacancies available. In this case, priority admission will be given to those who live within a closer distance to the school. This is an important factor to note because, besides the convenience of having your little one go to one that is near your home, you will also be able to save on certain finances such as transport fees.
Guaranteed Allocation for Subsequent Child
If you are planning to stay in this Little Red Dot for the long-term and have more than one child, then you might be thinking of enrolling all of your children in a public primary school. If so, then applying for PR for your child is all the more important when it comes to the primary school registration process. As we mentioned before, there are several phases in the registration process, the first being Phase 1. If you have a child who is currently studying in your preferred school, registering your loved one under Phase 1 guarantees your subsequent children a place in the same one. Therefore, applying for PR for your first child attending classes here will not only secure him/her a place, but also the rest of your little ones when it is their turn.
3. Lower Medical Costs as a Singapore PR
In the World Health Organisation's 2010 report, Singapore is ranked sixth in its index of the best healthcare systems in the world. In 2017, the Lion-City ranked first and fourth out of 163 countries as the healthiest country in Asia and the world respectively in the Bloomberg Global Health Index. In 2018, Bloomberg ranked Singapore second in its Health Care Efficiency Index. All these results prove the country's world-class standing of its healthcare industry, making this Lion City an attractive place to live for citizens and foreigners alike.
Entitled to Subsidies Offered by Singapore Government
This top-notch ranking does come at a price, one that the Singapore government helps with, in the form of subsidies as well as insurance schemes. However, these are only applicable to Singapore Citizens, as well as PRs. Hence applying PR for your child now is an absolute essential to ensure that you are not faced with skyrocketing medical costs.
Basic Health Insurance Scheme for Citizens and PRs
One health insurance scheme eligible to all Singapore Citizens and PRs is MediShield Life. This is a basic health insurance scheme that is managed by the Central Provident Fund (CPF) and is designed to aid Singapore Citizens and PRs in paying for large hospital bills as well as certain outpatient treatments in public hospitals. MediShield Life is an opt-out scheme, i.e. all Singapore Citizens and PRs are automatically insured under this scheme after their first CPF contribution upon turning 16 years of age. Therefore, if your child has PR status in Singapore, he/she will be entitled to MediShield Life, ensuring his/her medical costs will be covered in the future.
4. Easier Application for Singapore Citizenship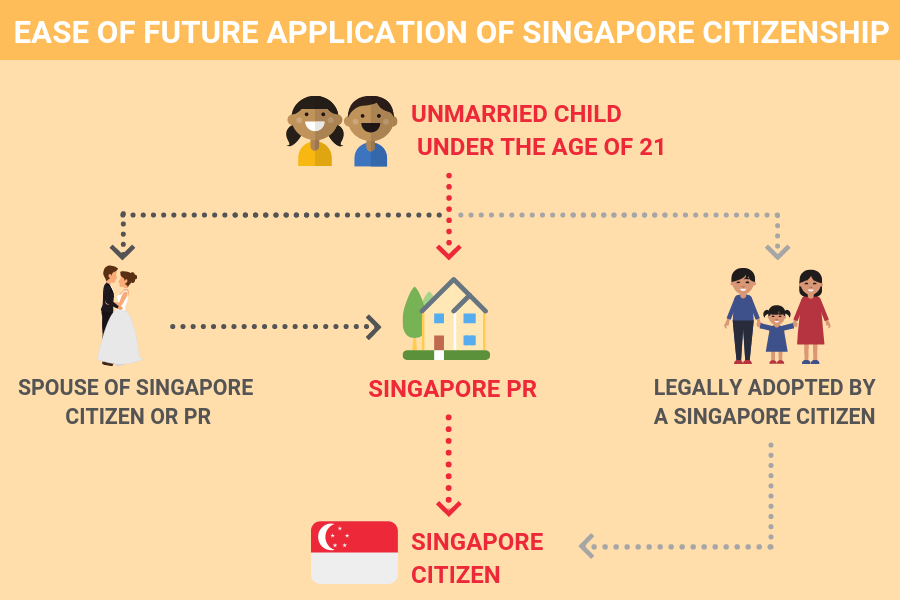 Should your child ever consider being a citizen of this Lion-City after growing up, being a Singapore PR can pave a smoother path for him or her. If he or she is not a PR then, one criterion for them to apply for citizenship will be to have a Singapore Citizen or PR as a spouse. Your loved one will then have to be a Singapore PR for a minimum of two years to then be eligible for the Citizenship application.
If he or she is a permanent resident, and have been staying here as a one for at least two to six years, the success rate of him or her to attain citizenship is much higher compared to many others. This includes the fact of whether they hold a married or single marital status. That said, like all applications, there are also other criteria that will affect their citizenship approval, including but not limited to the following:
Track record of one's stay in Singapore during one's permanent residence
One's investment into Singapore, in terms of social and financial contributions
One's good character
One's financial capabilities, i.e. the ability to support oneself and one's family
The Takeaway
Despite being a small city-state, Singapore offers its people — whether they be citizens or permanent residents — numerous advantages and benefits of living here. From providing world-class healthcare facilities at affordable rates to offering the younger generation a high-quality education system, this Lion City does whatever it can to take care of its people. Therefore, with these four reasons in mind, applying for PR for your child is an important step to take, particularly if you are planning to remain in Singapore for the long haul.