Singapore's reputation as a cosmopolitan city-state that manages to continually thrive on the international stage among much larger nations has made it one of the most coveted places foreigners wish to call home. From a top-notch healthcare industry to the quality education system, residents of the Lion City get to enjoy some of the best living circumstances in the world. In addition, with new policies and schemes implemented and existing ones improved, residents of any age can rest assured that their individual needs will be taken care of for the long-term.
For instance, those who have reached their silver years can look forward to greater healthcare subsidies as well as education courses for individuals who wish to advance their skills or even to pick up a new one. Furthermore, these benefits are offered not only to the country's citizens, but also its permanent residents (PR).
If you have been thinking of applying for permanent residency in Singapore for your parents, keep on reading to find out more on the benefits they will be entitled to as well as the mistakes you should avoid in the application submission to help attain an approval.
Why You Should Apply Singapore PR for Your Parents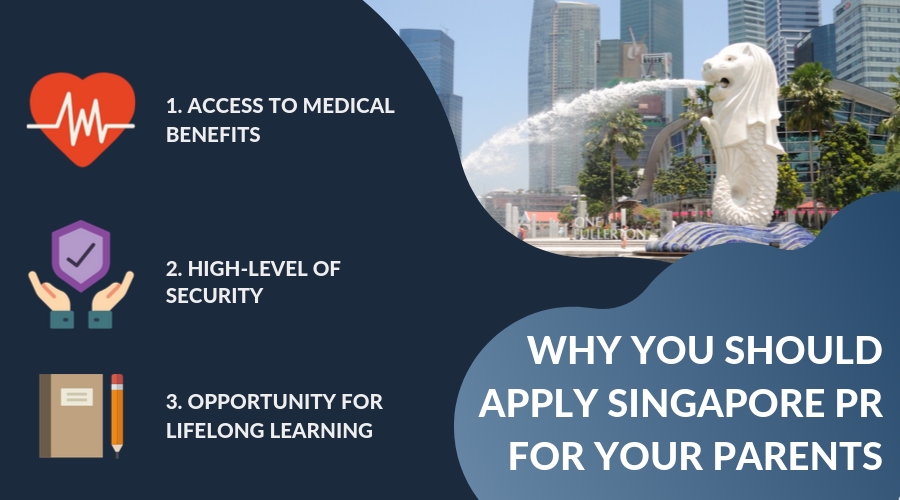 Being a highly-developed, cosmopolitan nation, there are many benefits to living in this little red dot for the long-term, no matter what age you are. If you are considering applying for permanent residency in this little red dot for your mum and/or dad, the reasons below might help shed some light as to why you should not sit on it and that you should take that next step towards bringing them into the city-state for the long-term.
1. Access to Medical Benefits
According to the 2017 Bloomberg Global Health Index, Singapore was ranked first and fourth out of 163 nations as the healthiest country in Asia and the world respectively. Both these impressive rankings are likely due to its residents — both Citizens and PRs — having access to world-class healthcare services and facilities at more affordable rates compared to other countries. This means should your mum and/or dad be granted PR status in the country, they will be able to enjoy the medical benefits offered by the government too. For instance, elderly Singapore PRs are able to enjoy premium subsidies of up to 25%, depending on their age as well as income level.
2. High-Level of Security
In the 2019 Global Peace Index published by the Institute for Economics and Peace, which determines the safest countries in the world, the Lion City ranked eighth out of 163 countries. Singapore is known for having one of the lowest crime rates in the world. For instance, according to the Annual Crime Brief 2018 report published by the Singapore Police Force, the percentage of theft and related crimes dropped by 8.6% from 2017 to 2018. With these numbers, your parents' safety and security while living in the little red dot are pretty much guaranteed.
3. Opportunity for Lifelong Learning
Just because your parents have reached their silver years does not mean that they have to lead a life of bed rest and inactive days. If they are interested in searching for employment or looking to learn a new skill, they will be glad to know that they can do just that under the National Silver Academy (NSA). Depending on the course eligibility, the NSA allows seniors who are Singapore Citizens or Permanent Residents to register for courses offered by post-secondary education institutions as well as community-based organisations. With courses covering a range of topics such as IT & Science, Health & Wellness, as well as Media, Arts & Design, this little red dot will allow your parents to continue their learning journey while keeping their mind and body active well into their silver years.
4 Contributing Factors to Your Parents' PR Application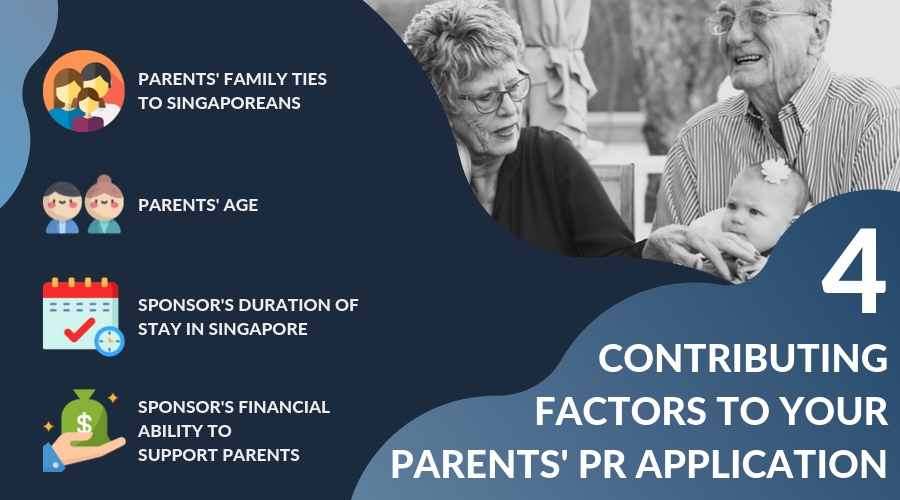 In regard to being granted PR status in this little red dot, there are certain eligibility criteria required by the Immigration and Checkpoints Authority Singapore (ICA). In this case, your mum and/or dad are eligible to apply to be a PR in the country only if you are a Singapore Citizen.
However, do take note that ICA will consider other factors as well when making their decision on whether to grant your parents permanent residency. These factors include, and are not limited to:
Their family ties to Singaporeans
Their age
Your duration of Citizenship in Singapore
Your financial ability to support your parents
4 Mistakes to Avoid in Your Parents' Singapore PR Application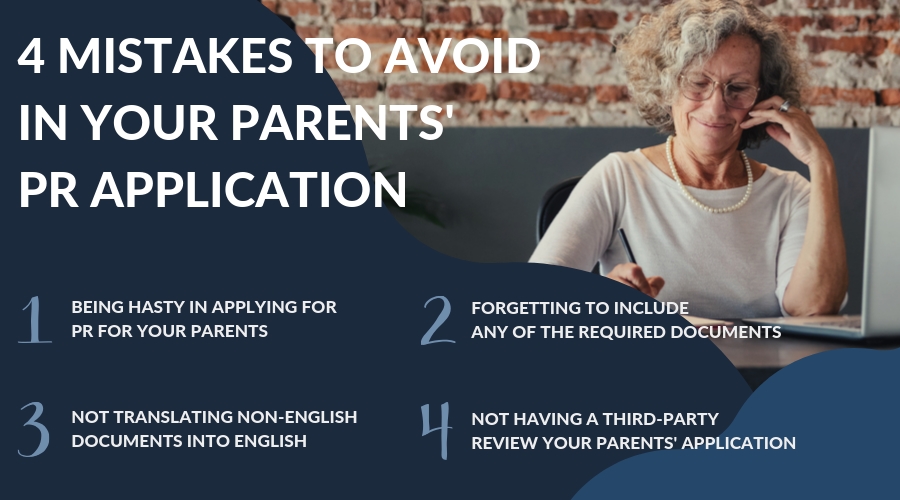 The ICA receives thousands of PR applications per year, and each one is submitted with the same set of documents required by ICA. This can make it harder for you to make your parents' application stand out from the rest and increase their chances of being granted permanent residence in the Republic.
Furthermore, as mentioned above, ICA takes into account other factors apart from the information provided in the required documents. While no one really knows what these factors are specifically, it makes getting the PR application right all the more important. Any mistakes or missing information means an automatic rejection, which means having to wait for at least another six months to submit an appeal.
To help you get your parents' application right and to increase their chances of attaining PR status in this little red dot, we have compiled some of the common mistakes that others before you have made.  Below are the mistakes you should avoid when applying for Singapore PR for your parents:
Being hasty in submitting the application
Forgetting to include any of the required documents
Not translating non-English documents into English
Not having a third party review the application
Mistake 1: Being Hasty in Applying Singapore PR for Your Parents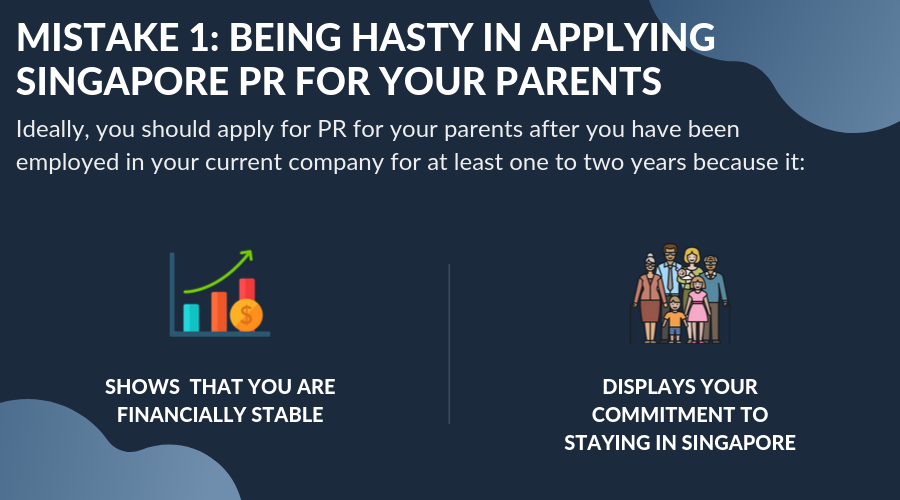 While ICA does not specifically highlight this factor, your ability to financially support your mum and/or dad while they are living in this little red dot can influence the success rate of them being granted permanent residency in the country. Assuming they will not be working while living here will mean that you should have the financial capability to support not only you but also your parents.
One mistake that individuals make when they wish to apply for Singapore PR for their parents is applying before they have earned a substantial amount of income. Technically speaking, sponsors are able to submit an application for their parents once they are able to produce six months of pay slips. Therefore, you might think, "I have worked for six months at my job, so I can already apply for PR on behalf of my parents", right?
While this is true, it is always a better idea to wait until you have been employed in your current company for at least one to two years. Here's why:
1. Shows that You are Financially Stable
Applying for Singapore PR for your mum and/or dad only after you have worked at your current job for a significant period of time proves that you are in a financially stable position. This is an important factor that the ICA officer might consider, particularly if your mum and/or dad will not be working if they are granted PR status in the country. If you are in a financially stable job, you will be in a better position to support and take care of your parents while they are living in the country.
2. Displays Your Commitment to Staying in Singapore
Waiting for one to two years before applying for permanent residency for your mum and/or dad shows that you are committed to staying in the Lion City for the long-term. Whether you are a Singapore Citizen by birth or registration (i.e. you were previously a PR), a stable employment profile, coupled with your wish to bring your mum and/or dad to the country, displays your dedication towards making this little red dot your home permanently.
Mistake 2: Forgetting to Include Any of the Required Documents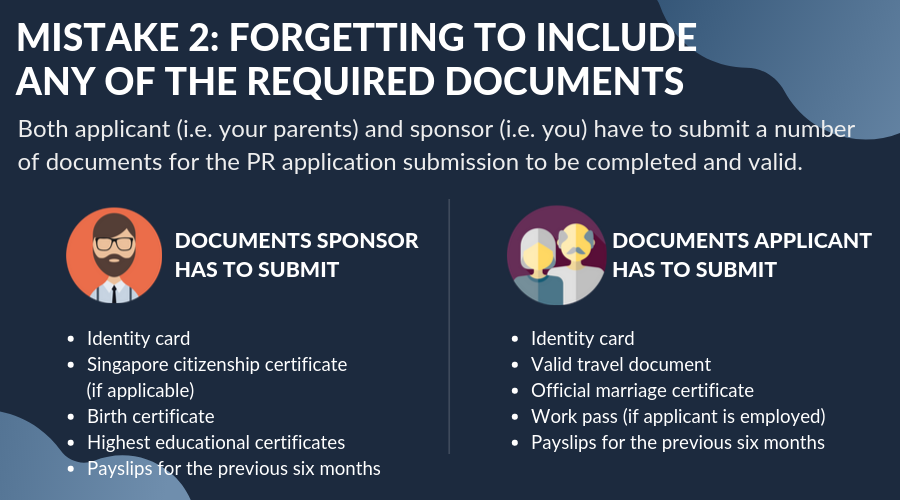 Every individual who is interested in becoming a permanent resident in the Lion City has to submit a set of documents required by ICA for their application to be complete and valid. Missing any of these required documents will have the submission rejected, which means you will have to wait for at least six more months to submit another.
When you are applying for permanent residency in Singapore for your mum and/or dad, both the applicant (i.e. your parents) and the sponsor (i.e. you) will have to submit a number of required documents. Some of the documents the applicant is required to submit are:
Identity card
Valid travel document
Official marriage certificate
Work pass (if the applicant is employed)
Payslips for the previous six months
Meanwhile, the sponsor has to submit the following set of documents:
Identity card
Singapore Citizenship certificate (if applicable)
Birth certificate
Highest educational certificates (including all tertiary qualifications)
Payslips for the previous six months
Keep in mind that these lists are not exhaustive. For the complete document list for both applicant and sponsor, do visit ICA's website.
Mistake 3: Not Translating non-English Documents into English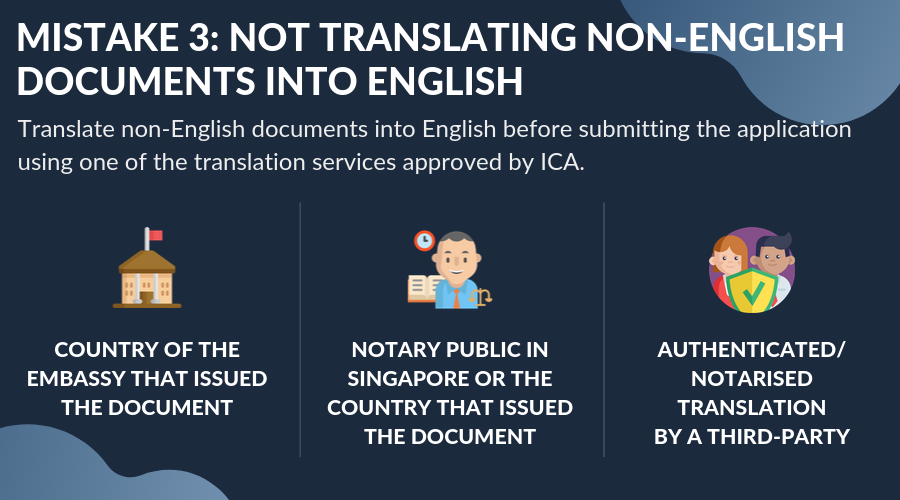 If the applicant and/or sponsor have documents that are not in English, do remember to have them translated to English before submitting the application. However, not any translation service can do. ICA only accepts translation services provided by specific parties, which include:
Translations performed by the embassy of the country that issued the document
Translations performed by a notary public in Singapore or the country that issued the document
Translations performed by a private party and are authenticated by the embassy of the country that issued the document, or notarised by a notary public in Singapore or the country that issued the document
After you have obtained the translated versions of your documents, upload both original and translated versions online so you can submit the soft copies with your application. In addition, do keep the physical copies of both versions on hand as you might be required to bring them to the ICA office should your parents' application be approved.
Mistake 4: Not Having a Third-Party Review Your Parents' Application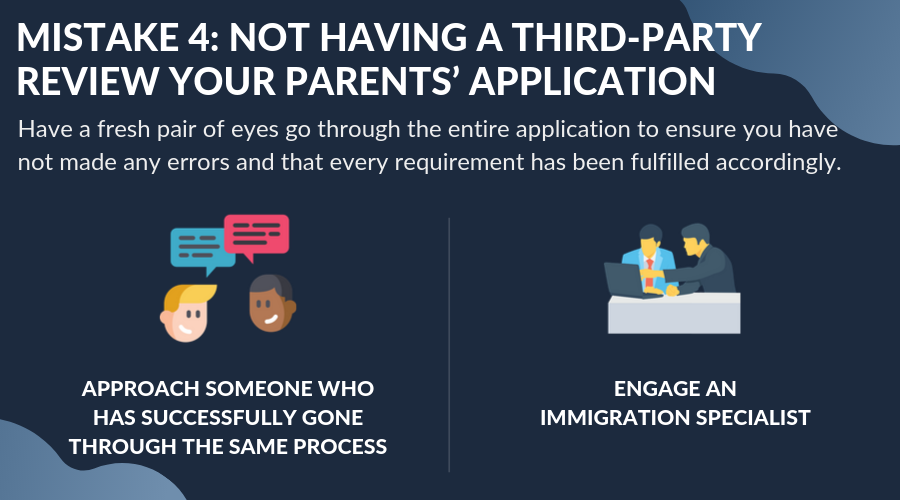 Whether you are applying for permanent residency in the Republic for yourself, your mum and/or dad, spouse and/or children, the entire process can be generally tedious. With a lengthy application form to complete as well as a long list of documents to prepare, it can be a heavy task to undertake on your own.
Furthermore, getting every part of the application in order will inevitably take up a considerable amount of your time. Mistakes are almost bound to happen along the way, mistakes you might miss out when you have spent hours on end preparing your parents' application.
Therefore, why not have a third-party go through the entire application to ensure you have not made any errors and that every requirement has been fulfilled accordingly? Whether it be another family member, a friend, or trusted colleague, having a fresh pair of eyes to go through your parents' application will help you ensure the application is in order.
Other options you might wish to consider is to approach someone who has gone through the Singapore PR application process for their parents and been successful, or engage professional help through an immigration specialist.
1. Approach Someone who has Successfully Gone Through the Same Process
If you personally know an individual whose parents have been granted permanent residency in this little red dot, have them check through your own application. They will be able to advise you on areas of your application that can be improved to increase your parents' chances of approval, additional documents you should include, as well as guide you through the entire process.
2. Engage an Immigration Specialist
If you feel like you could use the professional help and you have the financial ability to do so, hire an immigration specialist from a professional firm such as Paul Immigrations. An immigration specialist will be able to review your entire application, providing you with expert recommendations on any areas that can be improved. In addition, an immigration specialist will help you stay on track with your application, making sure you get everything done efficiently and effectively.