The road towards the much-coveted Singapore Permanent Resident (PR) status can be a long and arduous one. For thousands of PR hopefuls, it is one that comes with costs that extend far beyond the application fee.
If you have had the misfortune of experiencing this firsthand, you might be wondering if it is possible that you might have made any mistakes. It certainly does not help that ICA has made it a point not to include reasons for approval or otherwise, thus leaving you feeling even more discombobulated by the outcome of your attempt. Or perhaps you have attempted to navigate the e-PR system, only to find yourself feeling increasingly frustrated to find out that your attempt has not been accepted during the submission process.
In this article, you will find an overview of mistakes to avoid in your Singapore PR application. Read on to learn more about them and how you can overcome them.
Mistake #1: Incomplete Data Entry on Online PR Application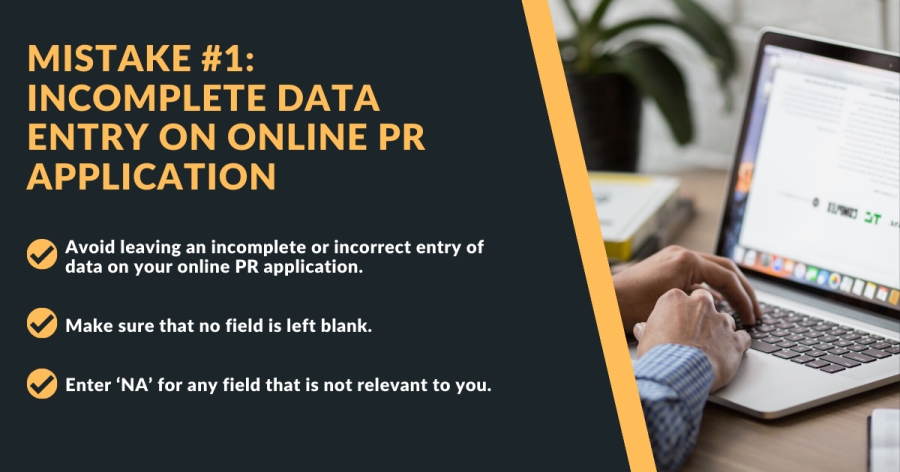 The first common error you must avoid is leaving an incomplete or incorrect entry of data on your online PR application. Since ICA only accepts online applications from 18 December 2017, you must know how to use the e-PR system accurately. Through this system, no field is to be left blank. Otherwise, this would lead to non-acceptance during submission, and you would have to start from the beginning, which may cause frustration. Instead, take the time to ensure that you complete every field that is relevant to you and enter 'NA' for those that are not. For your reference, the following is a brief chronology of the e-PR system:
Step 1a: Proceed to the e-PR System (General)
Begin by navigating your browser to ICA's official website. Following that, click on the red button that says 'MyICA' on the top left-hand corner of the homepage and log in using your SingPass account. If you do not have a SingPass account, you can register for one online. Once you have logged into 'MyICA', scroll down to 'e-Services' and click on 'Permanent Residence'. Then, select either 'Apply for Permanent Residence' or 'Sponsor for Permanent Residence'.
Step 1b: Proceed to the e-PR System (International Student)
Begin by navigating your browser to ICA's official website. While there are multiple ways to head to the e-PR System, a simple way to do so is to select 'I am a Pass Holder', followed by 'Becoming a Permanent Resident'. You will be directed to another page, where you should be able to find the button that says 'Apply Online'. Click on it to proceed to the e-PR system. Alternatively, you may click on 'e-Services and Forms' on the menu found on the left-hand side of the homepage. Once you are on 'e-Services', look for the 'Permanent Residence' section and click on 'Apply for Permanent Residence'. You will then be required to log in to the system by completing a questionnaire, where you should enter your Foreign Identification Number (FIN) and the issuance date of your valid immigration pass.
Step 2: Fill in the Application Form, Disclosure Page, and Personnel List
On the e-PR system, the first three sections require you to fill in your personal particulars. This is where you need to bear in mind the aforementioned common pitfall: remember to fill in every single field in these sections. In the first section, you will have two options of completing the application form: either do so online or download it electronically using a PDF editor before uploading it to the system — ICA recommends that you opt for the second option. Immediately after this section, you are to complete the Disclosure Page, followed by the Personnel List. It is especially crucial for you to respond to every field in the Personnel List. Otherwise, the system will not be able to generate sections that are relevant to you. Finally, take the time to review all that you have keyed into the system before moving onto the next step. No amendments may be made once you start uploading the necessary documents.
Step 3: Upload the Documents Required for PR Application
After you are certain that the information provided in the first three sections are accurate, you may proceed to upload the documents required for PR application. To upload a document, click on the 'Choose File' button within each subsection and select the required file. Similar to the above, no field is to be left blank. If any optional documents do not apply to you, enter 'NA', which will serve as a reason for not uploading it. However, if you choose not to upload any mandatory documents, you must provide a valid reason for not doing so.
Step 4: Pay the PR Application Fee
Finally, complete the process by paying a non-refundable fee of $100. You may do so using the following: American Express (AMEX) credit card, MasterCard or Visa debit/credit card, or local internet banking services via DBS/POSB, UOB, Standard Chartered Bank, OCBC or Citibank.
Mistake #2: Incompatible Documents Required for PR Application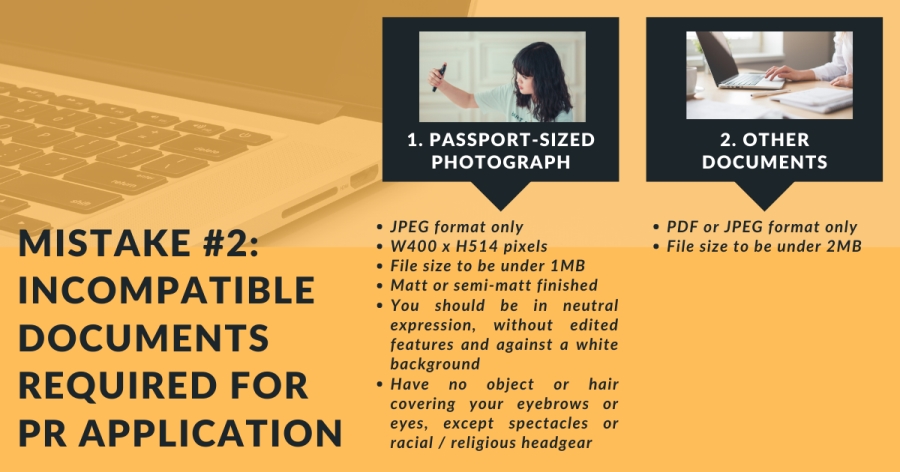 The second mistake to avoid is uploading incompatible documents required for PR application. Since the entire process is online, the onus is on you to submit files that adhere to the requirements set by ICA. Otherwise, this may lead to non-acceptance during the submission process. Therefore, be sure to take note of the following requirements:
1. Acceptable Passport-Sized Photograph
Your passport-sized photograph needs to be in JPEG image format, sized in the width of 400 by 514 pixels, and under 1MB before you upload it. Additionally, if your passport-sized photograph was not initially digitally rendered, ensure that its finish is either matt or semi-matt. This ensures that no portion of your face is blocked by either shine or shadow when you scan the photograph. The photograph must also be taken within the last three months without any manipulation made to your facial features. Instead, your face has to be accurately captured in the picture, with a neutral expression, while being completely visible. No object or hair should be covering your eyebrows or eyes, excluding a pair of spectacles that you usually wear or headgear that you are required to wear for racial or religious custom. This photograph will be printed onto your NRIC if you do become a Singapore PR, which is why ICA has set such stringent requirements.
2. Format and Size of Other Documents
For other documents, such as employment paperwork, you are permitted to upload them in files that are either in PDF or JPEG format as long as they are under 2MB. If you have any files that are in PNG format, convert them to JPEG format. You may also use a tool recommended by the e-PR system to reduce your file size if there is a need to do so. However, to preserve the integrity and quality of your files, ensure that you scan them in the appropriate format by tweaking your scanner's settings.
Mistake #3: Incorrect Documents Required for PR Application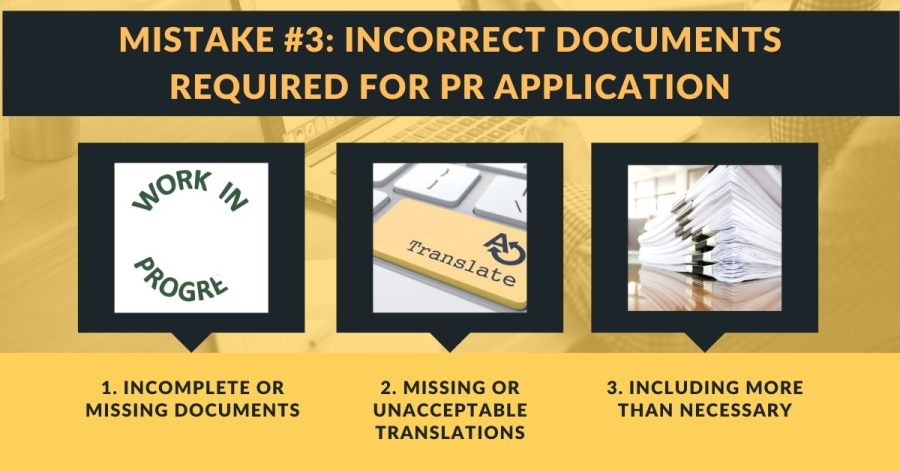 Besides the compatibility of their size and format, another common pitfall is uploading incorrect documents. Therefore, as a PR applicant, you must ensure that you comply with the list of documents required for PR while avoiding the following:
1. Incomplete or Missing Documents
While the e-PR system simplifies the process of compiling the documents that you need to include, you still have to ensure that you do not upload the wrong files. You can avoid making such an error by keeping a checklist, organising them into folders, and naming them clearly. Doing so will make this part of the process much easier to manage, leaving less room for error.
2. Missing or Unacceptable Translations
If you have any documents that are not originally in English, you are required to furnish your application with translations. Failing to do so can affect the outcome of your application. Aside from that, it is just as important that you adhere to ICA's translation requirements. ICA officers will only accept translations from three sources. The first source is the high commission or embassy or high commission of the document's country of issue while the second source is a public notary who is based either in Singapore or the document's country of issue. You are also allowed a third source: a private translator whose work is later attested by the high commission or embassy of the original document's country of issue or notarised by a public notary who is based either in Singapore or the document's country of issue.
3. Including More Than Necessary
When uploading your supporting documents, you might feel the overwhelming urge to add more than necessary — resist the compulsion to do so. While it might seem as though including more supporting documents will strengthen your case, this is more likely to backfire since it will only give ICA officers more paperwork to deal with. ICA officers have to go through thousands of cases on an annual basis, an arduous task that involves a strict screening process. Therefore, it is best that you do not burden them with more than necessary. Instead, you are highly recommended to stick to your original list.
Mistake #4: Rushing Through the Process of Applying for PR Status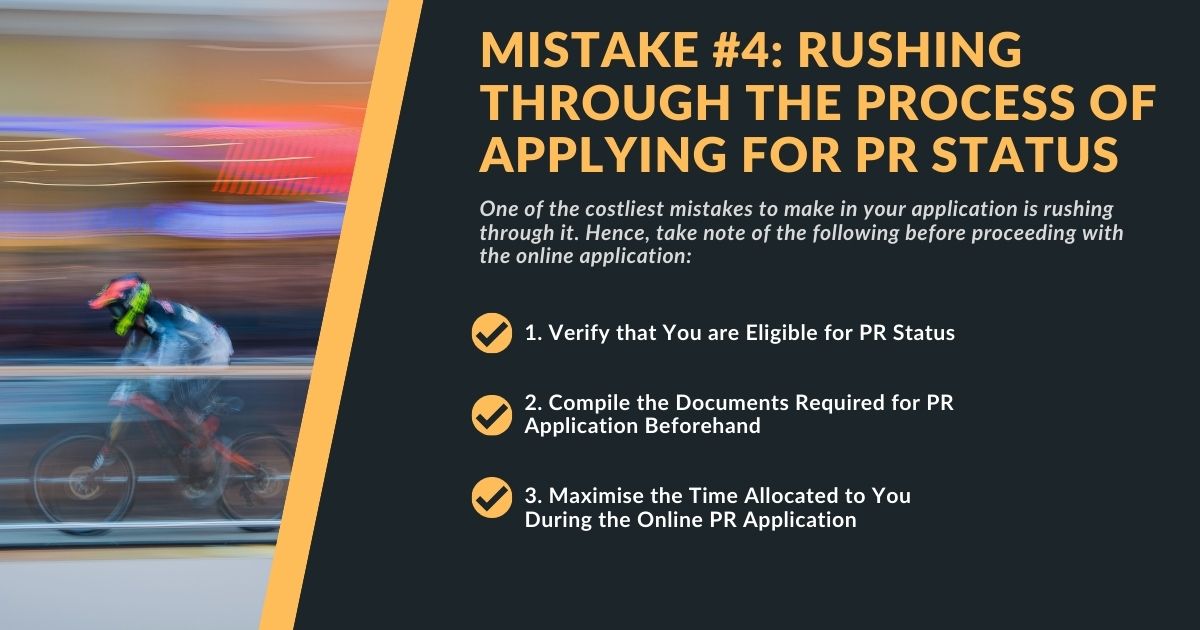 One of the costliest mistakes to make in your application is rushing through it. Although it is tempting to push through quickly in order to attain the status as soon as possible, there is no point in running headlong into the process without preparing for it sufficiently. Moreover, doing so may inadvertently increase the odds of making all of the above mistakes. Hence, take note of the following before proceeding with the online application:
1. Verify that You are Eligible for PR Status
Before beginning with anything at all, verify your Singapore PR eligibility first. If you are applying for permanent residency under the Family Scheme, ensure you are married to either a Singapore Citizen (SC) or PR. Children who are applying for PR status must be born to, or legally adopted by, an SC or PR within the context of a legal marriage. However, aged parents of a Singapore PR cannot apply for permanent residency — this is a privilege that is restricted to only an SC. Meanwhile, you may have the option of applying for PR based on your own merits under one of the following schemes: Professional, Technical Personnel, and Skilled Workers (PTS) Scheme, Global Investor Programme (GIP) or Student Scheme.
2. Compile the Documents Required for PR Application Beforehand
Secondly, compile the documents required for PR application beforehand. This will eliminate any possibility of panicking within your allocated time limit of seven days (168 hours). Being prepared will also help minimise the chances of making any errors, such as leaving out documents that could have a major impact on your case. Leave nothing to the last minute.
3. Maximise the Time Allocated to You During the Online PR Application
Having said the above, you should still allow yourself to maximise the time that is allocated to you to review the information that you have provided. The e-PR system will allow you the opportunity to amend any incorrect personal particulars at certain junctures. In addition, it is recommended that you keep a copy of your completed application. This would allow you to keep a record of your application, even after submission, and keep the ICA updated of any significant changes in writing.
A Final Note
As long as you take the time to prepare for and review your application, you should be able to avoid committing these common mistakes. However, if you are still concerned that you might end up making these errors (and more), do not worry. After all, to err is human.
Here at Paul Immigrations, we have a team of specialists with the expertise to sift through your documents and review your application to eliminate errors. Contact us today and allow us to take some of the pressure off your shoulders by assisting you with the entire process from start to finish.