The Singapore Permanent Resident (PR) application process is fraught with countless pitfalls that increase the risk of rejection. Even if you are a former applicant who has acquired PR on your own before, your spouse's experience might not necessarily be similar to yours. Most candidates will find that the status is increasingly out of reach, and PR approval letters are now much harder to come by, given tighter restrictions by the authorities. Instead, more and more stories about PR hopefuls, struggling to acquire the status, are being published by the media.
How, then, do you beat the odds? It is impossible to control the authorities' decisions on the matter. Your spouse's actual success depends on their judgement entirely. Nevertheless, there are important factors for you and your spouse to consider as you plan when and how to apply. Read on to find out more.
6 Contributing Factors to Your Spouse Attaining PR Status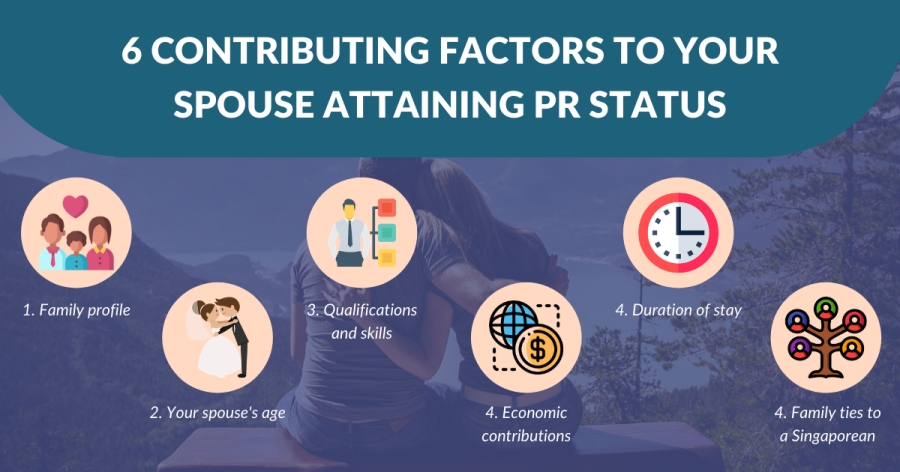 Before anything else, you must understand your spouse's chances of acquiring permanent residency in Singapore. The Immigration & Checkpoints Authority (ICA) has elected against full disclosure in their assessment process but has, nonetheless, revealed six factors that influence the outcome of every single case. You can, therefore, evaluate your other half's chances based on these six factors, including the following:
1. Family Profile
Family can affect your spouse's application in two ways, the first of which involves their profile. In other words, when assessing his or her case, the officers will evaluate their immediate family members too — yourself included. In particular, note that they will pay attention to the presence or absence of children and whether your significant other has included or excluded them in their application. We will touch on the second part a little later on in this article.
2. Your Spouse's Age
Given the dwindling ratio of working adults to the elderly in Singapore, the authorities have become much less inclined to grant the status to applicants who are approaching their silver years. This restriction means that your other half is at a disadvantage if he or she is far too close to the 50-year-old mark. Conversely, younger spouses who are below this mark will have the upper hand over other applicants.
3. Qualifications and Skills
Having said the above, mature spouses might still be in the running if they have qualifications and skills that are both necessary to Singapore's workforce and difficult to come by. Moreover, with age, comes a wealth of experience that cannot be attained within the protected vacuum of an educational institution. Should your other half match this profile, they may wish to apply for PR under the Professionals, Technical Personnel and Skilled Workers scheme, rather than depend on you to sponsor their application.
4. Economic Contributions
Your spouse stands a better chance of receiving a PR approval letter if they put the above skills and qualifications into practice as a consistent, productive member of the local workforce. Bear in mind that the documents required for Singapore PR application include payslips for the last six months of their employment. As such, their employment history in Singapore needs to last for at least the past six months for their contributions to matter.
5. Duration of Stay
The duration of your significant other's stay in Singapore is crucial primarily because the authorities do not wish to grant the status to someone who will leave the country as soon as they find greener pastures. Anyone who is far too quick to apply for PR status is an immediate red flag, especially if they are Non-Resident spouses of Singapore PRs or Citizens.
6. Family Ties to a Singaporean
Now comes to the second way that family can affect your spouse's application. If you are a Singaporean, your other half may be at an advantage, provided they tick off the above boxes during ICA's assessment, especially duration of stay and economic contributions. However, in light of multiple cases of sham marriages, the officers will investigate your relationship closely. Therefore, consider the following three tips when applying for permanent residency for your other half.
Tip 1: Obtain an LTVP Before Applying for PR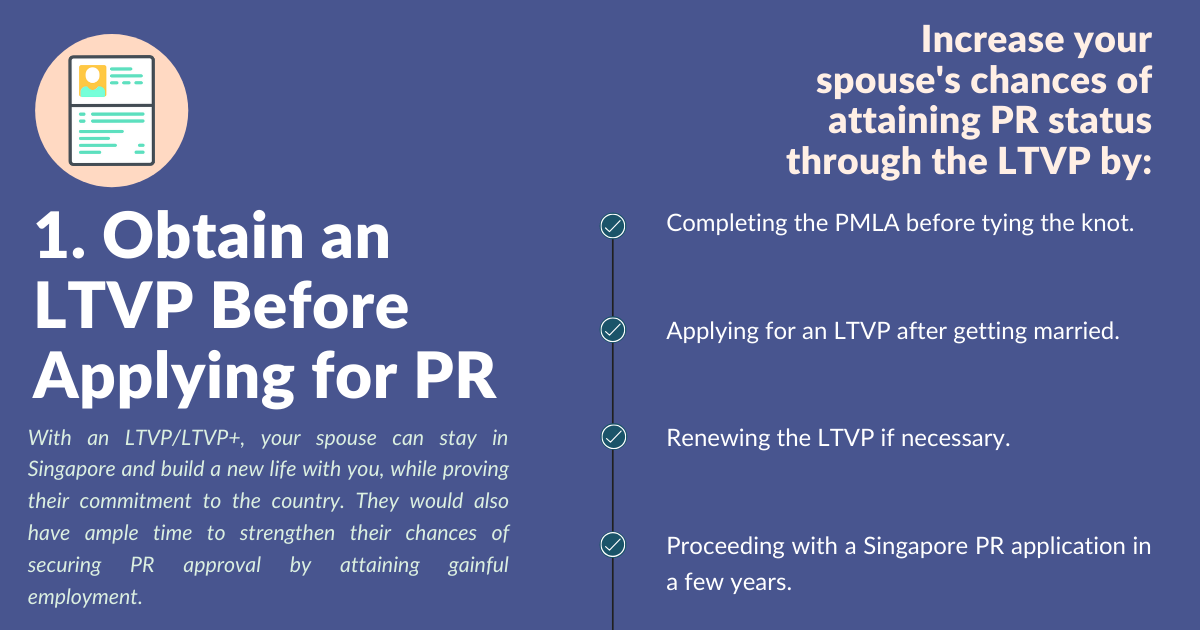 If you are a Singaporean who wishes to marry a Non-Resident, consider obtaining a Long-Term Visit Pass (LTVP) or a Long-Term Visit Pass Plus (LTVP+) for your spouse within the first few years of your marriage. The LTVP is a pass that is usually valid for up to two years, tied to a work pass, citizenship or permanent residency, whereas the LTVP+ is valid for up to three years. In addition to this, an LTVP+ can be extended for five years if it is later renewed.
With an LTVP/LTVP+, your significant other can then stay here and build a new life with you, while proving their commitment to the country. They would also have ample time to strengthen their chances of securing PR approval by attaining gainful employment.
However, the LTVP comes with a few limitations, including the following:
Renewal of the LTVP is necessary before it expires
Failure to renew the LTVP can result in an overstaying fine
If the LTVP is attached to a work pass, its validity is tied to the work pass's validity
Keep the above in mind to avoid inadvertently forcing the authorities' hand in deporting your significant other. Fret not, though. With careful planning on your end, your significant other's future will still be in good hands. Here is an idea of how prospective couples can plan their future in the city-state to steer away from that possibility:
1. Complete the PMLA Before Tying the Knot
Singapore Citizens should consider completing the Pre-Marriage LTVP Assessment (PMLA) for their prospective spouses. The PMLA is a free online assessment, introduced in January 2015 to help Non-Residents who genuinely intend to stay here with their Citizen spouses for good. Since the PMLA is free of charge, little to no risks are involved here. Moreover, if your future spouse has been found eligible for the LTVP, they will obtain the pass that much more quickly with a Letter of LTVP Eligibility (LLE). Prepare the following information for the PMLA:
Personal particulars, such as date of birth
Immigration records, such as details of your passports
Address of current residence
History of previous marriage(s), if applicable
Qualifications
Medical history
Current income
Criminal records
2. Apply for an LTVP After Getting Married
After getting married, you will need the following when applying for an LTVP:
Biodata page from your spouse's passport
Your spouse's Disembarkation/Embarkation Card (D/E Card)
Your spouse's passport-sized digital colour photograph
Your NRIC
CPF Statement that shows your monthly contributions for the past 12 months
Your Income Tax Notice of Assessment for the past three years
Letter from your current employer (if you are attached to an employer)
Your valid registration certificate (if you are self-employed)
Your company's Profit and Loss Statement for the past 12 months (if you are self-employed)
Highest educational certificates
Marriage certificate
Divorce certificate(s) from previous marriages
Letter of LTVP Eligibility (LLE) (if you have one)
3. Renew the LTVP if Necessary
As an LTVP's period of validity varies, your spouse's pass might expire sooner than later, especially if he or she was not granted an LTVP+. Thus, ensure that he or she renews the pass well ahead of its expiry date to avoid incurring any penalties. An LTVP/LTVP+ holder can renew their pass up to six months before its expiry.
4. Proceed with a Singapore PR Application in a Few Years
A few years down the road, your significant other should have a much higher chance of acquiring the PR status. You may then read more about the various schemes under which he or she can apply for permanent residency, and select the most suitable one for your significant other.
Tip 2: Combine Their PR Application with Your Children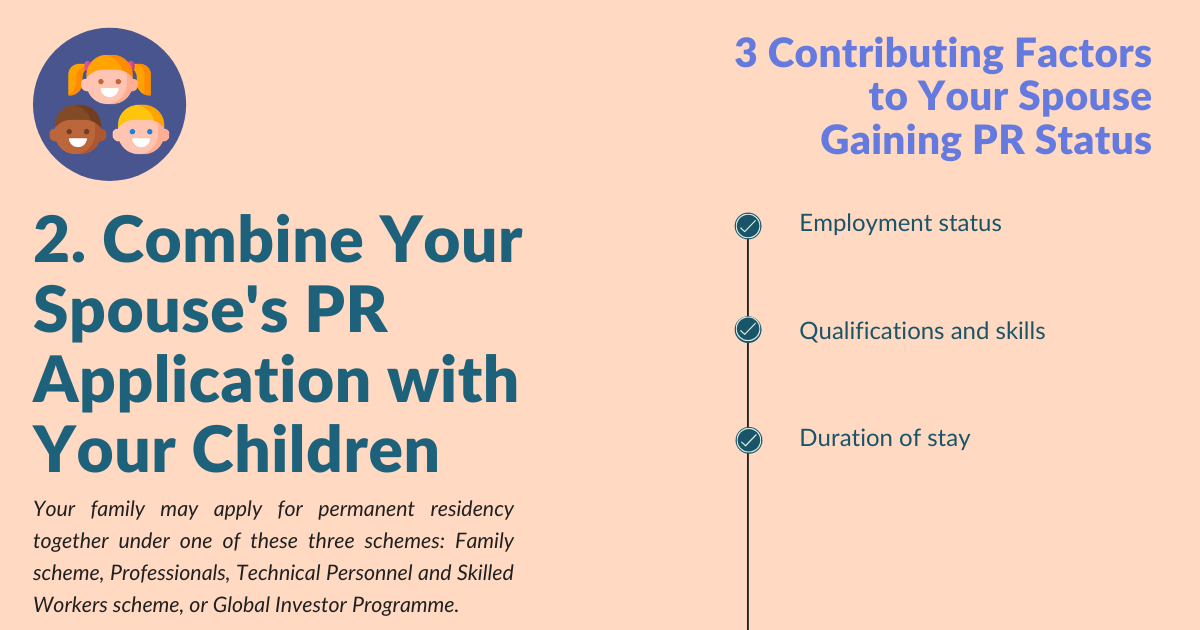 While children who are born to at least one Singapore Citizen parent are automatically Citizens, the same does not apply for PRs. Thus, even though you are a Singapore PR, your child will not be automatically accorded the status. In such cases, consider combining your spouse's application with your children. ICA officers will know if you choose to apply for PR status on behalf of your significant other without your children, which can negatively affect their case, especially if you have a son.
Numerous PRs have attempted to exclude their sons from their PR applications in hopes of avoiding National Service (NS) — to their detriment. Therefore, maximise your significant other's chances of success by combining your entire family in one application. Here are a few schemes under which your family may apply for permanent residency together:
Family scheme
Professionals, Technical Personnel and Skilled Workers (PTS) scheme
Global Investor Programme
Under the first scheme, you can sponsor your family's Singapore PR application, using your SingPass to gain access to ICA's e-PR system. However, your spouse can also apply for PR status on their own merits under the PTS scheme and Global Investor Programme. Regardless of the scheme that your spouse opts for, their chances are heavily contingent on the following:
1. Employment Status
Your significant other is less likely to become a PR if either of you is unemployed, for a couple of reasons. Firstly, unemployment implies a lack of means to support your children, possibly placing a strain on the country's resources as a PR. Secondly, both of you would have nothing to show in terms of your potential to contribute to the economy. To overcome this, secure steady employment for at least six months before applying for PR. Regrettably, contractual or freelance employment will put you at a disadvantage over the rest — only aim for employment in companies that will offer you a full-time position.
2. Qualifications and Skills
ICA officers will take your significant other's qualifications and skills into consideration. Thus, your other half is at an advantage if they possess skills that are necessary to power a niche or rapidly growing local industry. Should this be the case, consider opting for the PTS scheme, which will draw the officers' attention to their qualifications as well as the ability to support your children, who will grow up to join the local workforce.
3. Duration of Stay
Applicants who rush into their ICA PR application despite only recently moving to Singapore will be at a disadvantage. Although waiting before applying for permanent residency may work against your spouse due to constant changes to the eligibility criteria, he or she would not be able to prove their ability to contribute to the economy or help you support your children. Take the time for both of you to build a stronger case with steady employment and efforts to contribute to society.
Tip 3: Make Their Application for Singapore PR Stand Out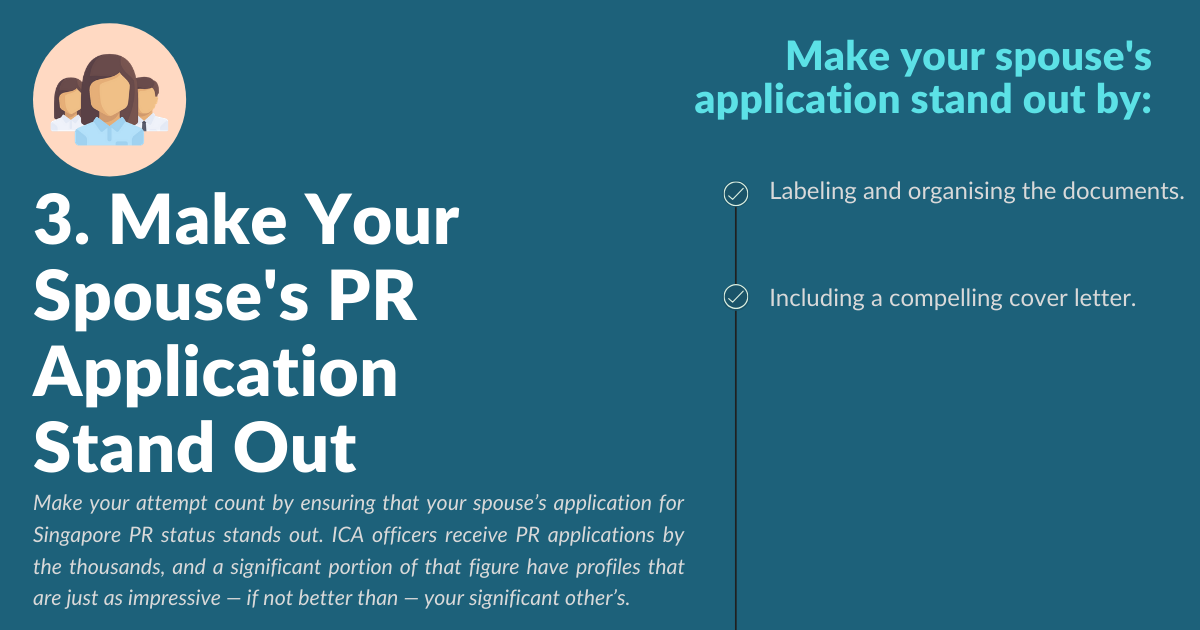 Finally, make your attempt count by ensuring that your spouse's application for Singapore PR status stands out. ICA officers receive PR applications by the thousands, and a significant portion of that figure have profiles that are just as impressive — if not better than — your significant other's. You should, therefore, set their application apart from the rest with the following tips:
1. Label and Organise Your Documents
To allow the ICA officers to process your spouse's application quickly and efficiently, make sure you label and organise your documents clearly. Including their full name in all of the names of the attached files will suggest meticulousness and thoughtfulness and paint a positive picture of your other half. It's the little things that count.
2. Include a Compelling Cover Letter
Since the ICA officers will not see the PR applicant in the initial stages, a compelling cover letter can provide them with a glimpse of your significant other's personality, accomplishments and plans. However, this letter will only work if it comes with a personal touch, rather than lifted from a random template from a website. Remember, the officers review a large volume of PR applicants. If your spouse opts for a generic template, rather than craft a customised version that is unique to them, the officers are sure to notice.
The Takeaway
With so much more at stake, applying for permanent residency has become even more daunting and demanding than ever. Be sure to discuss with your spouse regarding their chances of acquiring Singapore PR together before making your move. If you ever require assistance with any of the above, consider engaging the expertise of a PR application consultant.
At Paul Immigrations, our consultants are more than happy to cater to your significant other's every need, from evaluating their chances of success to the final submission. Contact us today to learn more about how we can identify your strengths and put your best case forward.