Highly valued as one of the most secure, developed and economically competitive city-states in the world, living permanently in Singapore is a dream of many. This city-state has firmly established itself as a global cosmopolis with a plethora of business and job opportunities, amazing infrastructures and a high standard of living. Singapore is undeniably a world-class city to work, live and play in.
With many more stellar awards and promising possibilities tagged to this Little Red Dot, the alluring benefits that the city brings can stir up a desire for you and your family to move here. So, if you are someone who is planning to sink your roots here and in search of the who, where, what, why and how of applying Singapore PR for your family members, read on as we shed light on the 19 commonly asked questions on it.
3 Questions on Applying for Singapore PR For Spouse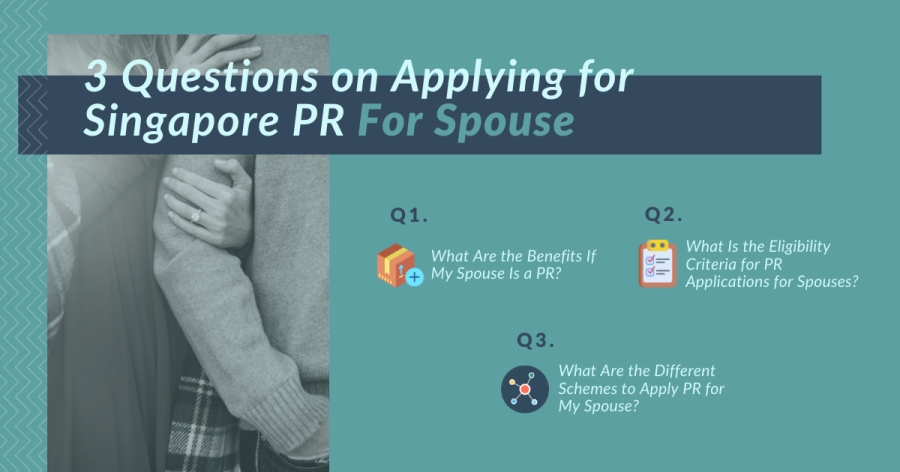 1. What Are the Benefits If My Spouse Is a PR?
There are many benefits of applying for Singapore PR for your spouse. Whether he or she is working here as a professional or entering the city as a visitor, getting the PR status can help pave an easier route of life if the game plan is to settle in the Little Red Dot permanently. Some of these benefits include being able to ease any financial burden with government subsidies for public housing and healthcare as well as the ability to change jobs without worrying about applying for a work permit every single time.
2. What Is the Eligibility Criteria for PR Applications for Spouses?
For your spouse to be eligible for permanent residency, you must be a Singapore Citizen or PR to sponsor their application. The two of you must also be legally married to one another. There are other criteria that you will need to meet, but they may vary in accordance with the different scheme you wish to take on for the application process.
3. What Are the Different Schemes to Apply PR for My Spouse?
There are mainly four routes, under the different available schemes, that your spouse can apply for SPR status. They are the following:
Family Scheme with you, a Singapore Citizen or PR, as the sponsor
Professionals, Technical Personnel and Skilled Workers (PTS) Scheme in the same application as yours, with you as his or her sponsor
Global Investor Programme (GIP) in the same application as yours, as your dependant
PTS Scheme or GIP through their own merits with a valid S Pass, Employment Pass, Personalised Employment Pass or Entrepreneur Pass
5 Questions on Applying for Singapore PR for Parents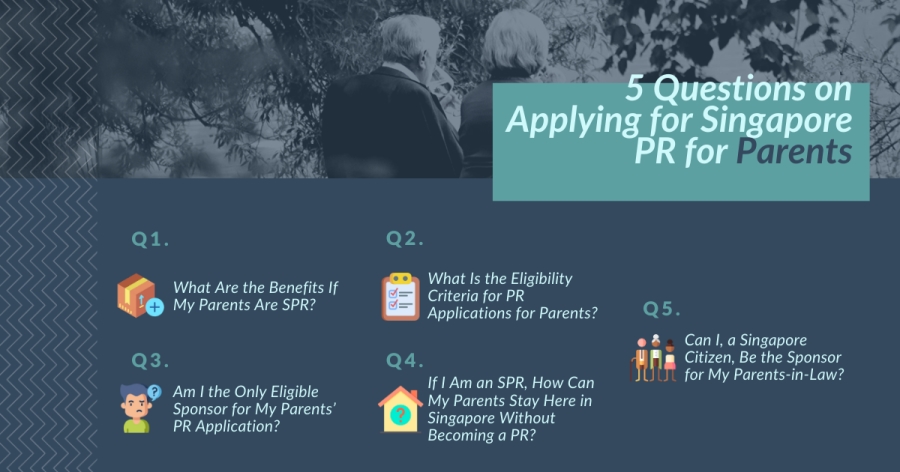 1. What Are the Benefits If My Parents Are SPR?
As a PR, your parent will have access to exclusive medical benefits such as MediSave and MediShield, a national savings scheme for medical expenses and the basic health insurance plan, respectively. These medical benefits mean that your parents would have funds set aside for any medical emergency. Of course, nothing beats staying with their loved ones, without the risk of a possible rejection of the visa renewal after a few years.
2. What Is the Eligibility Criteria for PR Applications for Parents?
The sole key criterion of PR applications for parents involves the condition that the sponsor is a citizen of the Lion City. If not, your parents will then have to apply for permanent residency on their own merits through the other three schemes, namely the PTS scheme, ForArts Scheme or GIP.
3. Am I the Only Eligible Sponsor for My Parents' PR Application?
If you are either their only child or the only Singapore Citizen in your family, yes, you are the only one who is eligible to sponsor their application. Otherwise, if you have siblings who are also Singapore Citizens, they can be the sponsors, too.
4. If I Am an SPR, How Can My Parents Stay Here in Singapore Without Becoming a PR?
If you are a Permanent Resident, you can have your parents apply for a Dependant's Pass or a Long-Term Visit Pass (LTVP), which allows them to stay in the city for a minimum of one year, depending on the decision made by the Immigration & Checkpoints Authority (ICA) officers. You will then have to renew the pass when the expiry date comes. Thereafter, when you attain citizenship, you can submit a PR application for your parents as their sponsor.
5. Can I, a Singapore Citizen, Be the Sponsor for My Parents-in-Law?
Unfortunately, you can only be the sponsor for your biological or legally adoptive parents. Nevertheless, a couple of other routes are available for your parents-in-law. Firstly, your spouse could become a Singapore Citizen and sponsor their application. Secondly, your parents-in-law could apply for PR on their own merits under the PTS Scheme, ForArts or GIP.
3 Questions on Applying for Singapore PR For Your Child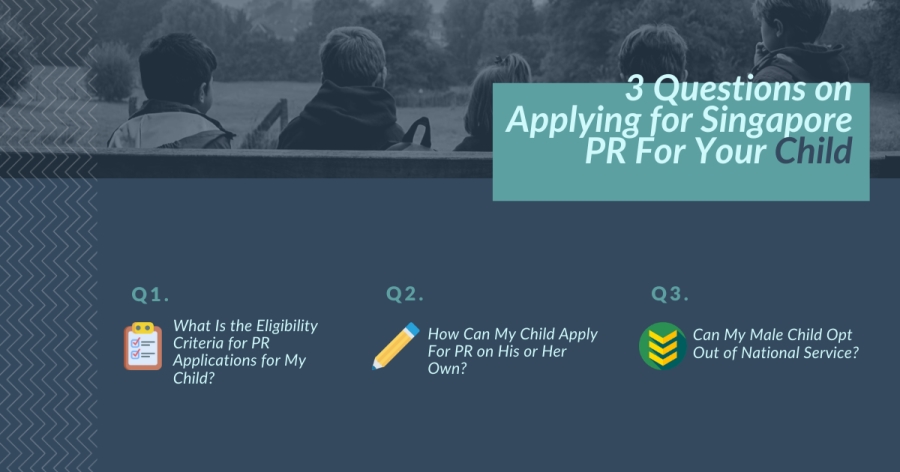 1. What Is the Eligibility Criteria for PR Applications for My Child?
Under the Family Scheme, your little one should be unmarried and under the age of 21 to apply for PR with you as their sponsor. Additionally, he or she has to be your biological child or legally adopted by you. If you are planning to sponsor your child, you will need to be a Singapore Citizen or PR. Another route to do so is to have your child apply on his or her own merits.
2. How Can My Child Apply For PR on His or Her Own?
If your little one has stayed in the Lion City for two years and is a student who has graduated with at least one of the national exams (i.e. PSLE or GCE 'N'/'O'/'A' levels) or enrolled in the Integrated Programme here, they can apply for PR without a sponsor, through the foreign student route.
3. Can My Male Child Opt Out of National Service?
All male second-generation Permanent Residents and Citizens of the Lion City will need to serve the compulsory uniformed services when they reach the age of 18. Your male child will have to face serious consequences if they give up their PR status to evade National Service.
8 Questions on the Process of Applying Singapore PR
1. Should I Apply for the PR Status with My Family in a Single Application?
This is one of the recommended ways to improve the chances of attaining PR approval. Doing so can relay to the ICA officers the message of wanting your family nucleus to sink their roots here permanently. This shows that your family is serious about the move to the Little Red Dot and not just after the benefits that come with the coveted status. Applying together as a family, especially your children who are potential contributors to the future society and economy of Singapore, can increase your chances of getting the approval letter. However, the answer still lies in the results of the strict assessment done by the ICA officers.
2. How Do I Go About Applying for Singapore PR on ICA's Website?
There is only one way to send in your PR application, and that is through the e-PR system on the ICA website. Since 18th December 2017, ICA no longer accepts physical submissions. Hence, all your hard copy documents have to be scanned and then uploaded to the system. In a glance, the online process starts with heading to ICA's website and logging in the e-PR system with your SingPass. Next, you will need to fill in three forms before uploading all necessary documents in the correct file format. When you are completing the online application forms, be sure to key in "NA" for fields that are not applicable. If not, the forms will be deemed incomplete by the automated system. Finally, make the non-refundable payment for the application, and you are pretty much done. You can pay this fee using a credit card, debit card or direct debit via internet banking.
3. I Do Not Have a SingPass, Where Do I Go to Get One?
You are eligible to apply for a SingPass account if you are at least 15 years of age and a Singapore Citizen, Permanent Resident, Employment Pass holder or an eligible Work Permit holder. If you meet the above criteria, you can apply for an account over at SingPass' website or their mobile app. You may wish to refer to their e-guide for step-by-step pictorial instructions.
4. My Documents Are Not in English. Can I Upload Them to the e-PR Portal?
Despite the national language being Malay, the ICA only accepts supporting documents in the English language. If you are submitting files that are not in English, you will have to have them accompanied by a translated copy of the original, done and stamped by an approved body. In this case, you will need to have your original documents officially translated by one of the following before submitting both the original and translated copy:
The Embassy of the document-issuing country
A private translation company certified by the Embassy of the document-issuing country
A Notary Public based locally or in the document-issuing country
A private translation company notarised by a Notary Public based locally or in the document-issuing country
5. How Long Will the PR Application Take to Process?
It will take approximately four to six months for the results to be announced to you by mail from ICA. Some may take longer than others, depending on the type of application and validity of the submitted documents. One thing you can do to help expedite this process is by providing the correct essential documents that are clear and legible. If you need any help, the experienced team at Paul Immigrations can help you with them.
6. How Will I Know If My Application Is Successful?
You will receive the results via post. If your application is successful, ICA will send you a notification to arrange for a scheduled appointment to complete the final process and formalities. All successful applicants will need to be present at the appointment to collect their Identity Cards and Entry Permit/Re-Entry Permit personally.
7. Can My Singapore PR Application be Approved While I'm Based Overseas?
The answer is yes. However, you will need to apply for a Re-Entry Permit from the Immigration & Checkpoints Authority (ICA). The Re-Entry Permit is, basically, a document that allows one to pass through the Singapore customs with ease when you travel abroad. Take note that you will have to renew the Re-Entry Permit to remain in the country as a Permanent Resident. The Permit is valid for up to five years, depending on the decision of the ICA officers.
8. Is There an Optimal Time to Apply for Singapore PR?
The present is definitely the best time to do so. Despite withholding the existence of a PR quota, there were approximately 30,000 new PRs annually in recent years, per the published population reports. With the number of hopeful and talented applicants rising each year, your chances of getting the approval will be lower with the higher competition. Additionally, with a tighter assessment of all applications since 2009, it is only wise to apply at the earliest possible time and avoid the possibility of an even tougher set of criteria to meet in the later years. With that said, do note that you should only go for it if you are eligible for the status. If you are still unsure, do have your Singapore PR eligibility checked with Paul Immigrations to weigh your chances of approval first.
The Takeaway
The process of applying for Singapore PR status can be an arduous and tedious task for many people to complete on their own. Whether it is the overwhelming paperwork or the many steps of to-dos before hitting the submit button to complete your application, having professional help can ease the application process. If you take some time out of your busy schedule for an evaluation by the expert team of immigration specialists at Paul Immigrations today, we will surely be glad to assist you!