There are several perks of being a Singapore Permanent Resident. It is a status that offers countless opportunities for starry-eyed, ambition-driven individuals who are lured in our city-state's rapidly growing economy and first-world facilities.
Unsurprisingly, the Lion City is a popular destination for many to live and work in. Despite its small size and lack of natural resources, with the support of the government, the city-state has focused most of its efforts in growing its manpower and securing foreign talent. Over merely a few decades, the Republic has transformed into a destination that is renowned for its geographically safe location, security, thriving economy and a melting pot of cultures.
As such, hundreds of thousands apply to become a Singapore PR for a chance to live and breathe these perks every single year — read on to learn more about 14 of them.
Surround Yourself With World-Class Infrastructure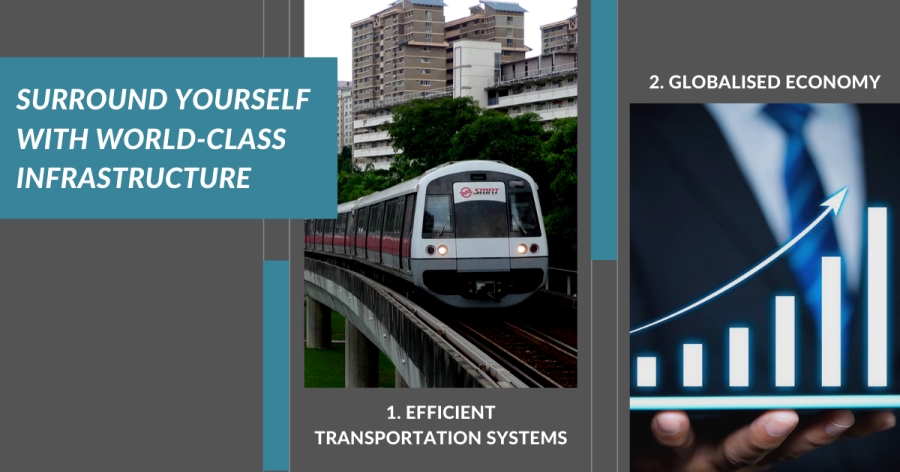 1. Efficient Transportation Systems
In order to support its growing population, the government has invested heavily in its infrastructure, including an efficient and affordable transport system. Our transport system is so highly accessible that the ownership of a personal vehicle has even become an unnecessary expense. For instance, the continuous development and improvement of the MRT network allow passengers to travel from one end of the country to the next with relative ease. The same goes for public buses here; there are many bus services that will take you from the East to the West, albeit with a longer travel journey. If you don't mind spending a little more money on transport, you could choose from the many affordable ride-hailing transport services to travel in comfort.
2. Globalised Economy
Over the years, rapid economic growth and the country's ideal geographic location has led to a globalised economy. In fact, according to the Global Competitiveness Report from 2014-2015, Singapore was named as the world's second most prospering economy. In subsequent years, our city-state has shown continuous growth and is a testament to the enduring economic strength of the country. Additionally, as of 2018, the overall growth of our economy was 3.2% in 2018. Moreover, the country offers a conducive environment for local entrepreneurs, making the country one of the world's most competitive economies.
Retire as a Singapore PR With the Central Provident Fund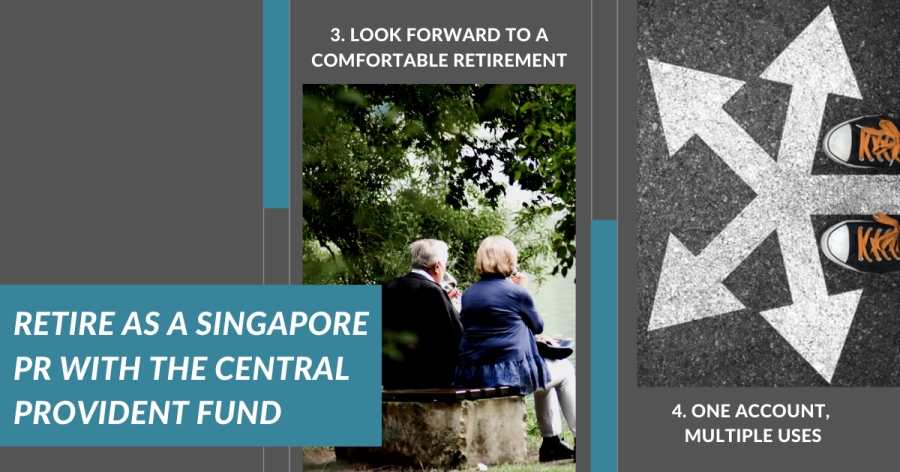 3. Look Forward to a Comfortable Retirement
As a Singapore PR, you can rely on the Central Provident Fund (CPF) to retire comfortably in your old age. Functioning much like a pension system, the CPF allows working Citizens to set aside their hard-earned money for their retirement. Additionally, the income taxable drops after the CPF contributions. This is because the tax is calculated on the amount after the CPF is deducted from your monthly salary. After turning 55 years old, you will be eligible to withdraw your CPF savings. However, do note that the withdrawal amount would largely depend on the balance in your account and the year in which you turn of age.
4. One Account, Multiple Uses
Your CPF account can be used for more than just your retirement. It can be split into four various accounts: Ordinary Account (OA), Medisave Account (MA), Special Account (SA) and Retirement Account (RA). Under the Ordinary Account, your CPF will cover the following: housing, insurance, investment and education. The second one, Medisave Account, is meant for hospitalisation expenses and other medical insurances while the third, Special Account, will focus on old-age and investment in retirement-related financial products. Finally, the Retirement Account combines both the OA and the SA. It is important to note that this account will only be created once the individual has reached 55 years old.
Expand Your Career and Business as a Singapore PR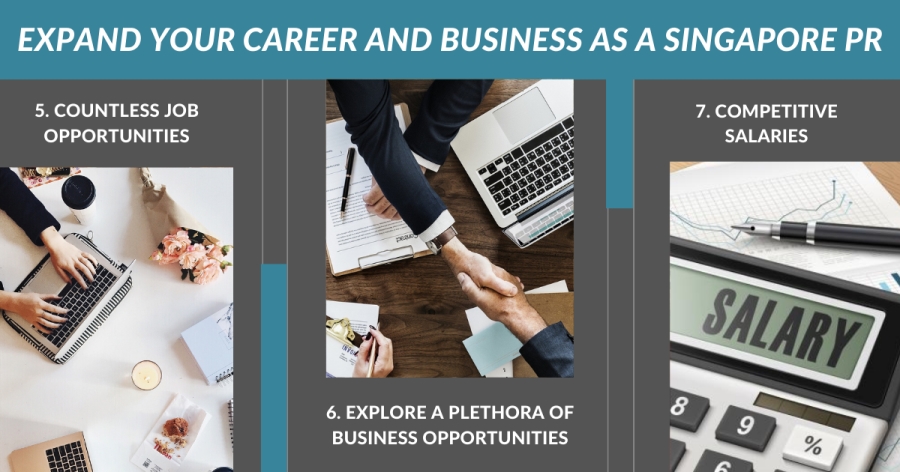 5. Countless Job Opportunities
A stable and secure economy makes way for a conducive environment for job opportunities. This, coupled with the diversity of industries in the country, translates into countless opportunities for millions of employees across a wide variety of sectors and levels of seniority. However, there are several regulations imposed by the Ministry of Manpower (MOM) to ensure that Singaporeans and PRs are given more priority when it comes to hiring. Becoming a Singapore PR will put you on this priority list, allowing you to seek employment from a wider pool of career opportunities. Moreover, living and working in the little red dot as a PR will also improve the ease of job transitions. Unlike Employment Pass holders, who are required to cancel their passes whenever they switch to a different company, Permanent Residents have no such restrictions.
6. Explore a Plethora of Business Opportunities
Making the move to Singapore gives you the opportunity to be part of a growing number of business opportunities with fewer restrictions. Based on the World Bank's "Doing Business in 2011 Report", Singapore is known to be one of the world's easiest place to do business. This is largely due to several factors including the country's tax structure, trade links, advanced infrastructure, investor schemes, a robust economy and competitive workforce. It also helps to know that there are many business opportunities opening up in certain industries. Some of these industries include biotechnology, agriculture, transport, electronics, etc. In addition to the heavy investment in selected industries, the government has always taken a pro-business approach when it comes to the establishment of businesses. With 46% of its development expenditure focused on economic development, it is not surprising to see why the country is great for starting up a business or investing in one.
7. Competitive Salaries
There is a high demand for overseas specialists in Singapore. Thus, most companies are willing to offer extremely lucrative salaries for such niche positions, and the government is always receptive to granting PRs to these skilled professionals. As a PR, you would enjoy competitive salary packages that can go up to 3.5k a month. Additionally, software engineers can rack up a salary of $72k per annum, whereas general practitioners usually get paid around $80k per year.
Stability and Security in Your Life as a Singapore PR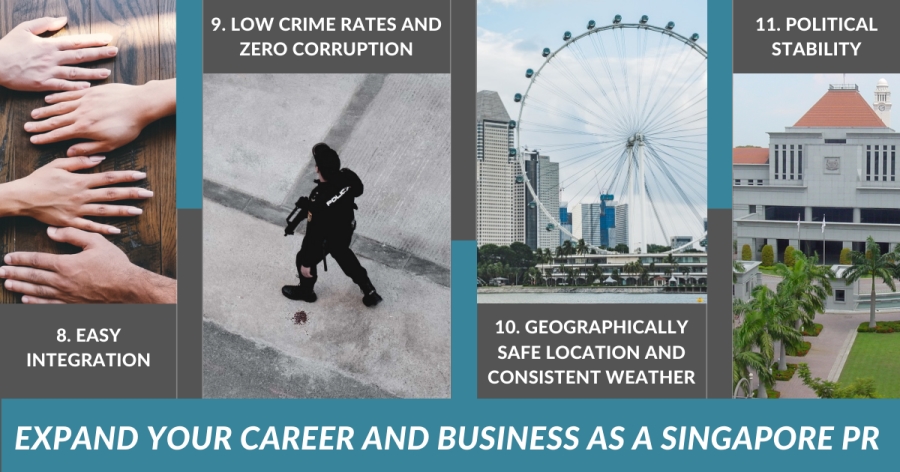 8. Easy Integration
With a population of approximately 4.7 million, the Republic is home to countless races, cultures and ethnicities. A blend of cultures and races also translates to a society that is highly tolerant and welcoming people from different walks of life. Another aspect that would make integration to the Singaporean society easier is the language. English is the main working language in the country. This essentially means that you are unlikely to experience a language barrier in most places. Consider volunteering with local communities or even in your own neighbourhood if you would like to assimilate faster and learn more about the local culture. Even though it might seem like you would be investing a lot of time and effort, it is worthwhile when you are able to call Singapore your home. Additionally, if you have children, sending them to the local school will help them to integrate faster with the locals.
9. Low Crime Rates and Zero Corruption
Singapore is praised for its low crime rates and little to none corruption. Currently ranked as the 5th least corrupt country in the world, the city-state's bureaucratic and legal process does not require people to pull strings or having special connections. Since 1952, the Corrupt Practices Investigation Bureau has kept a sharp eye on matters related to corruption in the country. Another thing that helps with the low crime rates is the harsh punishments and fines that the government imposes on law-breakers. Singapore still practices the death penalty for severe crimes.
10. Geographically Safe Location and Consistent Weather
Apart from having low crime rates, the little red dot's geographic location makes it one of the safest countries in the world. The country's strategic location allows it to be safe from severe weather conditions and natural disasters. You would not need to worry about hurricanes, earthquakes, typhoons or tsunamis here. The country is also known, for better or worse, for its consistent weather, which is mostly comprised of heat and humidity. The weather is only interrupted closer to the end of the year, during the monsoon season.
11. Political Stability
The Singaporean government practices transparency in all of its policies. Additionally, the government invests most of its efforts into conducting open and fair policies by introducing tax relieves, new laws, and regulations. This not only maintains law and order of the country but also works to further enhance the country's business and political environment. A stable political environment also contributes to a strong economy.
Enjoy Rich Diversity in Lifestyle as a Singapore PR
12. A Foodie's Paradise
If you are a foodie, you are in luck! Singapore is renowned for its diverse cuisine. This is largely due to its diverse populace. When a country is a home to different cultures, ethnicities and people of various backgrounds, it is only natural that it is also home to food from all over the world. There is a common misconception that the food here is expensive, but this is far from the truth unless you have a strong preference for dining at high-end restaurants on a daily basis. If you are on a budget, it is fairly easy to find good food at affordable prices. Numerous places in the country have hawker stalls, where you will be spoilt for choice!
13. An Opportunity to Expand Your Social Circle
Living a melting pot of cultures means you will be exposed to various races and ethnicities. As a city-state that is well-connected, Singapore makes it easy for people to get to know each other under various circumstances — be it in a professional setting or otherwise. If you are willing to meet more people or have a keen interest in mingling with the locals, consider meeting up with new people based on shared interests in online forums and Facebook groups. Alternatively, you can also follow upcoming events in your own neighbourhood or other social organisations. Even doing some volunteer work will go a long way in ensuring that you are meeting other locals and PRs on the same level. Aside from feeling good about giving back to the community, you will also be able to touch base and build a strong rapport with the people involved.
14. A Greater Chance of Becoming a Singapore Citizen
One of the greatest advantages of attaining your Singapore PR is being a step closer to becoming a Singapore Citizen, which also comes with its set of perks. As a Citizen of the country, you will enjoy better tax rates, voting rights, subsidised housing, etc. Moreover, since Singapore is on very good diplomatic relations with most countries in the world, holding a Singapore Passport will give you visa-free or visa on arrival access to 190 countries and territories in the world. However, ensure that your passport is valid for at least six months before your date of departure.
3 Factors That Will Affect Your Chances of PR Approval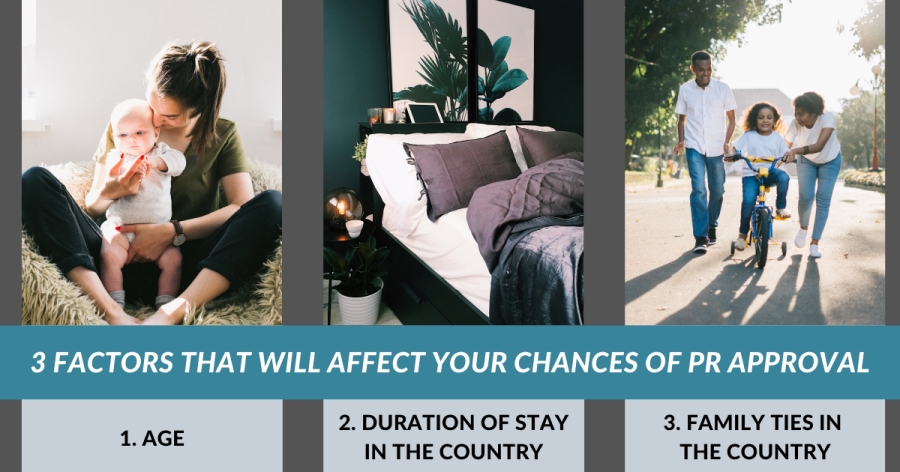 If you are thinking of becoming a Singapore PR, take note of the factors that will affect your chances of attaining permanent resident status in the country. Some of these factors include your age, duration of physical stay as well as family ties in the country.
1. Age
It should not come as a surprise that our city-state has a large and growing ageing population. This is one of the reasons why age plays an important factor in your PR application. In the long run, a younger applicant would be more likely to contribute to the economy and society. Additionally, it will also be easier for said person to integrate into the local community.
2. Duration of Stay in the Country
A longer stay in the country and a longer employment history indicates that the applicant has made substantial contributions to the economy of the country. Hence, a longer stay in the country will ultimately place the odds in your favour when it comes to the approval of your application.
3. Family Ties in the Country
Since the government is interested in having families grow together in the multiracial society instead of separating them, having family ties in Singapore is one of the biggest advantages you will have when obtaining your PR. Moreover, having family in the country will show that you and your dependents/family show a mutual interest in integrating and contributing to society at large.
The Bottom Line
Uprooting your life and starting anew in a new country is nothing short of intimidating. However, Singapore is a country that opens many doors for anyone looking for better opportunities for themselves and their families. Holding a permanent resident status in Singapore will provide an individual with more benefits in many areas, including employment, education and housing. This will not only give you a leg up on the competition, but it will also open more doors with less bureaucratic hoops to jump through.
We understand that attaining your PR status comes with its own challenges, especially if you are applying for your PR by yourself. If you would like to increase the chances of your PR application, consider hiring an immigration professional. Immigration specialists will not only evaluate your chances of becoming a Permanent Resident, but they will also help you prepare and consolidate the documents and information needed for your application. At Paul Immigrations our specialists will guide you through the entire application process, from submitting the relevant documents to assisting you with your cover letter and resume. With the help of their expertise, you will have a higher chance of getting your PR approved and be one step closer to living the Singapore dream.