To start with, the Singapore Permanent Resident application is an extremely complicated process. With only the ICA website as your point of reference, misunderstandings may arise from the lack of information presented to you on the site and that might cause you to miss out on the all-important green light to live in the country. The team at Paul Immigrations has compiled a list of frequently asked questions related to the process of applying for Singapore PR (some of which may not be found on other immigration websites but based on our company's years of experience). Read on to better educate yourself on the PR application process. If you have any pressing doubts that are not on the list, consult one of our friendly and experienced immigration specialists and they will advise you on your unique situation to the best of their capabilities.
5 Questions on Applying for Singapore PR for Yourself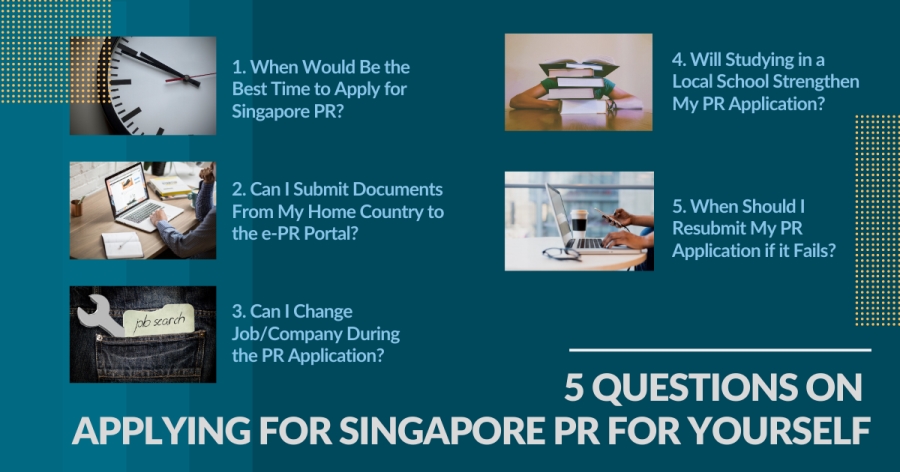 1. When Would Be the Best Time to Apply for Singapore PR?
There is no better time to apply for SPR than now. Stringent immigration laws have only made it harder for foreigners to attain a secured path to living in the Lion City. Since 2009, the ICA officers have tightened their policies to reduce the likelihood of foreigners who attain Permanent Residency with the express purpose of taking advantage of the many benefits that come with being a Singapore PR. This would, unfortunately, mean securing your permanent residency in the Lion City would only get much tougher with time since stricter policies could be implemented in the near future. Without an oracle to look beyond today, it would be best to apply at the earliest time possible if you are eligible for the status.
2. Can I Submit Documents From My Home Country to the e-PR Portal?
Wondering if your official documentation from back home would suffice? The first thing you should do is to ensure that the documents are all communicated in the English language. The ICA would only accept supporting documents that are written in English unless they are accompanied by a translated copy that has been officially stamped by an approved body. Therefore, if your documents are penned in any language other than English, have it translated and stamped beforehand. You may then submit a copy each of the original and translated version on the e-PR system. As of now, there are four ways you can obtain an official translation of your documentation:
Via the Embassy of document-issuing country
Via a local Notary Public
Via a private translation company certified by the Embassy of document-issuing country
Via a private translation company notarised by a local Notary Public
3. Can I Change Job/Company During the PR Application?
Circumstances might change after the submission of your PR application, and a job switch could occur in the space of those six months to a year. Switching your job or company might seem detrimental, but do not let that restrict you from accomplishing your career or life goals. Some believe that changes to your employment might influence the authorities into thinking you are an irresponsible and unsettled applicant. However, as long as you do not job hop too frequently throughout the assessment process, that would not affect your chances of approval. To err on the side of caution, you could also contact the immigration officers/ICA prior to your new job to explain your current work situation. Attach the following in your correspondence with ICA:
A copy of your new work pass
Annex A from your new employer
4. Will Studying in a Local School Strengthen My PR Application?
As you would imagine, your experience studying within the local education system would definitely strengthen your PR application. This is so as your years in school would hint to the officers of your adaptability in integrating with the local community. However, not all schools would fall within this category — as a general guide, universities like NUS, SMU, NTU, SUSS, SUTD and the five polytechnics in Singapore would give you an advantage while International schools and private institutes may not work in your favour.
5. When Should I Resubmit My PR Application if it Fails?
In the unfortunate event that you receive a rejection letter, do not let it shake your belief and put you off from making Singapore your home. Instead of filing a resubmission right away, take the time to work on improving your submission. Ideally, you should put in a resubmission either six months or a year later, or if you have experienced some significant changes in your life that might boost your application. It could be the acquiring of an educational certification or even landing a promotion in your workplace. Between the previous and current submissions, there should ideally be changes in your current life situation — the officers at the ICA do see merit in these little changes. However, in cases where the status quo is maintained, it is not time to fret. Some submissions might get rejected based on the duration of stay in the country, and its timing could really play a part.
4 Questions On Applying for Singapore PR with/for Family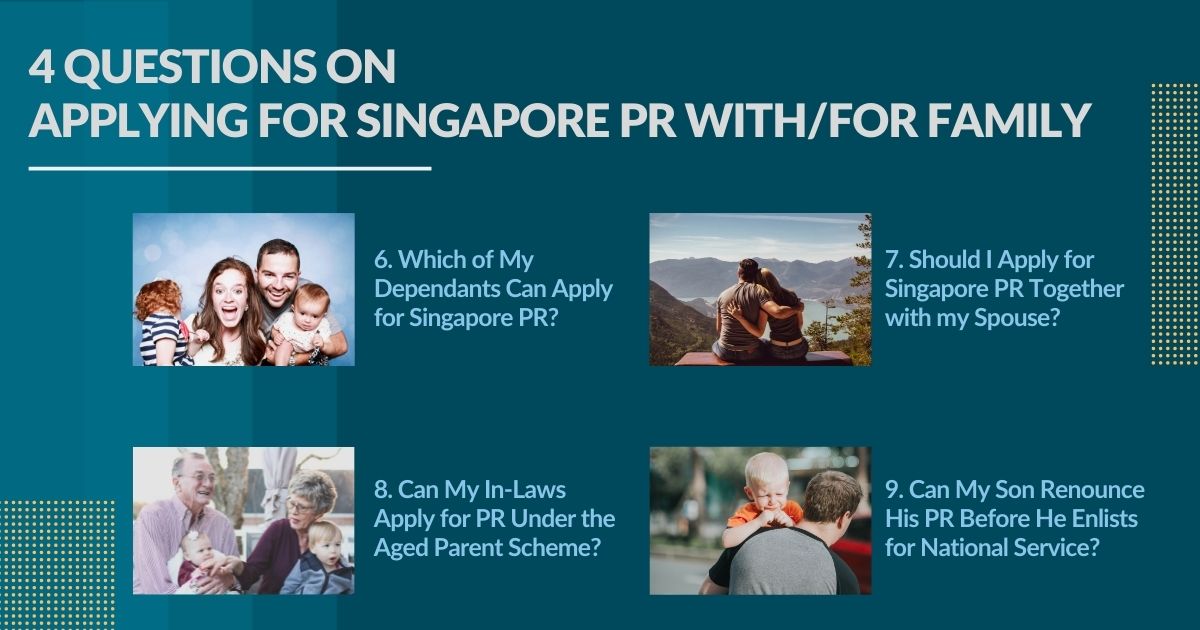 6. Which of My Dependants Can Apply for Singapore PR?
If you are a Singapore Citizen or PR, you may allow certain dependants to be tagged onto your submission. As of now, only three dependants are eligible for the application of Singapore PR. Understanding which family members are eligible would cut short any time wasted and greatly expedite the progress of your life plans. Check below to see if your family members fall within either of these three categories:
Legally married spouse to a Singapore Citizen or Singapore Permanent Resident
Aged parent of a Singapore Citizen
An unmarried child below 21 years old and below that is born within a legal marriage or has been legally adopted
7. Should I Apply for Singapore PR Together with my Spouse?
A common query that most applicants have is if they should apply for Singapore PR together with your spouse. Ideally, legally married spouses and families should apply together under one application since it communicates to the immigration officers of their desire to live and support the country. Regardless of the work pass or visa that your spouse is holding onto, submitting an application together would surely strengthen your case as a whole.
8. Can My In-Laws Apply for PR Under the Aged Parent Scheme?
Browse the eligibility criteria for Singapore PR, and you will find that Aged Parents of a Singapore Citizen are qualified to apply. A question posed frequently is if in-laws (foreign parents of your spouse) would fall under the Aged Parent Scheme as well. While it might seem natural that this eligibility should automatically carry forth to your in-laws, that isn't the case. This is because only biological (related by blood) and adoptive (through a legal adoption) parents are allowed to apply under the Aged Parent Scheme. For those who wish to try their luck, the e-PR application form wouldn't allow the input of your in-laws' details as well.
9. Can My Son Renounce His PR Before He Enlists for National Service?
There is absolutely no issue leaving your son out of your PR application if you wish for him to skip National Service when he reaches the enlistment age of 18 years old. However, for those who wish to renounce their son's PR status before they turn 18, this would be extremely unwise. This is regarded as the act of defaulting National Service and is deemed an offence committed under the Enlistment Act of Singapore.  In a written parliamentary reply by Defence Minister Ng Eng Han in 2014, he wrote that those who renounce their PR status to avoid NS liability would face serious consequences in areas like their work or study in Singapore. It has also been noted that NS defaulters have never been granted citizenship or reinstatement of their PR status in the past, or been granted approval to work and study in the country down the line. Moreover, this doesn't just affect the individual who intends to skip their NS obligations. The immediate or future applications regarding the renewal of their parents' and immediate families' application on Re-Entry Permits would be affected and their Re-Entry Permits may even be cut short.
3 Questions On How Paul Immigrations Can Help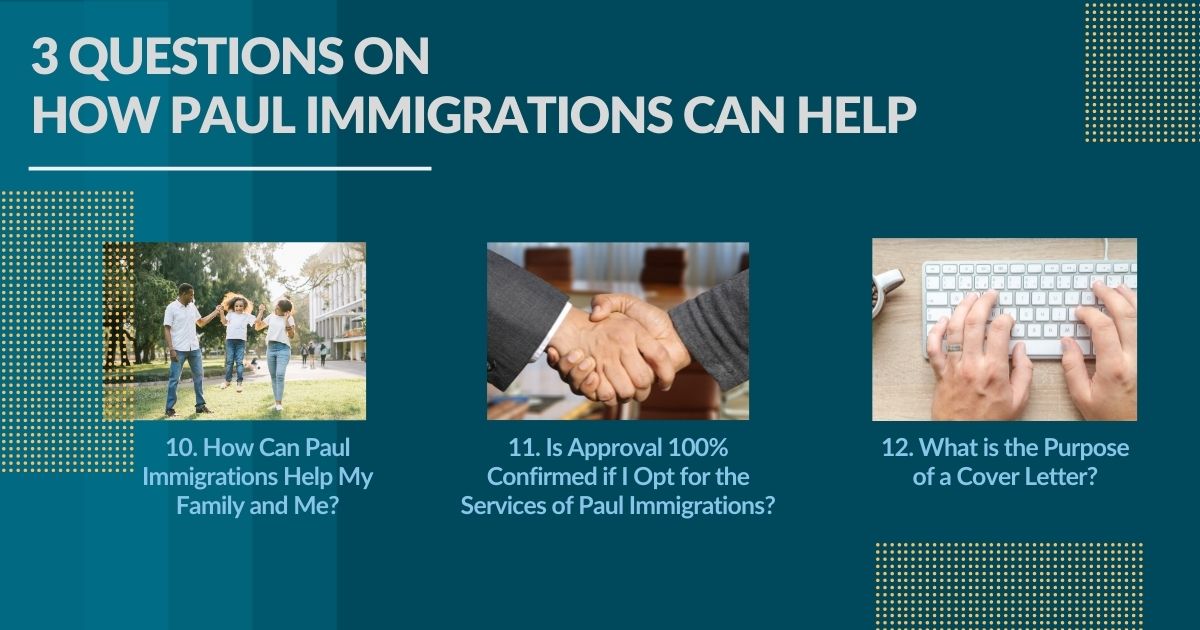 10. How Can Paul Immigrations Help My Family and Me?
To answer this question, it is important to understand the role and function of Paul Immigrations as an immigration consultancy. They work the same way as immigration law firms do (at a much more competitive rate) by offering practical advice to your unique immigration situation and processing all the documentation necessary in the application to build your best case for submission. In addition to that, the experienced specialists at Paul Immigrations would guide you through the entire process from start to finish to ensure nothing is left out. It goes without saying that most want their Permanent Resident status fast, the experience of working with an immigration consultancy such as Paul Immigrations would significantly improve your chances of obtaining PR status in the quickest time possible.
11. Is Approval 100% Confirmed if I Opt for the Services of Paul Immigrations?
It would be irresponsible for any immigration consultancy to guarantee the approval of a client's application since the decision ultimately lies in the hands of the immigration officers. Nevertheless, something to note is that before Paul Immigration takes up any clients, the specialists would run an eligibility check for each applicant. Because of the time and effort given to each client's case, the specialists are tasked to only take up clients who have a good chance of success and would benefit from their services. This stringent selection process reduces the money, time and effort wasted when an ineligible application is submitted. From this, the dedicated specialists would also have ample time to work with each client and put forth their best case forward for submission. To determine if you are a suitable candidate for PR application, speak to one of the experienced specialists at Paul Immigrations today.
12. What is the Purpose of a Cover Letter?
If you have looked through the entire ICA website, there would be no mention of a cover letter that needs to be included in your application. The reason why the team of specialists at Paul Immigrations strongly suggests the inclusion of a cover letter is to show your worth as a PR to ICA officers, aside from your qualifications and employment history. To understand your unique profile, the professional writers at Paul Immigrations will interview you and draft a personalised cover letter based on your background. Following the completion of the first draft by the assigned writer, you can review its content until it is one that represents you best. By highlighting details in a cover letter, such as your volunteering history, family background and even an interest in supporting your community, the officers would have a better opportunity to understand you as a candidate.
Final Note
Unsurprisingly, being a Singapore PR ranks high on the priority list of many foreigners. After all, this is a status that comes with a myriad of benefits, including subsidised housing, reduced health costs and more work opportunities. It goes without saying, then, that the Singapore PR is in very high demand with thousands of applications reaching the inbox of the Immigration & Checkpoints Authority each month. Realistically, it is impossible for every applicant to be given the green light to stay in Singapore. Therefore, the onus is on you to submit a complete application where the officers can judge you on a fair and complete basis.
To make your PR application stand out among the thousands that come in, it is important to present your best case forward. For those unsure on how they can go about doing that, it would be best to speak to experienced immigration professionals such as the ones at Paul Immigrations. By engaging our services, you will be assured that your application will be complete, and that is half the battle won.