In recent years, there has been an influx of foreigners choosing to live and work in Singapore, and it's no surprise why. Despite its size, the country has evolved tremendously over the years to provide world-class facilities for its residents. The compact city-state is known for its thriving economy, stable political climate and lack of corruption. Additionally, the country offers numerous employment opportunities in various industries, suitable for working adults from all walks of life.
As such, thousands have even gone as far as committing to the Lion City for the long haul by applying for permanent residency. Let's delve deeper into the reasons why you, too, should do the same and start a new life as a Singapore PR now.
10 Plus Points of Becoming a Singapore PR Now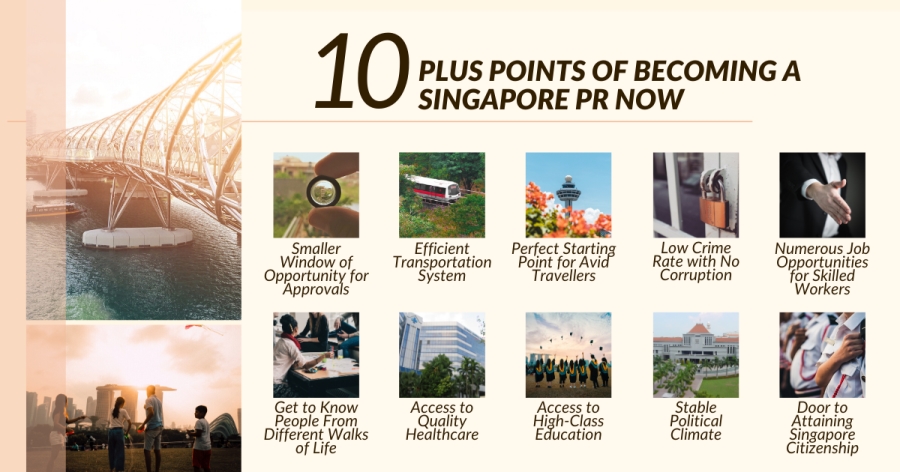 1. Smaller Window of Opportunity for Approval
If you think you have all the time in the world to apply for PR, you are grossly mistaken! Since 2009, the government has curbed PR approvals. Stricter rules and higher standards for eligibility criteria has made it more difficult for applicants to get their PR approved, causing a sharp decline in the number of PR approvals from the year 2010 onwards. With the introduction of the e-PR system in 2017, the approval rate of PR applications has declined even further. This is one of the biggest reasons why you should apply for your permanent resident status as soon as possible, as the decline of the PR approval rate might not be improved or slowed in the coming years.
2. Efficient Transportation System
One of the country's biggest accomplishments is its highly efficient and affordable public transportation. Over the years, the government has emphasised on improving the public transportation system in Singapore. The extensive road and rail network — which is continuously improved — allows residents to travel faster from one place to the next at affordable rates without having to own a private vehicle. Being a compact city has its advantages, and a well-connected city makes it easier for residents to get from one place to another with little difficulty. With more plans to expand the Mass Rapid Transit (MRT), travelling from one end to the next will be much easier and faster than before. If you prefer to travel in comfort, you can consider booking a ride via the many ride-hailing transport services in the country. However, do take note that during peak hours, the price might increase.
3. A Perfect Starting Point for Avid Travellers
Singapore's location makes it an ideal country for travellers to set roots in. Not only does the city-state have the finest international airport in the world, Changi Airport, but its geographical location makes it easy to reach numerous tropical destinations within a few hours. A short flight also means that you won't have to suffer the effects of jet-lag or spend a good amount of time nursing it. Even if you have used up all of your annual leave, a weekend getaway is easily achievable. Additionally, Singapore is home to a number of budget airlines that offer affordable flight rates to Vietnam, Thailand and Malaysia. Remember how you were always told that early planning is always the best? This might not always be the case. Booking a flight last minute can still result in cheaper fares — be sure to check for last-minute deals or sign up using your email for regular updates.
4. Low Crime Rate With No Corruption
Compared to most other metropolitan cities in Asia, the city-state is relatively safer to live and work in. According to the World Justice Project (WJR) report in 2018, the country was ranked the safest in the world, and residents feel more secure compared to those living in other countries within the region. Furthermore, due to the country's zero-tolerance policy towards drug traffickers, it is easy to see why the city-state doesn't have a drug problem. Severe crimes are also a rarity as it is one of the few countries that still practises the death penalty. In addition to low crime rates, Singapore is one of the least corrupt states in the world with strict anti-corruption policies. These policies are closely enforced by the Corrupt Practices Investigation Bureau that keeps a close eye on matters related to corruption in the country. Harsh penalties following these practices have also functioned as a preventive measure and powerful deterrent for future offences.
5. Numerous Job Opportunities for Skilled Workers
Singapore's thriving economy creates a conducive environment for job opportunities. Coupled with the diversity of industries in the country, this translates to countless opportunities for millions of employees across a wide variety of sectors. Moreover, the stable job market plays a large role in preventing low unemployment rates. Singapore has also maintained employment rates by enforcing regulations — imposed by the Ministry of Manpower (MOM) — that ensure that citizens and PRs are given priority when it comes to hiring. As a Singapore PR, you would be added to this priority list, making it easier for you to land gainful employment. In addition to this, becoming a PR eliminates the need for an Employment Pass to work in the country, which will not only save a lot of time, but it will also help you get a job faster. There will no longer be a need to cancel your current Employment Pass and wait for your new employer to apply for a new one on your behalf.
6. An Opportunity to Get to Know People From Different Walks of Life
Being home to a melting pot of cultures also means having the opportunity to meet different people from all walks of life. Mixing with the locals will not only give you a better idea of, and insight into, local culture, but it will also help you assimilate into society. Through countless social groups and events, you can meet interesting people and bond over shared interests. Consider taking a class or even doing some volunteer work, if you want to get yourself involved in the community. Alternatively, aim for activities or events that, in addition to expanding your social circle, will also allow you to give back to the community. This will allow you to not only make more friends, but it will also look good on paper when you are applying for PR.
7. Access to Quality Healthcare
The healthcare system in Singapore is renowned for both its first-class facilities and affordability, especially if you are a Citizen or Permanent Resident. Being a Singapore PR means you will be able to offset your medical expenses with Medisave, a national medical savings scheme that helps Citizens and PRs use a portion of their income to pay for their personal or approved dependants' medical bills. Your dependants can be your grandparents, parents or even your spouse. Additionally, Permanent Residents will be able to benefit from the national insurance, MediShield Life and MediShield Plus, when paying for their medical bills and dealing with unforeseen medical costs. These schemes essentially act as low-cost medical insurance — it will give both you and your family financial protection from unexpected medical costs. However, do note that your dependants must either be a Citizen or a Permanent Resident to be eligible for these schemes.
8. Access to High-Class Education
If you have children or are thinking of starting a family in the country, you may want to consider enrolling them in local public schools. Although it may seem like international schools would provide a better education for your children, enrolling your child in a public school will allow them to assimilate quickly into the local scene. Public schools in Singapore also focus on cultural and racial cohesion, hence it is only natural that most of them celebrate and observe various cultural and ethnic holidays. This long-standing practice not only helps students understand their peers' cultural background better but also involves them in the community on a deeper level. In addition to having an opportunity to mix and mingle with local Singaporeans, your child will also have access to quality education, especially in areas concerning maths and science. The biggest advantage of enrolling your child in Singapore's public school system is affordable education. International and private schools can cost an arm and a leg per term or semester.
9. Stable Political Climate
The government does its part to ensure that all of its policies are transparent for its citizens. Apart from this, it conducts fair and open policies that introduce tax reliefs, new regulations and laws that keep the country safe. A safer country gives international investors more confidence to invest in the country, which in turn contributes to the thriving economy. This not only opens up more job opportunities, but also creates a more stable political climate.
10. Door to Attaining Singapore Citizenship
As you might know, attaining your permanent resident status will take you a step closer to becoming a Citizen. Needless to say, Citizenship comes with even more perks. Besides earning the right to vote, better tax rates and subsidised housing, as a Citizen, you will be eligible for a Singapore passport. Holding a Singapore passport will allow you to travel to 190 countries and territories in the world on a visa-free or visa on arrival access basis. You will only have to ensure that your passport has a validity of at least 6 months before your date of departure.
Applying For Singapore PR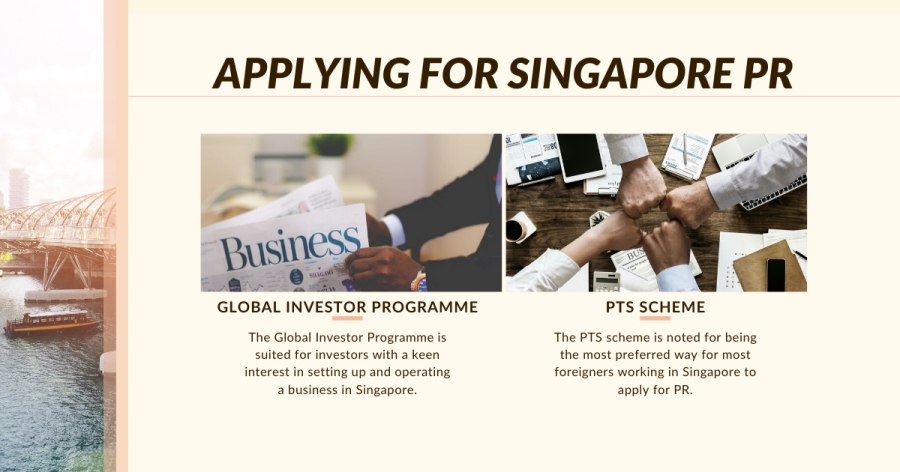 There are two preferred ways in which you can become a Singapore PR — one is the Global Investor Programme (GIP) while the second is the Professionals, Technical Personnel & Skilled Workers Scheme (PTS Scheme). Take note of their respective eligibility criteria before choosing your desired scheme to apply for PR under.
Global Investor Programme (GIP)
The Global Investor Programme is suited for investors with a keen interest in setting up and operating a business in Singapore. If you are considering applying for PR under this scheme, you are required to invest a minimum sum of $2.5 million. Under this scheme, you have two options:
Option A requires the applicant to invest at least S$ 2.5 million either in a new startup or an existing business operation.
Option B demands a minimum investment of S$2.5 million in a GIP-approved fund that invests in companies that are based in companies.
Professionals, Technical Personnel & Skilled Workers Scheme (PTS Scheme)
The PTS scheme is noted for being the most preferred way for most foreigners working in Singapore to apply for PR. To be eligible for this scheme, you will need to hold an Employment Pass, Personalised Employment Pass, EntrePass or S Pass. If you have a family in the country, you can include them in your application as well — on the basis that your child/children are under the age of 21 years old, unmarried and born, or legally adopted, within the context of a legal marriage. Although it may seem like the PTS scheme is a relatively simple and straightforward process, the scheme will require a significant amount of research on your end. You should follow the submission guidelines closely to avoid missing out any documents in the process.
The Takeaway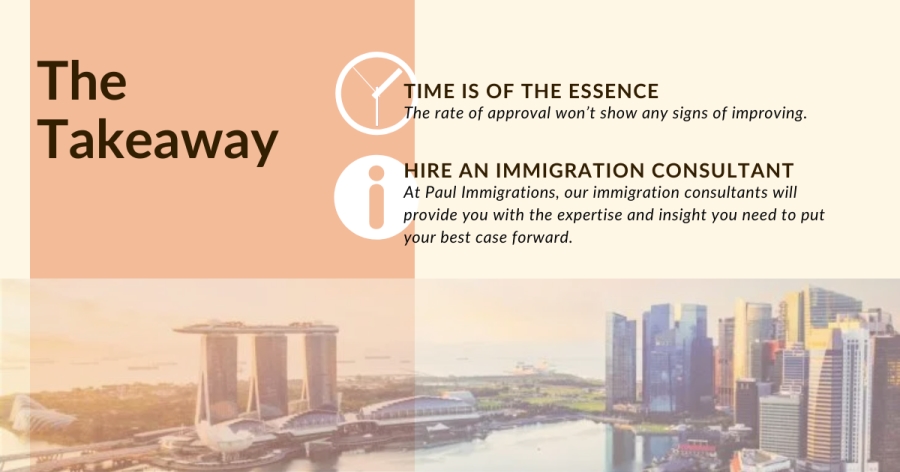 Time is of the essence when it comes to applying and obtaining your permanent resident status. It is fairly likely that in the coming years, the rate of approval won't show any signs of improving. Hence, you should commence your PR application process as soon as possible.
We understand that applying for PR can be a tedious process. Worse yet, missing documents or an incomplete submission can result in outright rejection. To improve your chances of becoming a PR, you can hire an immigration consultant to assist you throughout the application process.
At Paul Immigrations, our immigration consultants will provide you with the expertise and insight you need to put your best foot forward. With their help and experience, you will not only have a higher chance of getting your PR approved, but you will also be that much closer to starting a new life in Singapore.